Popular Wattpad fanfictions have been known to be lucky enough to get published, and the "After" series by Anna Todd is no stranger to this. Having previously started this series as a fanfiction modeled after Harry Styles, "After" may seem like your typical romance story about a good girl who meets a bad boy whose tattoos and piercings just scream, "ENIGMA!" But the story is much more than that. After all, it didn't get over 1.5 billion reads worldwide and a movie deal for being cliché.
I remember being thirteen years old and reading this fanfiction every second of the day like it was my air. It was, and remains, the most popular fanfiction on Wattpad. Soon after, Anna Todd was offered a book deal and not so long after its success as a New York Times Bestseller, the series was optioned for a film.

Many of the readers had opinions about the main characters, Tessa Young (Josephine Langford) and Hardin Scott (Hero Fiennes-Tiffin), and how their relationship seems to be portrayed as toxic in the novels.

People do need to understand, though, that the characters are aware of this toxicity and attempt to improve and change for the better. It does take most of the series but it's this character development that makes the book series so worthwhile. The upcoming film, to be released on April 12, shows that perhaps it has improved in that aspect.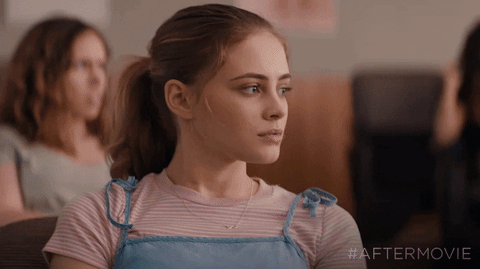 Giphy
The "After" movie has a crew of producers and directors that are composed of mostly women and with Hollywood slowly but surely becoming more progressive towards gender equality, the film is promised to hold true to Tessa's independence, rather than making her so dependent on whatever Hardin does or want.

The producers of the film have also taken the big step in changing a character's gender to allow a greater female presence on the cast. The creators of the film are aware of how much has changed over the course of the past few years and seem to have taken the big steps in allowing this movie to progress along with everything else.

A trailer was recently released, already racking up over 1.5 million views on YouTube. Many fans are spreading the word and getting the film more promoted and advertised than ever. The movie holds high hopes and anticipation, from everyone and me. Hollywood may have another great adult romance to put in the books!