Abortion has and will always be a controversial and very sensitive topic for all genders. The following article delves into the details about the Alabama abortion ban that was signed to be a law which, if it passes, will be in effect January 2020 and briefly touches on the Georgia Heartbeat Bill.
Roe v. Wade (1973)
In 1973, Roe v. Wade 410 was passed in the U.S. by the Supreme Court. In short, this ruled that the Due Process Clause along with the 14th Amendment in the Constitution would work to give pregnant women the choice to choose whether or not they wanted an abortion AND should coincide with the government's personal agenda to protect the health of all who is involved. What I mean by this is that the Supreme Court decided during the second trimester of a pregnancy, abortions would be allowed. But, if it is the third trimester, abortion is to be prohibited unless the health of the mother is in danger. This law catapulted the abortion debate which is still going on today.


Abortion vs. Alabama
Alabama's governor, Kay Ivey, signed off on a bill that will basically ban all abortions, including rape, incest, any abnormality, and if the mother's life is in danger on May 14, 2019 after acquiring approval from 25 Senators . This could be a problem considering that it very much contradicts Roe v. Wade (1973). To Ivey, the bill is a reflection of the values in which the citizens of Alabama believe: all life is precious and a gift from God.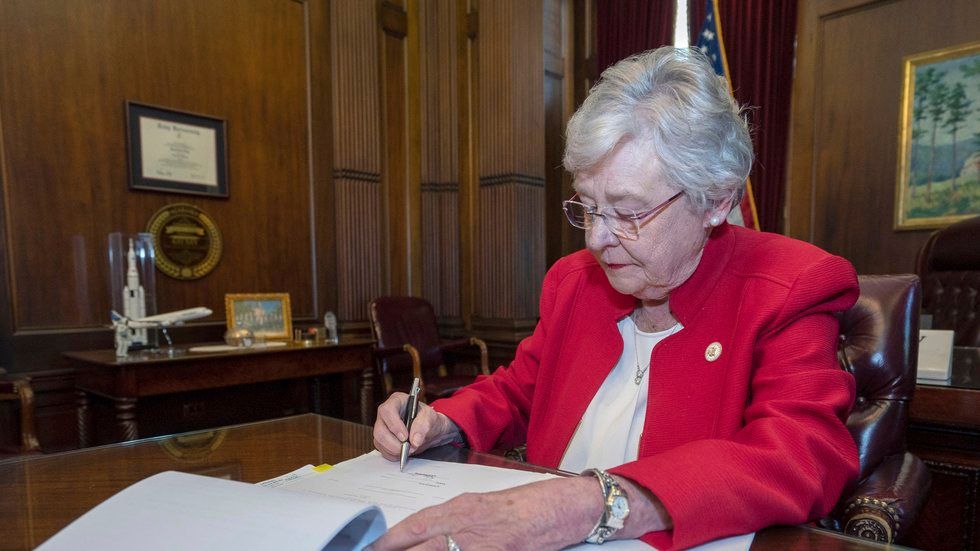 Governor of the State of Alabama, Kay Ivey (pictured above). home.bt.com
The governor of Georgia also signed a bill to ban abortion after detecting the slightest heartbeat which is approximately around the six-week pregnancy period (around the time most women discover that they are pregnant). Another important take on this is that despite the rift and debate that is going on between Democrats and Republicans, most Republicans believe that Roe v. Wade will be overturned. This is looking more like a possibility considering most of the Supreme Court consists of people who support the Republican party. In short, the main idea is to ban abortion in all of the United States, not just in some states like it is currently. In regards to Alabama, the bill still has not been enacted into a law and could possibly encounter delay in the Supreme Court because, after all, this is a very debated topic. For now, abortion is still legal until January 2020 or when it becomes a law.

Conditions of the Abortion Law
The conditions of the abortion law explicitly states that abortion during any stage of a pregnancy is prohibited and if any medical professional aids in the practice/procedure of an abortion, they will face up to 99 years in prison. If an attempt is made to perform an abortion procedure, an individual can be sentenced to 10 years in prison. Women who successfully get an abortion or attempt to will be prosecuted as well. However, only those who provide another with an abortion will be punished in Alabama, not the one receiving the service.
No form of abortion is allowed including: rape, incest, life-threatening abnormality, or putting the life of the mother in danger.
Alabama expected to approve controversial abortion bill www.youtube.com
Two Sides to the Debate
Although most Republicans support the law, the Democratic party has combatted the notion of it. Many opponents of the ban state that the restriction can put the lives of many in danger and affects women of color and those who are living in poverty heavily. ACLU and the Center for Reproductive Rights have also declared that they will sue. Many young people have also reached out to social media websites such as Twitter and Instagram to voice their opinions:
Tweets from individuals who are anti-abortion ban www.wnd.com
Many celebrities have also stated their opinions on the matter. Rihanna stated in one of her Instagram posts, "Take a look," referring to a picture of 25 Senators in Alabama who approved the abortion bill, "These are the idiots making decisions for WOMEN in America. Governor Kay Ivey...SHAME ON YOU!!!"
Although both sides clearly have their opinions on the debate of pro-life/pro-choice, one thing we all can agree on is that this will be a long process that can make or break the lives of a lot of people in our nation.
Until next time,
Salsa.