And your next Bachelor is...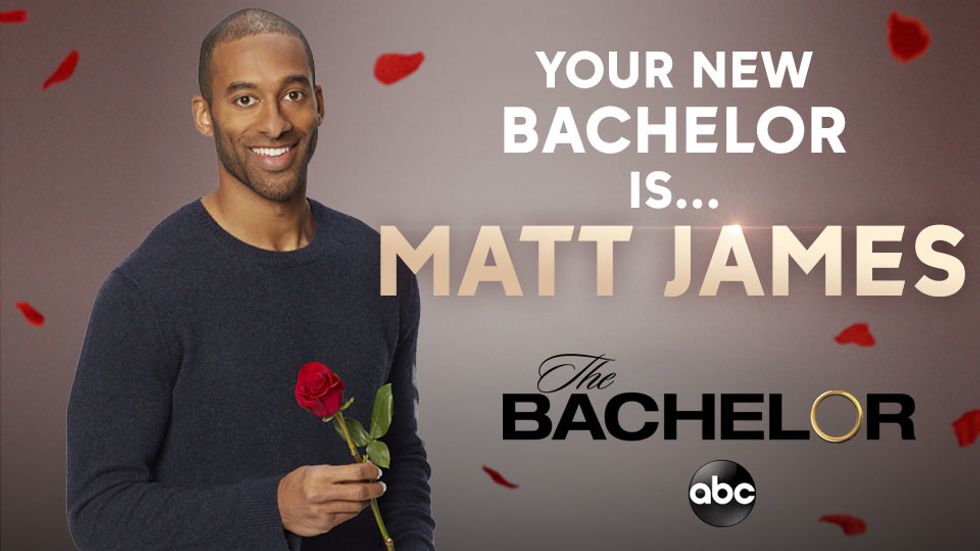 The Bachelor on ABC
Matt James!
You may be saying to yourself, "wait what? Who is this guy? "The Bachelorette" hasn't even started airing yet!"
You'd be rightfully confused.
This news seemed to come out of left field and surprised even the most die-hard "Bachelor" fans. Loyal viewers already know that Matt James is Tyler C's BFF and roommate. Tyler and Matt met while playing football at Wake Forest University together and are pretty much inseparable. They are co-founders of ABC Food Tours, an organization that brings homeless students in NYC to the city's best restaurants while teaching them how to overcome hardships.
James was originally scheduled to appear on Clare's season of "The Bachelorette," but filming was postponed due to the coronavirus pandemic. Producers still wanted the next season of "The Bachelor" to premiere in January of 2021 as scheduled, so they set out to find their next Bachelor.
James was reportedly on the network's radar as a potential "Bachelor" candidate since he was first cast for Clare's season.
When they selected him, producers had to decide whether he should be announced before Clare's season aired or if he should appear on Clare's season first and then be announced if he gets sent home. As of now, it looks like James will not be appearing on "The Bachelorette." Clare Crawley raised eyebrows when she tweeted about some of her contestants being there for "the wrong reasons" because they were creating Cameo accounts and doing interviews. The tweet seemed to be pointed at James, who was doing Cameo videos to raise money for coronavirus relief and doing interviews to promote ABC food tours.
It's hard to ignore that this announcement was made amidst mounting pressure on the franchise to increase diversity, which reached new levels of intensity in the past week.
The first Black Bachelorette Rachel Lindsay recently declared that she would cut ties with the franchise unless it announced that the 25th Bachelor would be Black. Producers claim the decision to announce Matt James as the Bachelor was not tied to Lindsay's comments, but they did acknowledge that it is ridiculous that "The Bachelor" has aired for 24 seasons without a Black lead. Lindsay has basically been the only voice for BlPOC in the franchise, besides fan-favorite Mike Johnson from Hannah B's season. Many fans thought Johnson would be the first Black Bachelor, but Peter Weber was cast as the lead for the show's 24th season instead.
There has also been a Bachelor diversity campaign making the rounds on social media and picking up steam with fans.
Aside from asking for a BlPOC to be cast as the 25th Bachelor, the campaign is also advocating for: a minimum of 35 percent BlPOC contestants per season, equitable screentime for BlPOC contestants, mental health support for BlPOC, equal compensation for BlPOC crew members, more thorough contestant vetting with an emphasis on preventing prejudiced individuals from being cast, the hiring of a diversity consultant, a zero-tolerance policy for on-air racism, more BlPOC storylines, no exploitation of indigenous cultures, a financial donation from the franchise to anti-racism causes, and a public apology for past facilitation of systemic racism. A petition created by the campaign garnered over 80,000 signatures before ABC's announcement.
The casting of James as the first Black "Bachelor" lead is a great first step to improving diversity, but there is still so much work that has to be done to increase the representation of BlPOC in The Bachelor franchise.
Related Articles Around the Web