Lynchings of our dear African Americans seemed to always occur back when...back when we never heard about them. There's always stories of African American men or boys dying due to lynchings and generally brutal murders, but we never hear anything about them, or about law enforcement investigating the details and suspects. Why? No one ever wanted to give the African American community a chance...it just didn't "seem" right or seem like the "thing" to do. The scenarios always seemed familiar...blacks being targeted and brutally murdered without the courts showing interest in justice for the victims.
Austin Callaway, a then 16-year-old boy in 1940, was kidnapped by 6 men and murdered. At the time, Callaway had been arrested and detained for a charge of assaulting a white woman. Let's educate ourselves and find some details about this case. BUT, guess what? And to no surprise...there is no official record describing Callaway's case. No brainer, right? Well, while sitting in his jail cell, 6 masked men stormed into a LaGrange jail, holding the only officer on duty at gunpoint only to get Callaway out of his jail cell. After succeeding, the men took Callaway into the night and the next morning, a passerby found him on a dirt road. He had been shot five times, with wounds in the head, hands and arms. The ONLY thing a grand jury had to say about Callaway's murder was to invest in getting "better locks for the jail." I mean, what? Really? Better locks? They couldn't have been serious, right? Nah.. The craziest part about the whole situation is that the LaGrange police nor the courts acted on the story, nor did the media follow the story to expose the harsh truths taking place against not only black people in general, but black CHILDREN...let me repeat that. BLACK CHILDREN. I didn't matter if he was 12-years-old or 16-years-old...obviously.
When it happened, news of Austin Callaway's lynching on September 8, 1940, was buried on the last page of his hometown newspaper in LaGrange, Georgia.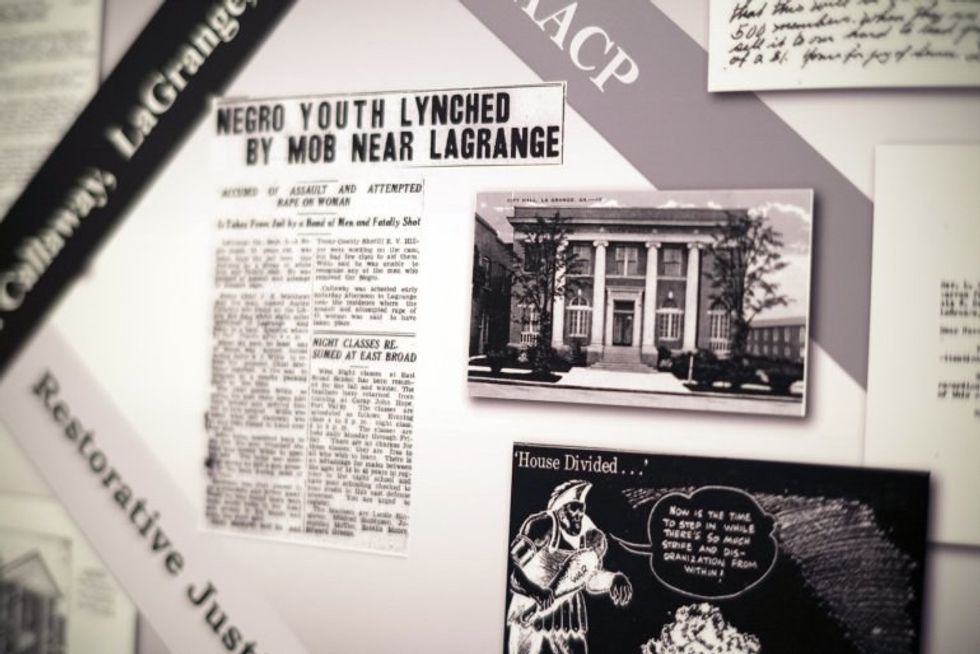 The ad was squeezed between other articles and ads in the LaGrange Daily News...showing just how little attention was paid to the murder of a black child. So many people today did not even know who Austin Callaway as his memory faded during that time. No one knew and 76 years later, Police Chief Lou Dekmar of the LaGrange Police Department made a statement, apologizing about the department's lack of protections, to the town's community at the LaGrange's Warren Temple United Methodist Church. According to Dekmar, "I sincerely regret and denounce the role our Police Department played in Austin's lynching, both through our action and our inaction. "And for that, I'm profoundly sorry. It should never have happened." Over 200 people gathered at the church, exceeding the expected amount, to remember Callaway, to acknowledge his case, to acknowledgement that the justice system failed him. Callaway's case is something that the white community may find as ancient history...the past, while the African American community sees this atrocity as something that needs acknowledgement and atonement, recognizing something that was quickly forgotten by elected officials whose jobs are to protect and to serve justice. The reconciliation and atonement for Callaway's death was supported by both black and white, law enforcement, Troup County State Court Judge Jeannette Little, Mayor Jim Thornton, and clergy. The gathering was welcomed to bring healing to the community, as well as bring light to a situation that was a hidden secret for decades.
Austin Callaway and many other issues similar to his death need attention. Issues affecting African American communities such as poverty, race, and mass incarceration were discussed surrounding Callaway's death at the church gathering. We shouldn't turn a blind eye towards injustice when justice has failed many other African Americans like Callaway. When there's a will, there's a way. This public apology is just one step towards the many steps needed to help aid in healing wounds and bringing light to past brutalities targeting the African American community.