The World Wrestling Entertainment, or WWE, is known for doing some crazy things in order to get the attention of viewers around the world. And honestly, whatever they are doing is working because they are the largest sports entertainment/ wrestling promotion in the world. You honestly never know what kind of craziness you are going to get from week to week, and I can't believe some of these matches even happened. Here are some of the weirdest matches that have happened in the history of the company.
BTW, you can go back and watch all these matches on the WWE network for $9.99 a month, and you get your first month free! (Wow @ WWE, hire me, I'll promote you)
1. Mick Foley vs. Randy Orton - Hardcore Match at Backlash 2004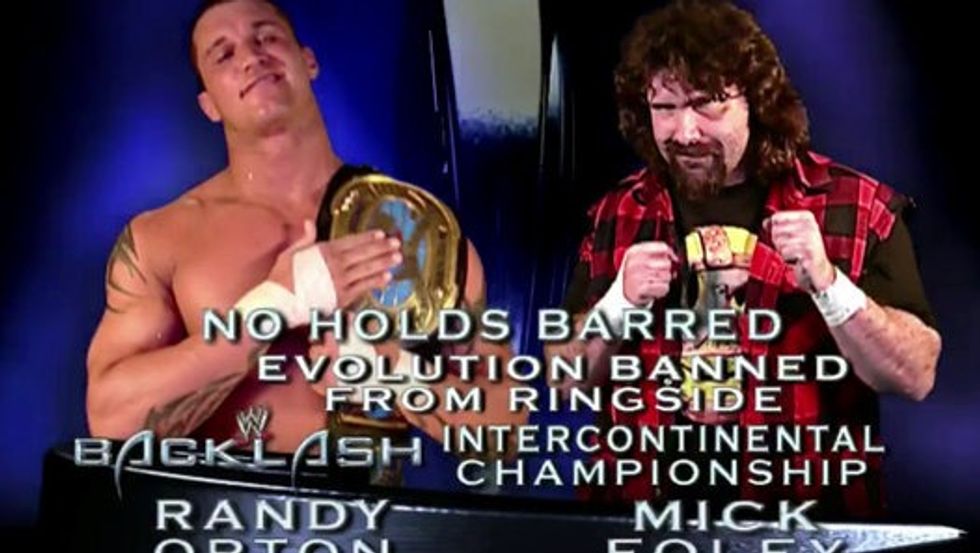 The crazy youngster, Randy Orton, was regarded as the legend killer back in the early days of his career and it was his ultimate goal to take down all the legends of the company. He competed in a hardcore match, which is one that we don't see now-days, against probably the face of hardcore wrestling, Mick Foley on April 18, 2004. This type of match is already extreme, and to make it even worse, Orton even put his Intercontinental Title on the line! This match included a metal trash can to the heads of both competitors, a barbed wire covered baseball bat, and a both superstars getting thrown around the arena among other things. In the end it would be Randy Orton keeping his championship after he spun an RKO move out of nowhere on Foley.
2. Kurt Angle vs. Shane McMahon - Street Fight Match at King of the Ring 2001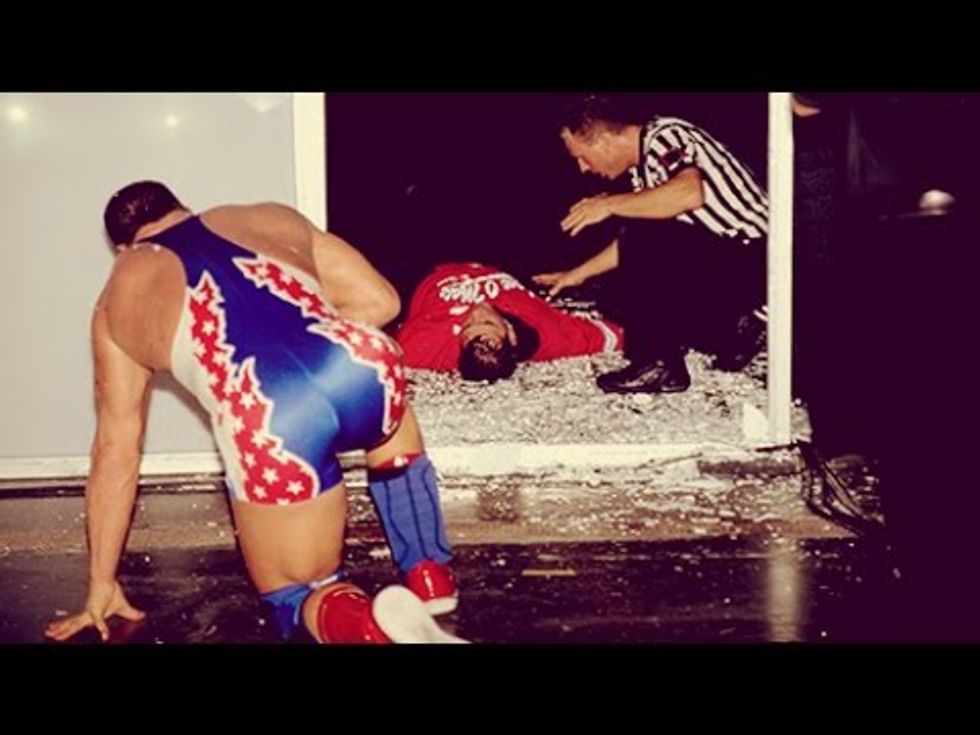 Kurt Angle may be an Olympic Gold Medalist in wrestling (which he won with a broken neck which he will be the first of many to remind you of) but Shane McMahon (son of Vince McMahon, who is the owner of the WWE, and former owner of WCW) would give Angle one of the best and most memorable matches of his career on June 24, 2001 at the King of the Ring Pay Per View. Viewers saw McMahon being thrown through plexiglass multiple times. After a grueling 33-minute match, Kurt Angle would walk out victorious.
3. The Undertaker vs. Kane - Inferno Match at Unforgiven: In Your House 1998
NXT is known as the WWE's developmental brand for new talent and signings, and I personally love this brand because they challenge wrestlers to all different types of matches to get their experience levels up. November 18, 2017, saw three teams of three members each step into a War Games match for the first time since 2000. The match is insane because it uses two rings next to each other and there is a steel cage over it. Viewers saw many weapons used such as tables, steel chairs, and Kendo sticks used to inflict pain but in the end, it was The Undisputed Era who saw victory because of their fearless leader, Adam Cole.
5. Mankind vs. The Rock - "I Quit" Match at the Royal Rumble 1999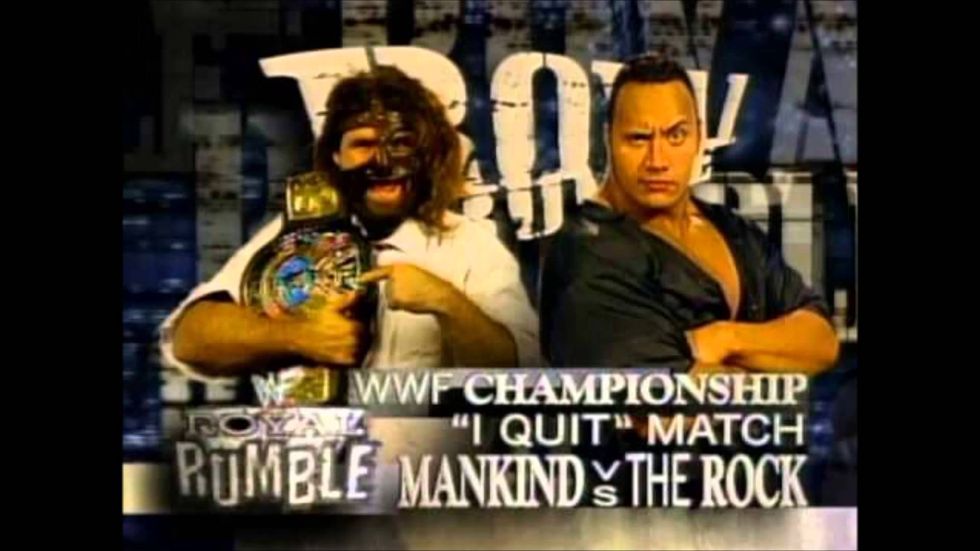 You don't get to win in an "I Quit" match until you force your opponent to scream that they have had enough. Mankind was the champion at this point of his career and Vince McMahon was desperate to get the belt back on The Rock. The Rock would beat Mankind senseless while handcuffing him and smashing a steel chair across his head eleven times. Mankind was eventually heard screaming "I quit, I quit, I quit," and The Rock was once again WWE Champion. However, Mankind never actually quit. Instead, a pre-recorded promo of Mankind was played by Shane McMahon that allowed the referee to call for the bell.
6. The Dudley Boyz vs. The Hardy Boyz vs. Edge and Christian - Tables, Ladders, and Chairs Match at WrestleMania XVII 2001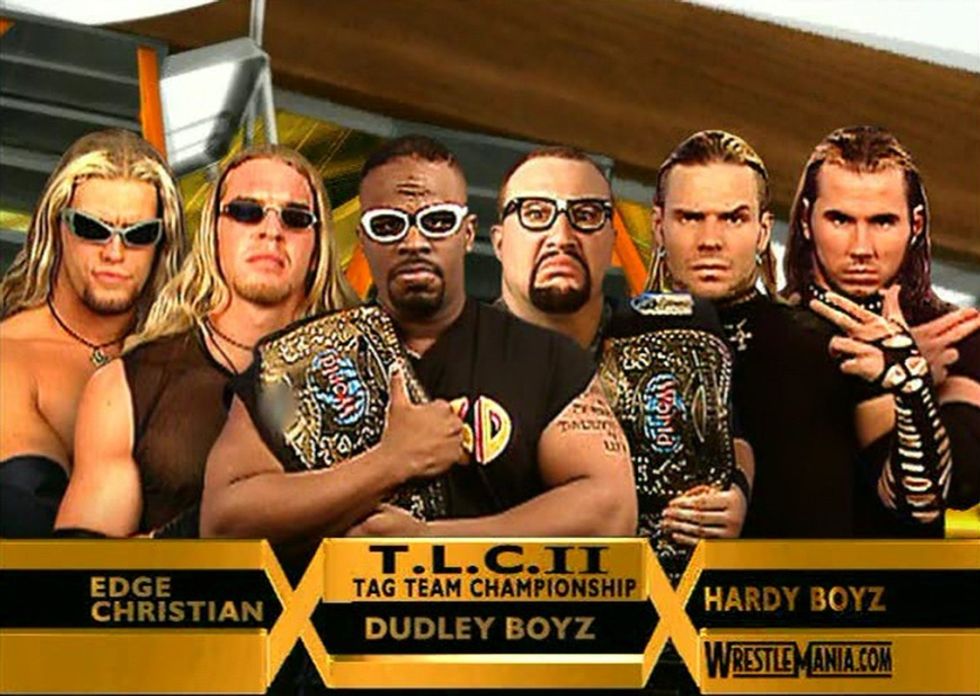 This is one of my all-time favorite matches and one of the most memorable TLC matches in WWE history. This was only the second time in WWE history that the TLC match would take place and nothing will ever top it again. The WWE Tag Team Championship belts were hanging high above the ring and all three teams would take the concept of TLC matches to new heights, literally. Of course, Edge and Christian would prove successful. However, this was once again a match where who won didn't really matter as everybody watching was in awe from start to finish. You can watch Edge, Christian, Matt, and Jeff talk about this match and many more on their 'Table for 3' Episode on the WWE Network. (Again, Hi WWE, please sponsor me)