In light of all the busy events that have recently gone by, there was a lot of celebrating, parties, bar hopping... you name it. What else do you do when you're in college for Halloween, homecoming, game day, etc...? Personally, I spent a few nights staying in getting caught up on homework (it was marvelous, tbh). But with all the fun parts of life happening all around us, I think it is important to remember safety tips to make sure we can all go out, have a good time and make it home by the end of the night in one piece (physically and emotionally).
1. Strength in numbers.

When we go out, our parents always told us about this, "There is strength in numbers." Did I ever believe it? No, I never had much reason to. Growing up in a small town, you tend to trust those around you and their intentions, but even in personal settings, you can never be too careful. You know those weird, bad vibes you start to feel when you're alone at the bar while your friends ran to dance, go to the restroom, etc., and a person across the bar starts staring, but not in a good way -- an uncomfortable way. Those feelings disappear when your friends return, right? Right. This is because this statement holds true; when there is more than one of you out, the less likely you are to find yourself in a bad situation. The more, the merrier!

2. Never leave your drink.


I cannot stress this one enough, DO NOT LEAVE YOUR DRINK UNATTENDED!!! While you're not holding your drink, it is at risk of being: A) drugged or B) stolen or spilled. While people always say, "Don't cry over spilled milk.", I think it's OK to cry over a little spilled alcohol - -that stuff isn't cheap. But being drugged is definitely way worse than spilling. You have got to be careful, date rape is real and isn't only found in the movies.
3. Walk in well-lit areas.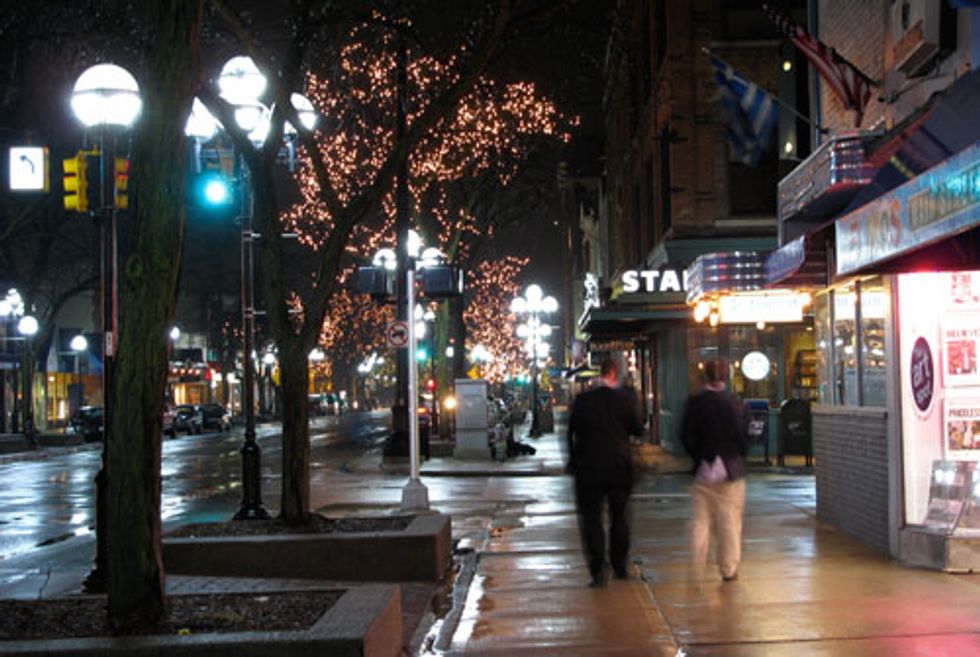 Who thinks, "Wow! Walking in this dark ally is such a great idea!"? Literally no one. It's safest to walk in well-lit areas because you are able to see what is around you better and, if anything does happen, others are more likely to see it as well.
4. Invest in pepper spray.

You never know when you might need it! It just might save your life. It can easily be carried on a key chain or in a purse or wristlet.
5. Walk with your keys in hand.

Be ready to get into your car once you get there and lock the doors as soon as you get in. Before push to start cars, and most people still had actual keys to start their vehicle, you could hold them as if they were a weapon to protect yourself against attack. But the quicker you can get to your car and lock yourself in, the less amount of time there is that something could happen.
6. Know where the exits are.

When you walk into a place, look for red exit signs and different ways to get in and out of the location you're at. In case of an emergency, you're going to want to get out as quick as possible.

Stay safe out there!
Whether you're out alone or out with friends, always be aware of your surroundings and keep these easy tips in mind so you can have fun and be safe at the same time!