Winter is rapidly approaching us, and, if you live in the north where it is already below 50 degrees, it's already here. As someone from Tennessee where winter doesn't begin until January or February, I was taken by complete and utter surprise when I checked my weather app to see it was going to be 47 degrees last week. Up until November, where I'm from, it's sure to be at least 70 degrees, and you might see a day where it hits 80. But this year, since moving to D.C., Winter, as I consider it, came a little bit early. With that being said, I want to help you be as prepared for Winter as possible.
Here are the 5 things you need for Winter.
5. Scarves!
I have become obsessed with scarves over the last two years. I have collected them and worn them as if they are a necessary piece of clothing. If I don't wear one everyday, I at least wear one every other day. Besides obvious weather related benefits, scarves can make any look look chic. Add a blanket scarf and head into Winter Wonderland with warmth and a chic style!
4. Beanies
Beanies are a must. Like scarves, I collect them as well, though my afro prevents me from wearing them all the time. Just like scarves, there are weather benefits, but beanies also allow you to not have to do much to your hair. Whether you prefer the bang and beanie look or place the beanie over your entire head, it will give you a break from doing your hair all the way. If you wake up at 8:00 for a 8:10 class, I suggest a beanie is the way to go.
3. Winter Finales
At Winter, most shows like How to Get Away with Murder, Empire, and even Scandal (though it missed this Winter) go on hiatus. After finals, it will be nice to de-stress and binge-watch all your favorite shows before they end. Catch up on all the drama you missed. And, if you're anything like me, you'll be staring at your TV like...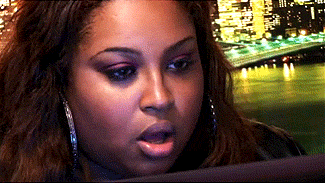 2. Hot Chocolate
If you're like me, you spend all year long guzzling down coffee to wake you up in the morning or keep you up at night. Between school, work, and trying to have a social life, coffee can give you a nitro-boost to get you through the next activity. But winter isn't about coffee: it's about hot chocolate. My best friend, Mariana, is obsessed with this stuff, and I never understood it until I tried some from a local coffee shop back home. Sure, I'd had hot cocoa before, but this was an entirely new thing. Now that the sun is going down quicker, papers and tests are due sooner, and getting through the semester seems harder, hot chocolate just might be your friend. It doesn't add caffeine so you can drink it before bed and have a good night's sleep, and it's also warm enough to jolt your body awake in the morning. Drinking hot cocoa will have you in the Holiday Spirit in no time just like this guy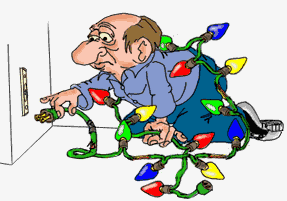 The last one is one I'm sure many of you have already begun...
1. 25 Days of Christmas on Freeform
Everyone knows that the Holiday Season begins on December 1st. No matter what holiday you choose to celebrate, December gets you in the mood to cuddle up on the couch, grab a cup of hot chocolate, and watch a few movies from your childhood that you remember. My personal favorites are the forever iconic "Home Alone", any of the "Santa Clause" movies, "The Polar Express" of course, "How the Grinch Stole Christmas" both versions, "Jingle all the Way", "The Year without Santa Clause", and my all time favorite, "Elf." No matter what your favorite holiday movie is, Freeform is almost 100% sure to screen it. If not, check out Netflix and Hulu's suggestions for holiday movies.
The rest is up to you! Hopefully you already have your decorations, your music playlists, and your hot chocolate mugs ready to go.
Don't forget to be nice and not naughty! Have a great holiday season, and remember...