In a couple of weeks, it will be six months, since I began my food journey. My goal is to be the healthiest person I can be. Last year, I struggled with IBS, food sensitives, allergies, and bad skin. After college, my body went haywire; I was always bloated and always itchy.
Honestly, I thought I was eating healthy — you know, eating whole grains, pasta, avoiding fat and high calories — but that wasn't healthy. The food I ate along with stress caused me to be unhealthy.
On top of that, I had recovered from knee surgery. I decided to contact a registered dietitian to get to the bottom of my food troubles. I tested positive for food allergens/sensitivities.
My dietitian suspected my diet caused my problems.
I tested positive for wheat, barley, malt (a corn-derived substance), and other fruits and veggies. I had to avoid all allergens including yeast, sugar, and gluten. At first, it was tough, but I learned to master the art of eating clean: sugar and gluten-free (I had to give up sugar in all forms because I tested sensitive to yeast).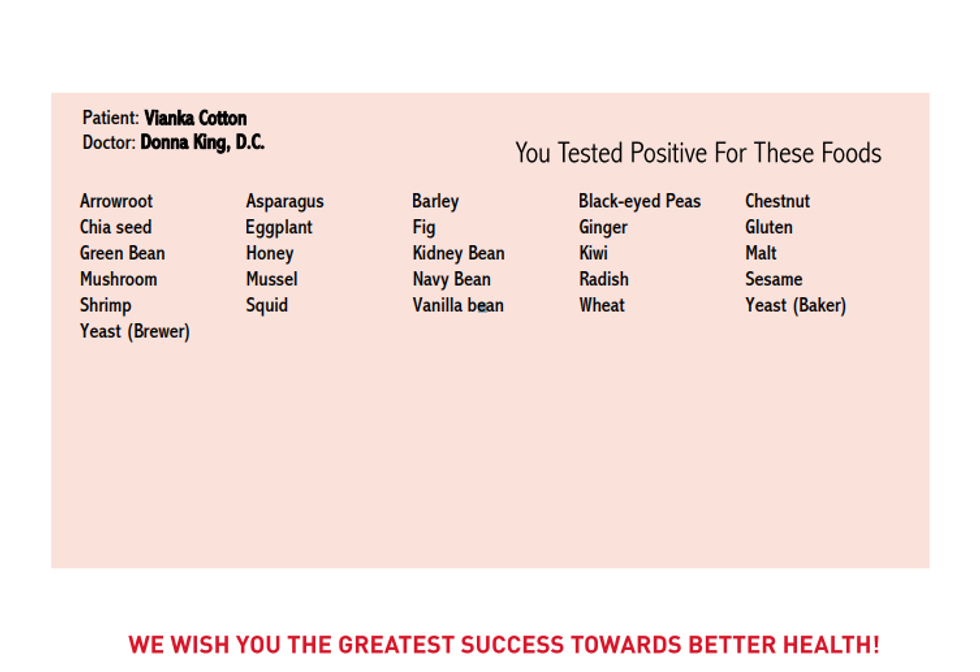 1. Get rid of stuff that causes you harm
American food is filled with everything: chemicals, pesticides, and preservatives. Our foods contain ingredients you cannot pronounce and ingredients that are potentially harmful. The meats we consume are from sick animals and the produce we buy are from broken lands.
Do me a favor, I want you to check the ingredient labels on packaged and canned foods. Almost every food item on the market, contains sugar, corn, and soy in some form. There are 55 words for added sugar! For example, tapioca syrup, dextrose, and brown rice syrup. Sugar, soy, and corn is found in pasta sauces, mock meat, chicken stock, ketchup, bread, frozen dinners etc.
In fact, food at restaurants are riddled with sugar and salt. Corn, sugar, and soy are cheap to produce and used for everything! I cannot tell you how many times I had to detox my refrigerator and pantry!
2. You will become a chef
The process of eating clean is frustrating. I realized that my food journey is not a diet — it is a lifestyle. It takes your body three months to recognize change. One month won't cut it.
Before this lifestyle change, I drowned my stomach with excessive amounts of cereal. I ate every piece of chocolate I could get my hands on. I was programmed to want a certain type of food and to feed! In order to break the cycle, I had to retrain my taste buds.
Clean eating allowed me to taste foods for what they are. Real food challenged me to get in the kitchen, take out a pan, and get to cooking. I bought fresh whole food and started to go ham.
Today, I cook and make about 90 percent of meals and they are yum! Check out my Instagram @bodygalorefitness and see for yourself.
3. People will be negative, and people will be positive
People love to give their opinions on things that don't concern them. Countless times, people told me what I am eating isn't healthy. "Eggs are bad for you" or "plastic causes cancer." My favorite "carbs will make you fat" and "meat will bring on disease."
So many people were judging me, because I decided to make changes to my own life. News flash: what is healthy to you may not be healthy to others: we are all different.
Throughout the negativity, I managed to meet people who were supportive. They motivated me, congratulated me, and most importantly they encourage me to keep going. My biggest support comes from my family and friends, who see my changes as inspiration to start their own healthy lifestyle.
4. You get where vegans come from
I'm not a vegan, nor will I ever be, but some of my best friends are vegan. I take their advice and put it in practice, such as eating whole plant-based food. I stopped eating dairy a month ago and recently said "goodbye" to soy-based products. When I added whole foods in my diet, my well-being rose. I feel better because the foods I am eating are fresh rather than processed.
I learned that vegans — although some are militant — are committed to finding solutions to health problems and environmental problems. My meals became plant-centered instead of grain and meat-centered. I learned to shop for free-range and organic chicken and look for local in-season vegetables. If I'm lucky, I buy fresh eggs from my neighbor.
5. You will feel worse before you feel better
Fitness gurus and healthy bloggers say when you begin to eat clean, your body detoxifies. When your body releases those toxins, at first you will feel terrible then feel amazing. Some people experience an increase in acne or hormonal acne, other people might have super cravings or mood swings, and be sick.
When I gave up sugar, the second week was the hardest week. I craved hard. On week three, I craved even more. I gorged on strawberries and apples. My skin broke out badly, but I managed to keep going. When I got to week six, I felt really good on the inside. I decided to keep going on my food journey because, honestly, it helped.