If you are like me then you always love to find a good deal with shopping for staple pieces or pieces for a special occasion. Sites below are from amazing places that I love to shop. They have fabulous deals. Each site is for something different whether it be shoes, undergarments, or apparel. I love having staple pieces.
1. She Inside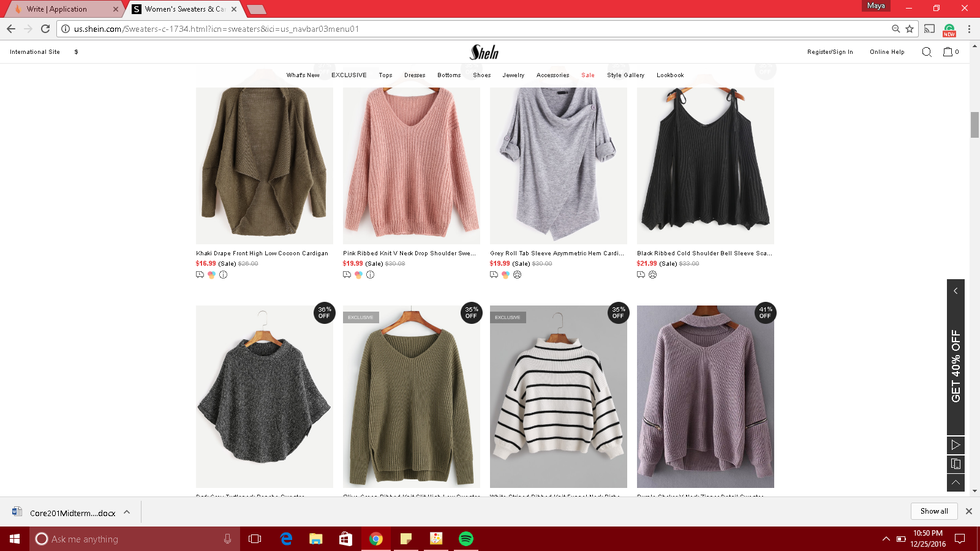 This site sells everything you can think of from shoes to bathing suits My favorite thing to buy on this site is sweaters. This is a wholesale site. I have never done express shipping, but when I buy stuff it can take a month or two to arrive. Also, since it is based in China the sizes are a little heavy to navigate, therefore I have never purchased a dress or anything from this site. Although, most of their sweaters are one size and they fit perfectly. I have tons of sweaters and sweatshirts from this site. They are perfect when you want something nice to keep you warm. I can also recommend buying accessories from this site. I have never purchased any accessories because I am not big on jewelry, but many of my friends have and they have been happy with the results. Plus, this site is always having sells! Therefore keep your eyes peeled. Also, they update with new items on a daily basis, so check the site at least every week! Lastly, the site is very cheap. Therefore it is super affordable for a college student!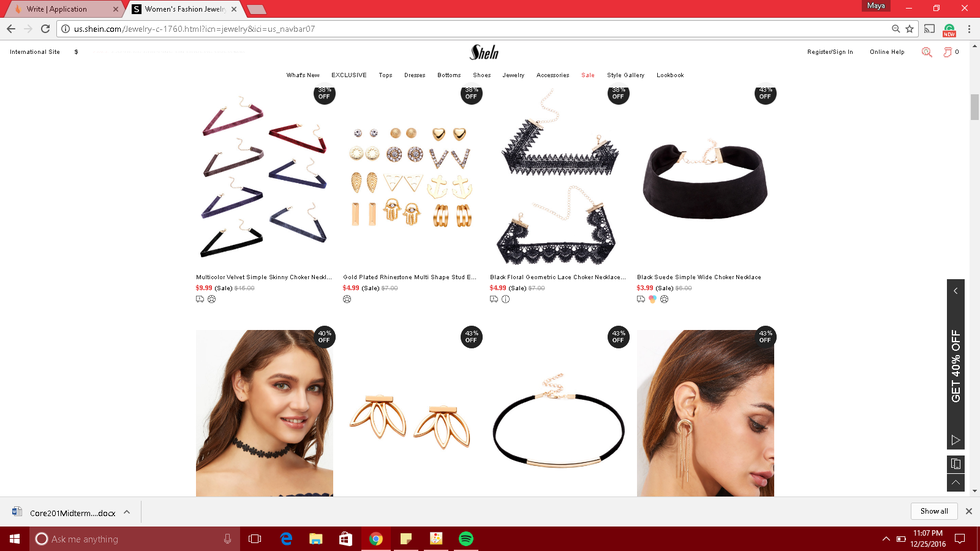 2. Go Jane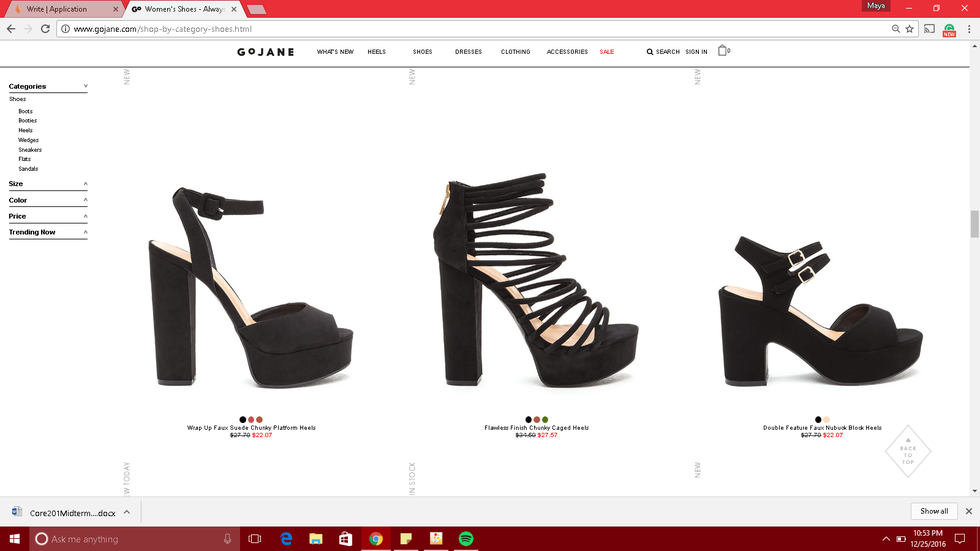 I definitely can depend on this site for hot shoes! This site has the hottest shoe trends for the cheapest price. They are not as cheap as other shoe stores, but I definitely pay for quality. I have never been disappointed with the shoes I have received from this site. This site is also definitely having sales and they tend to coordinate towards the end of the semester. This site has a style that is more chic based. You will be looking at a lot of velvet dresses and graphic tees. You will be looking at black dresses. I have never bought clothing from the site, just because it is not my day to day style Although, if you are ever looking for a special occasion dress for a party or cocktail dinner, Go Jane, is definitely the place to go!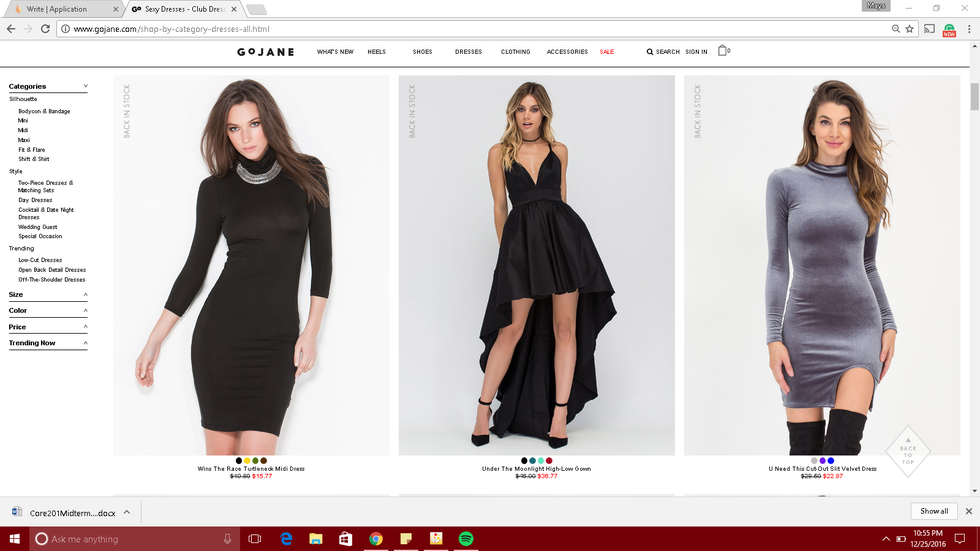 3. Aerie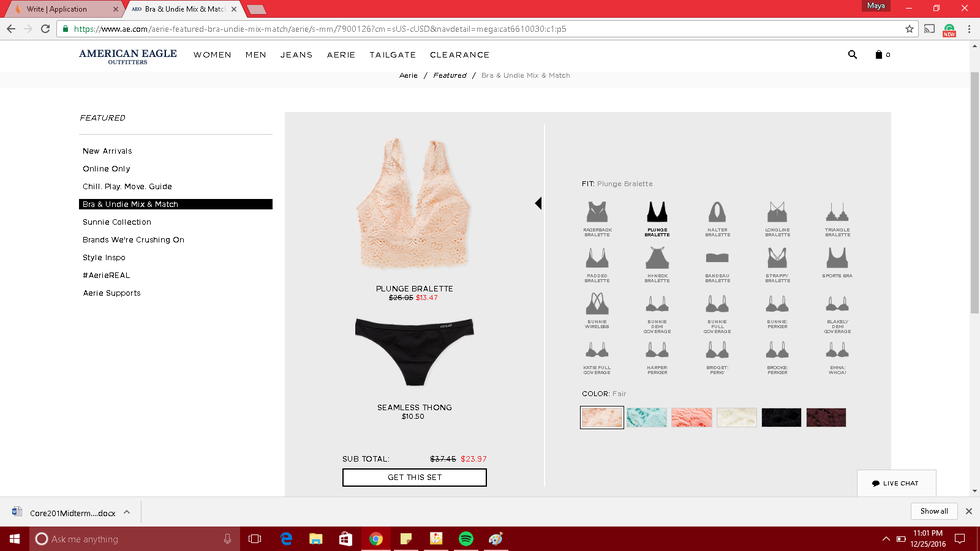 This place is perfect for undergarments and bathing suits. Everyone wants cheap bathing suits and underwear and this place has it! You can never go wrong with their 7 for $27.50 for their underwear. Plus if you are a person with an extensive closet of more than t-shirts and jeans and you like to mix and match. You will love the type of bras that they have. They have all sorts of bras for you to pair up with every item your closet could possibly have. Also, their stuff is perfect for the cross between girl and woman. Aerie has the perfect young adult collection.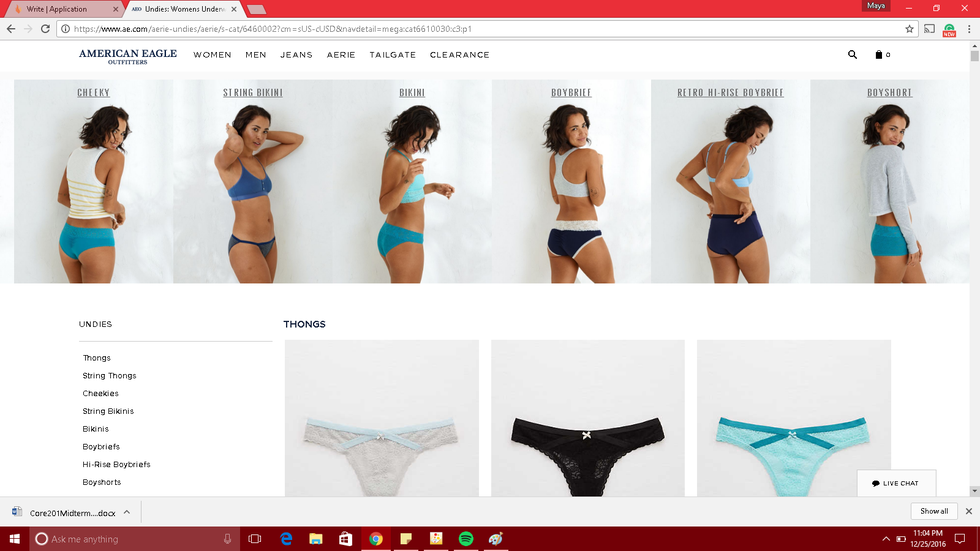 4. Sophie and Trey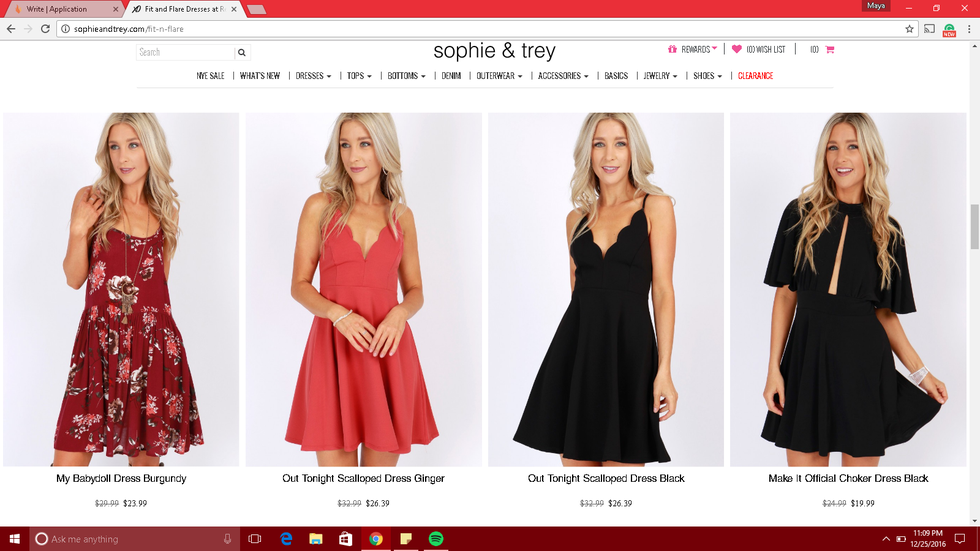 If you like the store Dress Up, then you will definitely love this place. They have a southern chic charm about them. There are some expensive items, but most products in the store range from $20 to $40. I love the dresses from here, they are expensive, but they are definitely worth it. Also, since this is a site I do not run into the problem of people wearing the same dress as me. This site is one of a kind just like I am. I have never purchased shoes from the site, but I only hear good things!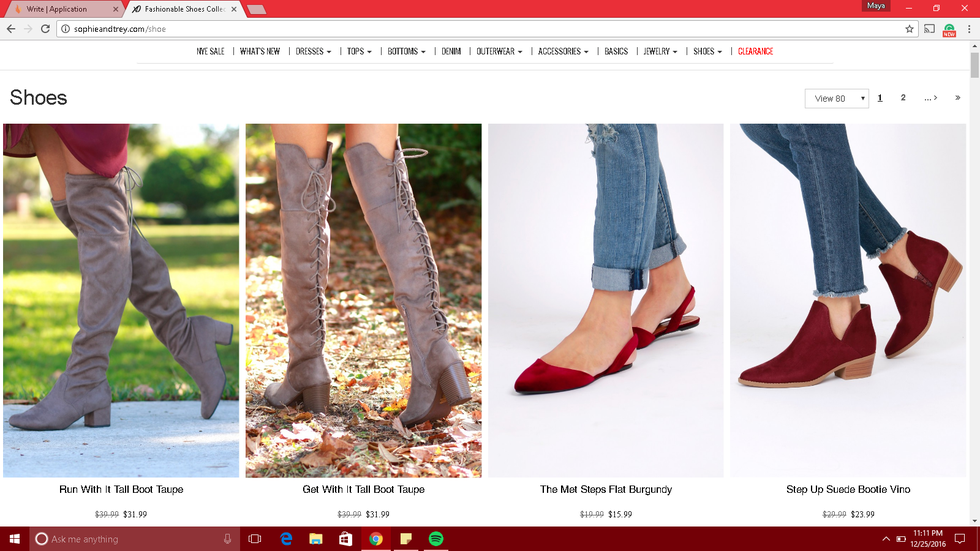 5. Entourage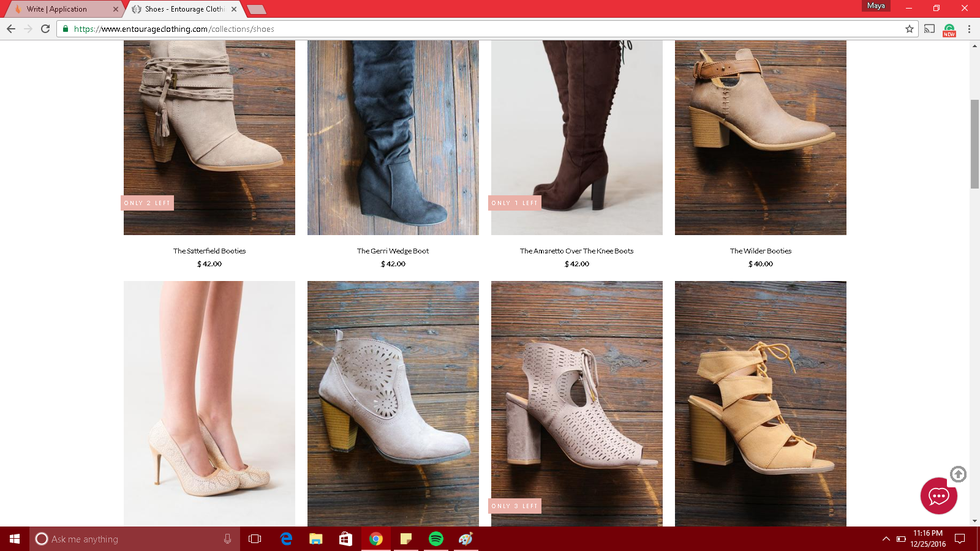 This place is perfect if you ever encounter true fall weather! They always have a tent sale around Christmas where everything is super duper cheap! It is first come, first served. They have a vintage southern chic layout to them. Therefore, you can find the perfect outfit for chilling outside during a game of football and a perfect outfit for a southern tea. They range around $20-$40, but during their tent sales I am pretty sure that nothing is priced above $20. I love their dresses. They have plus sizes as well! Be sure to check them out!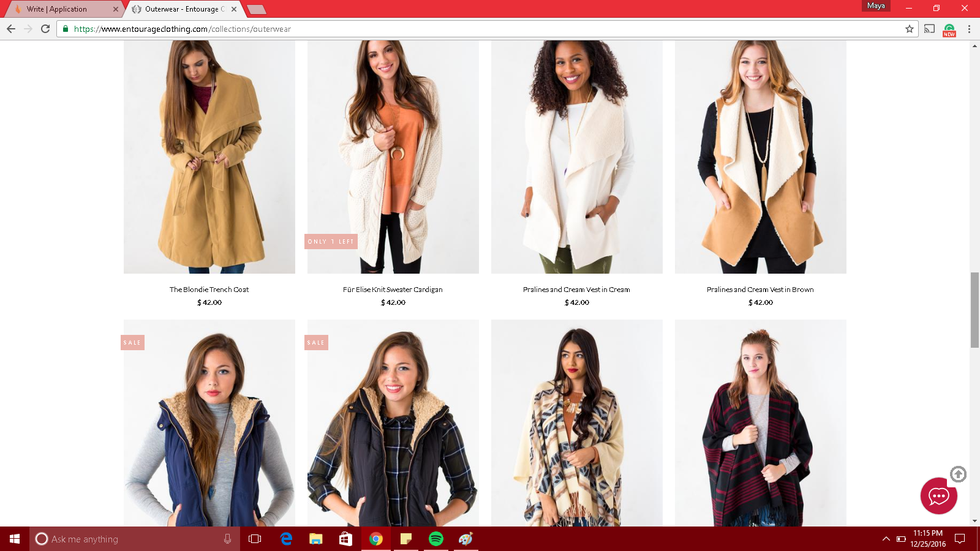 I definitely have found these particular stores to be lifesavers when I am looking for something specific. When I want a hot new shoe, but do not have old money I turn to Go Jane. When I am looking for something to keep me cozy and stylish in the winter I look at She Inside. When I have a particular outfit that I want to watch Sunday night football in the stands in I look no further than Entourage. When I am searching out for stylish dresses I turn to Sophie and Trey. Lastly, when I need new underwear whether it be for confidence, a new clothing item I purchased, or just because one can never have too much underwear I look towards Aerie. These stores are definitely affordable on a salary and stitch up any fashion need I have.