If you know me personally, you know my all time favorite band hands down is All Time Low. So many people that are my friends know exactly why I love them, but why should you love them? Here are 5 Reasons Why!
1. 12 years of it? In Azkaban?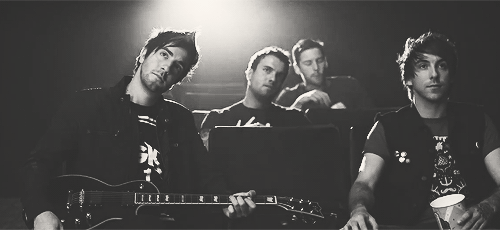 Now let's get serious it wasn't about Serious Black, what I mean is that All Time Low has been together for 12 years. They originally started out in Baltimore, Maryland their freshman year of high school and they've been making jams ever since. At first though they covered a lot of bands that they like such as Blink 182 or Green Day. A lot of their inspiration came from many bands they listened to in high school which you can definitely see in a lot of their songs.
2. Talent

Many people may not like All Time Low or their songs are not their cup of tea but honestly, they are very talented and judging from their last album Future Hearts they showed some real skills. But personally, my favorite album of theirs to this day is So Wrong, It's Right. I remember thinking the whole time I saw them back my junior year of high school how much they sounded EXACTLY like their albums, usually when I went to concerts the artist sounds a bit different in person but I was so surprised to hear how great they sounded live. It was the best experience I've had in awhile.
3. Touring, touring, touring!
I swear about any month that I check out their band's Twitter, there is always some tour happening for them. Whether it'd be a few dates, or a full blown tour, they ALWAYS seem to be touring non-stop. Of course, they have time off, but most of the time they are playing shows and on the road doing so. It seems to me they're always in a different place....so maybe, they'll tour your city the possibility is probably going to happen most likely!
4. Inspiration

I don't know what it is but for me personally, seeing All Time Low succeed in the alternative scene. They basically had the life they wanted as teenagers, and that inspires me to keep moving forward towards my dreams, whatever it may be. If you have a dream: follow it! You never know what could come of it!
5. The Best Band EVER!
I may be a little biased but of course I'm going to be. They're great guys, they're super smart and very helpful to me during my younger teens. They helped out a lot even if they do have one hundred bras hanging off their mic at the end of the night during a show (don't worry they auction them off and use the money for breast cancer). They can make you laugh, cry, smile, and even just be so gosh dang proud of them as a band. They are a wonderful bunch a dudes living the dream.
Keep up the jams, guys! You're doing wonderfully! <3