The break is over and another new semester is underway. Some students may be a little frightened because they are first-time college freshmen and they don't know what to expect, while others are ecstatic because graduation is only a few months away.
Besides spring break, to mos,t returning to college the week after summer or winter break is one of the BEST weeks of the semester. "Why is that?" most may ask. Well,because it's syllabus week, of course! In college, you literally get a whole week off after to return from your break to do absolutely nothing. Professors will spend most of the week going over new course material and making sure students are familiar with assignments, due dates and office hours. During syllabus week, you are still required to report to class, but usually for a couple of minutes or so. You may even get lucky and not have class at all that week.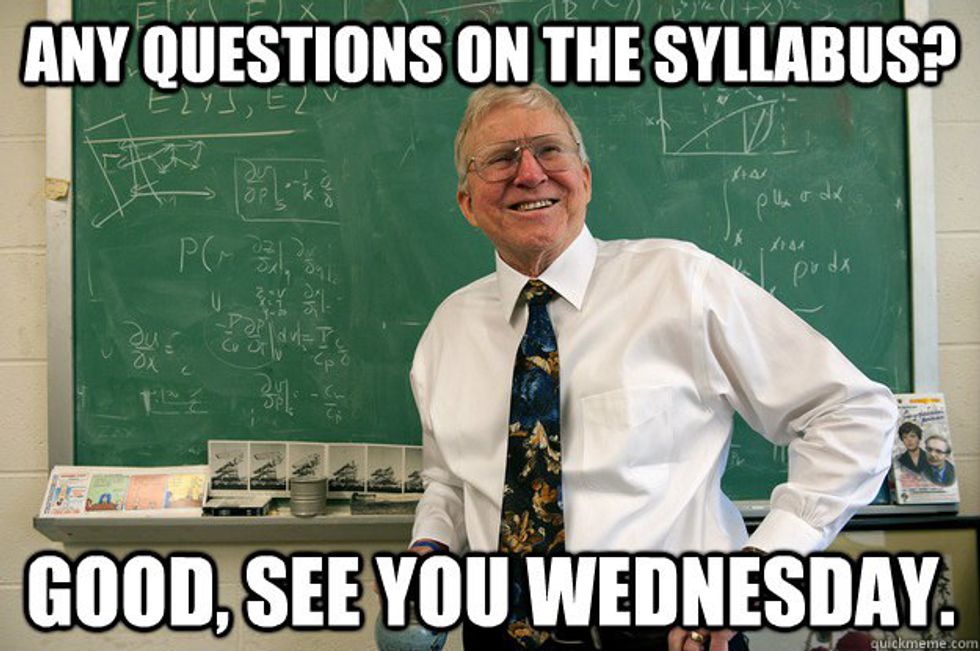 Unfortunately, "syllabus week" may really only exist during freshman year. By the time your freshman year has come to an end, you've gotten all of your easy classes out of the way. Now comes the difficult part. By the time sophomore year approaches, your major and prerequisite classes will take up an ample amount of your time. Instead of spending the entire first week of classing reviewing the class syllabus, you'll most likely have an assignment due by the end of the week. You can say "good-bye" to sleeping all day and partying all night, and say "hello" to staying up until the wee hours of the morning studying, stressing over class assignments that you waited until the night before the due date to start on, making the library your home, and dragging yourself out of bed for 8 o'clock classes.
On another note, syllabus week is not all it's really made out to be. Here are five reasons to not to be excited about syllabus week.
1. Campus parking is at its all-time worst
You think campus parking is absolutely terrible throughout the semester for commuter students? Well, guess again. During the first week of class, or "syllabus week," campus parking will be at its all-time worst. Most students are excited to meet new professors, meet up with old friends and eager to learn. Others just attend during the first week to get familiar with the class schedule and to see if the class will really even be worth coming to. After a week or two traffic will slow down and trying to find a parking spot on campus will get a little bit easier.


2. The university class registration system is always down or under maintenance
After the first day or so of classes, students have kind of figured out which professors are the "easy" ones and which ones are more difficult. Also, during this time, financial aid refunds are being dispersed by the university. With the over-abundance of usage due to students logging on to rearrange schedules and student account services dispersing school refunds, the banner system tends to crash here and there.
3. The books you need are usually on back-order
Most students find it quicker and easier to purchase books from the campus nbookstore. Unfortunately, for some classes, you always here the words "I'm sorry, but that book is on back-order" and the majority of the time it's a book that you really need. It wouldn't hurt to try and order books from websites such as Chegg or Amazon because the prices are much cheaper than the university bookstore or check with a friend to see if he or her may have the book.
4. Readjusting sleep patterns is difficult
You've spent all summer or winter break staying up all night and sleeping in late the next morning, but classes have started and it's time to adjust yourself to a new sleep pattern. Trust me, this is a lot easier said than done. Believe it or not, no matter how many times you've had to drag yourself out of bed for an 8 a.m. class, you never really adjust to being on the go so early in the morning.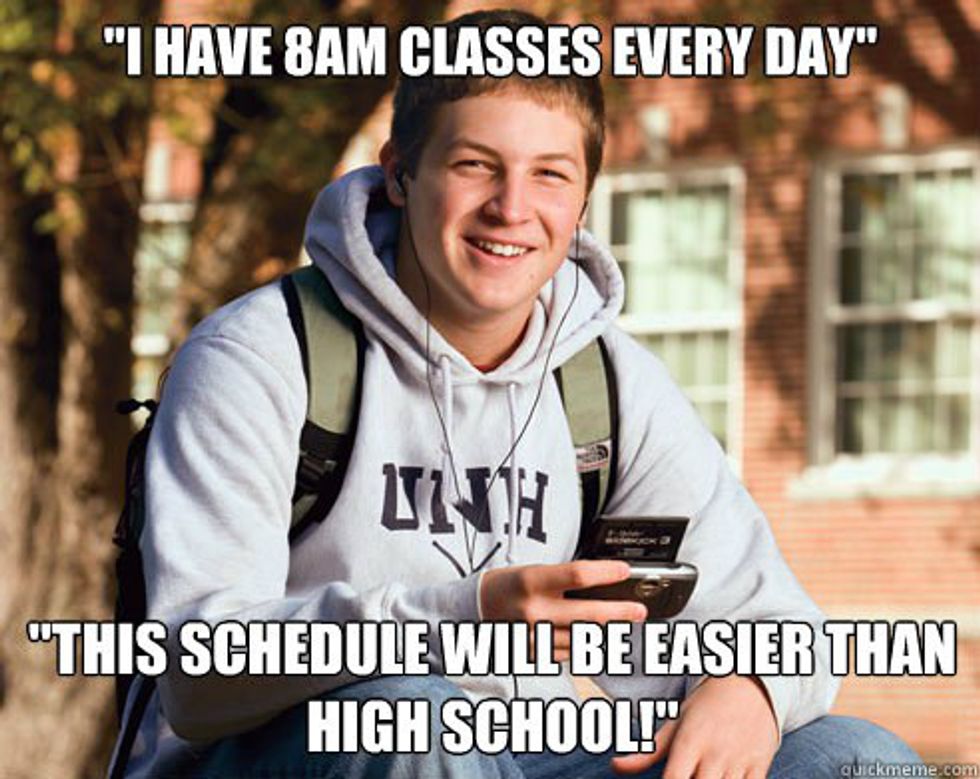 5. Getting prepared to walk across campus in all types of weather, plus walking up what seems to be several flights of stairs just to get to class
On top of spending thirty minutes to an hour searching for a parking spot, having to walk to class is even worse. The downside about college is that you no longer get the privilege of walking from hall to hall in one building to get to class. You'll have to walk to class no matter how bad the weather conditions are. Umbrellas don't always keep you dry and coats, hats and gloves won't always keep you warm. Just when you think things can't get any worse and once you make it to the hall for your scheduled class, you realize you still have to walk up three flights of stairs. If you're anything like me, by the time you've made it to class your legs are aching and you're out of breath. Of course, you don't want your classmates to know how out of shape you are, so you try to heavily breathe really quietly.