Finding a summer job can be daunting, but actually choosing one is the most difficult part. You may have a few lined up but cannot decide which way to go, and that's understandable. I just got one, and while the stress of making sure I have a job hit me at times, I managed to find an awesome workplace at a local deli that fits who I am and what I like to work with. During the search, I kept in mind a couple things, so here's what I thought of during my summer job search.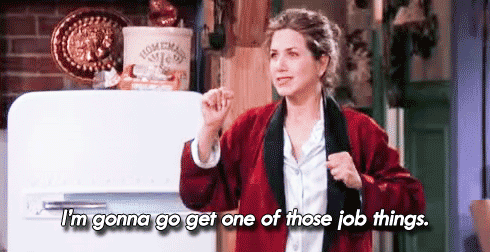 1. Stick with something local.
Summer jobs are just what the title implies: "for the summer". You don't plan on working here full-time for the rest of your life, but you are going to be working here for a good portion of the year. In order to get to and from here easily, the best route to go is somewhere local. Spending money on gas isn't worth it, especially if it's a temporary stay. Usually with local businesses they understand the "college-grind" and are also open to keep in contact with you for the winter season as well, which is also a plus. The point is that staying close to home saves time, energy, gas, and money in the long run.
2. Consider the workplace ethic, and see if it fits with you.
While this is only for the summer, you want to be comfortable in the environment you work in and also feel good with your fellow workers. If you're someone who hates being around children, then being a day-care worker isn't the job for you, obviously. If you don't like fast-paced places, then don't work in a kitchen at a fast-food joint. Find something that suits you even if it's for a short time. You need to enjoy your work. Also consider the people you'll be working with. Having annoying co-workers will typically be inevitable, but if there are a few good ones out of the bunch, then you'll be set. My best friend works with me, and we have the best time. This could be another optional factor as well.
3. Find out if your friends are working there with you. (Optional)
If you have friends at your work, then you'll not only have more fun but make more memories with them. The days will go by faster; the work won't feel like work. It'll be like a more productive hangout session, give or take.
4. Find out the salary.
Usually with summer jobs, you'll get paid minimum wage. Some places may be more open to more salary rates, and you have to scope these out. If you're planning on saving up for a big expense, then find somewhere that'll pay you enough for that expense. I advise not to be too picky with the payment, since it's just for the summer, but hey, if you can swing a higher salary at a place you'd like to work at, go for it.
5. Make sure you'll have fun.
Don't go into a workplace dreading what each day might lead to. That'll make your summer terrible and wasteful. Make sure you'll enjoy yourself because if you don't, then it won't be worth it.