Summer is here and that means everyone is traveling to and from new destinations for summer vacation. Whether traveling by car, bus, or even airplane, the first thing that comes to mind when talking about "on-the-go" clothing is comfort. I agree, comfort is definitely key. However, that does not mean our obsession with the "sweatpants, hair-tied, chillin' with no makeup on" (bless up, Drake) should skimp out on style, nor should it force us to wear our "Sunday best" in cramped public transportation vehicles. Casual chic is the way to go and those who flaunt it happen to be celebrities who are constantly blinded by flashing camera lights the moment they land for pictures on how fashionable they look . . when all they really want to do is snuggle in their cozy, extra-large hoodie as they escape the paparazzi. Here are five celebrities who know how to flaunt themselves and incidentally, have turned the airport runway into their own personal fashion runway.
1. Selena Gomez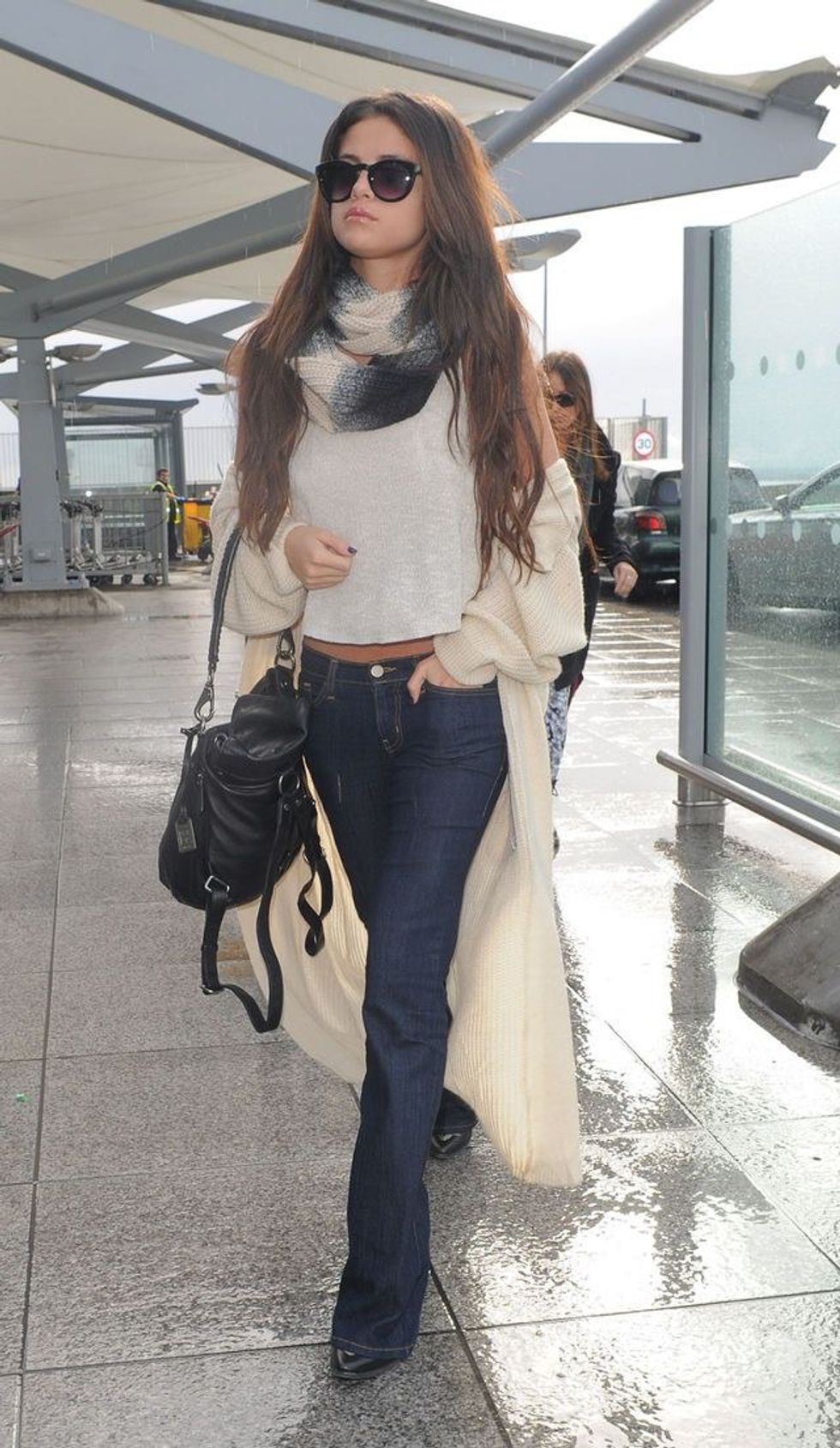 I love Selena Gomez. You love Selena Gomez. I swear, the world loves Selena Gomez. However, I love Selena for more than just her big break as Disney's childhood sweetheart. I love her for how stylish, yet effortless her look is. Selena Gomez looks "put together" for her plane ride, but let's break down her outfit to see how she coordinates comfort and trend to find the appropriate balance that the paparazzi and most importantly, her fans will love. She throws on a basic gray tank top and over-sized knit cardigan (a must have!) apt for fast-paced life. These two layers correlate with aspects of comfort, but we must notice that their comfort is underestimated as she pairs it with a fun, knit eternity scarf. This makes it seem as if hours were put into planning the entire outfit, when in reality she just threw together clothing that matched very well. She also dresses this outfit up with a pair of dark jeans. Now, I know what you all thinking— denim is one of the most uncomfortable fabrics. However, take note these pants are not skinny denim, but flared denim. Flared essential offers more movement and stretch while still looking classy and is essential for Selena's traveling circumstances. Lastly, Selena accessorizes with dark shades and a black mini-backpack, taking this look to another level of lax professionalism. All I can say is, Selena you leave me speechless.
2. Harry Styles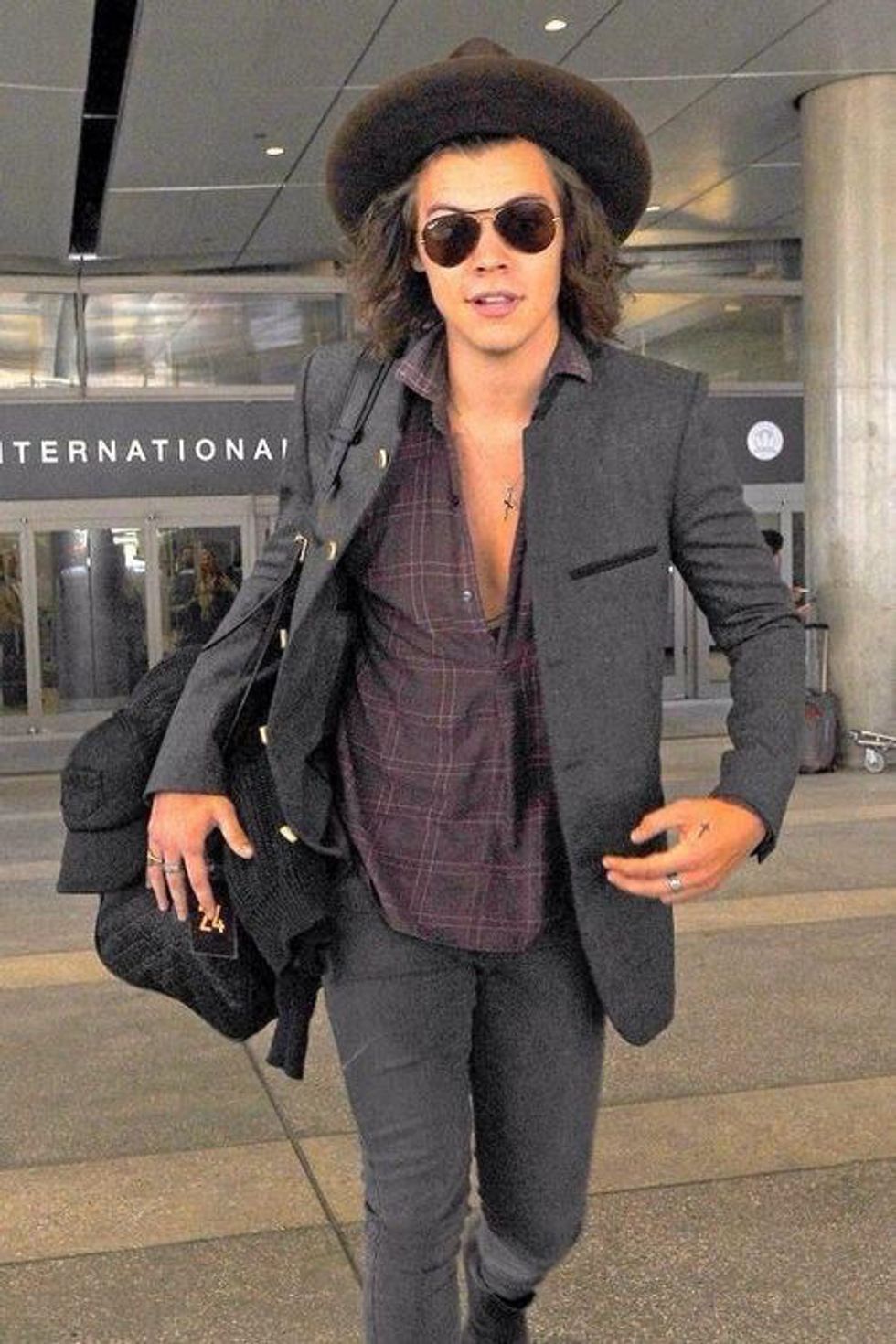 For all my directioner out there, we all love a goooooooodd picture of the adorable and lovely HAZZZZZAAA STYLES. Look at this outfit, just look it at. It overwhelms me with tears to see how amazingly trendy and fashionable this man is. First and foremost, he dresses up his look with a dark- grey blazer and the matching trousers. Indefinitely, this look is already making a statement and then, the casual factors hit you right. in. the. face. A slightly unbuttoned shirt is very relaxed and formal attire, but the dark maroon color complements the professional aspects of his dark gray blazer and trousers. Even better, he knows hot accessorize with some aviator sunglasses and a hat. So fashion-forward.
3. Vanessa Hudgens and Austin Butler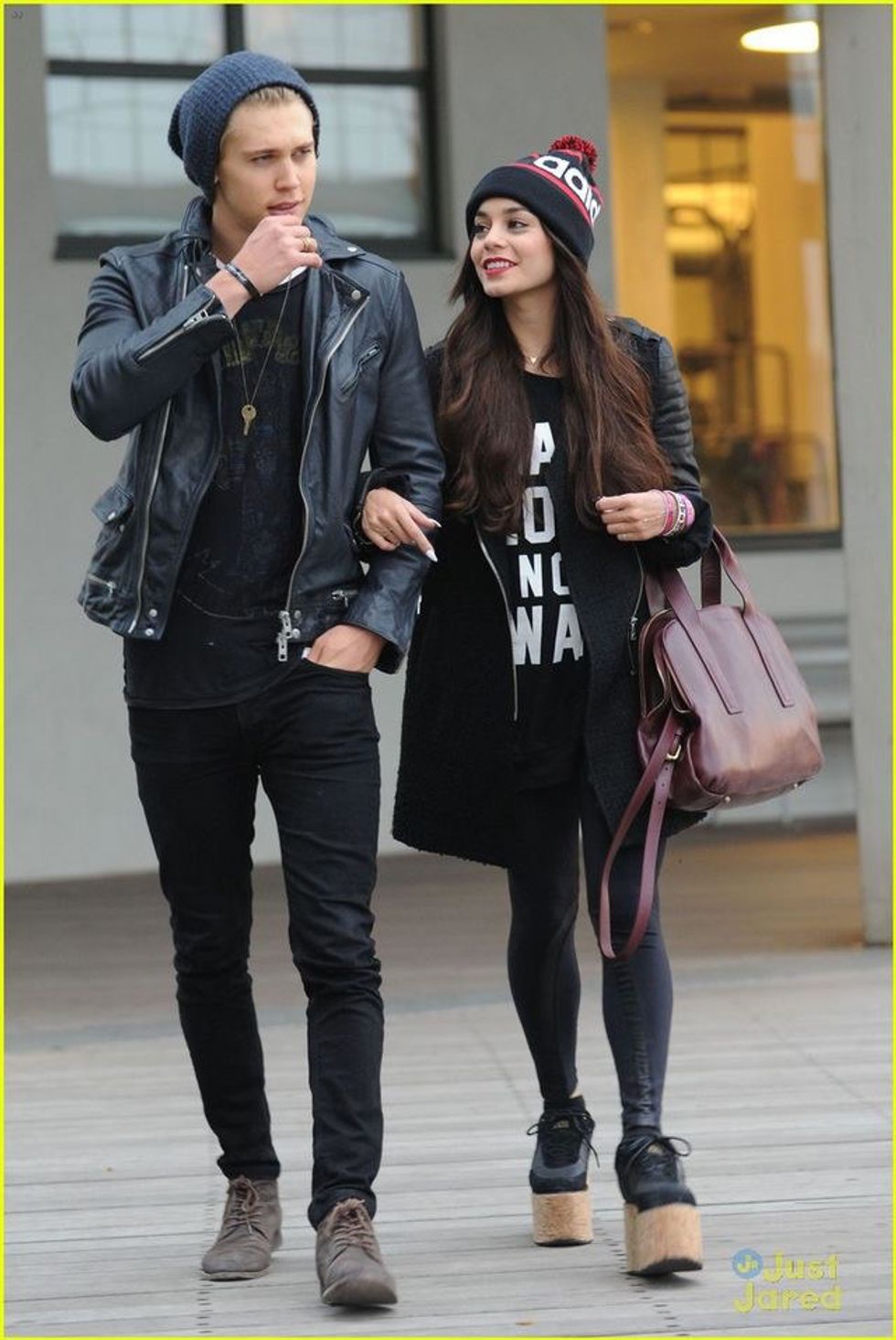 These two count as one because who really is Vanessa Hudgens without her knight in shining armor, Mr. Austin Butler. We admire them for their style on the red carpet, movie premieres, notorious Coachella appearances, and now this ultimate duo is just killing it, all nonchalant and whatnot, while waiting for a flight. Austin chooses to wear a black shirt with dark, slouchy jeans complimented by a leather jacket. Once again, we are fooled to believe that much time and effort was put into this choice of outfit, until the casual hits you smack. in. the. the. face. A navy blue beanie adds a classic touch of comfort, but is really shouting "I don't care what I'm wearing, I'm going to cover my eyes in this thing as I knock out on this nine-hour plane ride." Austin, your mastermind plan is no match for me. Vanessa Hudgens follows the same game plant, opting for black tights and a long black coat with leather shoulder accents. However, these more sophisticated pieces are not overpowering as Vanessa pairs them with a casual beanie and platform— a perfect blend of sporty and funky—sneakers that dress down the entire outfit, making it ideal for a wear on the daily. Lastly and a major key alert (DJ Khaled, where you at?) for my girl fashionistas out there, a bold lip does wonders, especially a bright red the the one Vanessa is wearing.
4. Victoria Beckham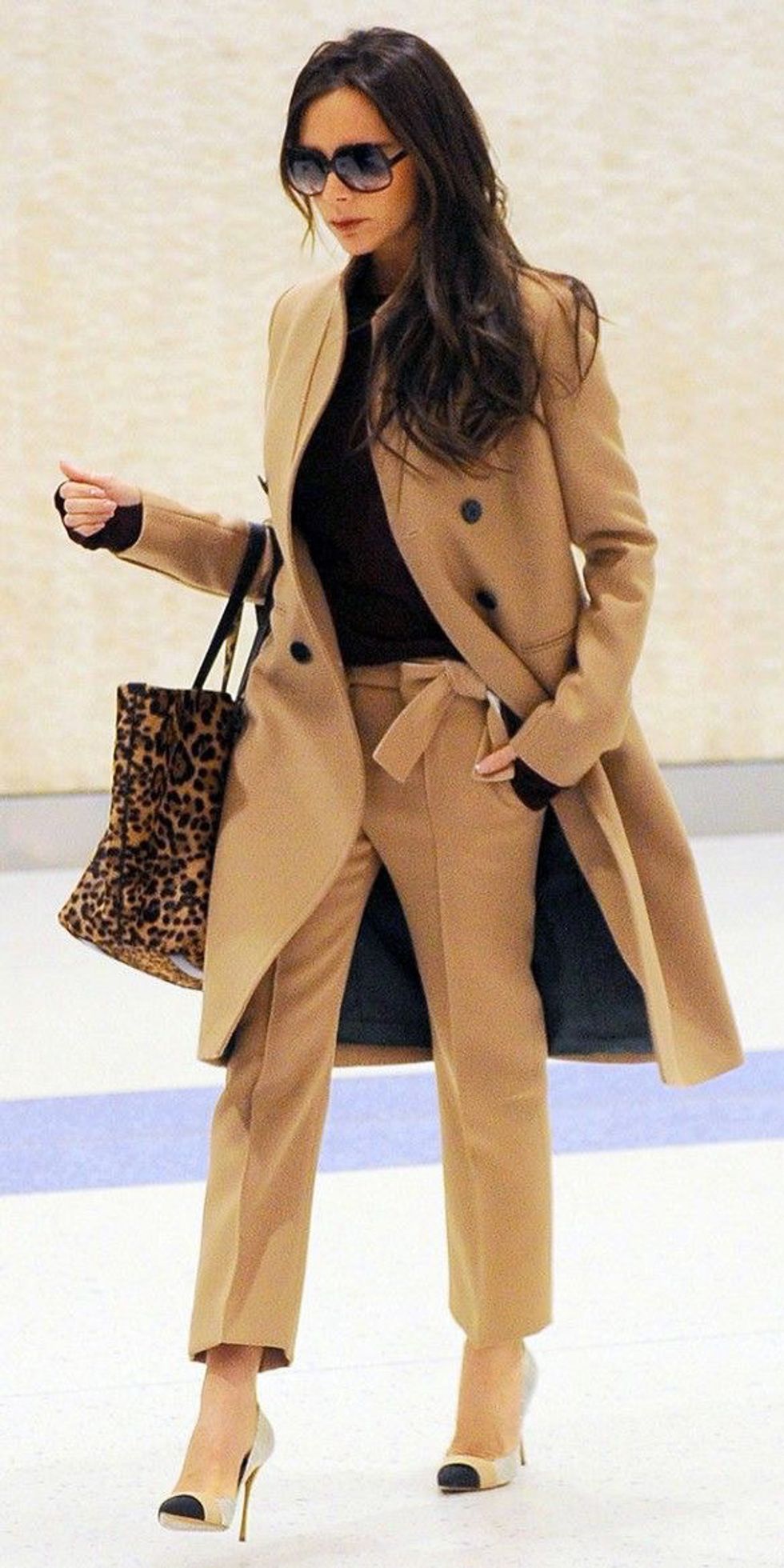 Everyone knows Victoria Beckham is the ultimate fashion guru. From her days as Posh Spice, she was and still is the hottest thing to strike the fashion world. She wears camel-colored trousers (classy and elegant) paired with a matching camel-colored trench coat just to show unfortunately, how easy it is to match neutrals that make you look prim and proper all the time. Neutrals are the way to go people— black, grey, beige, mauve— they match with anything that is anything, creating a doozy look into a fashionable one. Victoria Beckham is infamous for this "neutral law of fashion," but guess what, she pulls it off every single time so I will always swear by it. Her clothes are a little loose to reflect her casual and chic appearance, which she once again dresses up with some contrast-colored heels. For those that don't know, any clothing piece that has contrast color is a perfect way to transform an outfit because it usually adds another tone such as, white or gray or even gold, to soften dark colors that match too much. Contrast eliminates the trauma of having an outfit that clashes excessively in color, which is why Victoria's matching trousers and jacket make an intense statement rather than saying it looks she rolled in the Saharan desert into a ball of wet sand, prior to her arrival at the airport.
5. Jessica Alba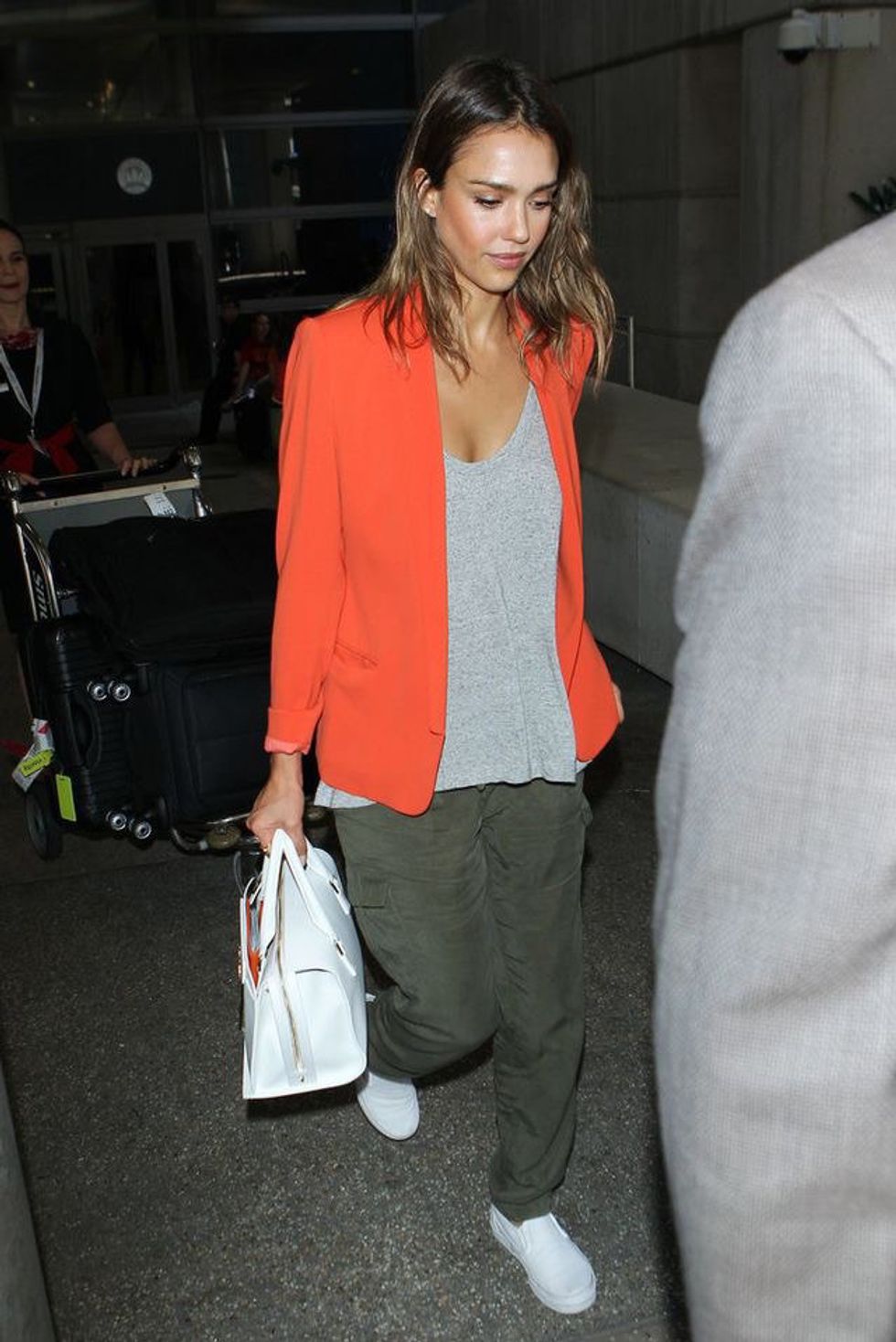 Jessica Alba has natural beauty that no one can deny. She knows what makes her look good, how it makes her look good, and when to wear it. In this specific outfit, she pairs her laid-back green pants with a long, gray shirt (neutrals once again. . .see I didn't lie!) and spiffy white vans, which makes the entire ensemble look clean. This is perfect for on-the-go because Jessica looks presentable and comfortable, but wait, there's more. Is there a pop of color I see? Yes, definitely. Jessica adds a neon orange blazer to her outfit that makes our jaws drop. This could have been a major fashion disaster, but I will tell you why this look is a hit and not a miss (although some may disagree). A neon orange hoodie would have made this outfit cringe-worthy and too laid-back. However, she wears the neon color with a cuffed blazer to add a personal touch of formality and flair. Not only does the blazer make the outfit fun, but it provides sophistication and pairs great with a white handbag. The blazer takes the outfit a step further, changing the monotone and matching neutral colors from dab to fab as the neon orange establishes sense of flattery alongside the hunter green pants.