In the spirit of the season, most of us decided to go right for the spirits. We all know and love our favorite cocktails and the months of September through November simply allow us to experiment with flavors and designs that aren't available the rest of the year. So let's all raise a glass with a final toast to the closing days of October.
1. The Zombie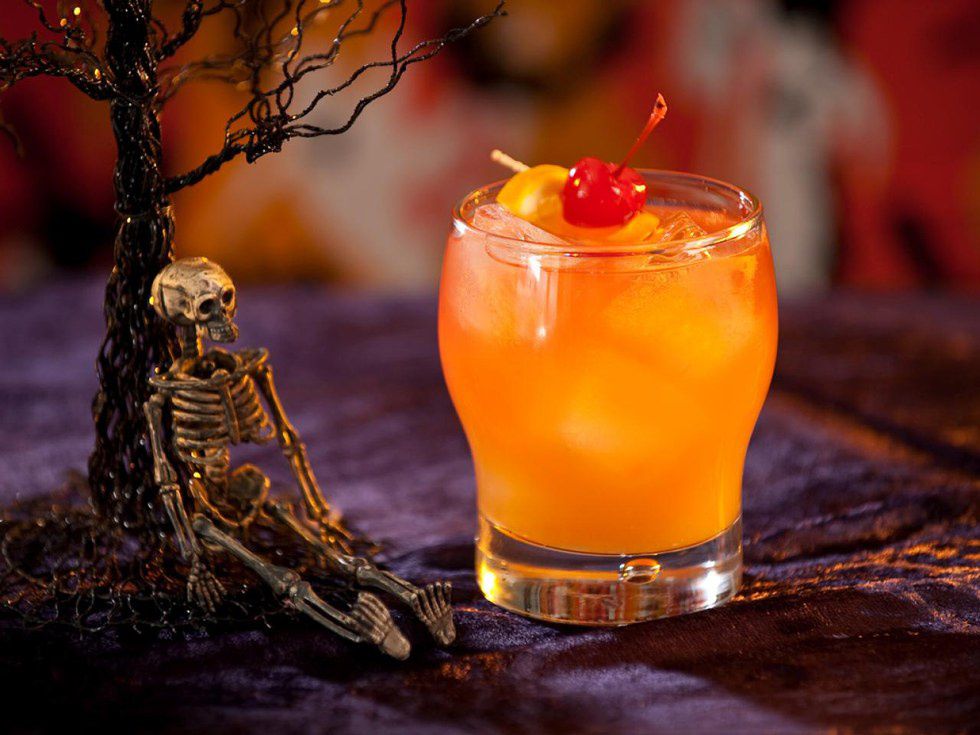 A potent and aptly named cocktail, the zombie came into the public view in 1934. Apparently named for allegedly turning the drinker into a "zombie," this incredibly packed punch is simply filled to the brim with liquor and disguised with fruit juices. A tropical stretch for Halloween, but certainly not unwelcome.
Ingredients
1 oz. light rum
1 oz. dark rum
1 oz. apricot liquor
2 oz. orange juice
1 dash lime Bitters
1 oz. Bacardi 151 Rum
orange slice and cherry, for garnish
Directions
Combine light rum, dark rum, apricot liquor, orange juice and bitters using a cocktail shaker.
Pour into a large glass filled with ice. Top with the shot of Bacardi 151, then garnish with the orange slice and cherry.
Recipe from: http://www.delish.com/cooking/recipe-ideas/recipes/a43896/halloween-cocktail-ideas-zombie-cocktail-recipe/

2. Caramel Apple Punch
Apple cider is one of the four pillars of Fall right next to changing leaves, chilly weather, and pumpkin spice. This recipe is everything you loved about apple cider as a kid with all the benefits of being an adult.
Ingredients
1-quart apple cider, chilled
1 1/4 cup spiced rum
2 tablespoons fresh lemon juice
1 red apple, thinly sliced
Directions
In a large pitcher or punch bowl, combine the apple cider, rum, and lemon juice; chill for up to 12 hours. Serve over ice and garnish with the apple.
Recipe from: http://www.realsimple.com/food-recipes/browse-all-recipes/caramel-apple-punch/
3. Pumpkin Martini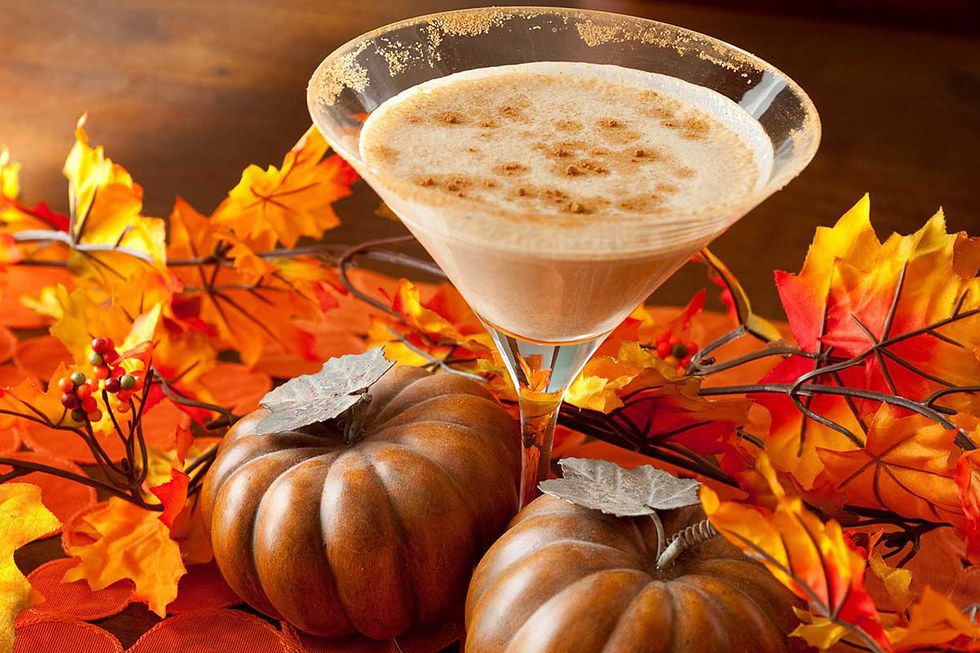 For those of you seeking to connect with your inner James Bond and your inner white girl, the Pumpkin Martini fits the bill.
Ingredients
1 tablespoon sugar
1/4 teaspoon pumpkin pie spice
3 tablespoons vodka
2 tablespoons half and half
1 tablespoon canned pure pumpkin puree
1 tablespoon maple syrup
1/4 teaspoon pure vanilla extract
Directions
Combine the sugar and ⅛ teaspoon of the pumpkin pie spice on a small plate. Dip the rim of a chilled martini glass in water, then dip in the sugar to coat.
In a martini shaker filled with ice, combine the vodka, half and half, pumpkin puree, maple syrup, vanilla extract, and the remaining ⅛ teaspoon of the pumpkin pie spice. Shake vigorously, then strain into the prepared glass.
Recipe From:http://www.realsimple.com/food-recipes/browse-all-recipes/pumpkin-martini
4. Sleepy Hollow
One of the coolest cocktails that I've seen, the sleepy hollow is visually appealing though its ingredients are not as easy to acquire as the others put on this list. It's the only cocktail I've ever seen where when something is lit on fire.
Ingredients:

½ ounce absinthe
2 ounces mezcal
1 oz st. Elizabeth allspice dram
2 dashes angostura bitters
rosemary sprig, for garnish
Directions:

Pour absinthe into a rocks glass; swirl to coat, and discard liqueur.
Fill a cocktail shaker with ice, then add mezcal, st. Elizabeth, and 2 dashes of bitters. Strain cocktail into a glass over ice. Light rosemary with a lighter or culinary torch until smoking and place it in the glass. Serve immediately.
Recipe from: http://www.thejewelsofny.com/recipe/2014/10/21/sleepy-hollow-cocktail
5. Brain Hemorrhage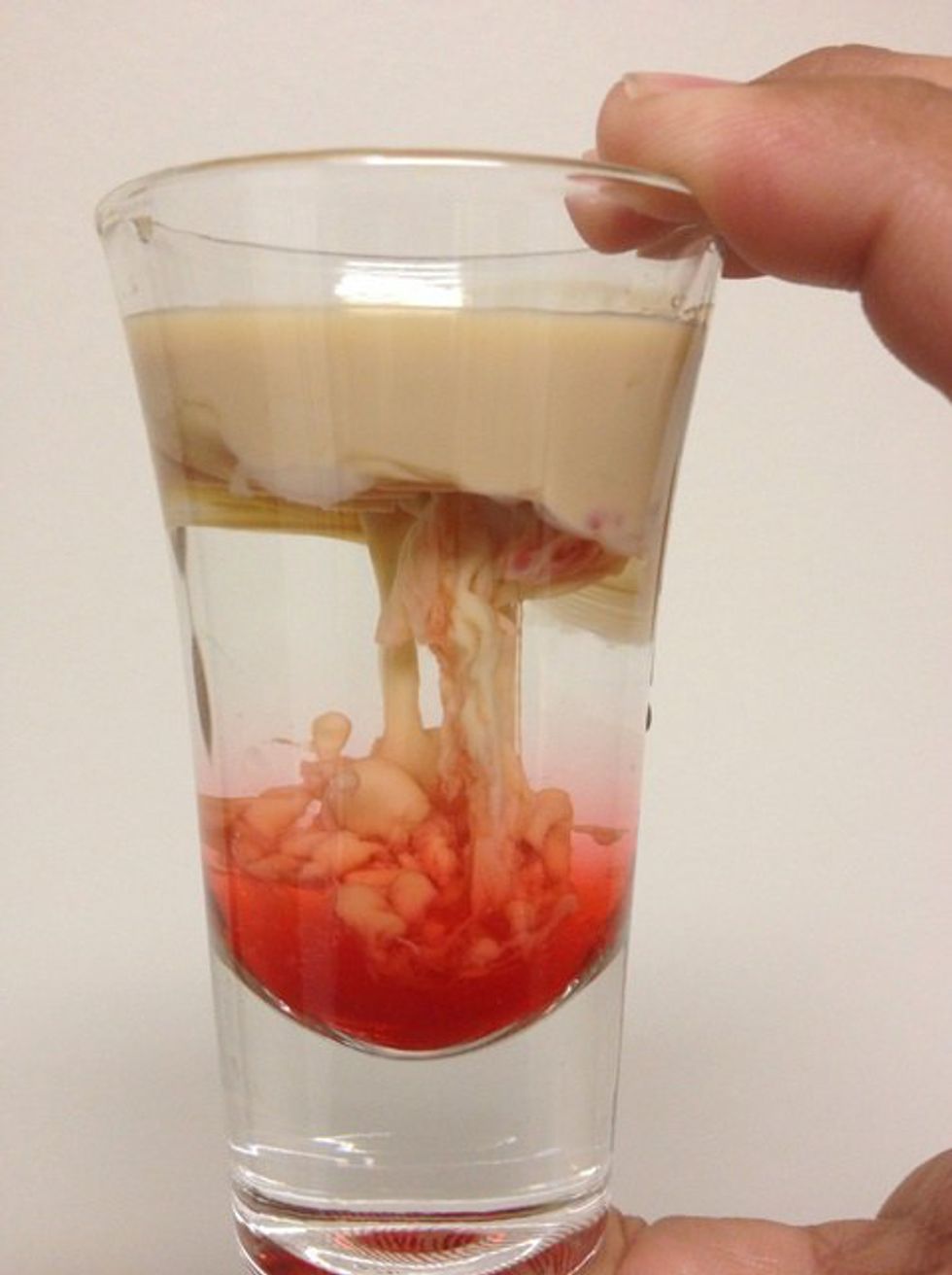 The most Halloweeny looking drink that I've seen is the gory and disgusting brain hemorrhage, named after the medical condition, this really looks the part. Despite the strange sounding mixture of ingredients found inside this shooter, it is eye catching if not a little stomach turning. Bottoms up!
Ingredients:

1 tsp Bailey's® Irish cream
2 drops grenadine syrup

Directions:

Pour the peach schnapps into a shot glass. Slowly add the Bailey's, top with the grenadine, and serve.
Recipe From: http://www.drinksmixer.com/drink11282.html