There are plenty of days where we all feel down and depressed. We feel like God is so far away from us and our heart aches to be closer to Him.
When you're having one of those days the best possible thing to do is pick up your Bible, ask God for his guidance and pray. Praise Him for all his goodness, thank Him for your blessings, and ask him to guide you in your struggling.
Here are 30 Bible verses for different struggles you may be experiencing today: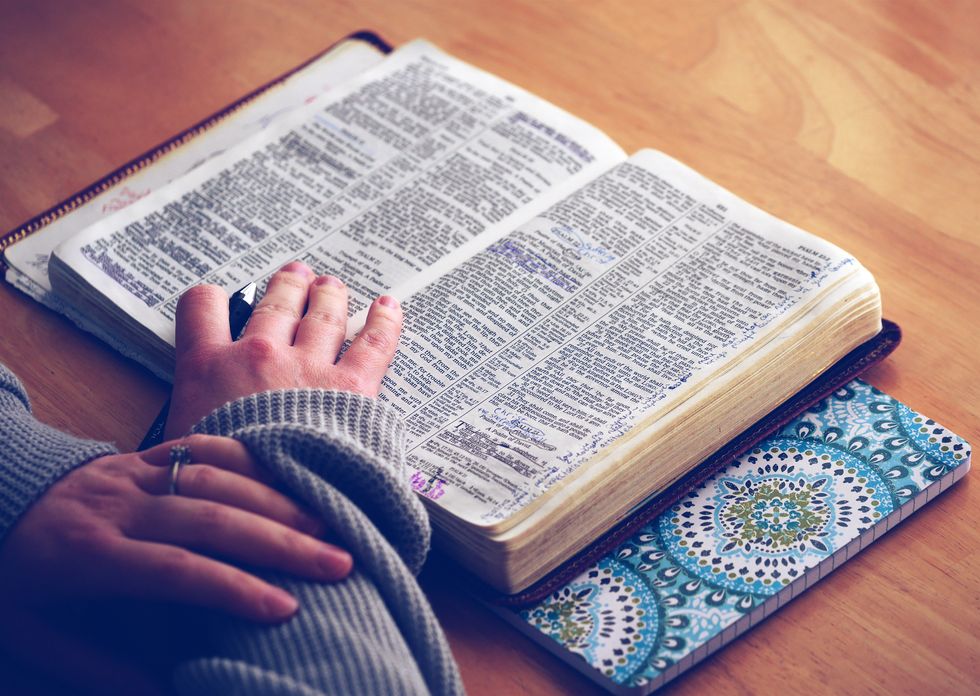 For when you're lacking faith…

He said to them, "Because of your little faith. For truly, I say to you, if you have faith like a grain of mustard seed, you will say to this mountain, 'Move from here to there,' and it will move, and nothing will be impossible for you."
-Matthew 17:20

Truly, I say to you, whoever says to this mountain, 'Be taken up and thrown into the sea,' and does not doubt in his heart, but believes that what he says will come to pass, it will be done for him.
-Mark 11:23



For when you are unsure of who you are in Christ…
If we confess our sins, He is faithful and just to forgive us our sins and to cleanse us from all unrighteousness.
-1 John 1:9

And you have been filled in Him, who is the head of all rule and authority.
-Colossians 2:10

There is therefore now no condemnation for those who are in Christ Jesus.
-Romans 8:1

Therefore, if anyone is in Christ, he is a new creation. The old has passed away; behold, the new has come.
-2 Corinthians 5:17



For when you need healing…
He himself bore our sins on his body on the three, that we might die to sin and live to righteousness. By His wounds you have been healed.
-1 Peter 2:24

Bless the Lord, O my soul, and forget not all His benefits.
-Psalm 103:2

But He was pierced for our transgressions; He was crushed for our iniquities; upon Him was the chastisement that brought us peace, and with His wounds we are healed.
-Isaiah 53:5

and say: 'Heat the word of the Lord, you kings of Judah, and all Judah, and all the inhabitants of Jerusalem, who enter by these gates.
-Jeremiah 17:20



For when you need peace in the midst of fear and anxiety…
You keep him in perfect peace whose mind is stayed on you, because he trusts in you.
-Isaiah 26:3

Do not be anxious about anything, but in everything by prayer and supplication with thanksgiving let your requests be made known to God. And the peace of God, which surpasses all understanding, will guard your hearts and your minds in Christ Jesus.
-Philippians 4:6-7

Be strong and courageous. Do not fear or be in dread of them, for it is the Lord your God who goes with you. He will not leave or forsake you.
-Deuteronomy 31:6

Fear not, for I am with you; be not dismayed, for I am your God; I will strengthen you, I will help you, I will uphold you with my righteous right hand.
-Isaiah 41:10

The Lord is near to all who call on Him, to all who call on Him in truth.
-Psalm 145:18



For when you need boldness and authority…
I will give you the keys of the kingdom of heaven, and whatever you bind on earth shall be bound in heaven, and whatever you loosed on earth shall be loosed in heaven.
-Matthew 16:19

The thief comes only to steal and kill and destroy, I came that they may have life and have it abundantly.
-John 10:10

Have I not commanded you? Be strong and courageous. Do not be frightened, and do not be dismayed, for the Lord your God is with you wherever you go.
-Joshua 1:9

Submit yourselves therefore to God. Resist the devil, and he will flee from you.
-James 4:7

for God gave us a spirit not of fear but of power and love and self-control.
-2 Timothy 1:7

I can do all things through Him who strengthens me.
-Philippians 4:13



For when you're worrying about provisions and finances…
You shall remember the Lord your God, for it is He who gives you power to get wealth, that He may confirm His covenant that He swore to your fathers, as it is this day.
-Deuteronomy 8:18

Honor the Lord with your wealth and with the firstfruits of all your produce; then your barns will be filled with plenty, and your vats will be bursting with wine.
-Proverbs 3:9-10

But seek first the kingdom of God and His righteousness, and all these things will be added to you.
-Matthew 6:33

Whoever is generous to the pour lends to the Lord, and he will repay him for his deed.
-Proverbs 19:17

And my God will supply every need of yours according to His riches in glory in Christ Jesus.
-Philippians 4:19



For when you need wisdom and direction…
If any of you lacks wisdom, let him ask God, who gives generously to all without reproach, and it will be given him.
-James 1:5



For when you are struggling to trust and wait…
Trust in the Lord with all your heart, and do not lean on your own understanding. In all your ways acknowledge Him, and He will make straight your paths.
-Proverbs 3:5-6

Humble yourselves before the Lord, and He will exalt you.
-James 4:10

For I know the plans I have for you, declares the Lord, plans for welfare, and not for evil, to give you a future and a hope.
-Jeremiah 29:11

God is with us through the good and the bad. He never fails us and His love is everlasting. He will pull us through all struggles we experience.