Baristas-- the masters of your well-made, tasty drinks at your go-to coffee shop. How can you live without them? They are in charge of preparing your god-send, your coffee (or coffees), that get you through the long and grueling days. Their job is everything but easy, and can get pretty chaotic at times. Often having to turn down nightly plans due to the fact that they have an early shift in the morning, they are sacrificing their social lives to make the drinks you can't live without. Here's a little glance at what they go through during most shifts.
1. Fighting over a Sharpie with coworkers.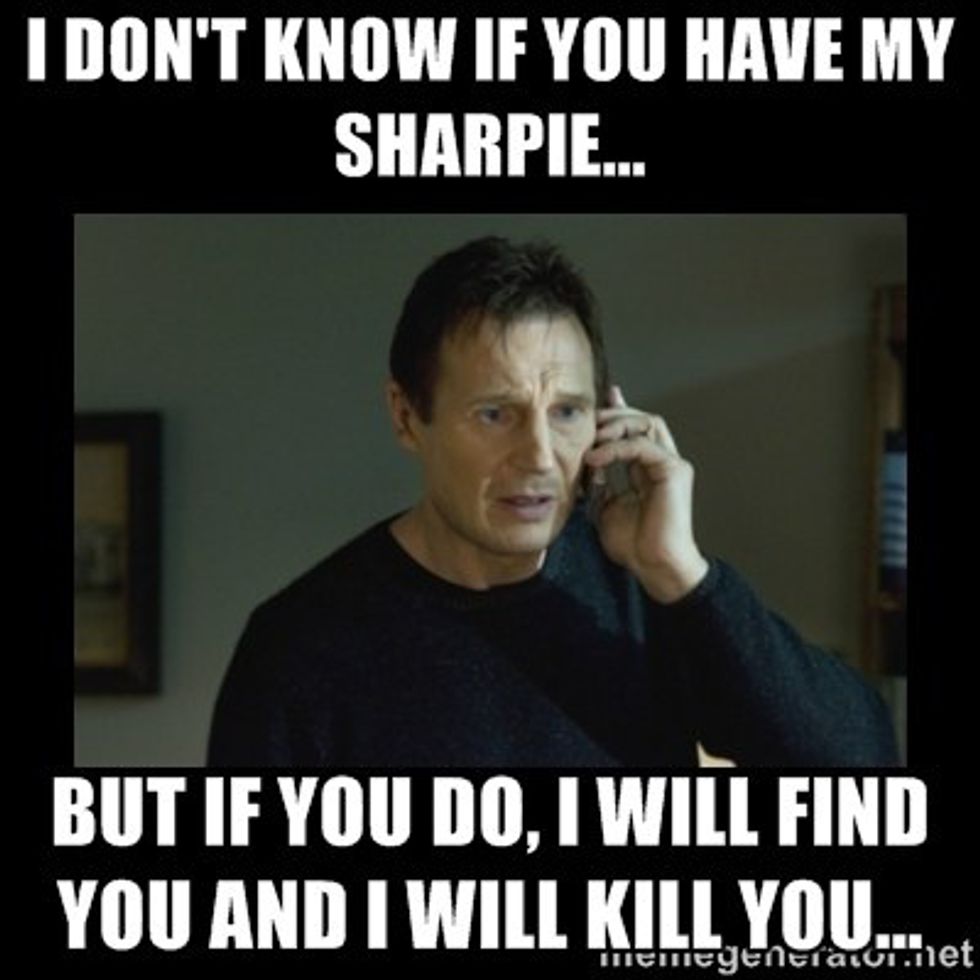 When it's a busy day, and everyone is wanting a drink at the same time, you have got to have your handy-dandy Sharpie ready to go. However, sometimes people decide that they need the Sharpie more than you do.
2. Customers asking for deals that don't exist.
Customer: "Hi, I saw this deal online that says I get a five-dollar gift card with this purchase. Is that true?"
Barista: "No, I'm sorry, the online deals aren't the same as in our stores, but we can get you the drink."
Customer: "I can't believe how unprofessional this is. I am furious. My drink should be free."
3. Customers trying to get free drinks.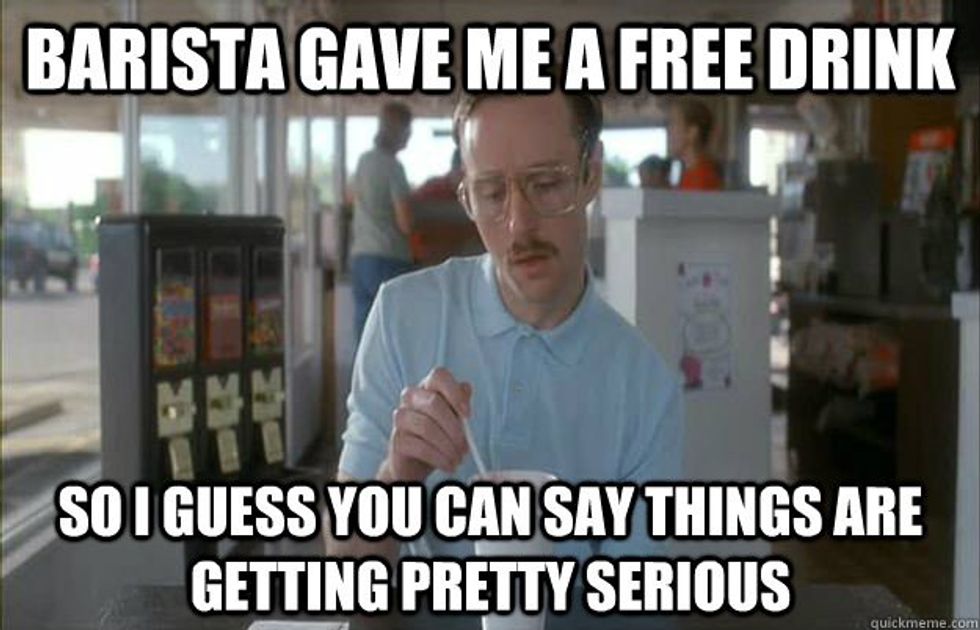 People come in all the time pretending it's their birthday, or that their drink didn't taste right. That's what happens when people want a free coffee.
4. "Do you guys sell hamburgers here?"
[rebelmouse-proxy-image https://media.rbl.ms/image?u=%2Ffiles%2F2016%2F02%2F24%2F635919408020137965-1496781672_confused.gif&ho=http%3A%2F%2Fcdn1.theodysseyonline.com&s=933&h=1ef45ca9475a76f0850f616af32a7ac677009ec99ac5139caba74083a6f644d5&size=980x&c=2178106029 crop_info="%7B%22image%22%3A%20%22https%3A//media.rbl.ms/image%3Fu%3D%252Ffiles%252F2016%252F02%252F24%252F635919408020137965-1496781672_confused.gif%26ho%3Dhttp%253A%252F%252Fcdn1.theodysseyonline.com%26s%3D933%26h%3D1ef45ca9475a76f0850f616af32a7ac677009ec99ac5139caba74083a6f644d5%26size%3D980x%26c%3D2178106029%22%7D" expand=1]
No, I'm sorry, this is a coffee/pastry shop. You can find hamburgers at your local burger joint down the road. Sorry to disappoint.
5. "Why are your drinks so expensive?"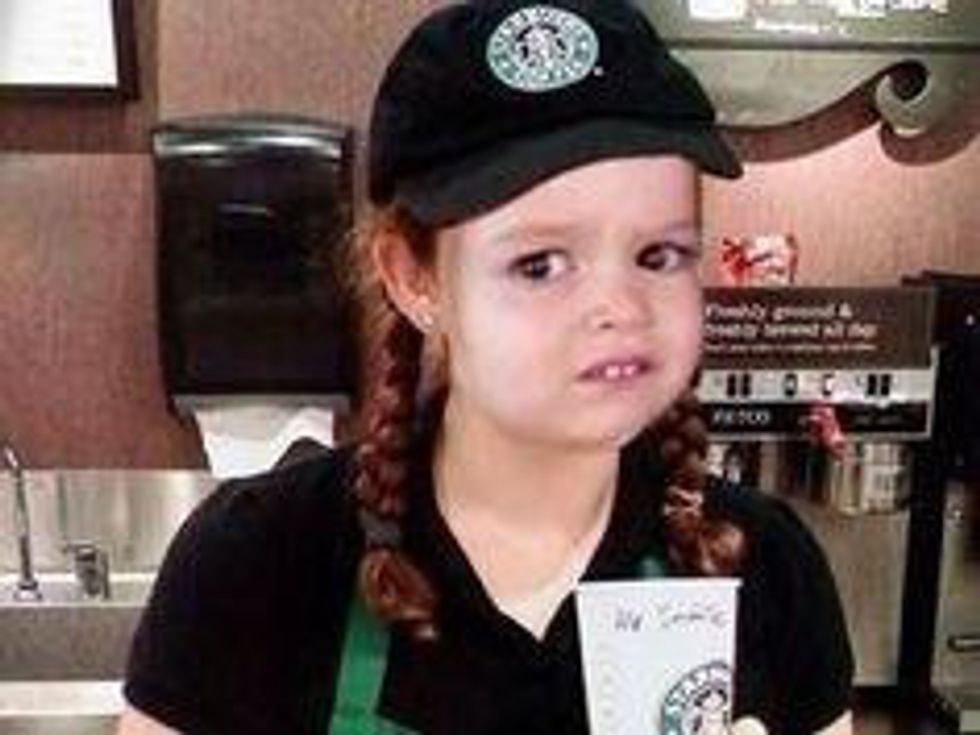 Thank you for asking me that question, because as a barista, I totally know the answer to that.
6. Going to bed at 6:30 to prepare for your early morning shift.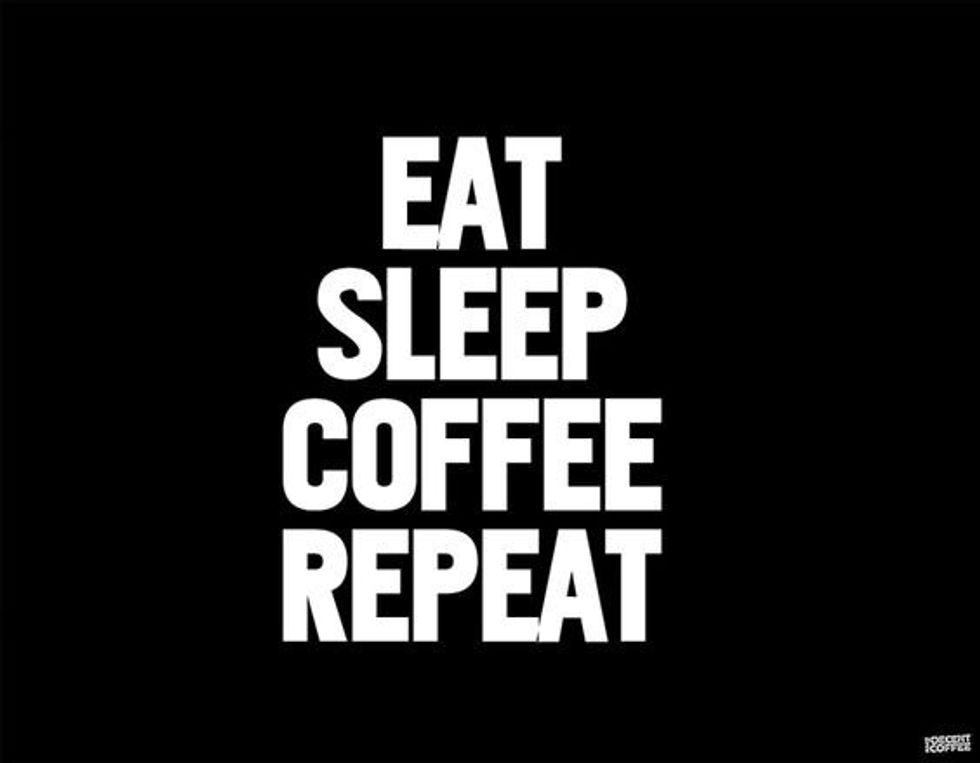 Most of the time, baristas end up working at five-thirty or six in the morning. Sometimes, they might even work a little earlier than that. So in order to prepare, they've got to get their beauty rest.
7. Being so stressed that you "misplace" items sitting right in front of you.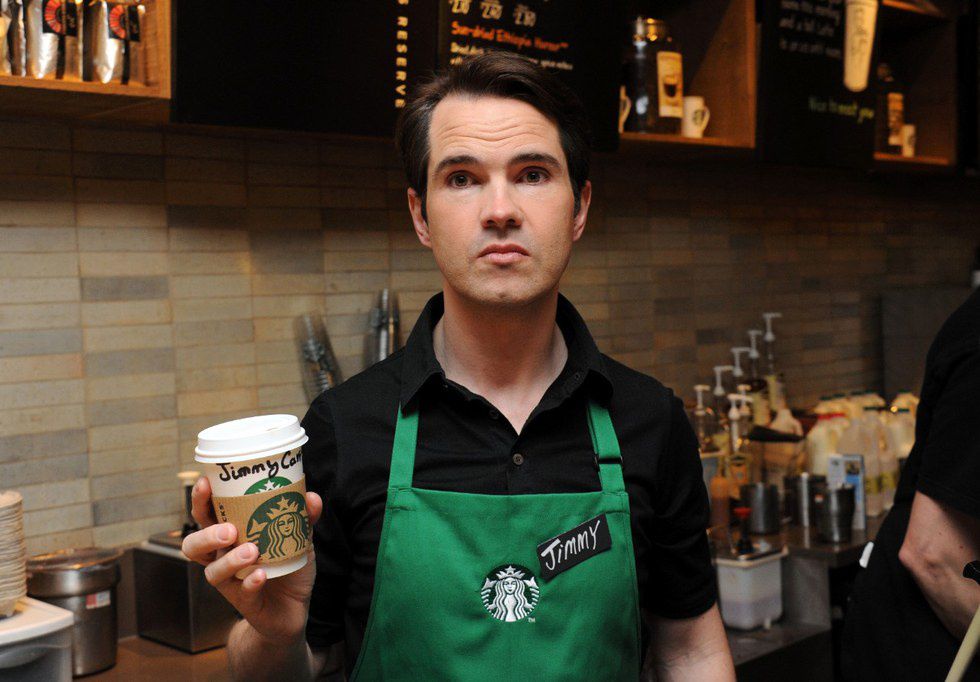 Sometimes, when it gets busy, you can't find the stuff that you need. It's probably sitting right there, but for some reason your stress overload prohibits you from being able to find the item you need.
8. Customers complaining about waiting in line, when they haven't even been waiting that long.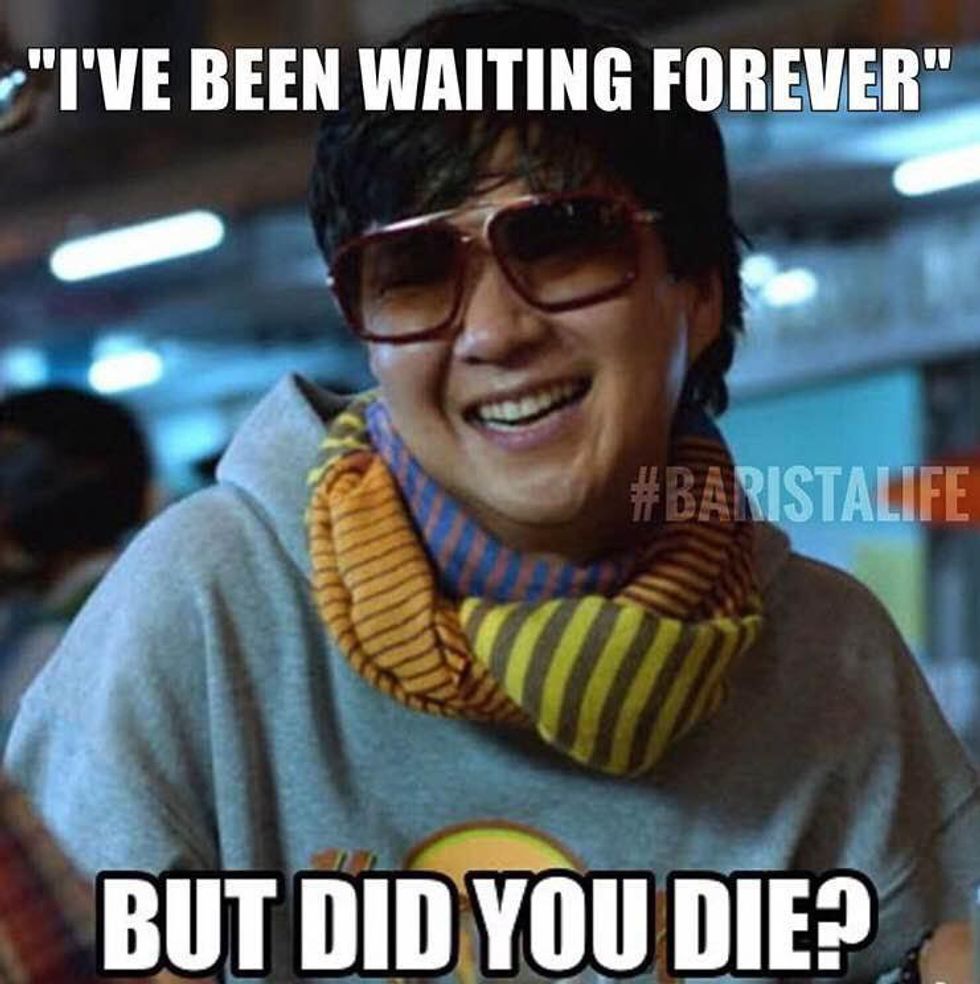 Sometimes, customers will have just ordered their drink, and they get rather impatient. They want to know what is taking so long; however, they haven't been waiting for more than two minutes.
9. Giving someone decaf when they are rude to you.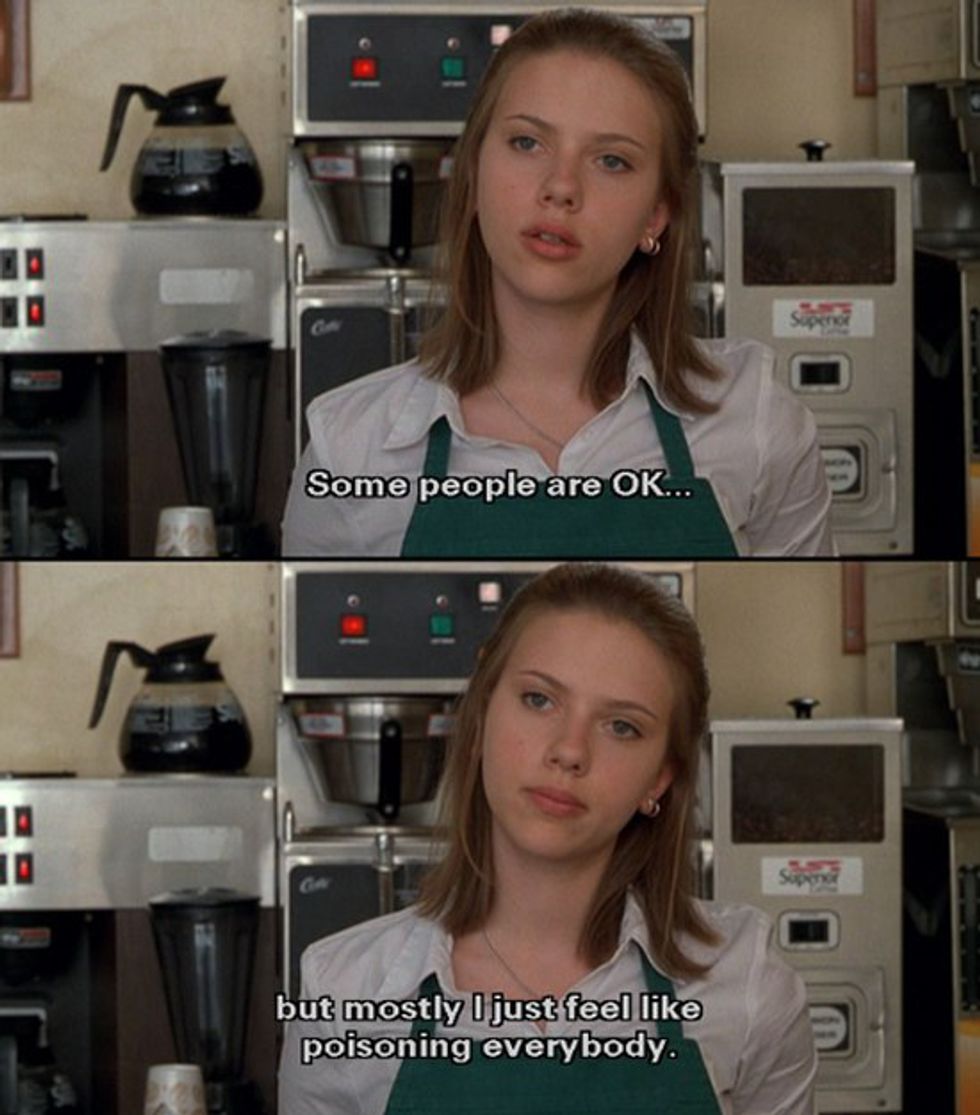 Be careful not to bite the hand that feeds you your coffee, people. You might get a decaffeinated drink, instead of what you originally ordered.
10. Preparing free drinks when your friends come by.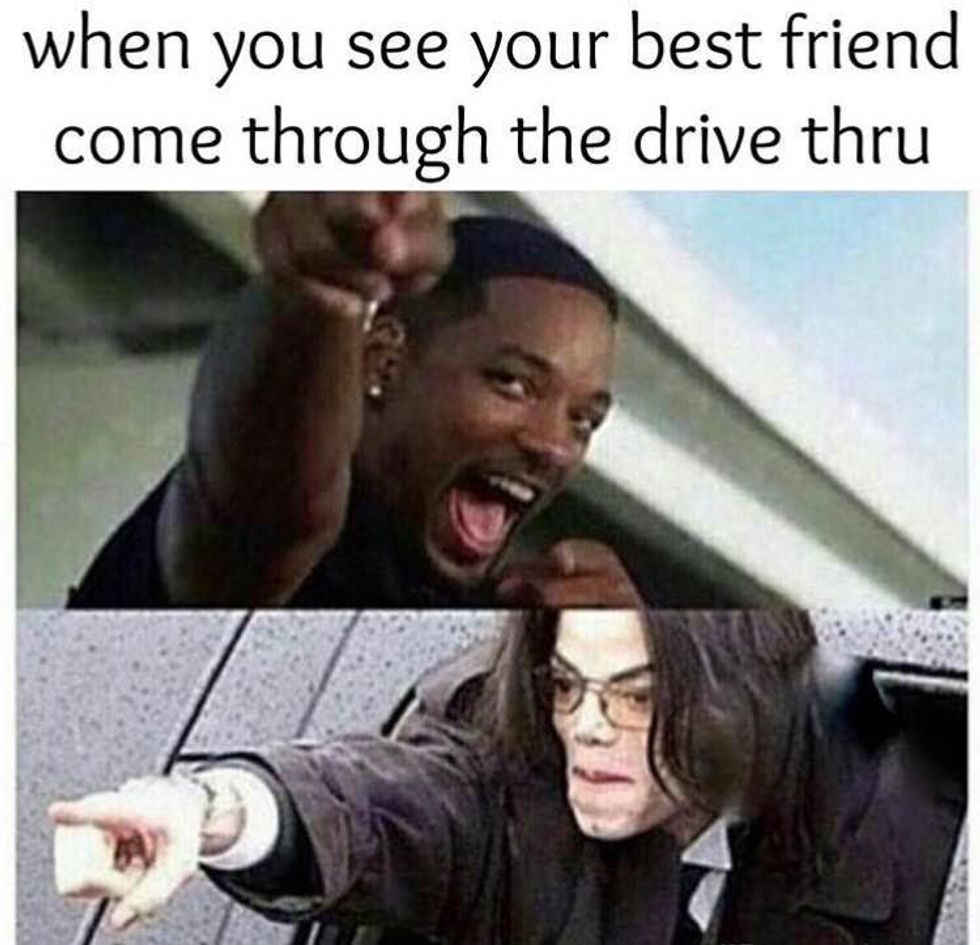 Of course, when your friends come to visit, you have to reward them with a free beverage. That's just common barista courtesy.
11. "I wanted that iced."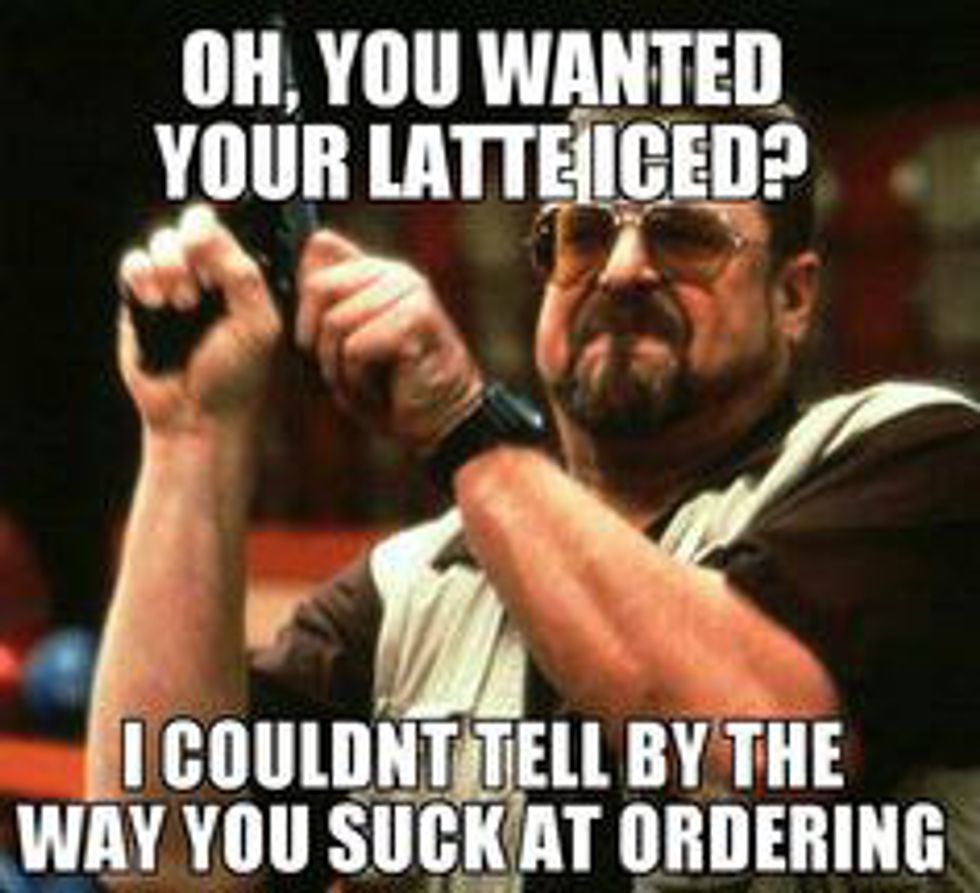 When a customer is suddenly unhappy with their drink, you know that they wanted it iced. However, they forgot to mention that little detail in their order.
12. You somehow accidentally cut yourself during every shift.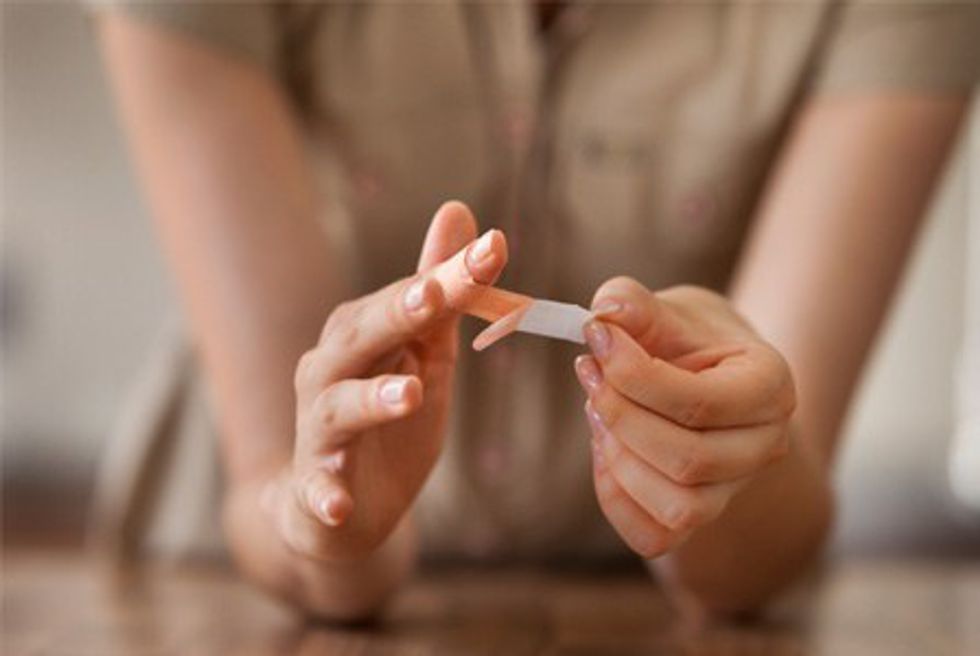 Whether it's cardboard or paper tags, if you're a barista, you've cut yourself at least once by accident. It's not a fun time.
14. Having coffee dried to your skin for many days.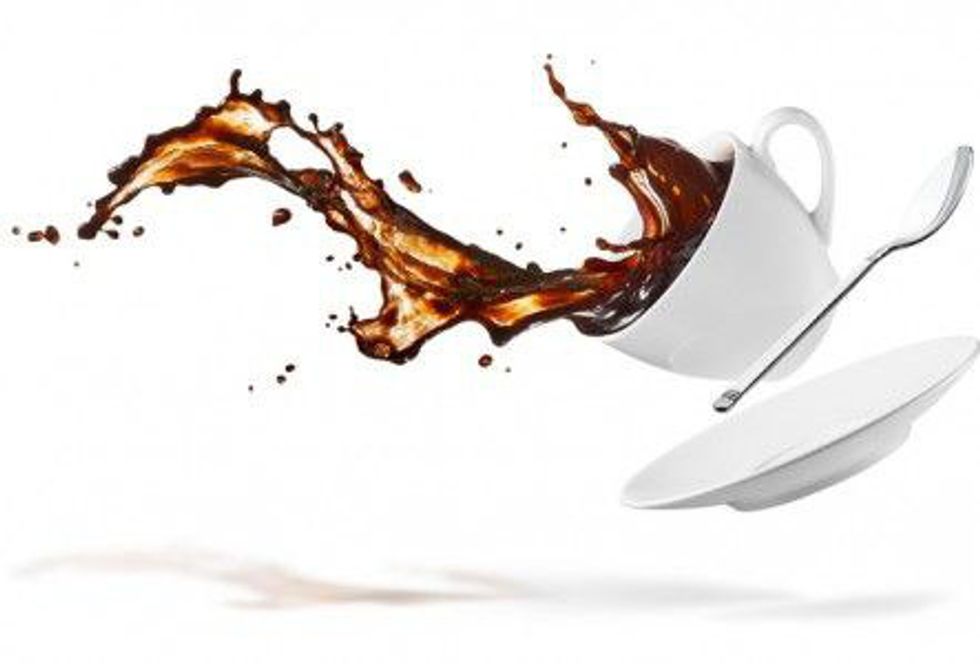 Oh look, a freckle! Just kidding. That's totally a spot of mocha you spilled on yourself two days ago.
15. People getting angry when you spell their name wrong on cups.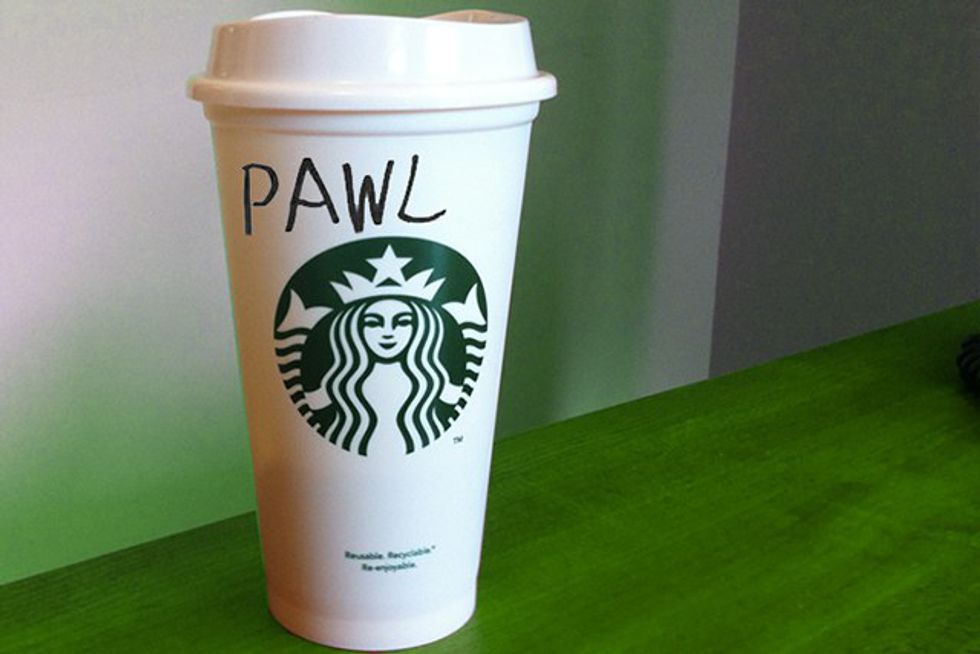 Baristas are only human. They mishear names, are in a hurry, and sometimes, they just want to mess with you to see your reaction. It happens. Lighten up.
16. When coworkers want to hang out outside of work.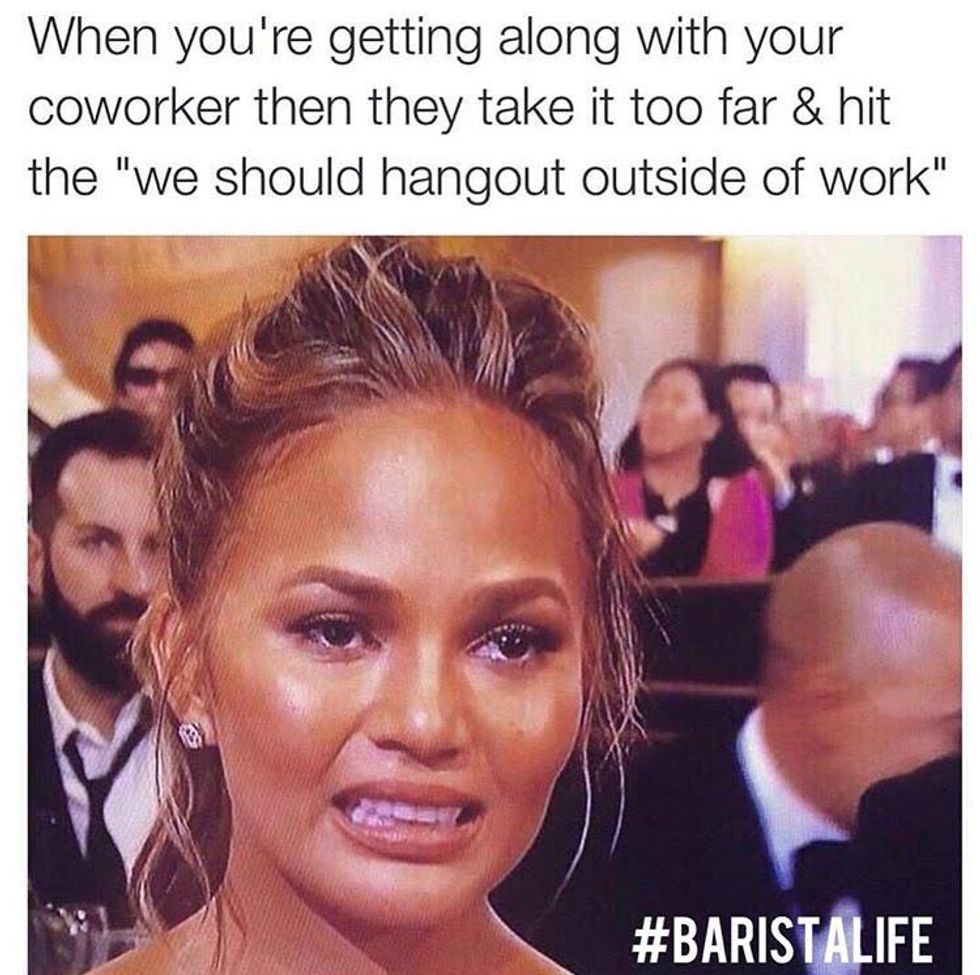 What happens at work stays at work.
17. Indefinitely smelling like a vanilla latte hours after your shift ends.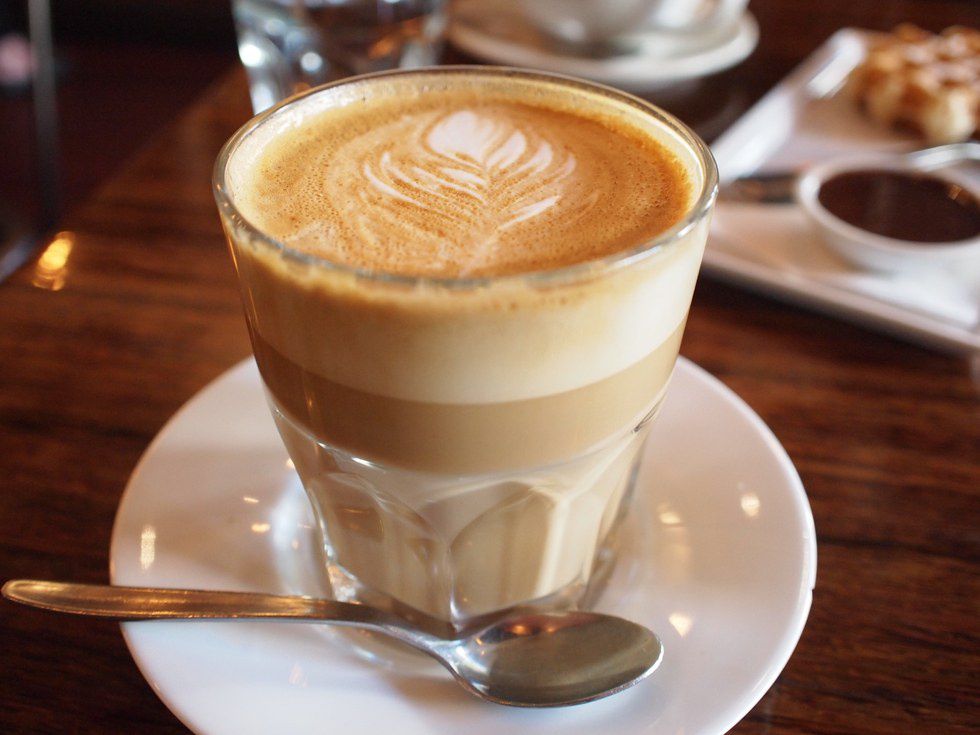 After working with coffee for eight hours, you tend to smell like a fresh vanilla latte after you get off of work. I suppose it's better than smelling like a greasy burger.
18. Being on bar and hearing someone order many frappuccinos.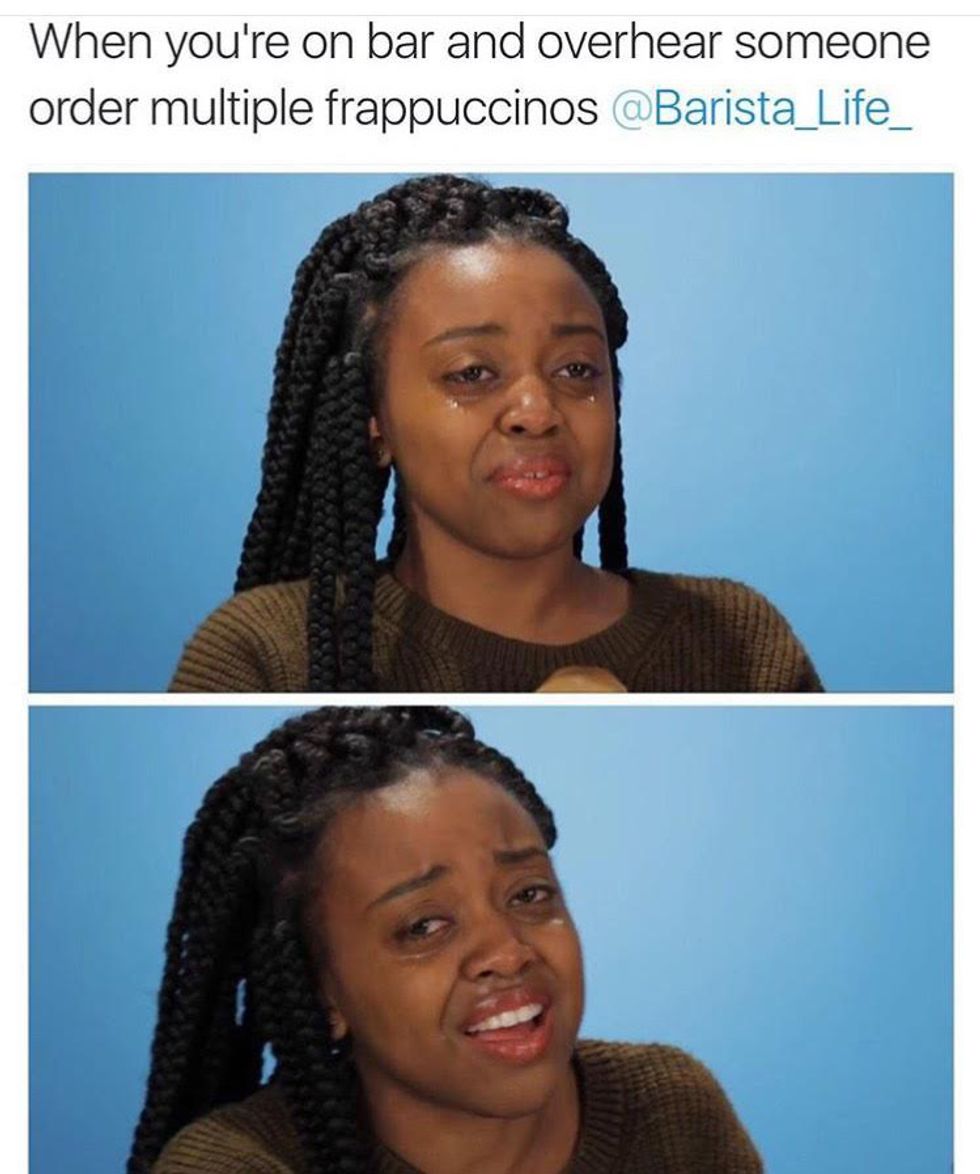 You've been working for the past five hours, and it's finally starting to slow down. Suddenly, a group of teenage girls come in with their mothers. You know it's game over.
19. Customers pulling up really far away from the drive-thru window.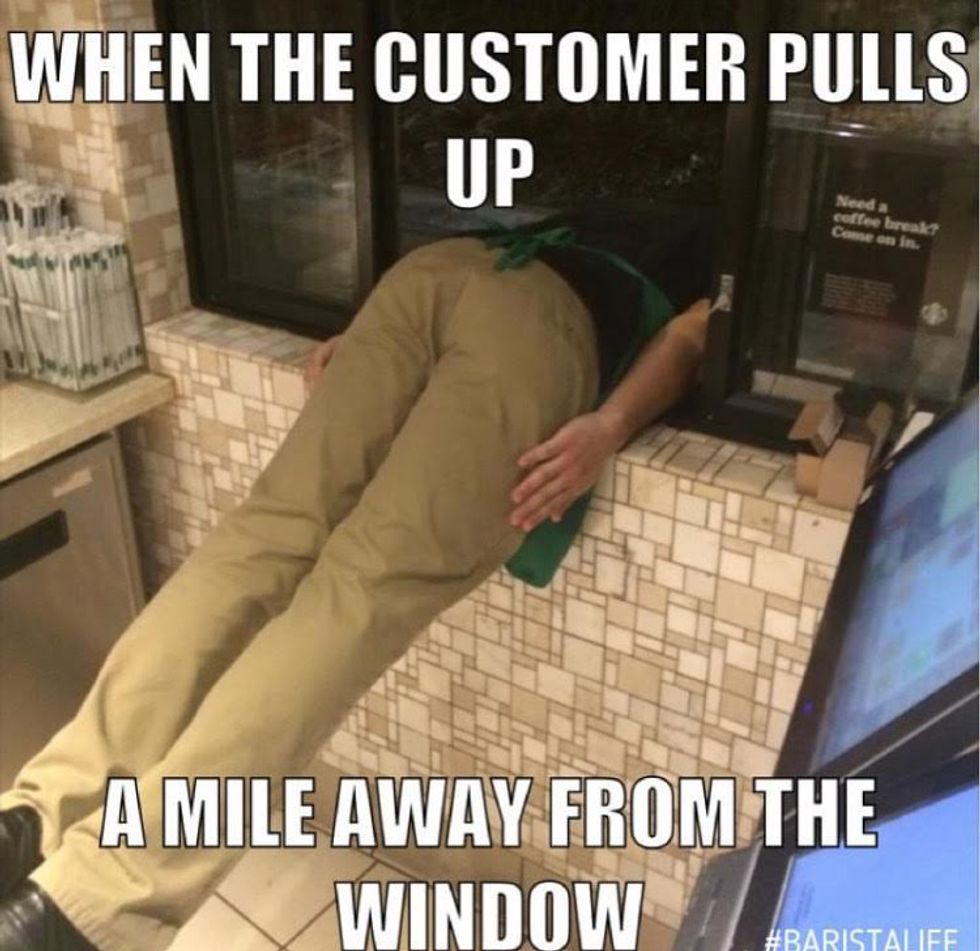 It's a great moment whenever you open up the window to give someone their drink, and they are literally parked a mile away from you. So then you end up planking on the window sill. Hey, life of a barista.
20. When you clean more at work than at home.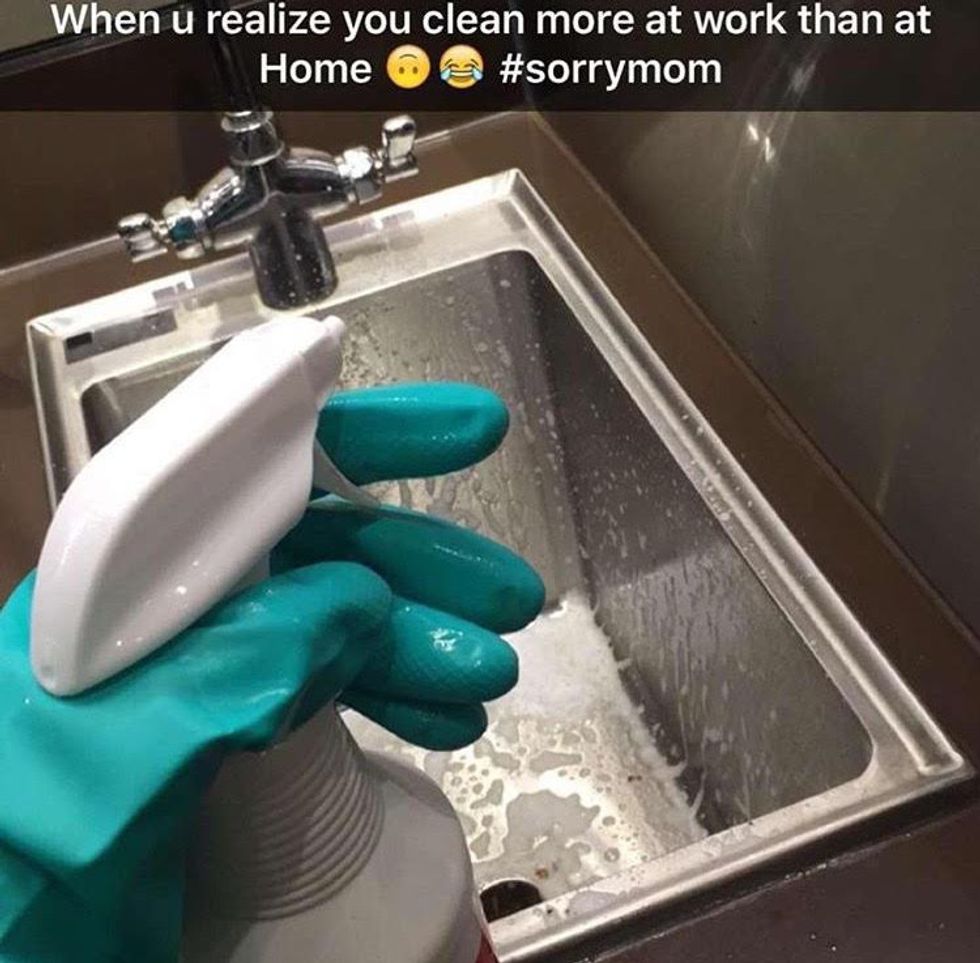 Since you're probably at work more than your own house, you tend to clean up more at work than you do at home. It's nothing personal, but you have to clean up at work, and sometimes you're too tired to clean up when you get home from work.
Life of a barista can be tricky. It can be stressful. Chaotic. Hilarious. But at the end of the day, your baristas wouldn't have it any other way. Their day is made by the tomfoolery of customers.