I've been to Relay for Life at Virginia Tech for three years, and during those three years Relay grew to be so much more than an "event." It became a place where cancer survivors, organizations, and individuals could come together and raise money and awareness for such a noble cause. And every year, Relay for Life at VT has been the biggest Relay in the country. I mean, JMU and UVA try to beat us in raising money every year but Hokies always come through :-) #WeWantPink
---
1. Relay for Life has 938 grants worth $450 million dollars.
It goes towards something, if you were at all skeptical.
2. More than 15.5 million Americans with a history of cancer were alive on January 1, 2016...
3. ... and about 1.7 million new cancer cases are expected to be diagnosed in 2018.
4. An estimated number of 42,420 cancer cases for the state of Virginia alone in 2017.
5. The American Cancer Society Relay for Life is the largest annual not-for-profit fundraising event in the world.
6. In 2015, Virginia Tech hosted the largest collegiate Relay for Life in the world.
And still holding that title, shoutout to Hokie Nation!!
7. Cancer is the second leading cause of death in the United States.
8. "It is the leading cause of death by disease past infancy among children in the United States." —National Cancer Institute
Just no. This should not be a thing.
9. "Think Pink" is a breast cancer research/awareness fund.
See what I did there? P!nk, pink? Hehe. It's fate!
10. "Cancer is diagnosed each year in about 175,000 children ages 14 and under worldwide." — St. Jude's Children's Hospital
Kids should be outside playing sports or creating the next Great American novel. Not stuck in a hospital bed.
11. Chemotherapy or radiation therapy can take years, especially for children.
And their parents are paying for it. It's incredibly hard to go through this experience and to watch your child have all this pain...and struggle for money.
12. As of February 5, Relay for Life is $150,000 closer to a cure. Thanks to VT.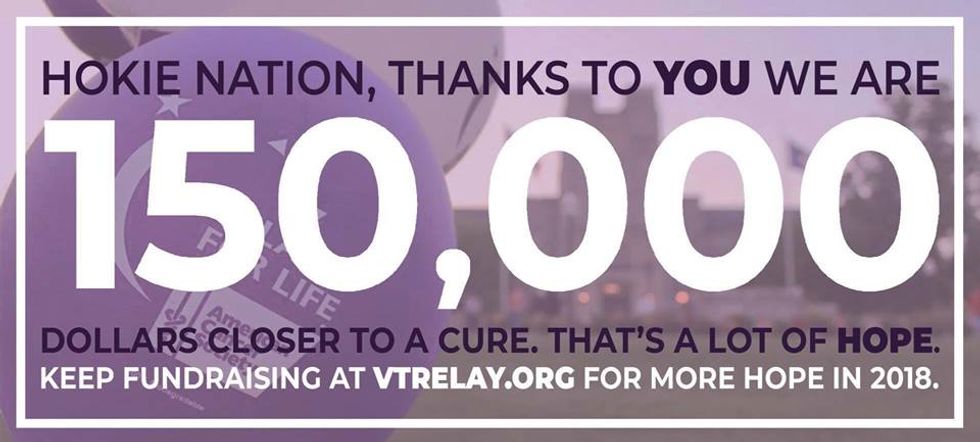 13. Relay for Life is in 27 countries.
And growing among 5,000+ communities.
14. Keith Urban and Dierks Bentley performed in Nashville raising money for St. Jude's.
So P!nk, if Keith Urban and Dierks can do it, you can too.
15. Survivors can walk the track around the Drillfield, in celebration of their remission...
16. ... or family members and friends can walk in place of their loved ones affected by cancer.
18. More than $3.4 billion awarded to cancer researchers across the country since this cause started, according to American Cancer Society.
19. Hokie Nation has raised a total of $159,247.88, just shy of our goal of $600,000.
20. Every dollar makes a difference.
---
So, please, P!nk, consider coming to small-town Blacksburg, VA to help us reach our goal to kick cancer's ass. Hokie Nation is a strong, tight-knit community in a small corner of Southwest Virginia but our Relay is the largest collegiate relay in the world. This cause means the world to us.