Every year ABC Family has 25 Days of Christmas where they show Christmas themed shows and movies. It's one of the things I look forward to all year but as time has gone on, ABC Family has been showing more and more of its own made for TV Christmas movies and less of the classic Rankin Bass specials I loved as a child. I watch these specials all throughout the year, but there's something really magical about watching them in December when your house is decorated and you're bundled up in blankets drinking hot chocolate.
This year, I've taken it upon myself to watch all 19 Rankin Bass Christmas Specials and rank them from worst to best using a rating system out 30 points. There will be 3 categories each special will be rated on: 1. Holiday Cheer, 2. Music, and 3. Nostalgia.
19. Nestor, the Long-Eared Christmas Donkey, 1977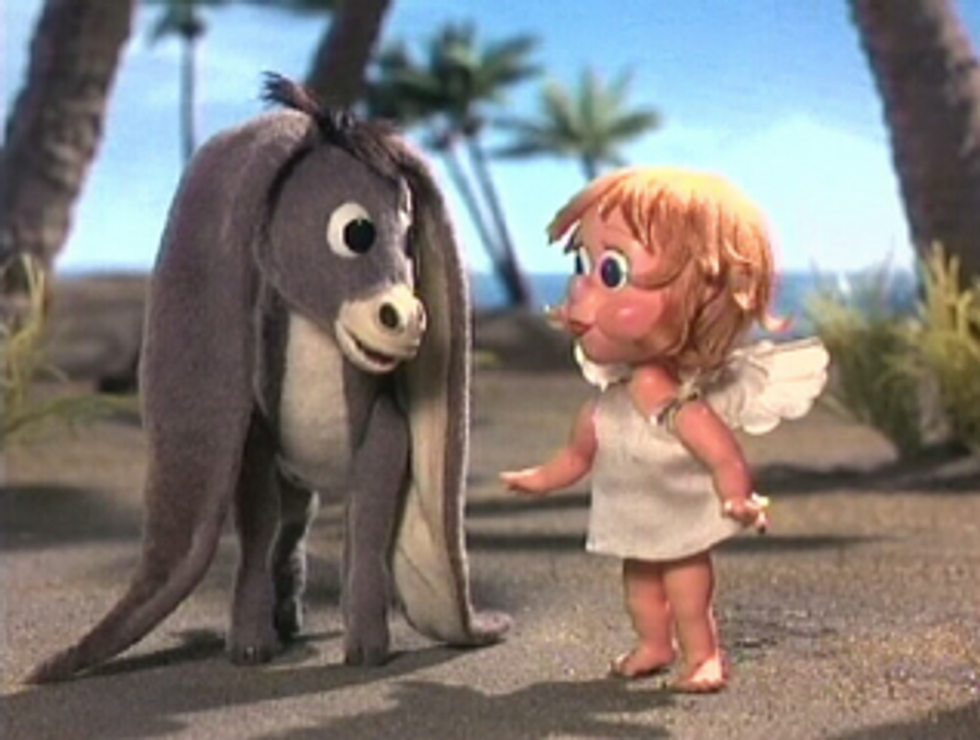 Cheer: 4/10
Music: 2/10, 3 songs
Nostalgia: 4/10
Total: 10/30
Whenever I get into the Christmas mood outside of December I typically watch this special because it's super easy to find. I think I may have watched this one too much during the year for me to like it now. It tells the story of Nestor a long-eared donkey (obviously) who after going though some trials becomes the donkey that carries the Virgin Mary to Bethlehem. All though I do love the opening song, "Nestor, the Long-Eared Christmas Donkey" sung by Roger Miller who was the narrator and sang the majority of the special's musical numbers it's honestly pretty boring and a Rudolph knock-off.
18. The Little Drummer Boy: Book I, 1968
Cheer: 2/10
Music: 3/10, 4 songs
Nostalgia: 5/10
Total: 10/30
Yes! Early stop-motion animation. This is definitely what they do best. Unfortunately this is still pretty early in the game, this was only their 3rd special. It's nice that the Mary and Joseph in this look the same as the Mary and Joseph in Nestor. This whole special is pretty depressing and there isn't any Christmas "magic" till the end. Narrated by Greer Garson, a pretty big name for the time, Drummer Boy is just lacking overall.
17. Cricket on the Hearth, 1967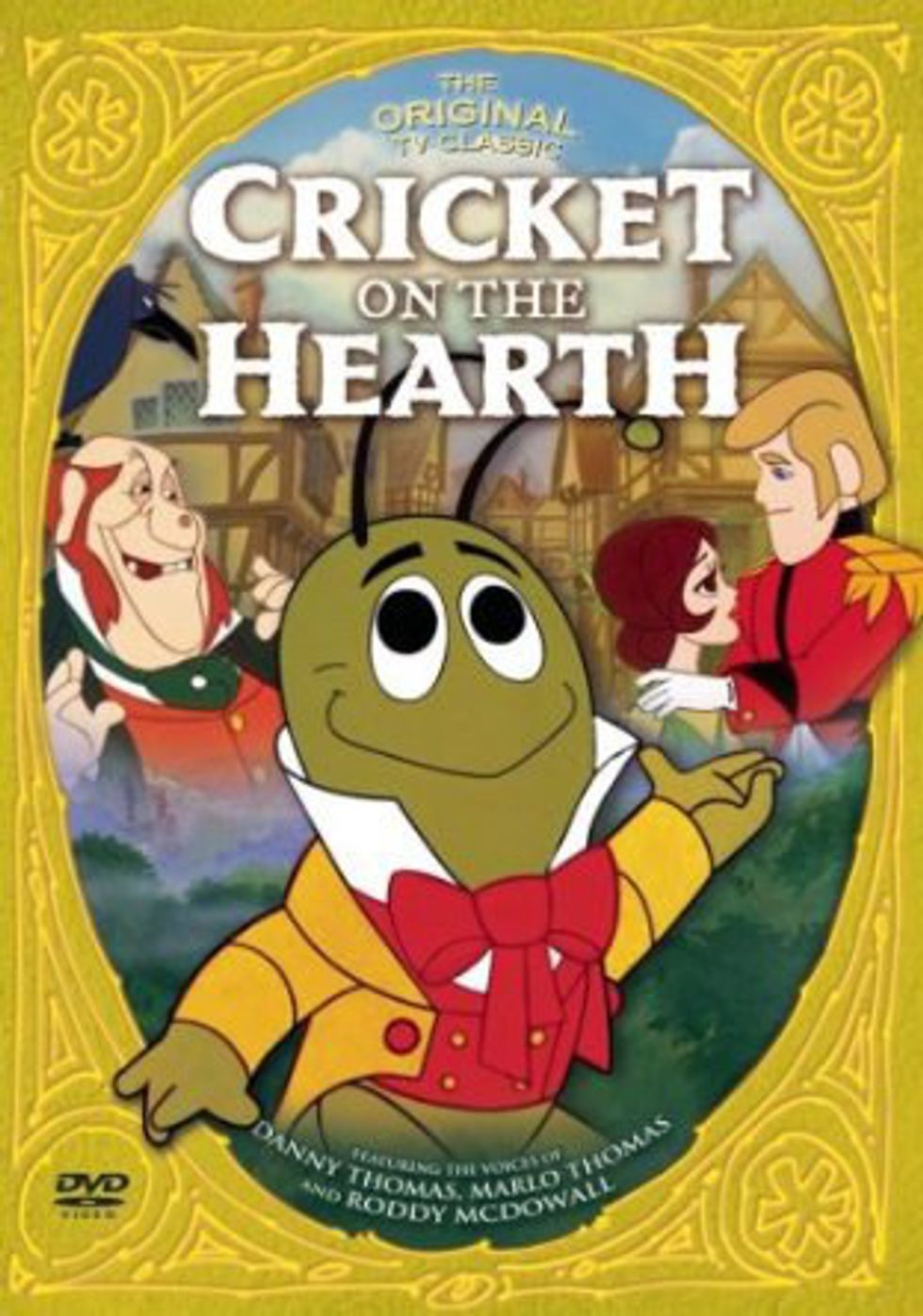 Cheer: 3/10
Music: 6/10, 9 songs
Nostalgia: 2/10
Total: 11/30
This was my first time watching Cricket, although I had heard of it before. This is the second Rankin Bass special every made and it is hand drawn. The animation is... not very good... at all. But it is interesting because it is based on a little known Charles Dickens story. In the production, a young woman goes blind because she is sad when her beloved dies at sea. The cricket narrator is voiced by Danny Thomas, who also does dome live action segments throughout the special. The saving grace for this one are the songs, none are particulate catchy but there's just so many of them.
16. Frosty's Winter Wonderland, 1976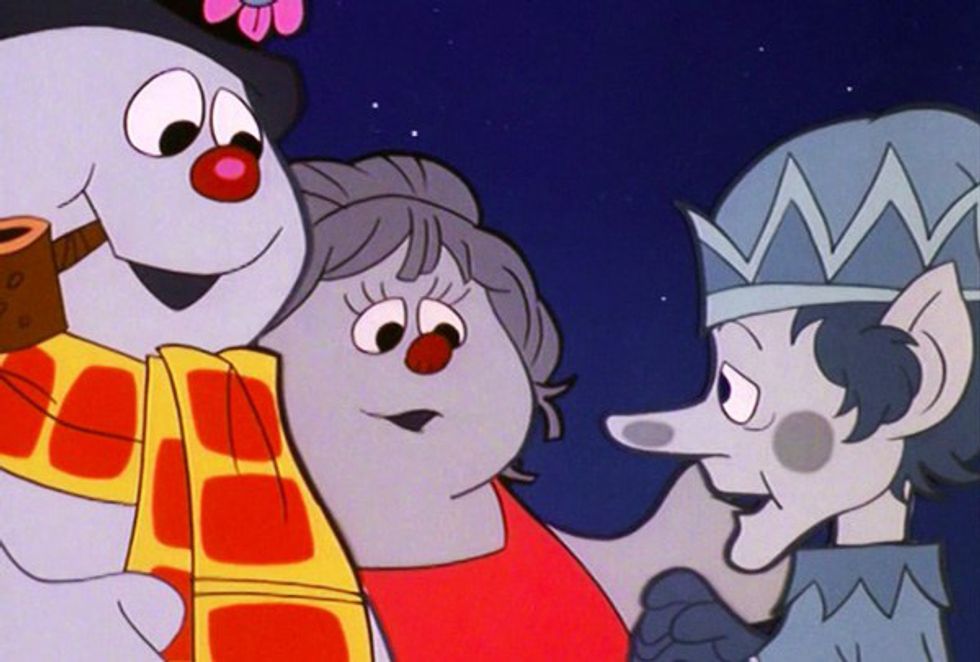 Cheer: 3/10
Music: 3/10, 2 songs
Nostalgia: 5/10
Total: 11/30
This is the sequel to Frosty the Snowman. This is the first introduction to Crystal, Frosty's wife, and though I like what is done with her in later specials, not much really happens in this one. Jack Frost is the villain here which is kind of lame, he just wants to be appreciated for making the snow that created Frosty and Crystal. Andy Griffith is the narrator, which is a testament that the amazing narrators, Rankin and Bass ,were able to get. Maybe I would have liked it more if it was stop-motion, I'm not really a fan of hand drawn Rankin Bass specials.
15. Santa Baby!, 2001
Cheer: 7/10
Music: 6/10, 12 songs
Nostalgia: 0/10
Total: 13/30
I never ever heard of this one before embarking on this journey into Rankin Bass' history. I honestly thought I had seen all of them. I had no idea there was even a special made this recently. It was the first special Rankin Bass did after a 19 year hiatus. Basically a magical Christmas partridge (a la, a partridge in a pear tree) comes and helps a little girl's dad get over his song writers block. Also there's a lady who runs an animal shelter because animals aren't allowed in the apartments. The bird is played by Patti LaBelle and the little girl's cat is Eartha Kitt, who is also the narrator, which begs the question, why isn't this special amazing? Suzanne Collins, the author of the Hunger Games was one of the writers on this special. Maybe the hand drawn animation is where they went wrong but overall this one is pretty terrible.
14. The Stingiest Man in Town, 1978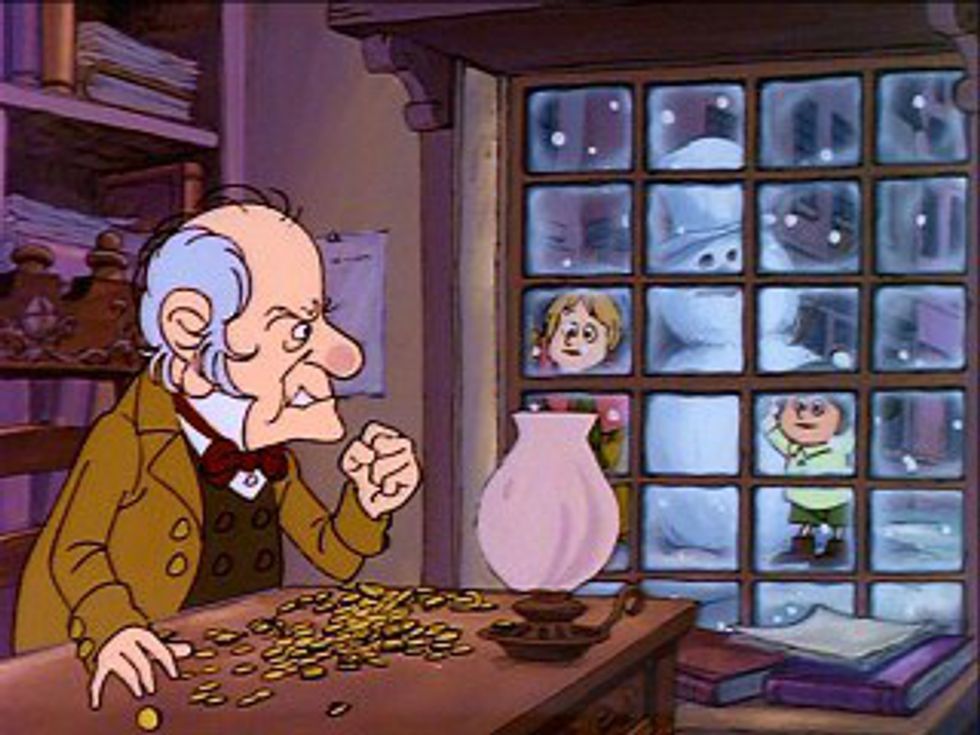 Cheer: 7/10
Music: 6/10, 13 songs
Nostalgia: 0/10
Total: 13/30
First time watching this after, again , never hearing of it before. It's actually not that bad, it has good music but it's essentially just a Christmas Carol. I think it would be a lot better if it was stop animation but I'm super biased. I just think that hand drawn Rankin Bass is terrible. Also the narrator is a bug named B.A.H. Humbug... yeah...
13. The Life and Adventures of Santa Claus, 1985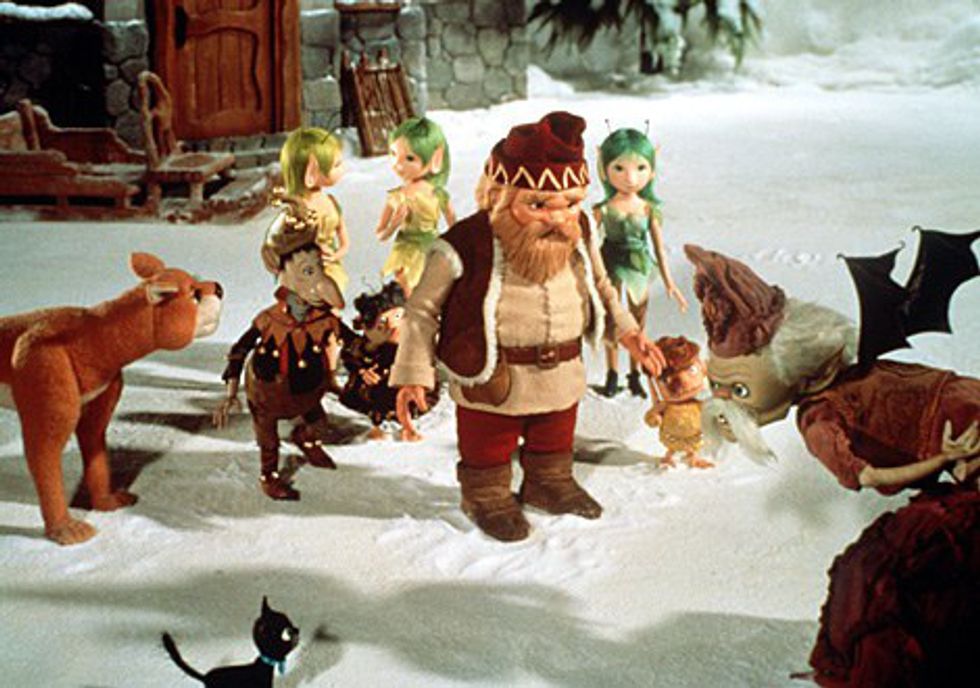 Cheer: 7/10
Music: 6/10, 5 songs
Nostalgia: 0/10
Total: 13/30
Finally, this is the last special that I hadn't heard of before. It's based on a 1902 L. Frank Baum book and was the last Rankin Bass Christmas special before they closed their studio in 1987. Santa is raised by a lion and gets stolen by fairy and then they decide to co-parent him. And then he pretty much becomes Santa and gains immortality. I kind of want to read the original book, the story is pretty crazy and the stop-motion in this one (at least for people) is really smooth.
12. The Leprechauns' Christmas Gold, 1981
[rebelmouse-proxy-image https://media.rbl.ms/image?u=%2Ffiles%2F2015%2F12%2F06%2F635850378913031614906754238_Leprechaun12.gif&ho=http%3A%2F%2Fcdn1.theodysseyonline.com&s=4&h=6134bb861255c2438d9cd76aa273181712b11a3fb7a82a55443b7d98b3d8046e&size=980x&c=2873327477 crop_info="%7B%22image%22%3A%20%22https%3A//media.rbl.ms/image%3Fu%3D%252Ffiles%252F2015%252F12%252F06%252F635850378913031614906754238_Leprechaun12.gif%26ho%3Dhttp%253A%252F%252Fcdn1.theodysseyonline.com%26s%3D4%26h%3D6134bb861255c2438d9cd76aa273181712b11a3fb7a82a55443b7d98b3d8046e%26size%3D980x%26c%3D2873327477%22%7D" expand=1]

Cheer: 4/10
Music: 4/10, 4 songs
Nostalgia: 7/10
Total: 15/30
I've only ever seen this on television once. For years, I searched for it so I could find it again. It's just so... weird. Luckily I found it last year and watched it non-stop. This one barely has anything to do with Christmas, but there is a banshee and Leprechauns. It's so terrible, it's entertaining. Also, I died when I heard Christmas in Killarney on my Songza Christmas station.
11. Jack Frost, 1979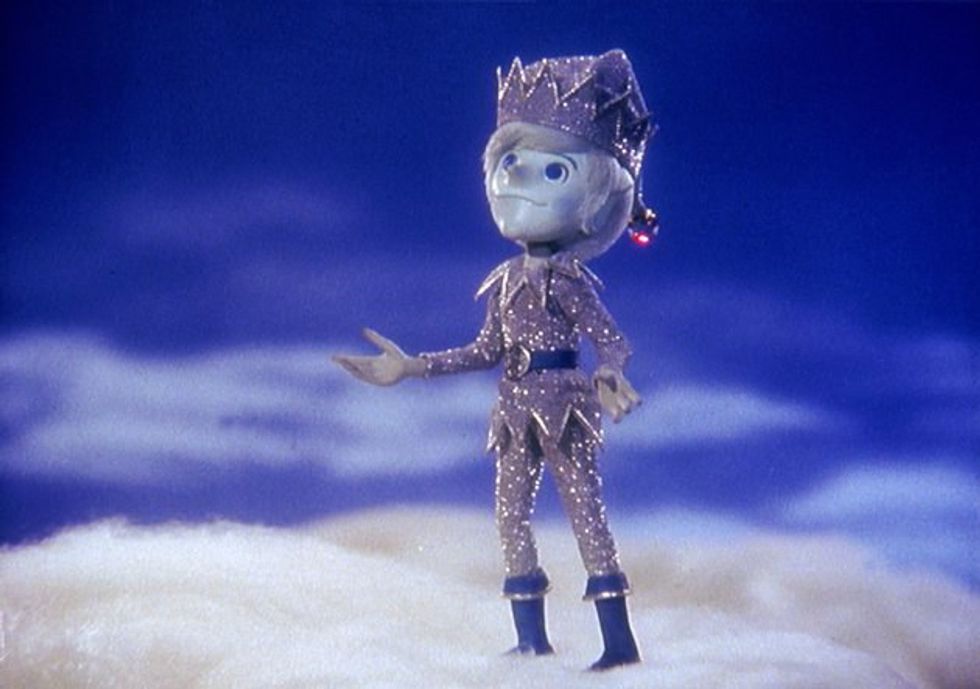 Cheer: 5/10
Music: 7/10, 8 songs
Nostalgia: 6/10
Total: 18/30
I watched this quite a lot growing up and rarely during the Christmas season. I don't like it as much as I did when I was little. The plot and songs are kind of lacking, but I'm a sucker for that classic stop-motion. My favorite characters are Kubla Krause and Pardon-Me-Pete, who serves as the narrator and is voiced by Buddy Hackett. He definitely has the best songs. Also, it's not really about Christmas but there is definitely some cheer.
10. Rudolph and Frosty's Christmas in July, 1979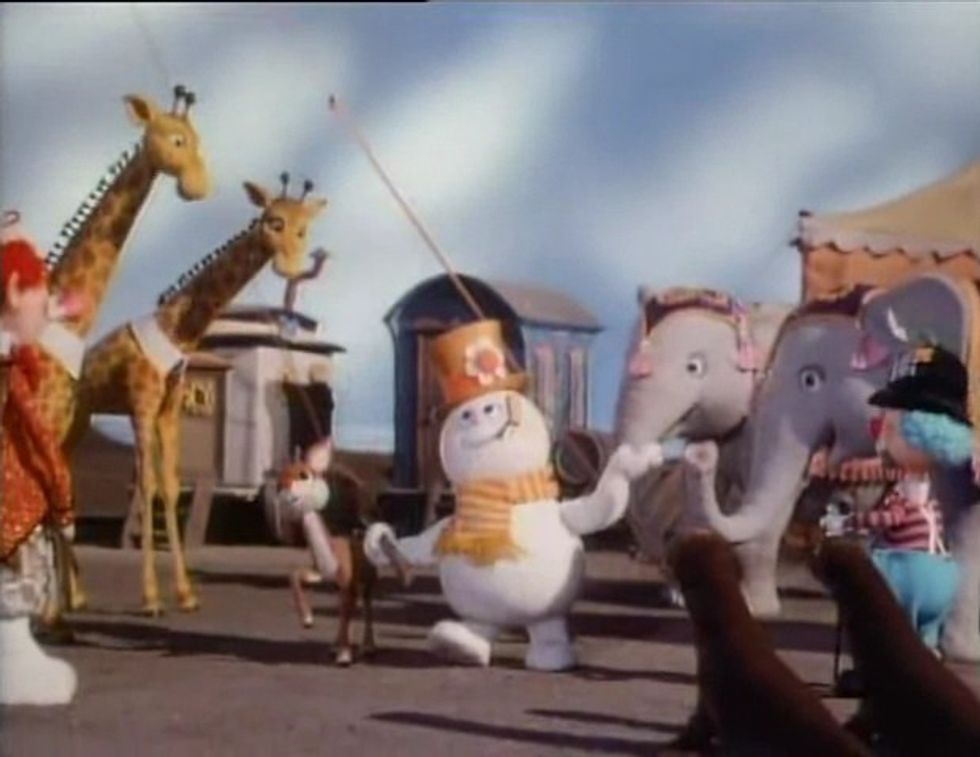 Cheer: 6/10
Music: 7/10, 12 songs
Nostalgia: 6/10
Total: 19/30
The music score is high for the sheer number of songs, none of them are too memorable but all are fun and sweet. There's not a ton of cheer besides the characters but adds a lot to the Christmas mythology and still has continuity which I love. Ethel Merman plays Lilly Loraine the leader of the circus and again, how they heck did Rankin and Bass get all these amazing stars? Merman is a joy to watch in this.
9. Drummer Boy: Book II, 1976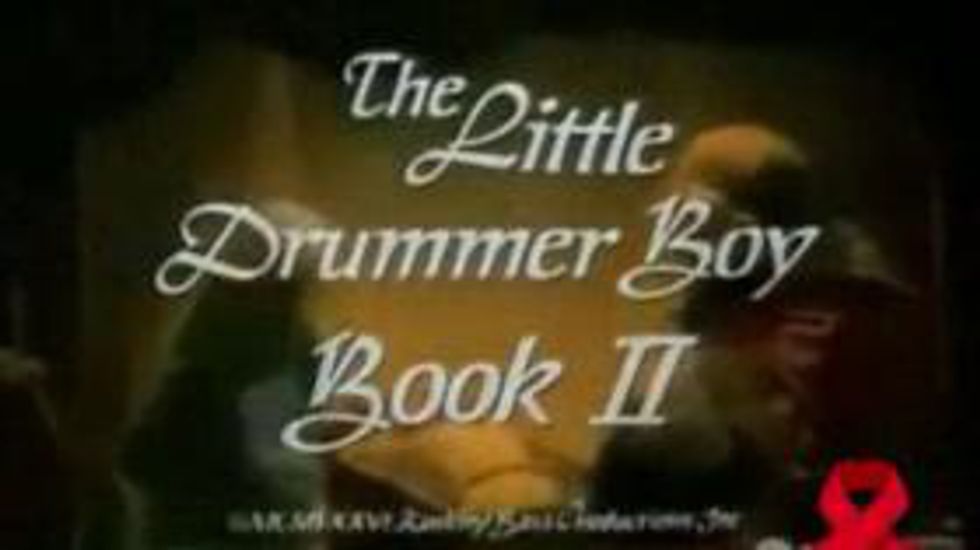 Cheer: 6/10
Music: 6/10, 3 songs
Nostalgia: 7/10
Total: 19/30
I thought I hadn't seen this one before but I had. I was a lot better than remembered. I absolutely loved Zero Mostel in his role as Brutus and his song Money, Money, Money. This sequel follows the story of Solomon and the silver bells and honestly I think it's really beautiful. By this time, the animation has improved greatly and I really enjoyed it.
8. Frosty the Snowman, 1969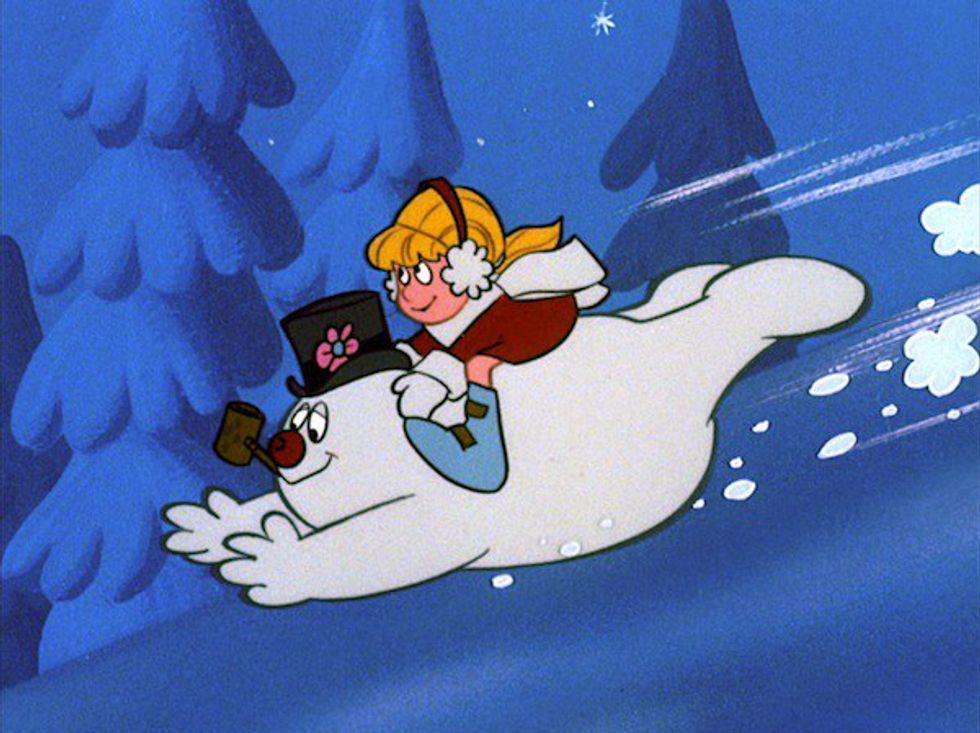 Cheer: 5/10
Music: 6/10, 1 song
Nostalgia: 9/10
Total: 20/30
This is an absolute classic. Again as always I don't really like the animation but it's not as bad as others and it's a lot of fun. Only one song in this one but come on its Frosty the Snowman, you can't not love that. I do wish there were more songs but this was only the 4th special, l so I can understand them not wanting to be so involved with that. This one isn't really about Christmas but it definitely is cheerful.
7. 'Twas the Night Before Christmas, 1974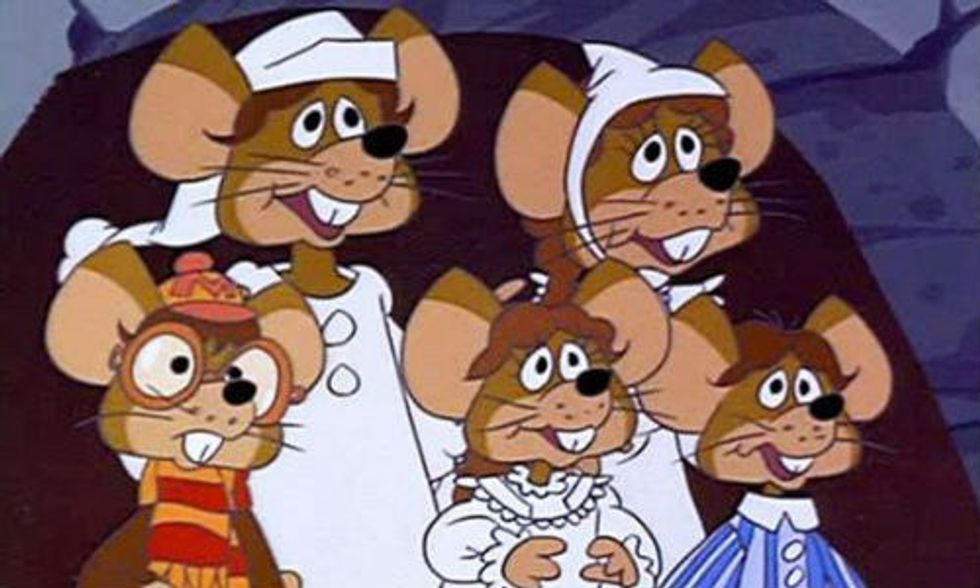 Cheer: 8/10
Music: 7/10, 3 songs
Nostalgia: 5/10
Total: 20/30
I think this is the only hand drawn Rankin Bass that I really like. When I was younger and watched on television I always hated it and thought that it took too long. I'd get annoyed that it wasn't stop motion. This time, however, I really found myself enjoying it. The story is actually very sweet and I love the songs in it. I'm actually really excited to see this come on television now.
6. The First Christmas: The Story of the First Christmas Snow, 1975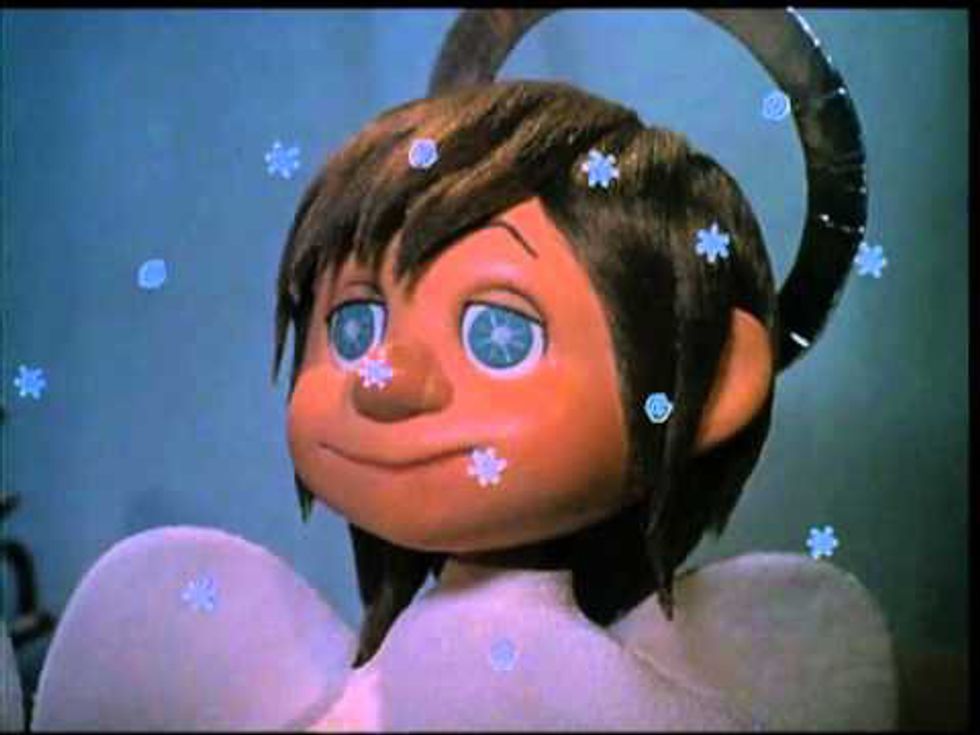 Cheer: 6/10
Music: 5/10, 4 songs
Nostalgia: 10/10
Total: 21/30
I completely forgot about this one!! I remember watching it when I was little and really loving it. This one is about a blind kid and the magic of Christmas snow. Nothing really happens but for me, the nostalgia 100% got me. Also, Angela Lansbury is the narrator in this and I adore her.
5. Rudolph's Shiny New Year, 1976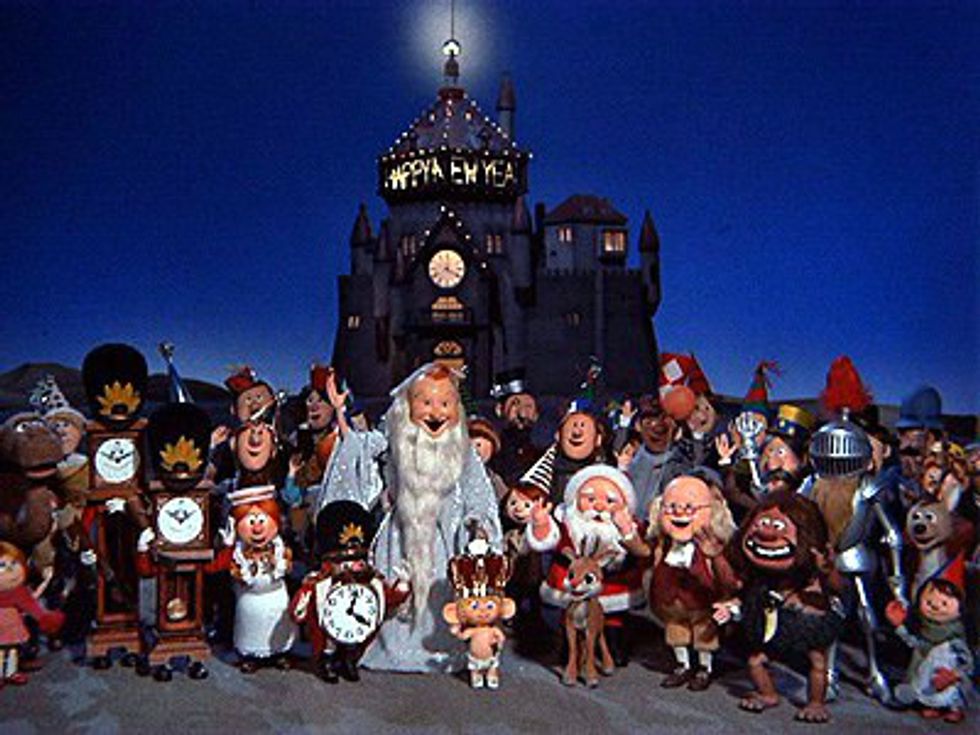 Cheer: 7/10

Music: 8/10, 8 songs
Nostalgia: 7/10
Total: 22/30
This is getting into the golden era of Rankin Bass Specials. I always really loved this one growing up but I've seen it so many times it was almost played out. The songs are definitely the best part. I find myself singing them all throughout the year. And they got Red Skeleton to play Father Time and serve as the narrator. Seriously, who do I have to call to get all these people that Rankin Bass is able to get?
4. Rudolph the Red-Nosed Reindeer, 1964
Cheer: 8/10
Music: 7/10, 9 songs
Nostalgia: 8/10
Total: 23/30
This is the one that started it all, the forever classic Rudolph. I don't particularly like the way Santa looks in this one. Obviously they hadn't quite found their stride as the stop-motion is actually quite terrible. Also everyone is kind of a jerk to the misfits in this one and no one really likes them until they figure out that they are useful, it really isn't the best message for children. Still, it is extremely memorable and probably the first special many people watch. I think the misfit toys song is so weird though, that whole part always throws me. Even so, I watch it every year.
3. Pinocchio's Christmas, 1980
Cheer: 8/10
Music: 8/10, 8 songs
Nostalgia: 8/10
Total: 24/30
I remember being 3 years old and watching this for the first time with my mom, so much nostalgia for me. Overall, it's just a really solid special the story is fun and the stop-animation is surprisingly clean. Love the song Knock on Wood. I also think the kid who voices Pinocchio does a really fantastic job. The basic plot is about Pinocchio (while he's still a puppet) experiencing his first Christmas and learning more lessons of what it takes to be a real boy.
2. The Year Without a Santa Claus, 1974
Cheer: 8/10
Music: 10/10, 8 songs
Nostalgia: 8/10
Total: 26/30
This is my second favorite and the only special to get a 10/10 for music. I really love the continuity from Santa Claus is Coming to Town to this. The plot is really cute, basically what would happen if Santa took Christmas off. Heat Miser and Snow Miser really make this one, their songs are always the one's I look forward to every time I watch this special. The one thing I don't get lyric "worst we ever had", are they saying they've had multiple years without Santa or is this the worst year they ever had?
1. Santa Claus is Comin' to Town, 1970
cheer: 9/10
music: 8/10, 7 songs
nostalgia: 10/10
total: 27/30
This. Is. The. Ultimate. Christmas. Special. My absolute favorite. It has everything I love, great songs, great memories associated with it, Fred Astaire as the narrator, Mickey Rooney as Santa, and expansion of the Santa universe. It's just great. This special tells the story of Santa and how he became the way he is. This story could've been really boring but the pacing of the plot and songs make for an hour of fun. I get so excited when it comes on television and I can't wait to watch it again.
*Honorable Mention*
Although they aren't Rankin Bass I also love A Christmas Story, How the Grinch Stole Christmas (live action and animated), and The Polar Express to get me really into the Christmas spirit.
Now get the family together, sip some hot chocolate, and pop on one of these classic films.