Ah, middle school, the time of braces, questionable hairstyles, and Adidas sandals with socks. Everyone has quirky memories from middle school- but being at Delhi Middle School was definitely an experience. Whether you loved your time at DMS or desperately wanted to get out of "Delhole" there a few things you'll remember if you were a Delhi Eagle.
1. Getting your own locker was the coolest thing ever
Sure we got lockers in the fifth grade, but middle school was when your locker became truly important. Long gone were the days of only using your locker to store your winter coat and maybe some gym clothes, now you kept everything in your locker. Extra shoes, instruments, your lunch, all the books you're supposed to read but never really did, they were all there in your tiny chaotic box. If you were unlucky like me, you might even have been caught in the middle of an axe body spray tunnel every morning.
2. Matball and Survivor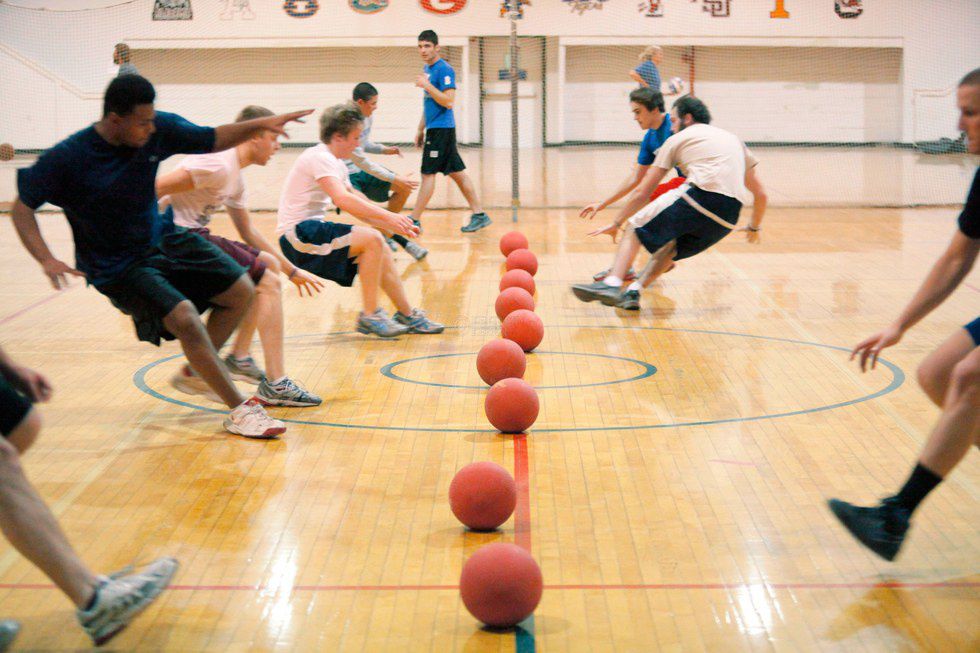 Even though these two games are probably played at every single middle school in the history of middle schools, I will always associate them with DMS. Crowded in the tiny gym, with Mr. Kremer and his whistle at the ready, we played for our lives. Some people took these games way too seriously, they were the Olympics of 9:00 a.m. gym class and the rest (Like me) hid behind the crowd until forced to participate.
3. After school hangouts
After school, if you hung around and didn't get picked up right away, there were a few go-to options for hanging out. You probably stopped at Speedway first, because an icee or some snacks always sounded good after school, but then you probably did what most of us did- you went to the park or the library. When they put the skate park in, Delhi park became middle school central, and suddenly every boy in Delhi could skate or do cool bike tricks. There were also the Pizza and Prayer nights at Shiloh, but we all knew everyone just went for the pizza.
4. Del-hi-lites
This was the first time most of us got the chance to be involved in a talent show, and while the acts weren't always stellar this was always a fun night. From the "dressing rooms" in the downstairs eighth grade hallway, to sitting on the bleachers and waiting for your friends to perform, Del-hi-lites was a great part of middle school.
5. The Delhi Skirt Game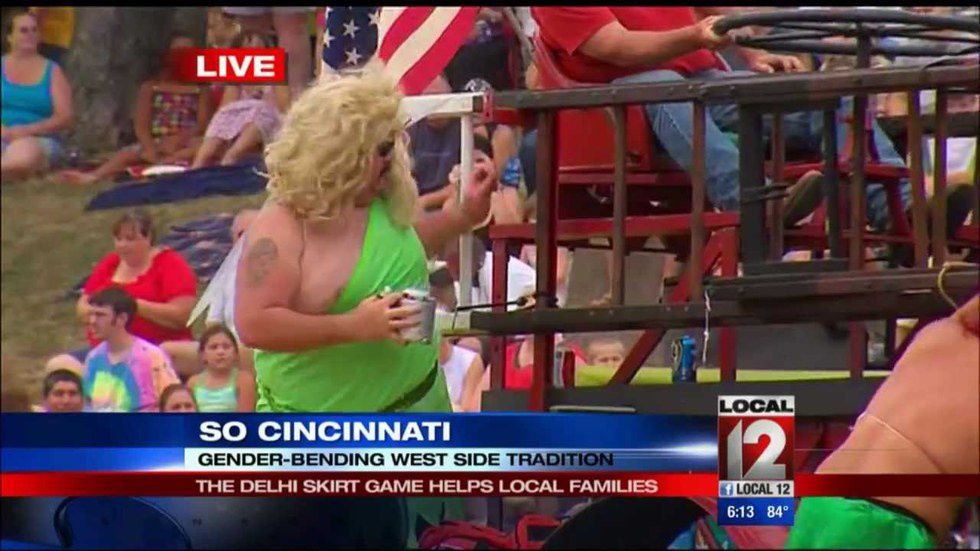 This wasn't specific to DMS, but if you were a middle-schooler the Skirt Game was where you got to see all of your classmates, and probably your crush, right before school started. What screams romance like awkward middle schoolers holding hands at a drag softball game?
6. German teacher = defense against the dark arts position
There was a new german teacher every single year. I don't know if the position was cursed, but there was always seemed to be a fresh face saying "Wilkommen."
7. Eagle time
Who says recess has to end in elementary school? Eagle time was a nice break from classes, and a chance to get outside.
8. Illusions
Not everyone did choir, and not everyone did Illusions, but those who did know that Illusions was an awesome experience. The Cedar Point Music in the Parks trip was a huge part of being in Illusions, and probably one of my favorite middle school memories.
9. E-bucks carnival
Got caught doing a good deed? Did some extra-credit? Had a really nice teacher that gave out e-bucks for no reason? Save those puppies, because at the end of the year you get to cash them in for prizes, games, and snacks.
10. Mrs. Lingo and her book club
Mrs. Lingo retired partway through my time at DMS, but she was one of my favorite parts of Delhi. This wacky and sweet librarian made us excited to read with her snack-fueled book club sessions. Hot chocolate and pancakes, pizza parties, and even a catered Indian food meeting were all a very good reason to keep reading.
11. Mrs. Hanrahan's rendition of "Happy Birthday"
We all knew it was someone's birthday when Mrs. Hanrahan started screeching through her fan, while it might not have been the most traditional way to celebrate another year of life it certainly added some fun to an otherwise normal day.
12. B&B Riverboat Trip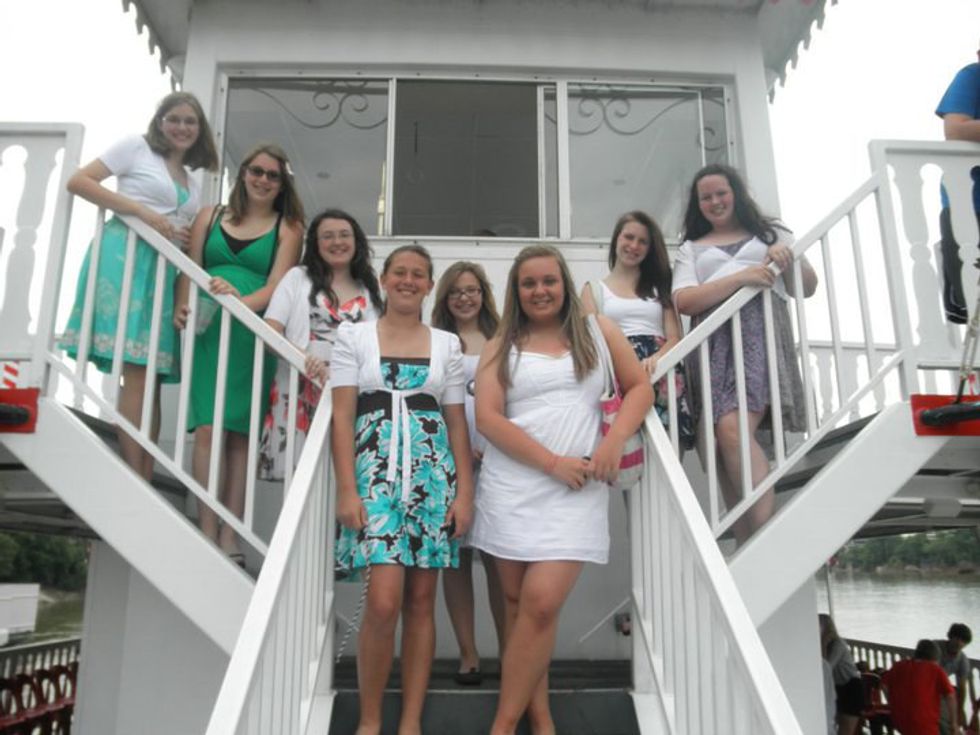 Forget graduation, at the end of eighth grade we partied on a boat. Partying meaning we really just did a lot of walking around on a boat taking pictures with everyone we ever knew in clothes your mom picked out for you. But still, the riverboat was a fun time.
13. Catapulting Skittles at Lunch
Food fights were strictly forbidden, but that didn't keep us from using sporks to shoot skittles at each other, even when they gave us new assigned alphabetical lunch seats.
14. After lunch dance battles
Remember that weird period of time where we had to go wait in the gym after lunch and people started having dance battles on the gym floor? Yeah, me too. Not sure how or why that started but it sure was entertaining.
15. Kona Ice days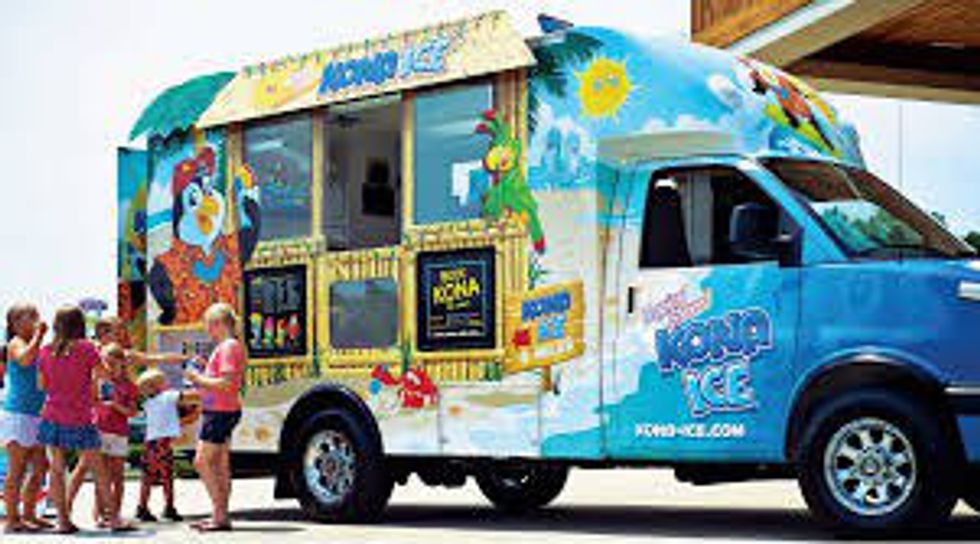 The best days though, were when the Kona Ice Truck would show up in the parking lot for all of us to enjoy their frozen treats. Snow cones and time away from class? Count me in.
16. DMS Dances
Last but certainly, not least is the pinnacle of the awkward middle school experience: DMS dances. The multi-purpose room went from a cafeteria to a slightly darker cafeteria with some glowsticks and a DJ. There was nothing cool about the way we all danced or the outfits we wore, but it felt cool to have something to do that wasn't eating pizza rolls or trying to navigate facebook for the first time.
Middle school is a very weird point in our lives, but being a Delhi Eagle was a pretty great way to spend it. We're all at different points in our lives now, but our DMS roots will always be there.