Going out to eat is a treat for most of us. We get to get some good food without having to cook, do dishes, or even move. However, being a waitress myself, I can safely say that certain things can drive your waitress or waiter crazy. Here is a list of things that you can avoid to keep your waitress happy and the service great!
1. Please Avoid Sitting At A Dirty Table
Sometimes it is inevitable because the place is busy or the best spot just left. But if there are many open spots, it would be awesome and more efficient for us both if you picked a clean table.
2. Don't Be Rude Right Off The Bat
I'm a friendly person! I'm going to ask you how you are doing and tell you the soup of the day and what we have to offer for drinks. I know you probably know what you'd like, but please just let me finish my rant and politely let me know and avoid cutting me off.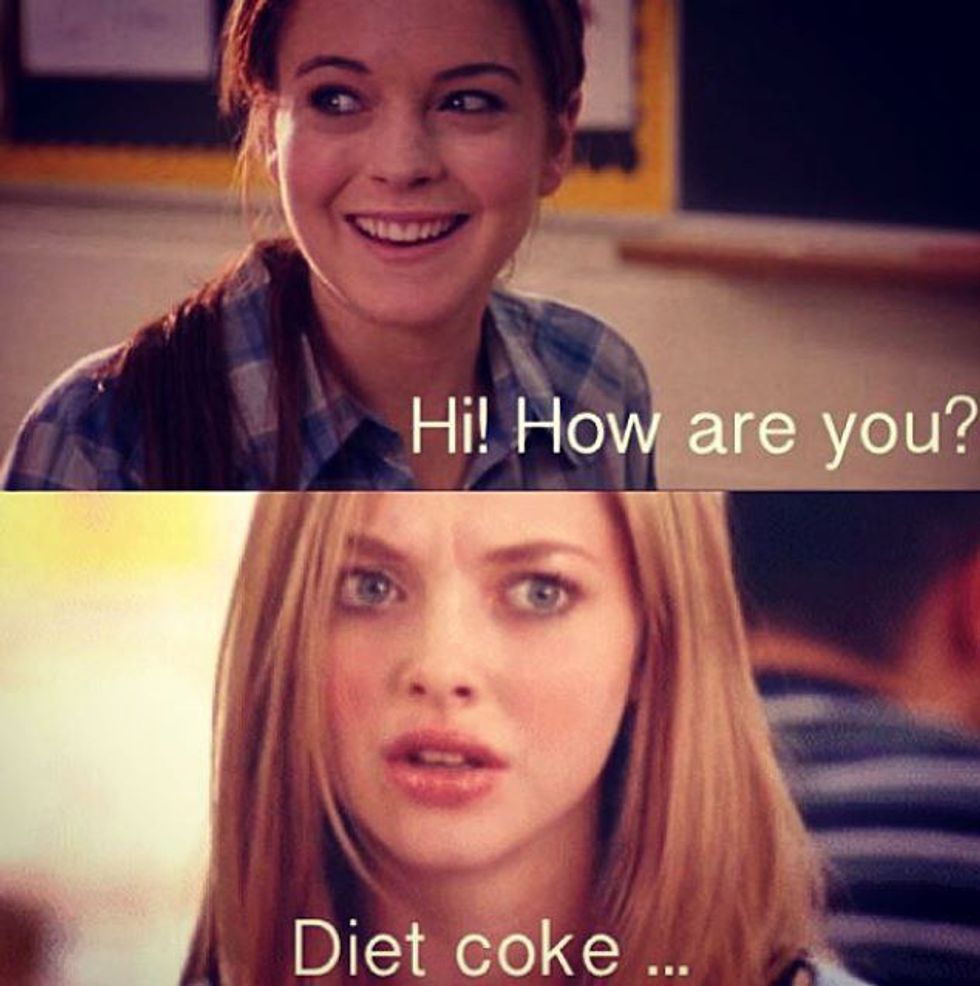 3. Look At The Menu!
I know that the beverage list is long, but it would save of both a lot of time of you would look at it and then order your drink. It would also be great if you wouldn't make an item up and just order from the list in front of you. I'm sorry we don't have exactly what you want, but it's usually too busy to special order every bit of that entrée.
[rebelmouse-proxy-image https://media.rbl.ms/image?u=%2Ffiles%2F2016%2F05%2F21%2F635994012122126047-1681050197_635994012119157300993975002_server%2520meme%2520no.jpg&ho=https%3A%2F%2Faz616578.vo.msecnd.net&s=875&h=c3159e2d5a1abfc70dd03c28ef47fd2a953ba7c822657b83e4a18bcb22698624&size=980x&c=1488385130 crop_info="%7B%22image%22%3A%20%22https%3A//media.rbl.ms/image%3Fu%3D%252Ffiles%252F2016%252F05%252F21%252F635994012122126047-1681050197_635994012119157300993975002_server%252520meme%252520no.jpg%26ho%3Dhttps%253A%252F%252Faz616578.vo.msecnd.net%26s%3D875%26h%3Dc3159e2d5a1abfc70dd03c28ef47fd2a953ba7c822657b83e4a18bcb22698624%26size%3D980x%26c%3D1488385130%22%7D" expand=1 original_size="1x1"]
4. Please Ask Me For Extras After Everyone Has Their Food
It's hard to carry your extra ketchups and everyone else's food at the same time. I know you need it before you start your burger, but to us, it's more important for everyone to get their food hot and just about at the same time. It's also easier for me to grab everyone else their extra sauces and napkins all at the same time.
5. I Only Have Two Hands
If I could carry out all the food at one time, I would! Sadly, I was only given two hands so more than three plates usually can become impossible for me. Please remember that as I bring out three plates at a time and make multiple trips to get out food.
6. Please Don't Bark Orders While I'm At Another Table.
I'm really trying to keep up with all of my tables, I promise! I know that your drink is about empty and I'll get to it but first I need to get this table's order in. I find it rude for you to tell me that you need extra ketchup while another customer is telling me their order, actually it's rude to both of us.
[rebelmouse-proxy-image https://media.rbl.ms/image?u=%2Ffiles%2F2016%2F05%2F21%2F635994013421618312-1686954879_6359940134141184892029310367_If%2520you%2520can%2520read%2520this%2520I%2527m%2520serving%2520another%2520table%2520dr%2520heckle%2520funny%2520waitress%2520shirt.jpg&ho=https%3A%2F%2Faz616578.vo.msecnd.net&s=435&h=2905f4973c8b82c108b5d8984d311d10cdbd12a7fabafc50f5e7f1ca401b4c3d&size=980x&c=4011895725 crop_info="%7B%22image%22%3A%20%22https%3A//media.rbl.ms/image%3Fu%3D%252Ffiles%252F2016%252F05%252F21%252F635994013421618312-1686954879_6359940134141184892029310367_If%252520you%252520can%252520read%252520this%252520I%252527m%252520serving%252520another%252520table%252520dr%252520heckle%252520funny%252520waitress%252520shirt.jpg%26ho%3Dhttps%253A%252F%252Faz616578.vo.msecnd.net%26s%3D435%26h%3D2905f4973c8b82c108b5d8984d311d10cdbd12a7fabafc50f5e7f1ca401b4c3d%26size%3D980x%26c%3D4011895725%22%7D" expand=1 original_size="1x1"]
7. Please Don't Tip Me Based Off Of The Food
I'm really sorry that your food didn't turn out to your expectations. I want you to enjoy it! If you do have a problem with your food, please tell me. I'm how you communicate with the cooks and I'm more than happy to get what you need. However, I can't help you if you don't let me know or if you tell me afterwards.
8. Remind Me!
I'm usually busting my hump to get everyone satisfied with their meal. I have a million of things going through my head. If I forgot to get you a glass of water or mustard, please speak up! It's my job to get it, after all!
9. Please Be Respectful!
I know that sometimes it's hard to get my attention but to me, snapping your fingers is very rude. Please and thank you's are welcomed! I know you think it may just be my job to do it, but it's nice to hear it!
10. Let Me Know If You're Not Ready To Order
The menu is interesting and long, it's not a problem if you need more time. It is more convenient for me to go and do my busy work while you decide instead of awkwardly standing there as you decide.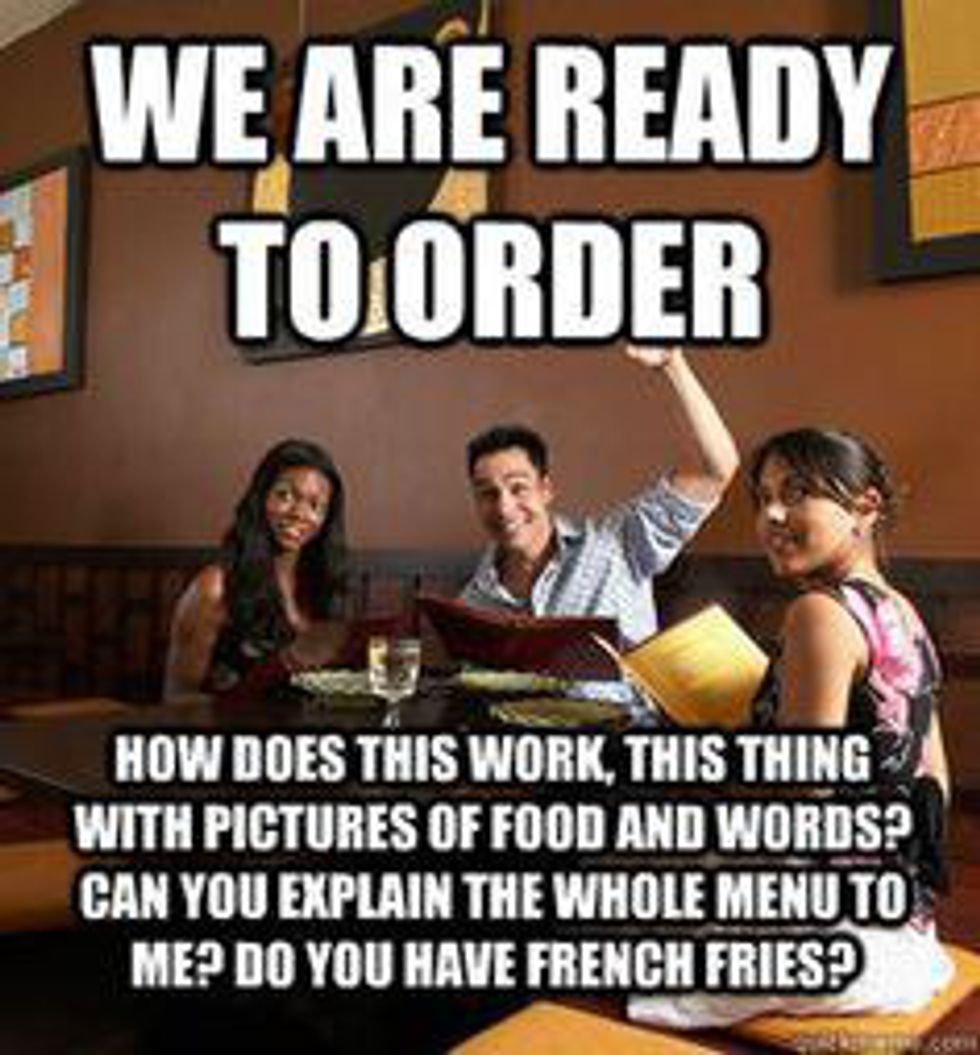 11. Be Mindful Of Your Surroundings
If you see that we are busy, expect a wait on your food. If you see me running around and helping my other tables, know that I will be there as soon as I get a chance. I haven't forgotten about you.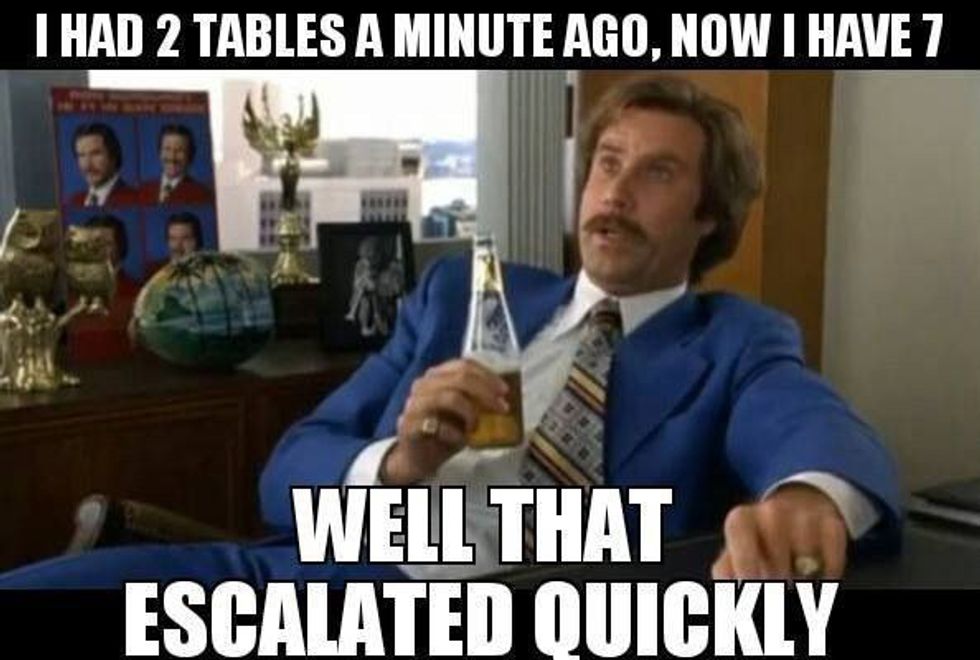 12. Please Watch Your Children
I know that kids sometimes get restless and need to roam. However, this is not a daycare. There are many people in this place and many dangerous things for them to get into. I don't want to see your child trip and get hurt. Please do your best to keep them under control for both their safety and ours.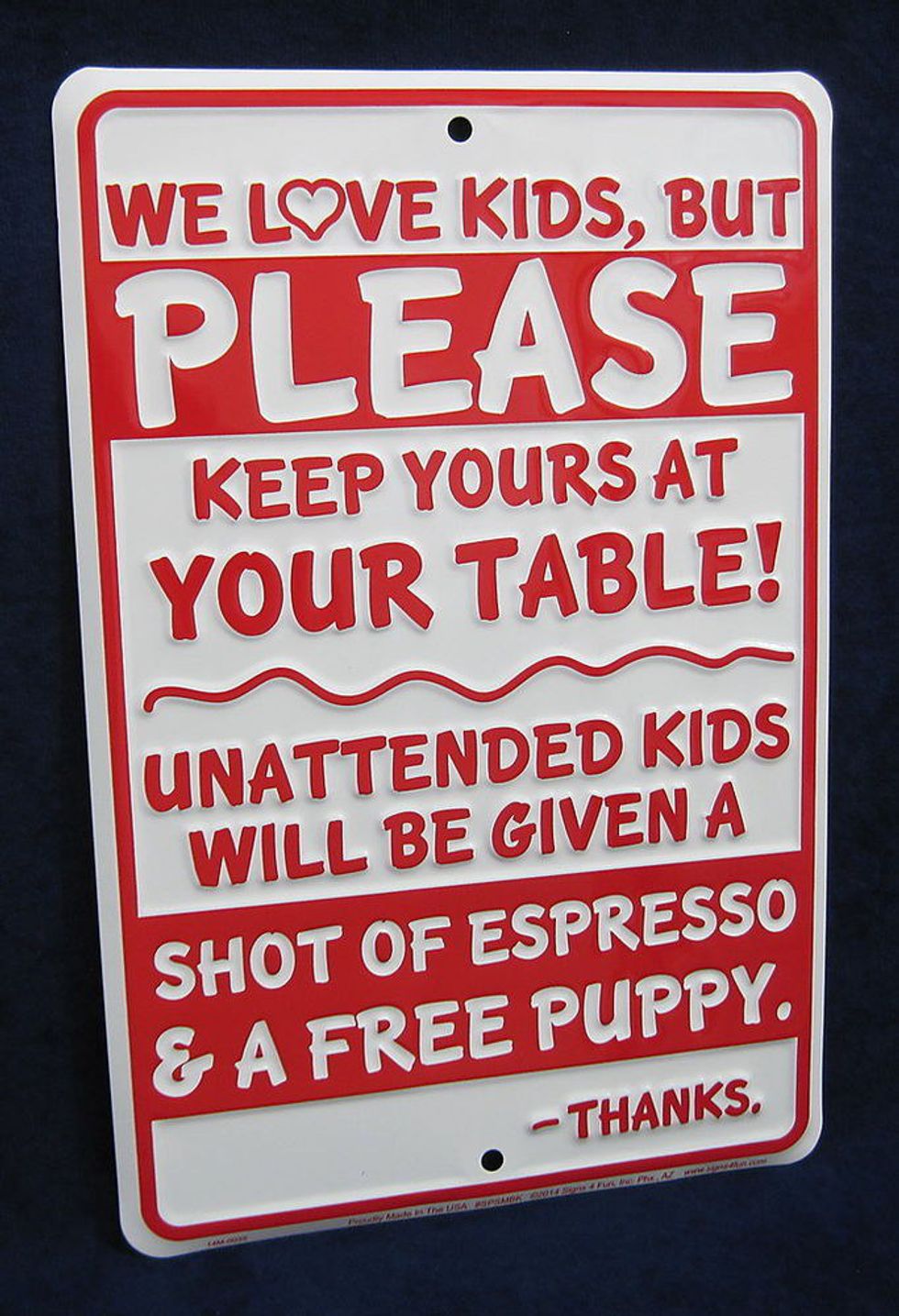 13. Plan Accordingly For Your Meal
If you're in a hurry, please don't try to come into a packed house and expect immediate food unless it's soup or salad. It's not fair for us or you.
14. Avoid Your Cell phone While Ordering
You might be in an important conversation and that's OK. But please tell me that and I will come back soon. Or if you are texting, it would be great if you would look up from your phone and then order.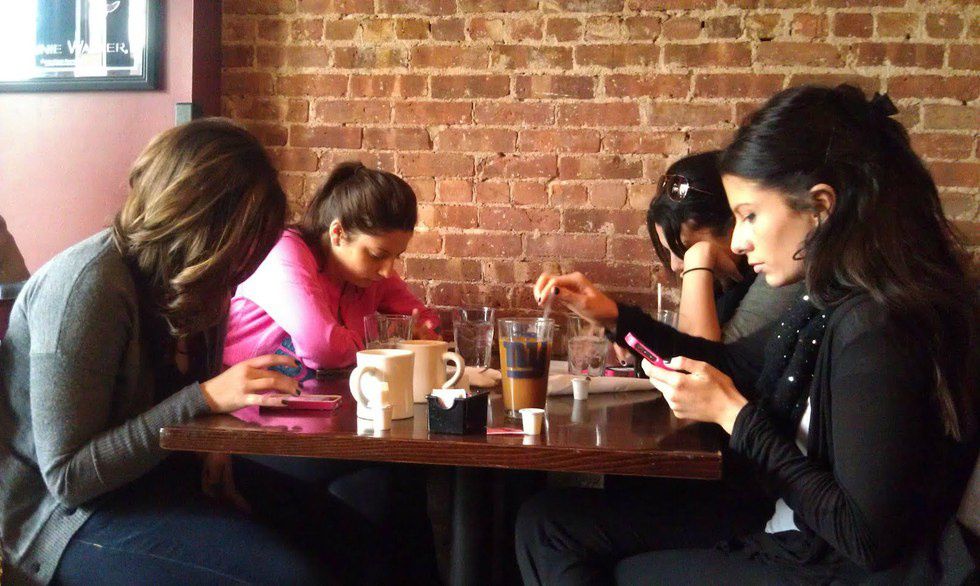 15. Warn Me Of Allergies You Have
You can't help that you are allergic to peanuts or gluten intolerant. I would hate for anything to have happen on my watch, so let's try to avoid this!
16. Not Tipping
Even if I am busy, I always try my best. Unless the night was a total train wreck and it was my fault on all the problems, not tipping even five percent is a killer to me. I offer a service and hope to be compensated for it.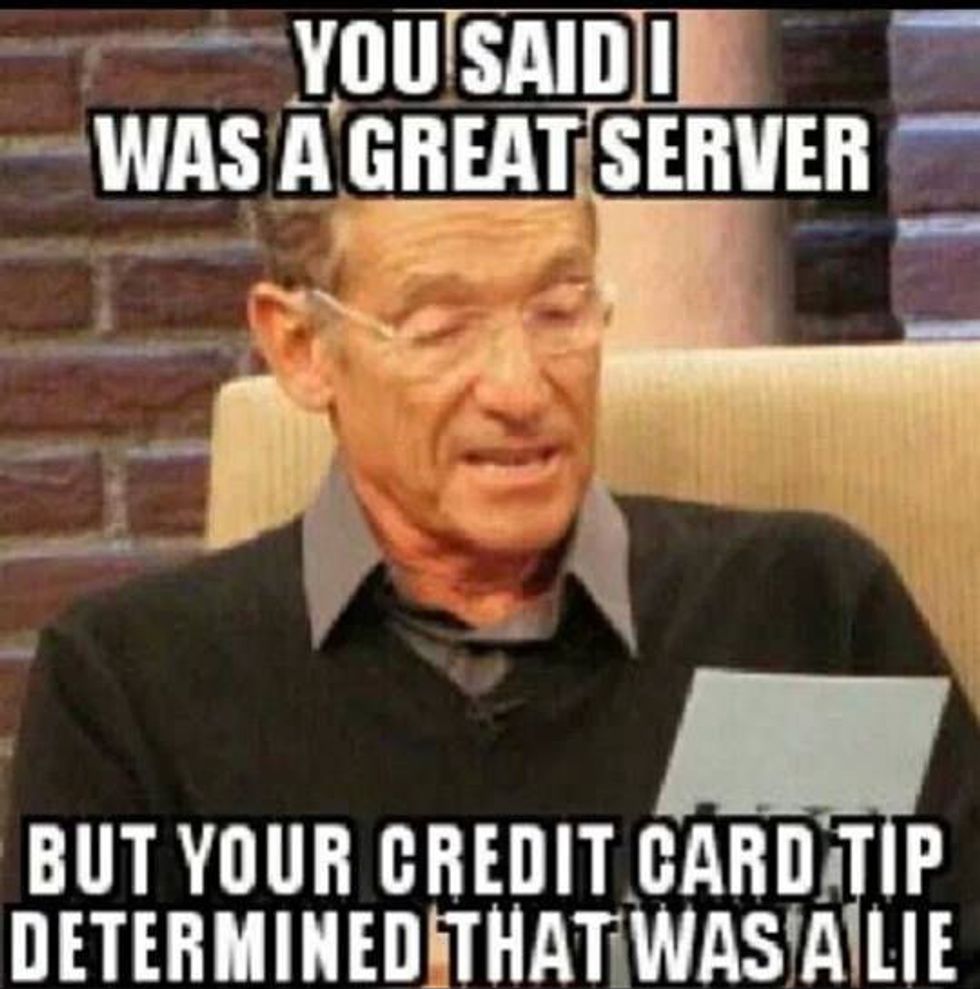 Being mindful of these things may put it in perspective for you and subconsciously change. Your waitress is out to make your experience the best it can be. Remember to speak up, stay polite, and plan ahead.