Unfortunately, I live in the middle of nowhere which means that when I go home for the summer, I'm stuck watching hours of re-runs of "Friends," "Seinfeld," "How I Met Your Mother," and "Grey's Anatomy." If I'm lucky, there will be a "Say Yes to the Dress" marathon. The internet service is garbage which means Netflix will work on the rare occasion and watching new episodes on HBONow basically requires a miracle. To keep myself occupied, I've gone crafting crazy of gifts to give my sorority sisters (and if they turn out really good, then I'm keeping it for myself obviously). Here are 20 crafts to keep you occupied and not completely bored all summer!
1. The Jeweled Letter Canvas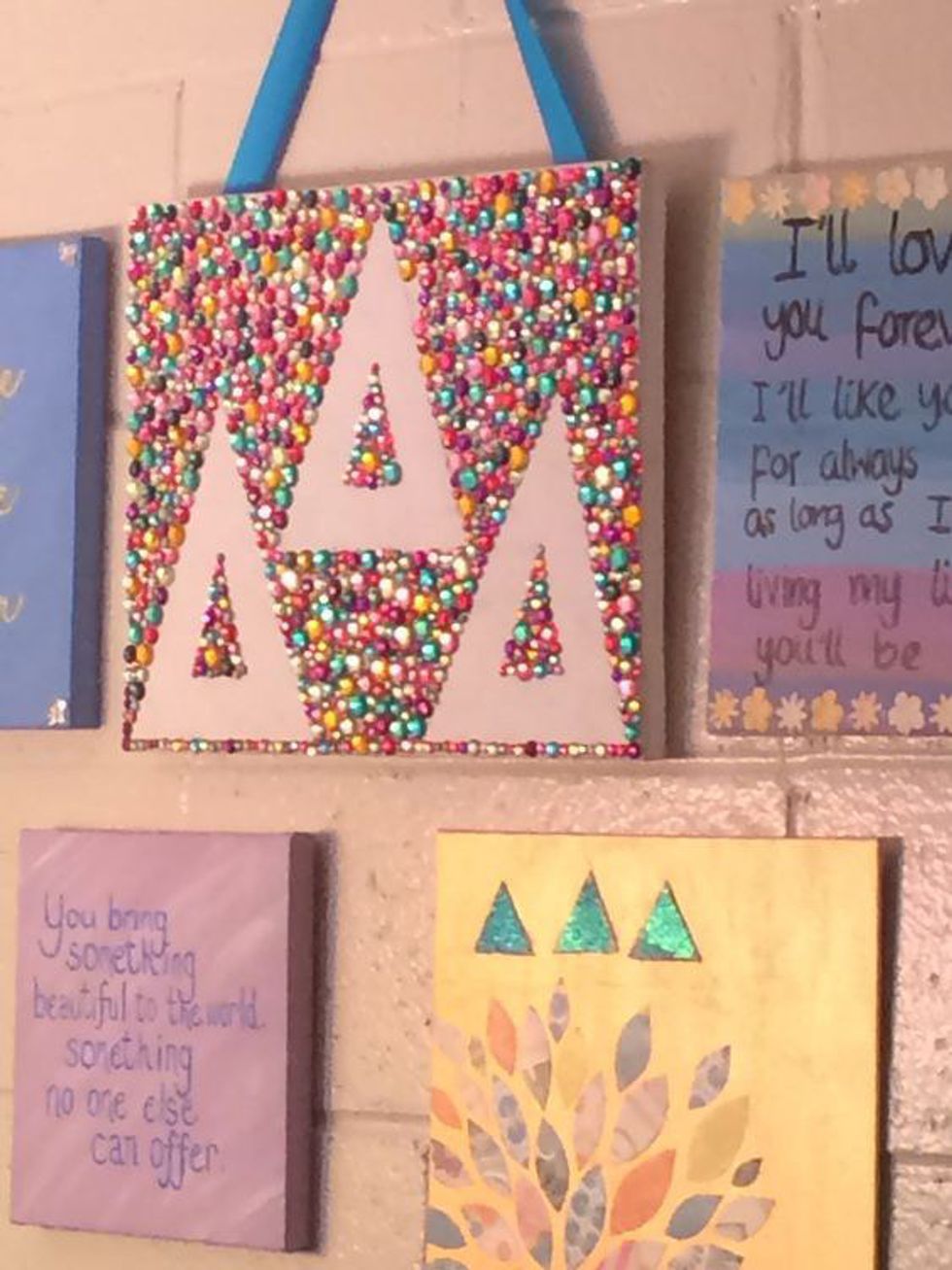 Pro: It's perfect if you already have an abundance of jewels. You can also use your organization's jewel or colors to make it even more special!
Con: You're going to burn your fingers so much with that hot glue gun. You're also going to need to buy a lot of jewels. I suggest shopping the sales at Michael's.
2. "Mean Girls" Big/Little Frame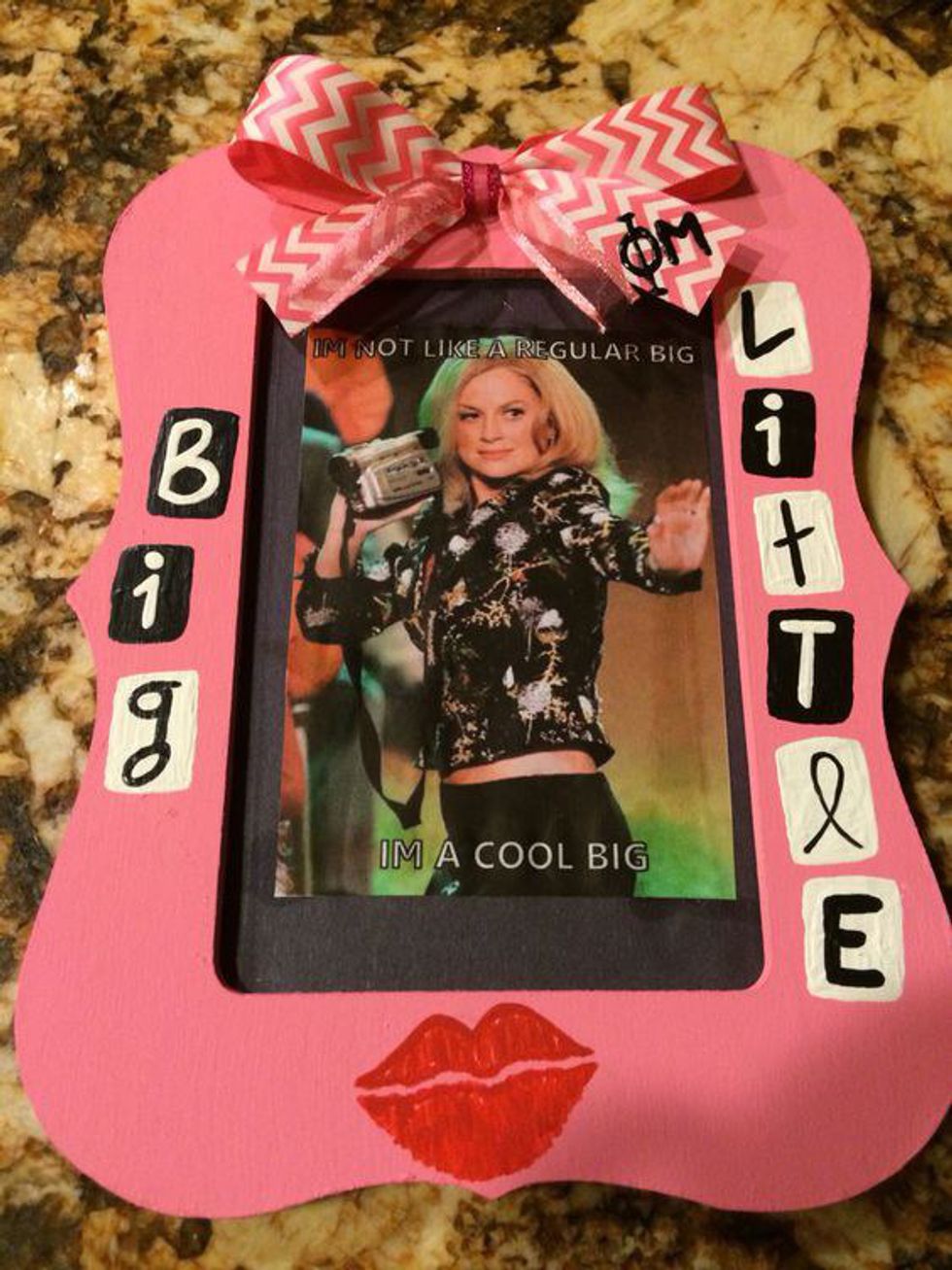 Pro: Every sorority girl loves "Mean Girls." That is a fact of life. And you can never have too many picture frames!
Con: You're going to have to buy and make two of these: one for your little and one for your big.
3. Tie Dye Greek Letters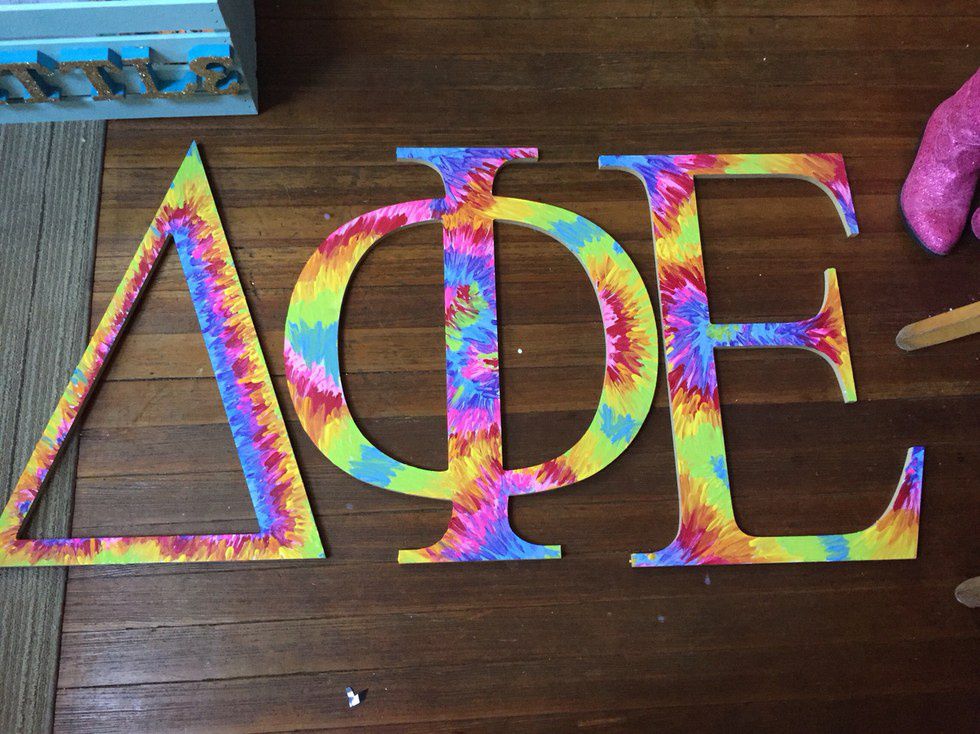 Pro: Tie dye is super cute and actually somewhat easy to paint.
Con: You'll probably have to specially order these wooden Greek letters online.
4. Kate Spade Inspired Canvas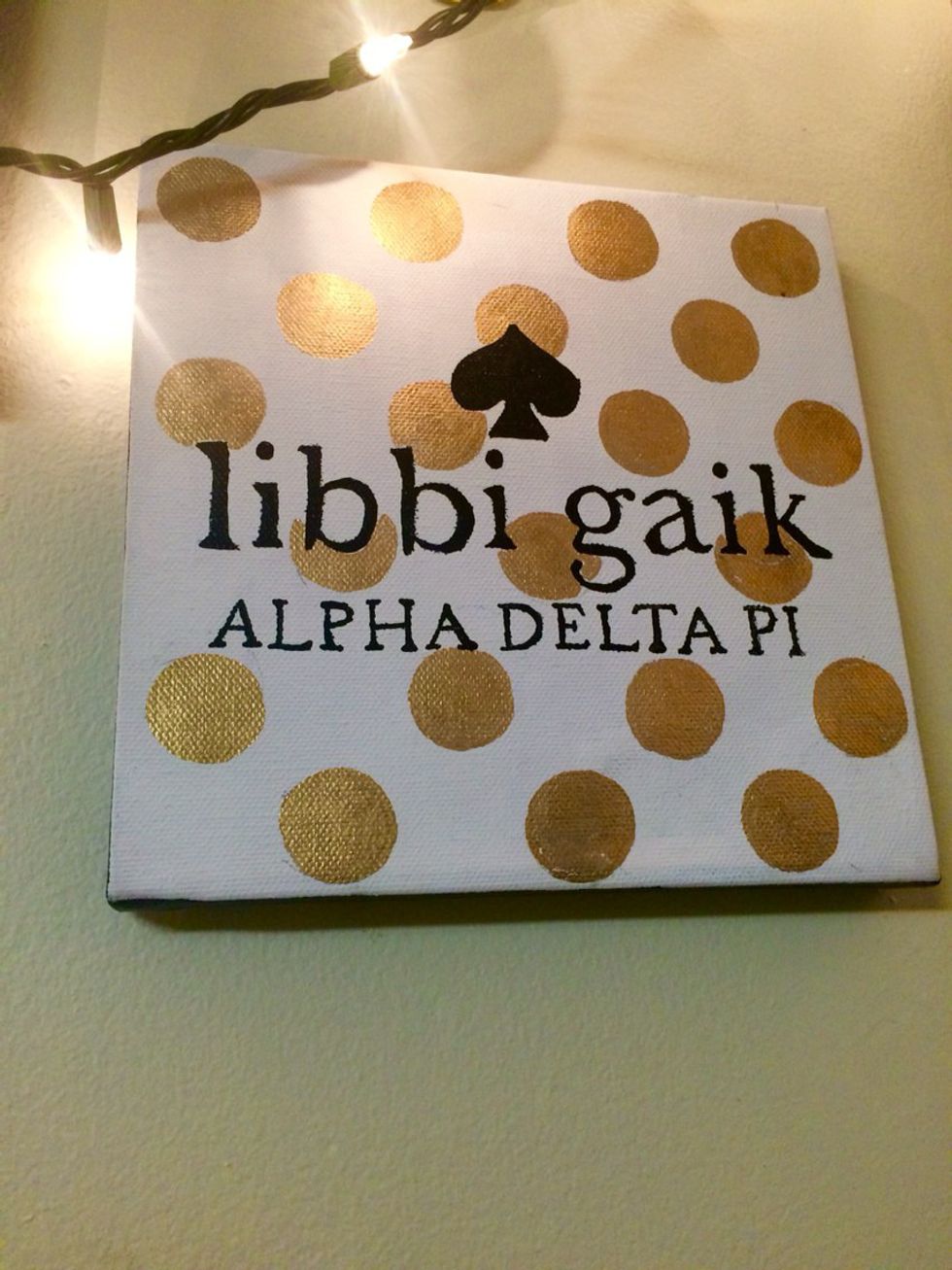 Pro: It will never go out of style if you use the black/white/gold color scheme.
Con: You're definitely going to need to trace that spade.
5. For the Srattiest Girl You Know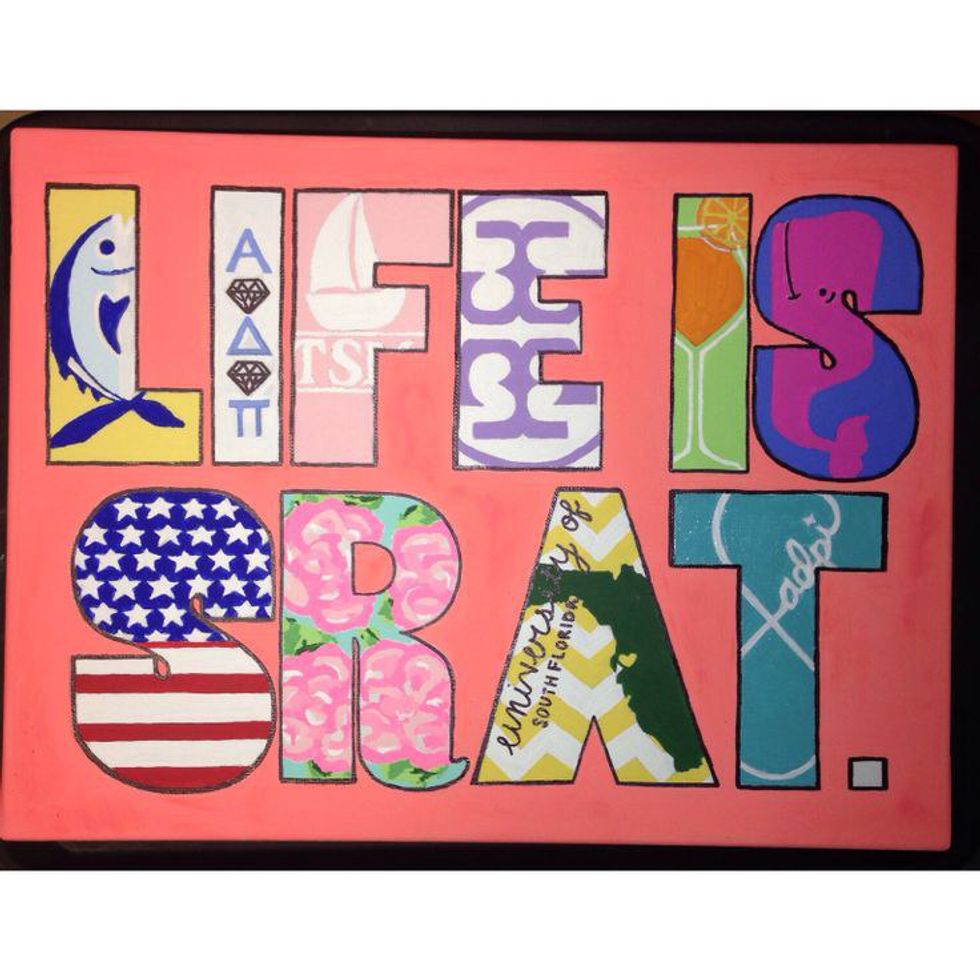 Pro: It will be a masterpiece that you have bragging rights to forever
Con: It's going to be so hard to paint all of that detail.
6. Wooden Craft Box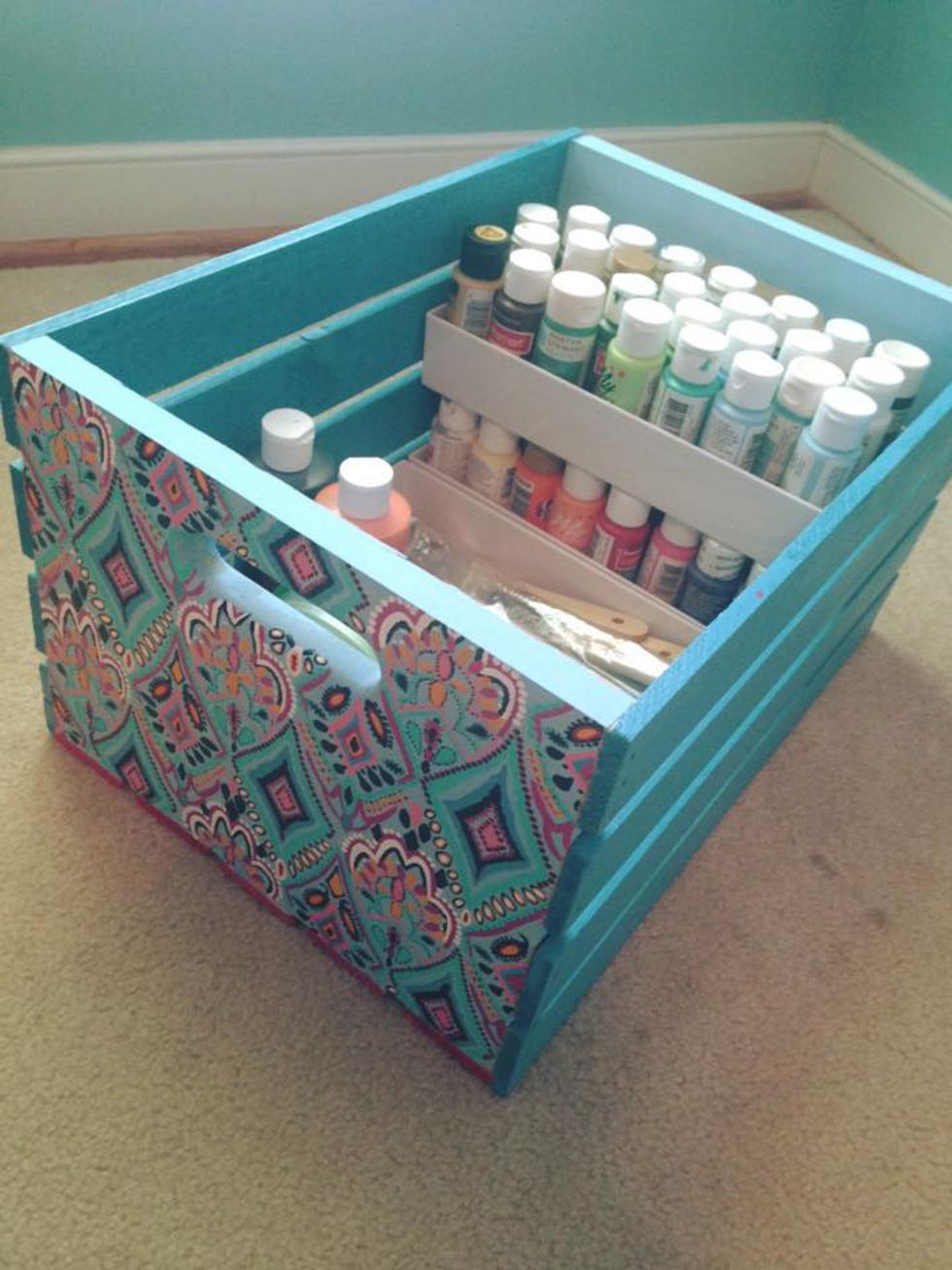 Pro: You get to craft for your crafting supplies. Forget the plastic tote you keep everything all unorganized in and get a wooden craft box!
Con: You have either find or pay for a wooden crate. And wood crafts are surprisingly expensive to be literal, unfinished raw wood.
7. Flower Canvas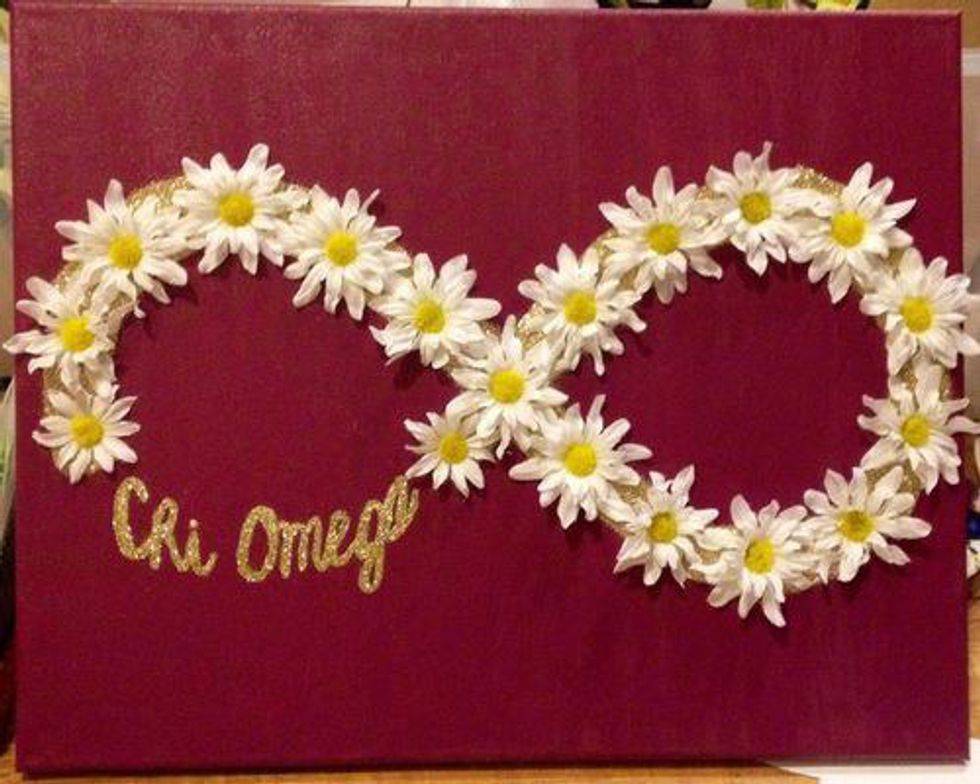 Pro: You get to include your organization's flower!
Con: Again, hot glue gun burns.
8. Doily Canvases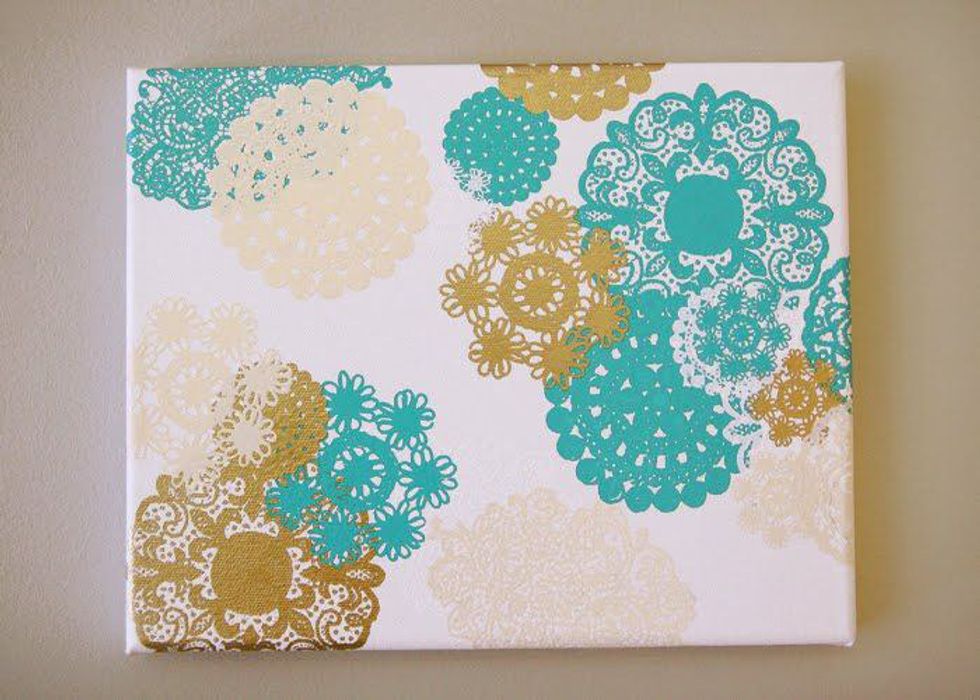 Pro: They can enhance any canvas or frame and then you can just slap your letters on there and you have the easiest, simplest craft of all time!
Con: Spray paint is expensive for some weird reason.
9. Tiffany Inspired Pin Boxes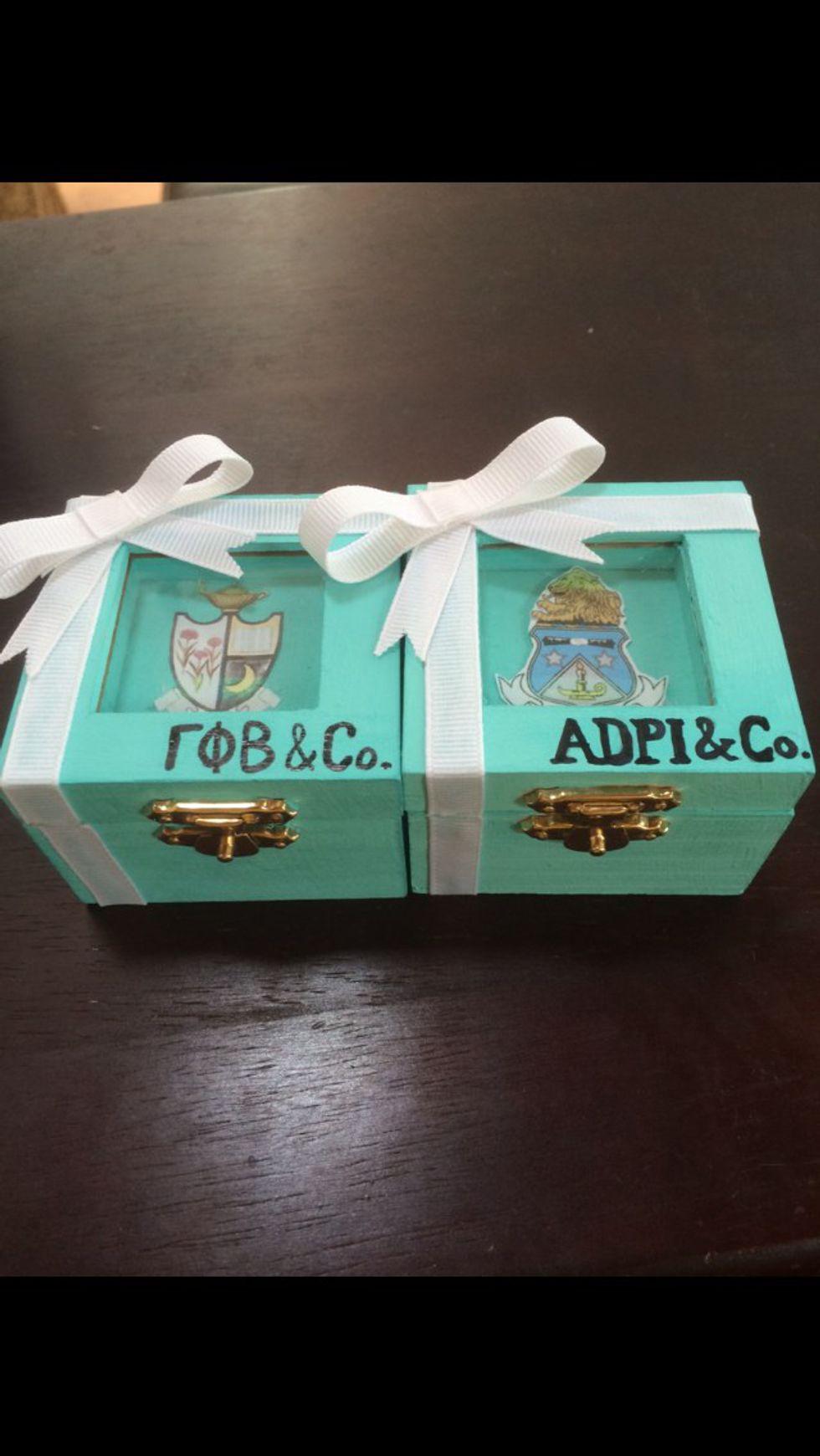 Pro: Do I even need to explain the pros behind these?
Con: The detail is a little intense if you're inexperienced and easily frustrated like me.
10. Painted Frame For Your Chapter Creed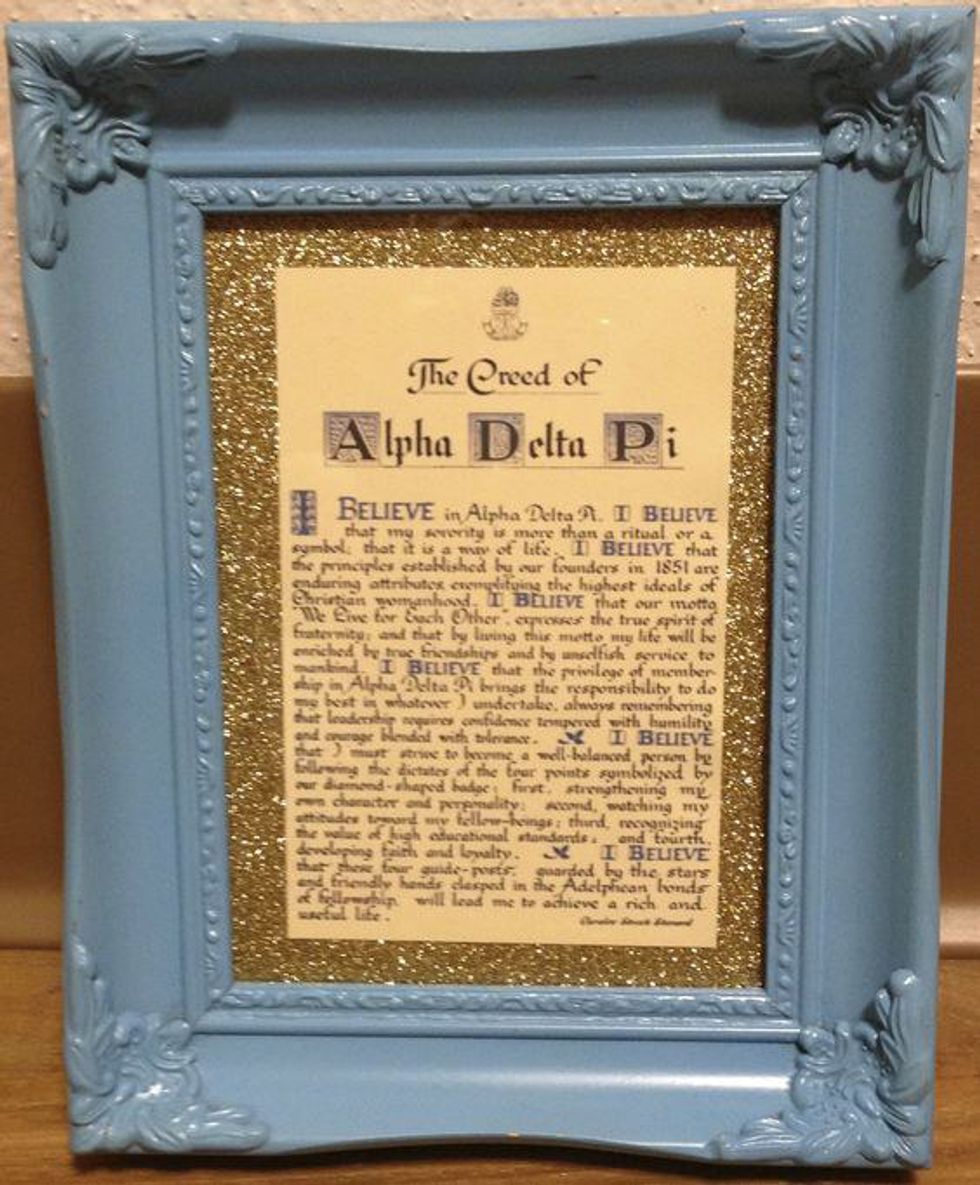 Pro: Glitter background.
Con: Cutting in a straight line. Invest a paper cutter.
11. Framed Planner for the Lilly Lover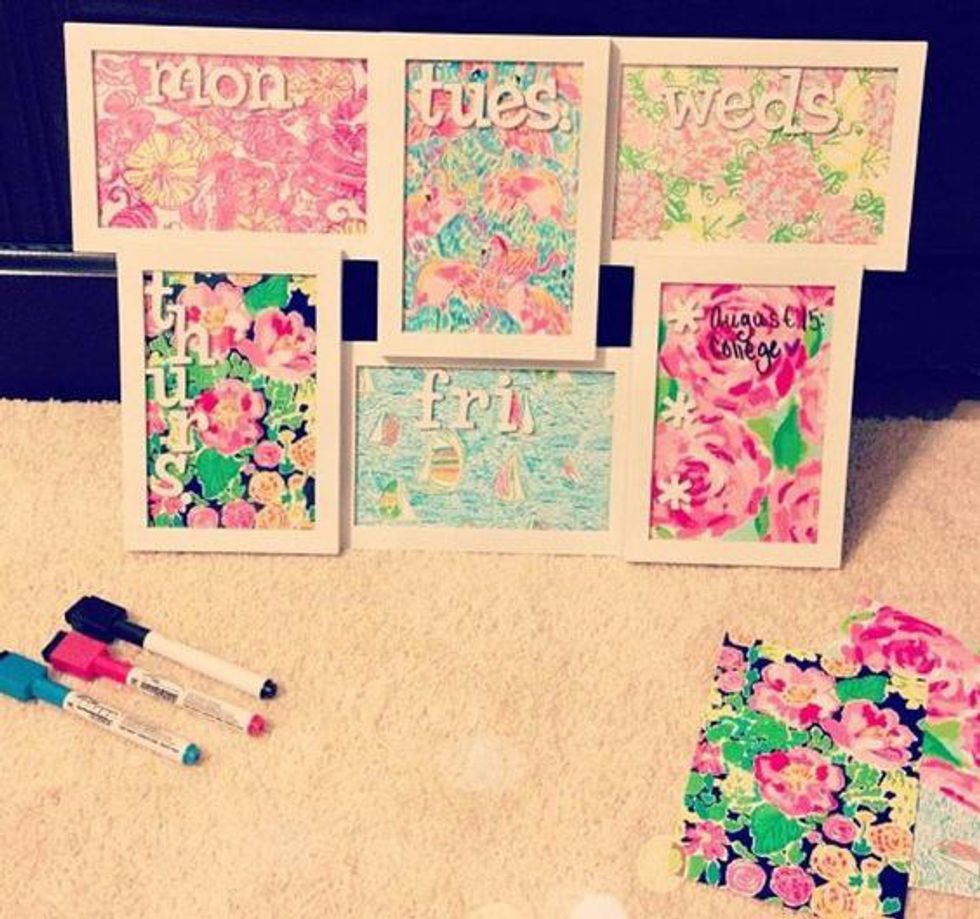 Pro: It will help keep your crazy srat life in check.
Con: Picture frames like the above are annoyingly expensive.
12. Wooden Initial For the "Harry Potter" Lover in Your Life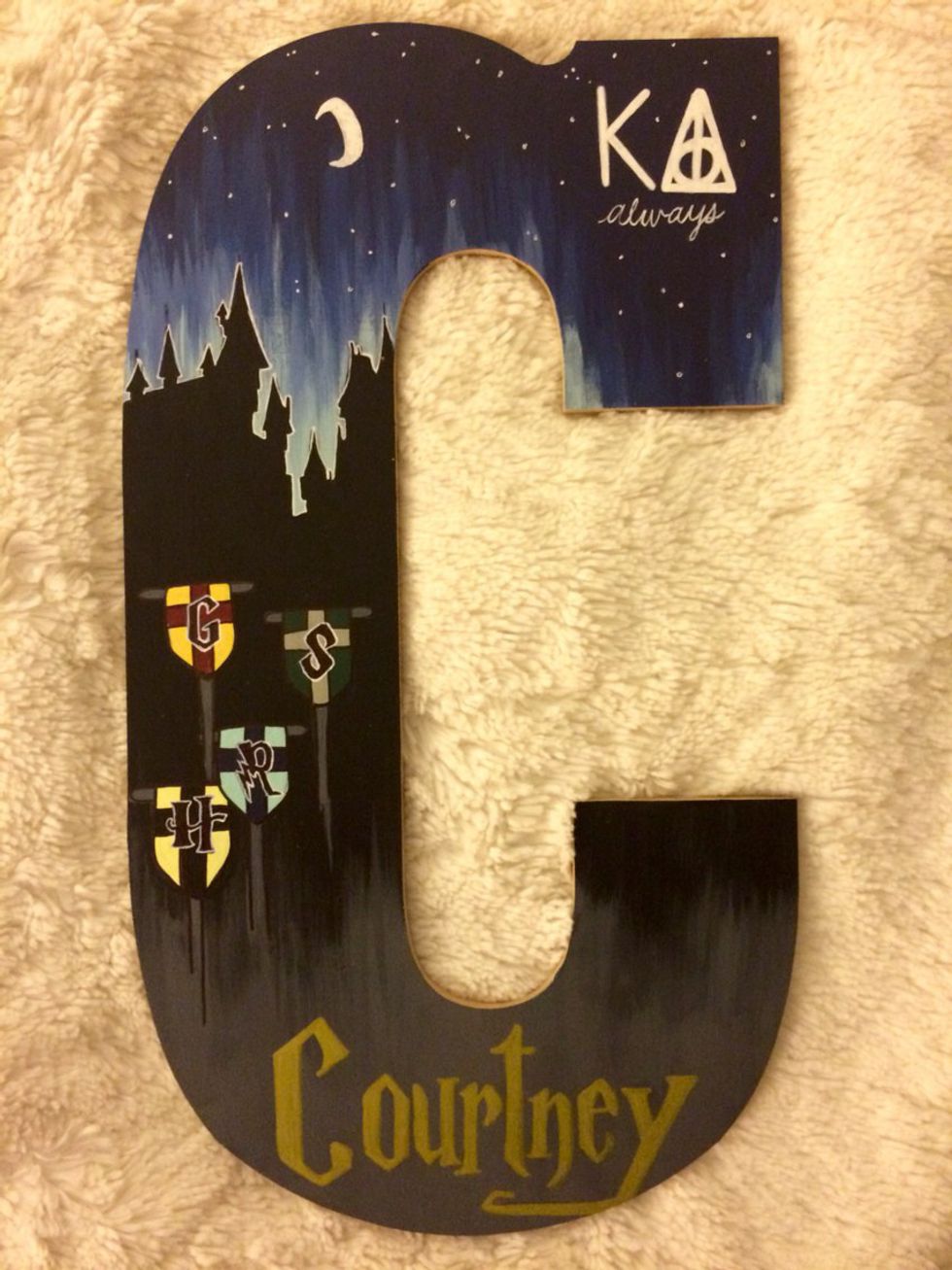 Pro: It's "Harry Potter."
Con: There is no con when it comes to "Harry Potter." Except that it ended. And that this will be nearly impossible to paint perfectly.
13. The One With the Srat Canvas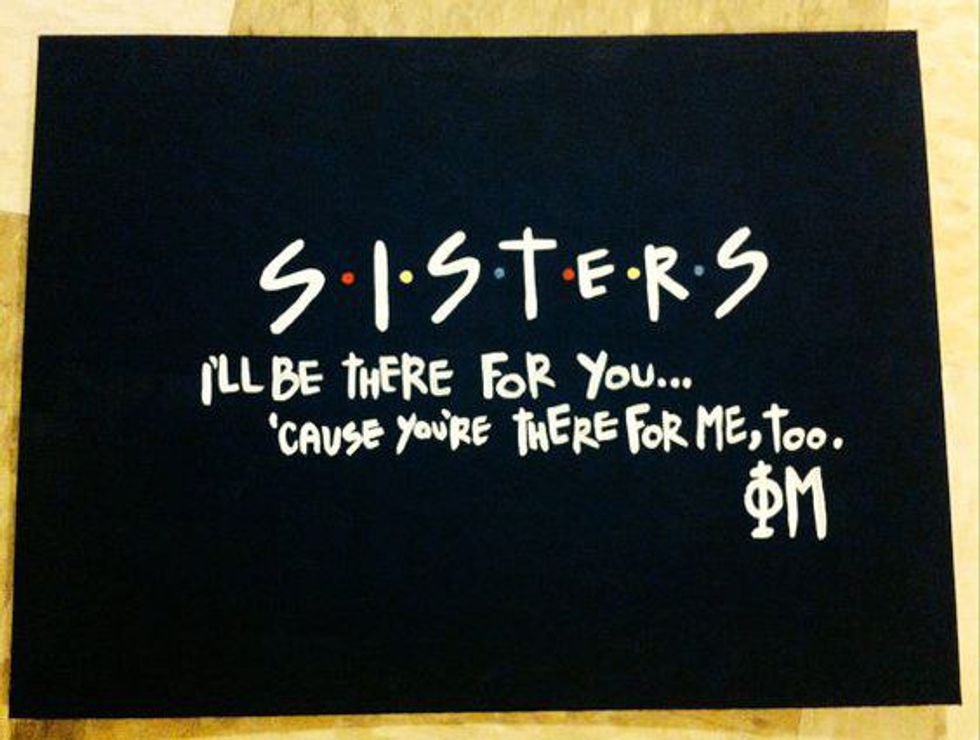 Pro: It's adorable and true.
Con: None.
14. State Outline Canvas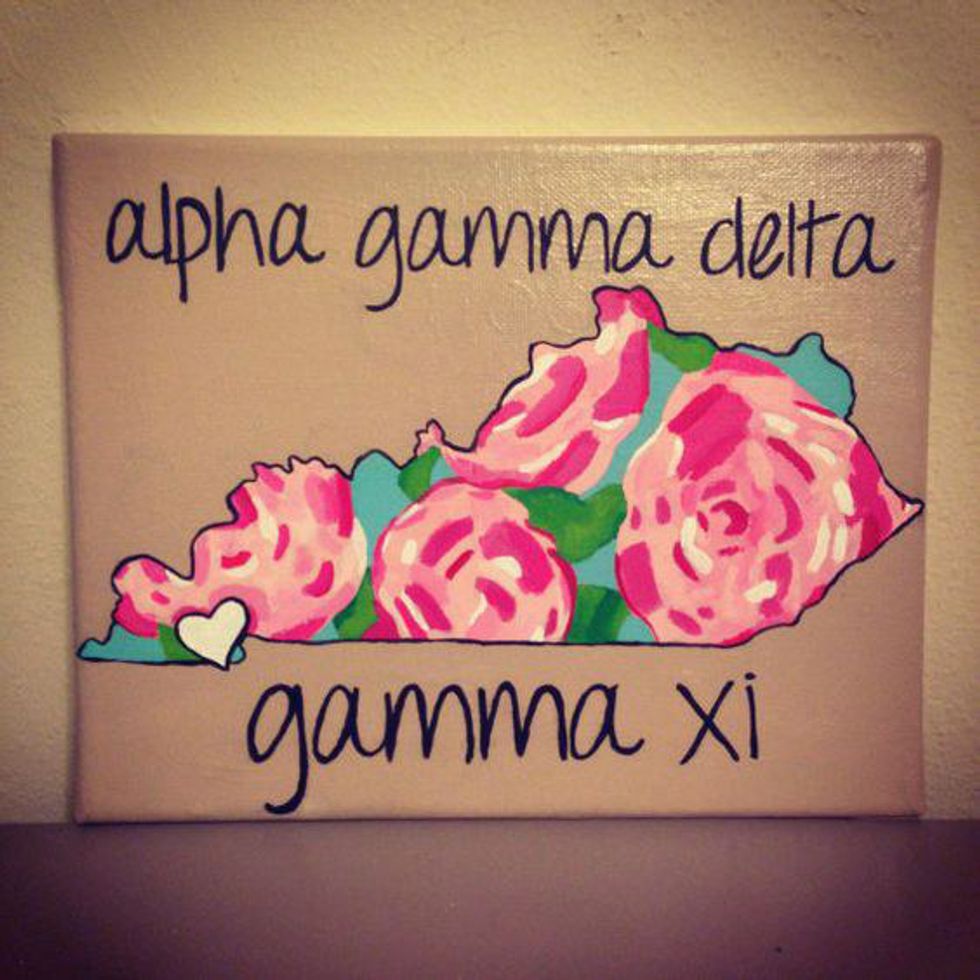 Pro: The perfect way to remember where the best four years of life were spent!
Con: You must trace it for the best results.
15. For the Girl Who Loves "Old Lady Things"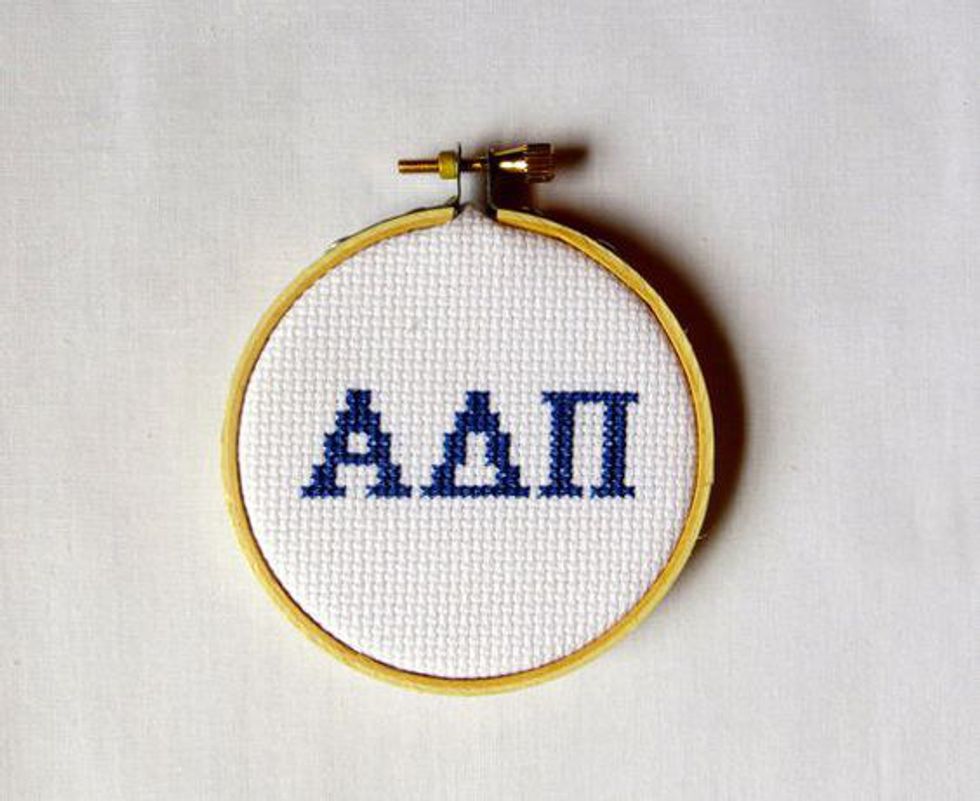 Pro: I love old lady things and you should too because it's your future and you gotta embrace it.
Con: You will become addicted to cross stitching.
Happy Crafting!