So, 2017 happened, whether we wanted it to or not. For women in entertainment, the last 365 days proved to be a frustrating but hopefully a progressive time in Hollywood and music history, with sexual assault stories being told one after another, and I pray the victims of these incidents find the justice they deserve. However, some women made headlines as the perpetrator, namely singer Melanie Martinez, who was accused of rape by a former friend who met Martinez during their climbs to stardom.
Despite the stormy skies brewing over Hollywood and the music industry, a lot of powerful women artists entered with a mega comeback such as Lorde, Kesha, and Katy Perry while newer artists like SZA and Dua Lipa blew up in popularity. I applaud the accomplishments of those artists, but as always, the mainstream crowd (myself included) just barely saw others slip under the radar. I included them in this list, and because there was so much great music by these underappreciated female artists I included both EPs and full length studio albums.
1. Charli XCX - Number One Angel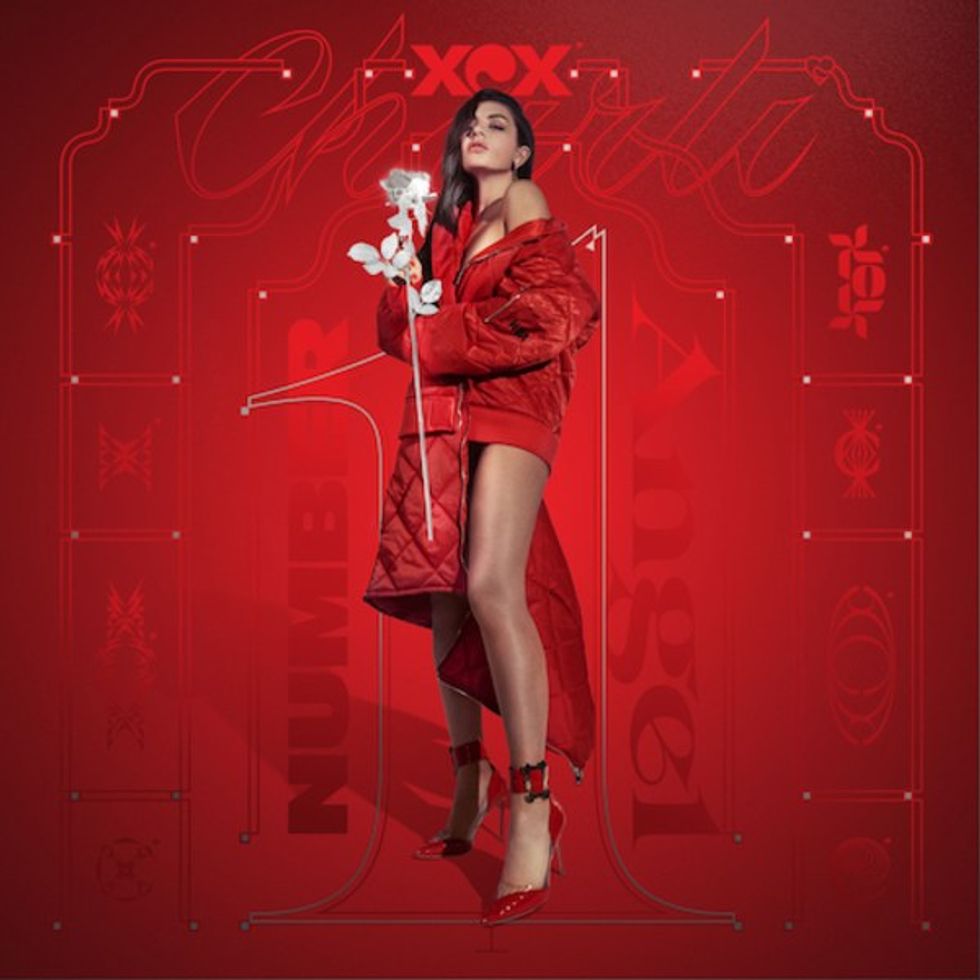 2017 was Charli XCX's year as she dropped two mixtapes last year: Number One Angel and Pop 2. Even with pop music savior and light of my world Carly Rae Jepsen's feature on Pop 2, I found myself going back to Number One Angel. Its tight, sleek techno pop production makes for extremely catchy tracks featuring stellar collaborations including MØ and CupcakKe.
I recommend her if you are into Sky Ferreira, Icona Pop, or electronic pop music.
Favorite Song: Lip Gloss
2. Kehlani - SweetSexySavage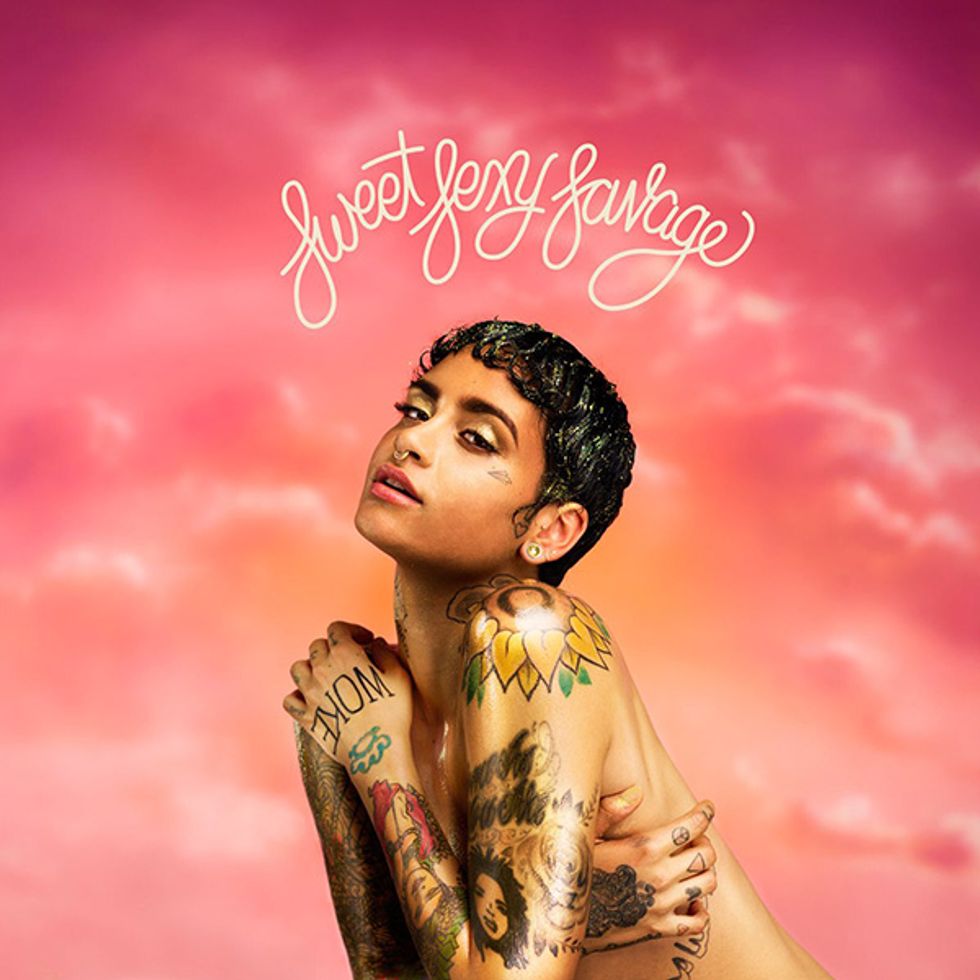 Kehlani's songs showed up in my Discover Weekly on Spotify, but I never thought twice about them, mostly because I hardly ever enjoyed the music Spotify put together for me. If the first three songs do not mesh with me, I ditch. Snobby, I know. When compiling this list, I went through my Discover Weekly playlist and found Kehlani again. What I listened to this time that I must have missed last time was a beautiful spoken word introduction followed by R&B tracks that manage to avoid too much repetitive production. Some parts of the album feels a bit 90s-esque, including a keyboard segment in the song "Distraction," while other tracks like "Do U Dirty" is straight up trap.
I recommend her if you are into pop trap, R&B, and TLC.
Favorite Song: Distraction
3. Maggie Rogers - Now That the Light Is Fading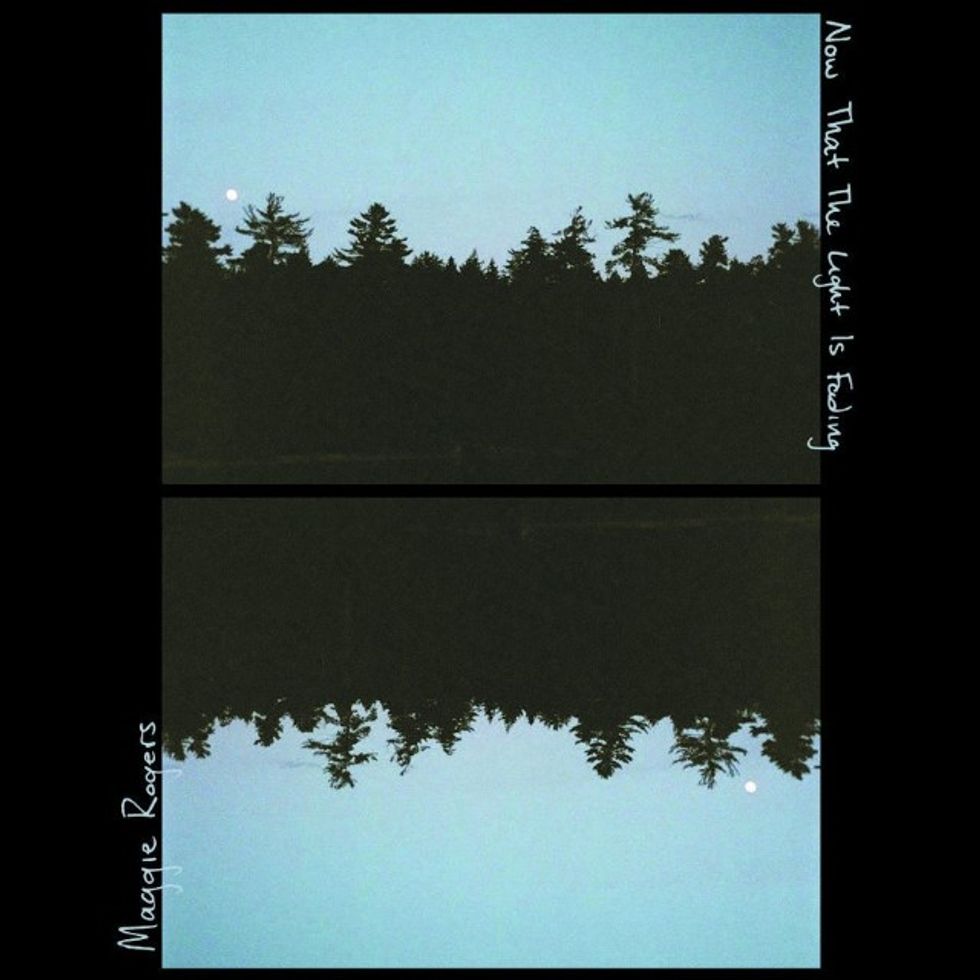 If music mogul Pharrell Williams fell in love with Maggie Rogers songstress abilities, I am sure you will too because I sure did. Yes, this is an EP, but I have been waiting (and waiting...) for a full LP since I first heard her viral hit "Alaska." When she released Now That the Light Is Fading, I knew I had to settle. And settle I did. More than that, I enjoyed all five of her tracks, with its varying types of pop. She provides ambient pop in "Color Song," synth pop in "On + Off," and indie pop in "Dog Years." I think YouTube user Tuco Salamanca says it best with their comment: "This song just makes me want to drive, I don't have a destination but me and this song are going places."
I recommend her if you are into Florence and the Machine, indie pop, or Julia Holter.
Favorite Song: On + Off
4. FEMM - 80's/90's J-Pop Revival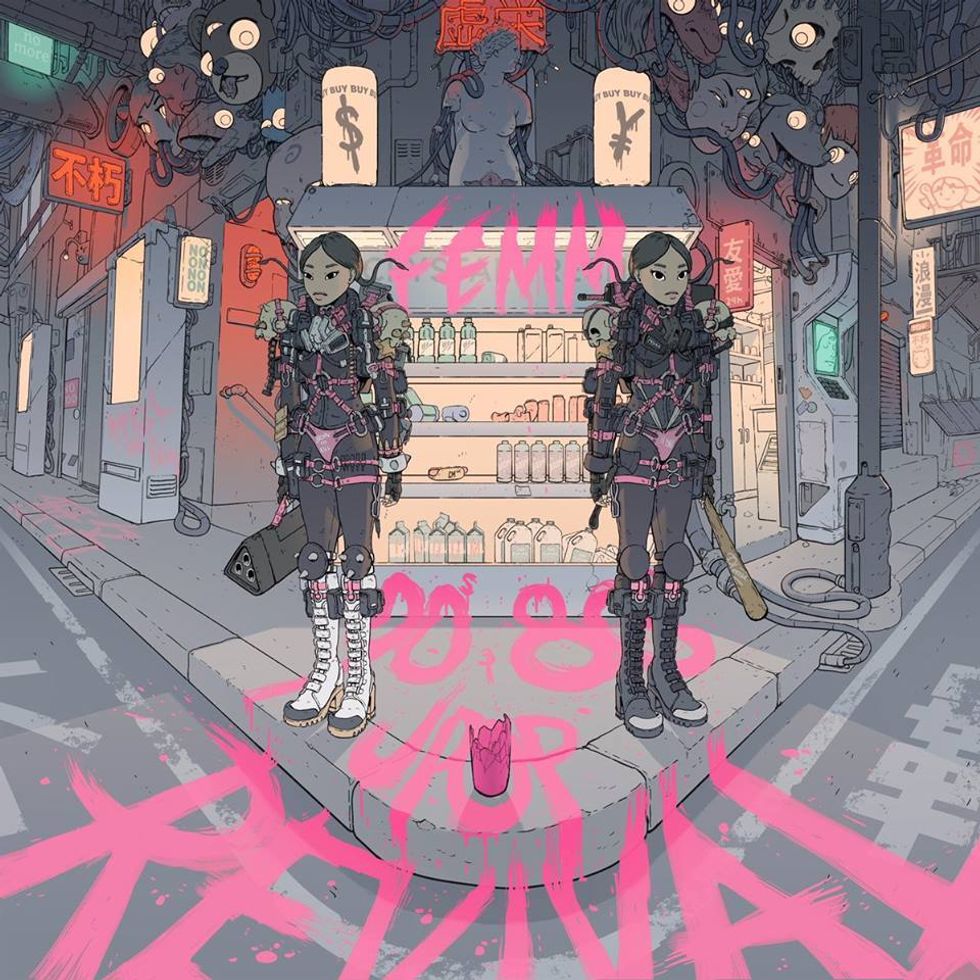 The best musical release surprise of 2017 for me was FEMM's (Far East Mention Mannequins) 1980s and 1990s J-pop cover album. I mentioned this group in last year's list, but if you do not already know FEMM is an EDM singer duo whose concept revolves around the two singers, Emily Kaiho and Hiro Todo replicating mannequins. Their discography contains of mostly pop tracks; think 2010s pop hits you would hear in a nightclub. Their YouTube uploads were far and few between after the release of their EP, so when a music video called "Samishii Nettaigyo" visited my subscription list, I eagerly clicked. FEMM was singing pop in Japanese, straying away from all of their English spoken songs. Their new sound creates a nostalgia for a time I was not even alive for, and even tracks on this album that produce more of a modern electronic pop song still express how much respect FEMM has for older J-pop.
I recommend them if you are into EDM, J-pop, or 80s pop.
Favorite Song: Konyaha Boogie Back
5. Haim - Something To Tell You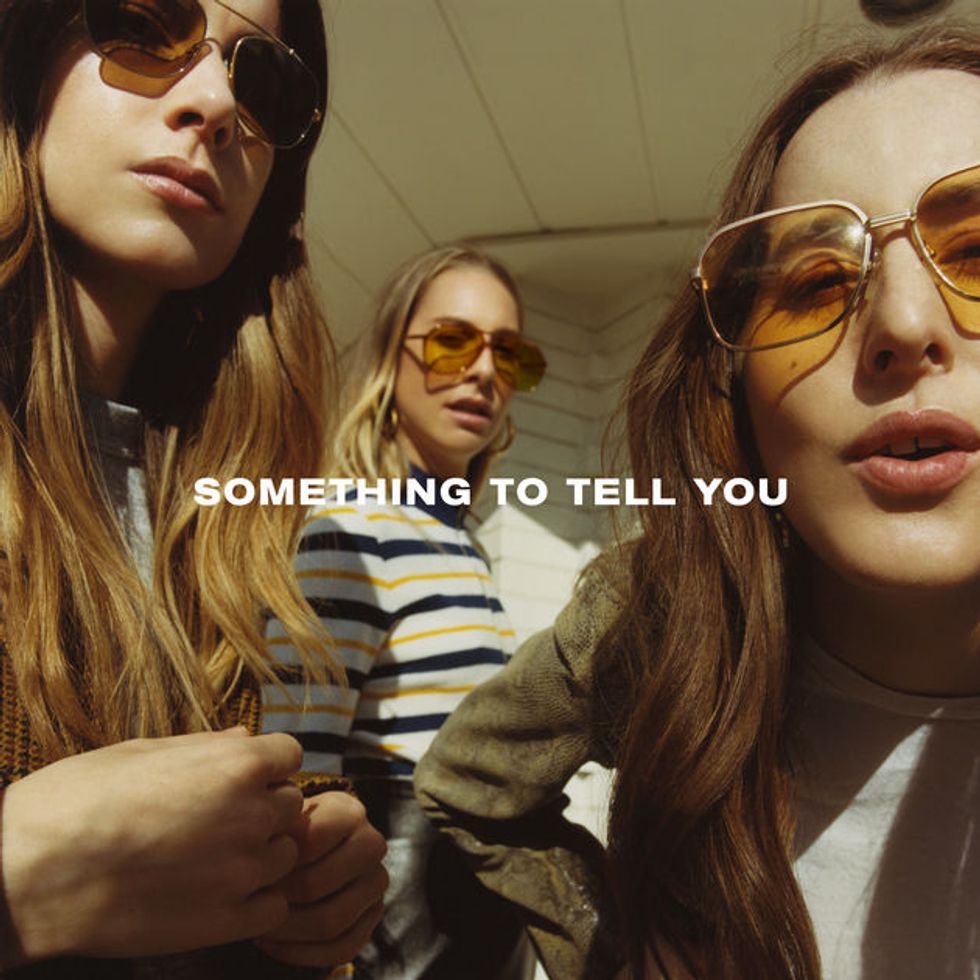 Seriously, why is Haim not more popular? I found these three musically and vocally talented sisters through their performance on a Saturday Night Live episode back in 2013, and while they have become more notable since then, I felt like people were sleeping on this album. Maybe their music is playing on some local alternative radio stations that I do not know, and I hope that is the case. Rock leaning tracks "Nothing's Wrong" and "Little Of Your Love" provide delicious guitar licks, while their retro pop fueled tracks "Want You Back," "You Never Knew" and "Something To Tell You" make you want to dance. If you enjoy pop, rock, or girl bands, I guarantee you will find a song that will make you fall in love with Haim.
I recommend her if you are into pop rock fusion, indie rock, Walk the Moon, and Fleetwood Mac.
Favorite Song: Something To Tell You
6. Sudan Archives - Sudan Archives

Another EP? Yes, another EP, but I had to include her. Hailing from Cincinnati, Ohio (Ohio home state represent), Sudan Archives is a musical force to be reckoned with and if you have not listened to her, what are you doing? She plays the violin and learned "the violin playing style of Northeast Africa," which she incorporates into electronic music. Her music also includes elements of folk and the beats of hip hop, so listening to her six track EP is an experience, one where you can point out what genres she pulled from to make such cohesive tracks.
I recommend her if you are into experimental electronic, hip hop,
Favorite Song: Paid
7. Billie Eilish - Don't Smile at Me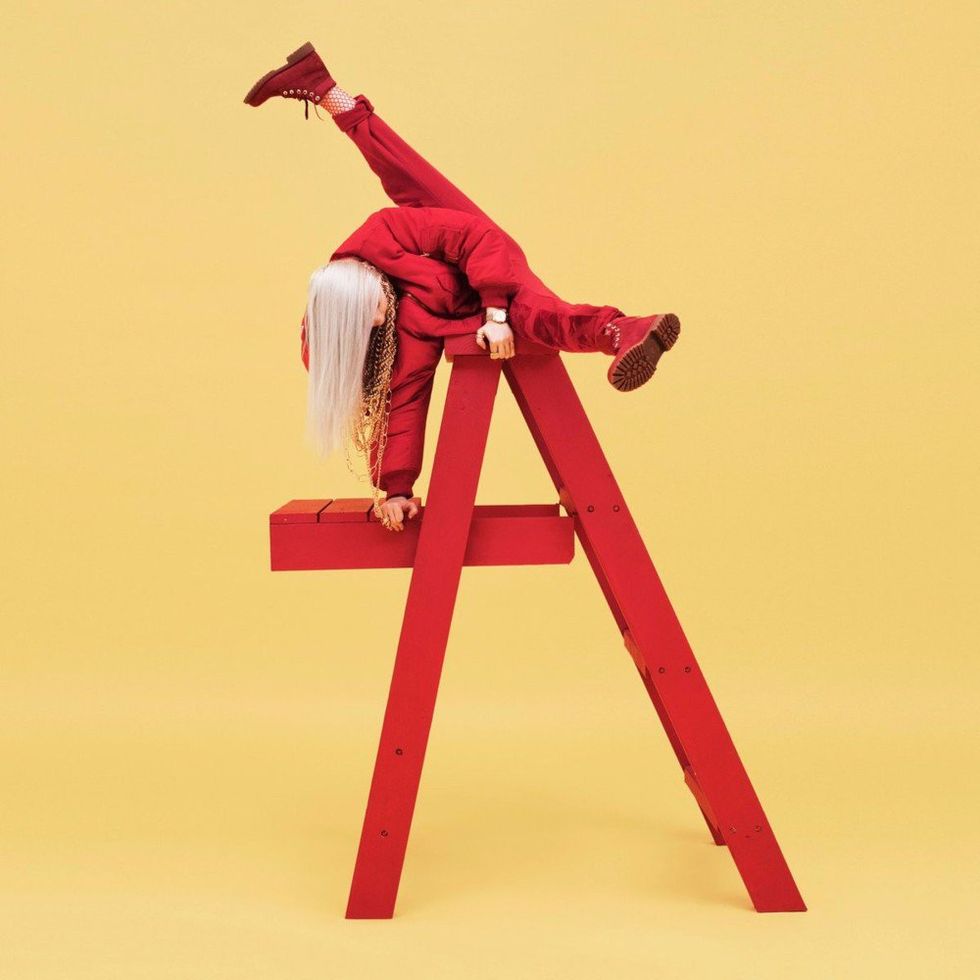 Every now and then my YouTube recommendations offer me music videos by some female artist I never know. The artists are typically up and coming white women dressed a little more alternatively than your typical glamourous pop star. I welcome them, but there are so many different videos from different artists pop up that I become overwhelmed and lose interest. This is how I found Billie Eilish, but rather than ignoring her I clicked on the music video. SInce then, I have not looked back. Yes, "dont smile at me" is only an EP, but it contains nine tracks, which as much as Bruno Mars' latest album. Looking for narrative lyrics, soft vocals, and moody pop? Eilish is your gal.
I recommend her if you are into Marina and the Diamonds, dark pop, or Melanie Martinez.
Favorite Song: Copycat (The way she whispers "sike" in Copycat gets me everytime. Go AT them, Billie).
8. Kelela - Take Me Apart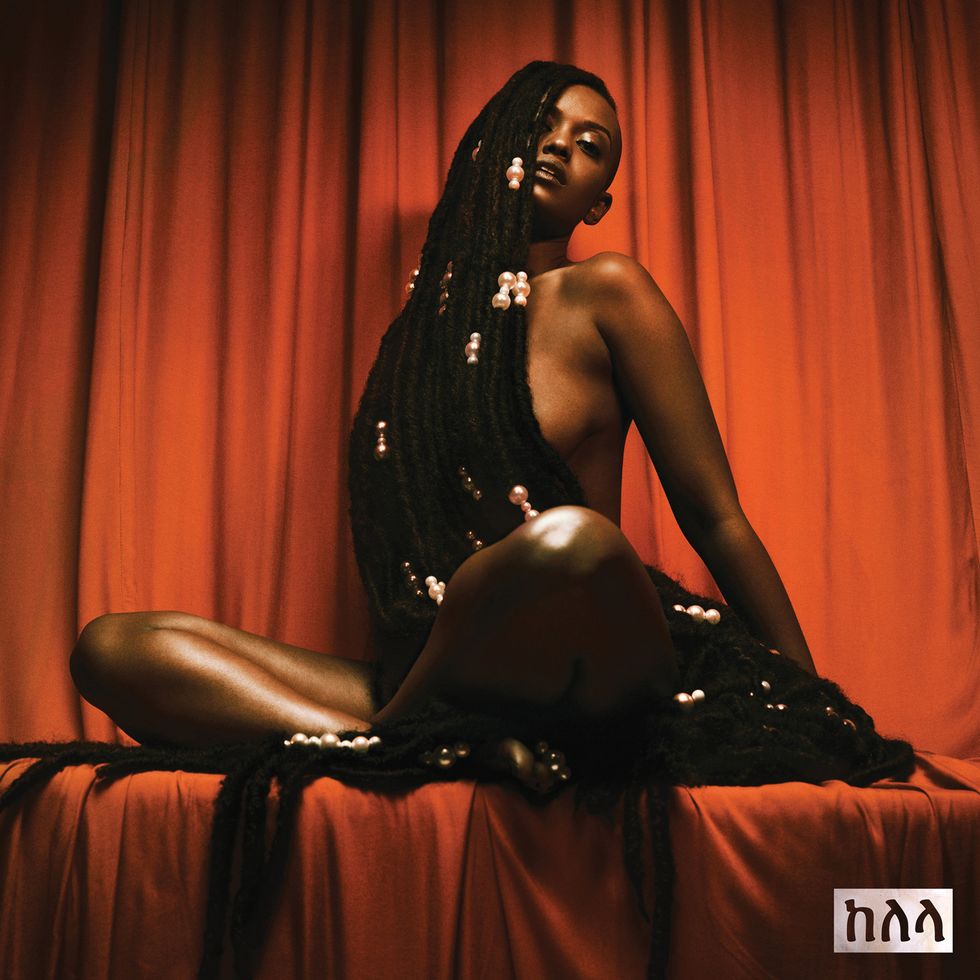 With a voice that makes you sway, Kelela dropped an album in the shadows of other popular R&B albums (*cough* Crtl *cough*). The album spreads on smooth jams, including a number of ambient synths most prominent in tracks "S.O.S." and "Jupiter." However, Take Me Apart also gives listeners some trap pop in her first track, "Frontline." To be honest, her music reminds me of those lo-fi hip hop beats YouTube livestreams, so if you are into that, check her out.
I recommend her if you are into SZA, Aaliyah, trap pop fusion, and R&B.
Favorite Song: Blue Light
9. Rina Sawayama - RINA EP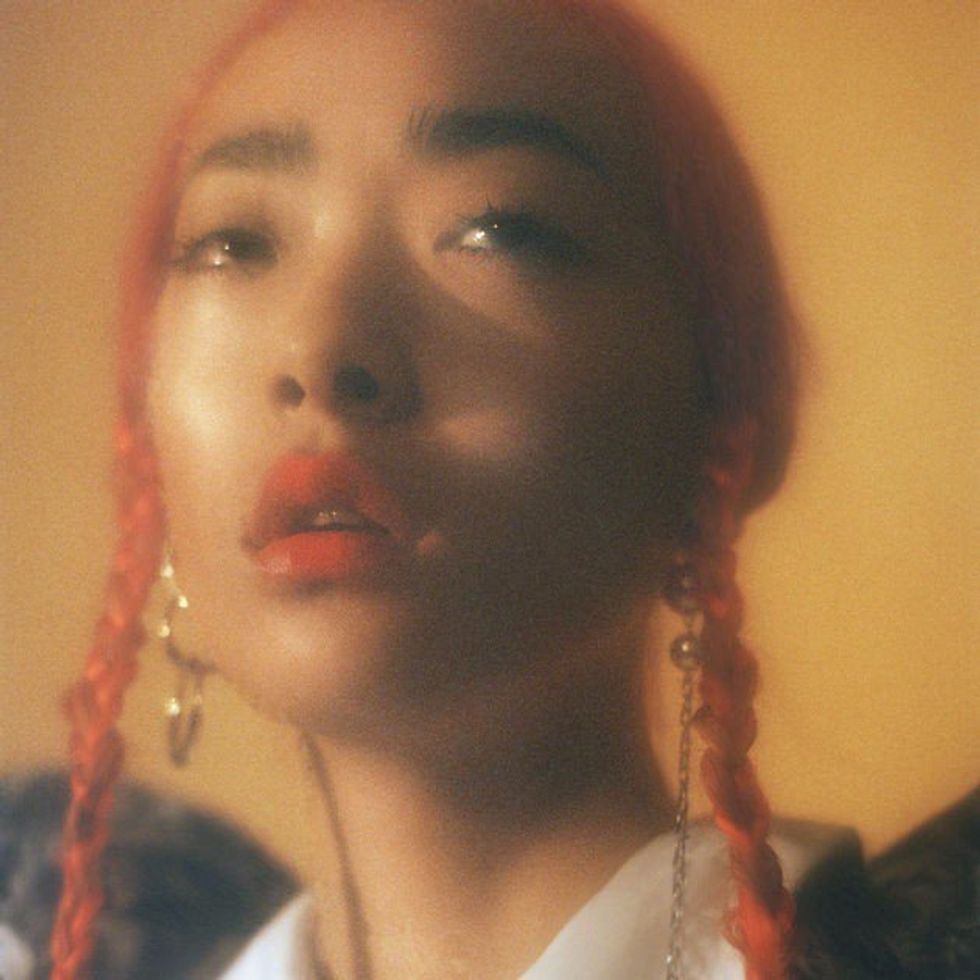 Last EP, I promise. I found Rina when the music video for her song "Cyber Stockholm Syndrome" popped up in my recommended. How she manages to include twinkly futuristic synths within her 90s inspired music fascinated me. This EP contains five tracks, but each one takes you on a trip, almost literally as "Cyber Stockholm Syndrome" tells the story of a a girl's world revolving around her cell phone and social media. The track includes poppy synths but a harpsichord you would hear in Destiny Child's "Bills, Bills, Bills." Then you have "Alterlife," an industrial rock intro followed by a catchy pop ballad. Think Britney Spears meets Grimes.
I recommend her if you are into Grimes, 90s pop, and synth pop.
Favorite Song: Take Me As I Am
10. Allie X - CollXtion II

For a first full length album under the name Allie X, I look forward for what the Canadian singer has to offer. Her vocals carry the same breathiness quality as Halsey, but her more bubbly midtempo beats and entertaining synths (see "Vintage") make her stand out from the other indie singer. Her style fuses the serious, moody lyricism of Billboard charting pop songs today while utilizing some 80-esque synths. I find her mixing of the modern moody and energetic 80s fascinates me, and I think it will for you too.
I recommend her if you're into Troye Sivan, synthpop, and Halsey.

Favorite Song: Vintage
11. Saint Vincent - Masseduction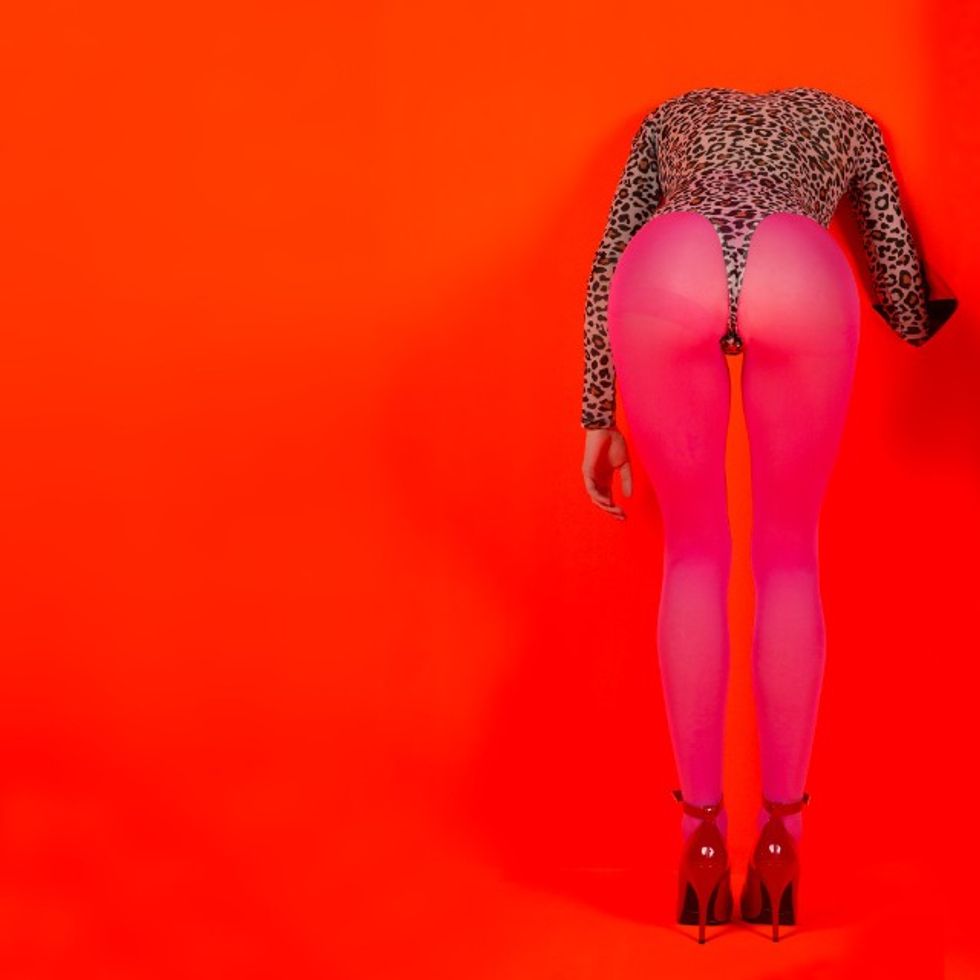 Honestly, I have no idea why I never listened to Saint Vincent sooner. I initially pegged her as plainly alternative, another indie woman with an instrument trying to make it big, but wow, was I wrong. She carries powerful vocals that complement her amazing guitar playing, and the tracks off her latest album Masseducation consists of ballads to electric rock with choppy riffs to borderline baroque pop songs. Thank you to the friends who insisted I listen to her, and keep doing you, Saint Vincent.
I recommend her if you're into Lorde, indie rock, or Grimes.
Favorite Song: Fear the Future
12. Kaitlyn Aurelia Smith -The Kid
I am here to support women composers in the electronic music world. I feel we never hear much about them. They produce music in these crevices, experimenting just as much as male electronic artists with digital soundscapes, and that is exactly how I would describe Kaitlyn Aurelia Smith's latest album The Kid. Singing only appears every now and then with her spacy vocals as heard the track "In the World" that make you feel like you are listening to a space rainforest. In an interview with AdHoc, Smith describes her music making process: "Sometimes I let the sound create an image for me and then I build off that. Or vice versa: I come up with imagery that is inspiring to me, or I see something that is inspiring, and then create sounds that I feel match it." I recommend closing your eyes while listening to this album to understand what Smith is trying to communicate. If you can create a image in your mind like Smith does, an entertaining journey into the electronic awaits.
I recommend her if you're into naturescape music, electronic, and ambient music.
Favorite Song: In the World, But Not Of the World
13. Anja Schneider - SoMe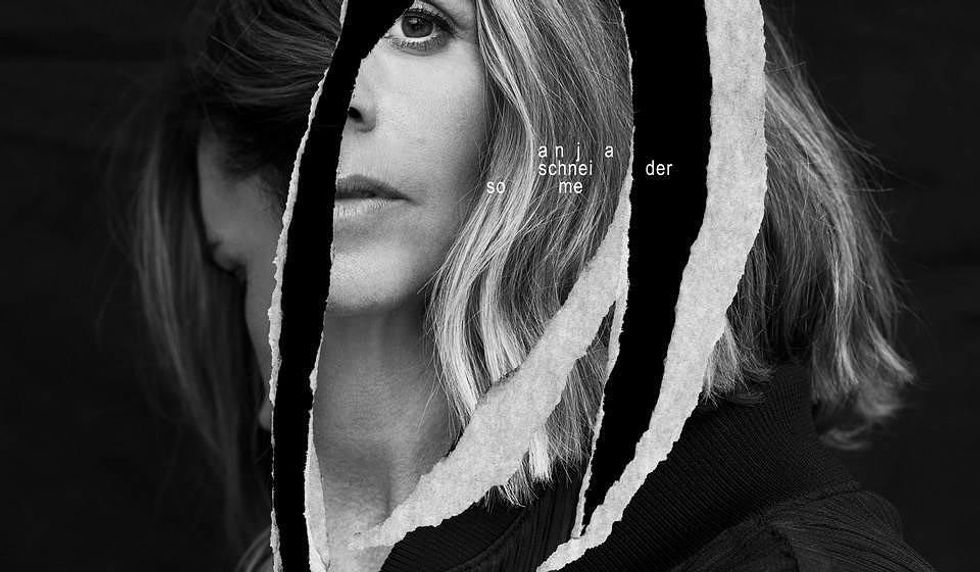 Even more hidden in the electronic genre are female disc jockeys. In a chart topping world where male DJs succeed again and again, female DJs still stay out here, making music, even if no one else hears, but if a female DJ mixes and no one hears it, does it make a sound? That is why I want to introduce Anja Schneider, a German DJ who has been in the game for over twelve years and started her own record label, Mobilee. From the jungle drums of "All I See" to the spacious, wubbing keyboards in "Secret," SoMe oozes 90s house. Picture yourself walking in an H&M or high end designer boutique. Think of the music that plays in those stores. Now keep thinking of that music but a little less subdued. Every catchy, head-bobbing track creates an experiences that makes you feel like strutting on the catwalk, at least, for me.
I recommend her if you're into EDM, house music, and 90s rave music.
Favorite Song: Night Out
14. Björk - Utopia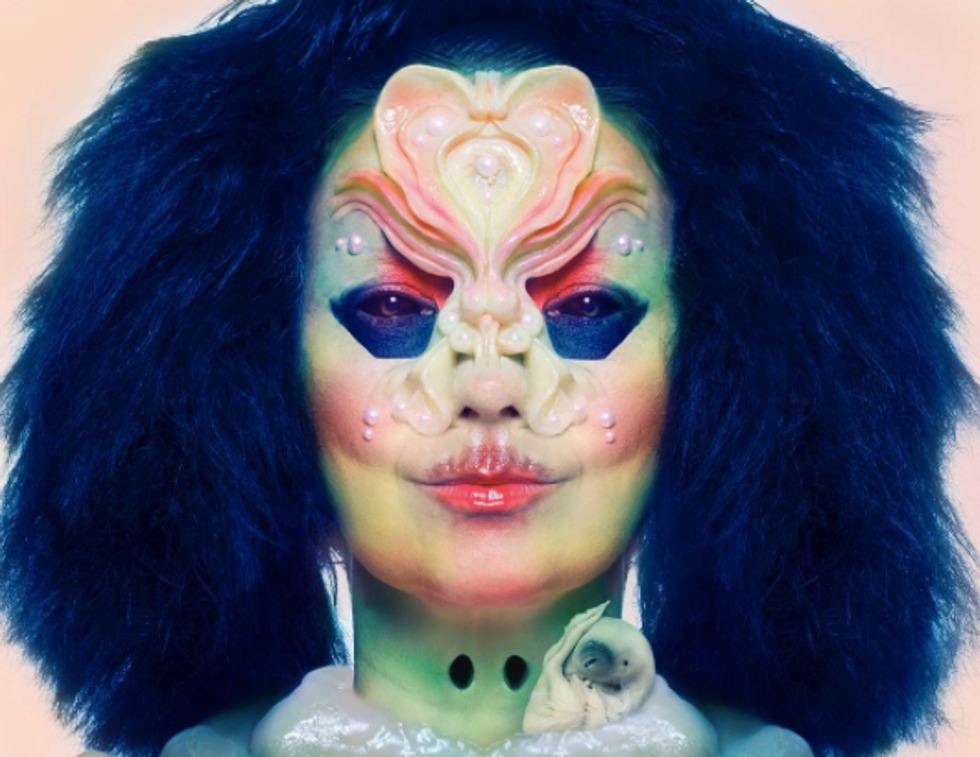 If you thought Kaitlyn Aurelia Smith's album was a trip, then strap in for Björk, reigning queen of experimental electronic music. Oh Björk, 43 years in the industry and still going strong with your wildly unique kind of music. Certainly not for everyone, but Björk has her group of dedicated fans, in some cases for the worst, but I digress. I decided to give this album a try, much to the encouragement of my computer music professor. Turns out that with an open mind, you can find beauty in the unconventional. Björk calls Utopia her "Tinder album," that is, her album details a search for love in its most powerful and unconditional form. I know I mentioned this for a few artists previously, but Björk's fusion of the past and present takes the cake for most entertaining. Exhibit A: On her track "Blissing Me" she sings "Is this excess texting a blessing?/Two music nerds obsessing" and "Sending each other MP3s" while harps play. Never have I heard a millennial love sound so divine. Now, I only wonder what a Björk concert must be like, and if she piqued your curiosity go out and support her by buying the album with Bitcoin.
I recommend her if you're into experimental, electronic, or all things avant-garde.
Favorite Song: Arisen My Senses
15. Jiln - Black Origami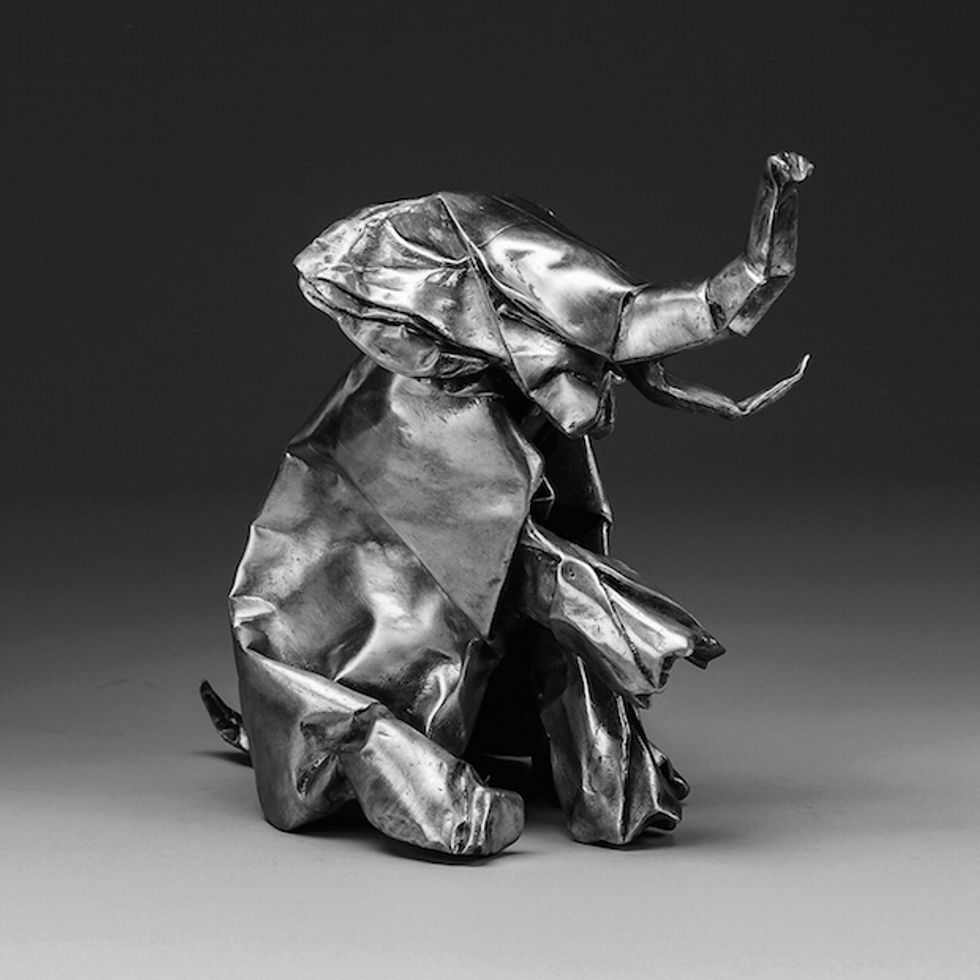 Ending this list on one last electronic artist, I stumbled upon Jiln while listening to Björk, so I went in expecting some more alternative electronic music, which I received, but what differs from Björk is Jiln's Black Origami sounds less like an otherworldly symphony and more like a footwork festival. Her music sounds like dancing and something more physical and rooted in reality. There is no pinpointed song structure, only emphasized more so by Jiln's scattered drums, and honestly, I find Jiln's use of drums on nearly every track a major factor in music critics' praise for this album. This may or may not be your jam, but you will never know until you listen.
I recommend her if you're into electronic music, Afro-dance, and experimental.
Favorite Song: Kyanite