So often, people think a heroine isn't strong unless she's physically strong, can beat up a guy, and claims she's "not like other girls." These same people may dismiss Snow White, Cinderella, Aurora, and even later princesses who don't use a weapon (but that's a rant for another time).
[rebelmouse-proxy-image https://media.rbl.ms/image?u=%2Ffiles%2F2016%2F06%2F09%2F6360103378151145291530847357_For%2520June%252020%2520Post%25203.gif&ho=https%3A%2F%2Faz616578.vo.msecnd.net&s=574&h=5b34073186e5cd3a496f4a1daa6feb487c1548d259b728304b4fc0c41d2e552e&size=980x&c=1125764178 crop_info="%7B%22image%22%3A%20%22https%3A//media.rbl.ms/image%3Fu%3D%252Ffiles%252F2016%252F06%252F09%252F6360103378151145291530847357_For%252520June%25252020%252520Post%2525203.gif%26ho%3Dhttps%253A%252F%252Faz616578.vo.msecnd.net%26s%3D574%26h%3D5b34073186e5cd3a496f4a1daa6feb487c1548d259b728304b4fc0c41d2e552e%26size%3D980x%26c%3D1125764178%22%7D" expand=1]
Anyways, strong heroines are so much more than girls who are physically strong or good with a gun/knife/sword/insert-weapon-of-choice.
To me, a strong heroine exhibits great emotional strength in the face of adversity, but a strong heroine also can cry because sadness and fear are natural human reactions. A strong heroine is kind to her enemies (I mean, as long as they're not immediately trying to murder her or her friends). She is caring, loving, gracious, loyal, and/or humble, but most of all, she is a beautifully flawed human being. A strong heroine learns to admit when she is wrong and ask for forgiveness. She can care about dresses and looking pretty and can still kick butt when needed. A strong heroine surrounds herself with a group of loving family and friends, especially female friends because she knows girls are even better when they support other ladies. A strong heroine is perhaps smart or clever rather than physically tough.
A strong heroine may be shy, or naive, or often fearful. She may crumble under pressure. She may not always speak kindly. A strong heroine may make bad choices or say things she later regrets.
A strong heroine is more than Mulan, more than Katniss Everdeen, more than Black Widow, who are all strong in their own right. And don't get me wrong - I love all three of those ladies. However, they are not the only examples of strong female characters and they are not the only role models out there for teen girls. Here are twelve female characters from Young Adult fiction that I consider to be strong in diverse ways. And, like my hero, Peggy Carter, they know their value. Anyone else's opinion doesn't really matter in that area.
1. Kestrel from The Winner's Curse by Marie Rutkoski

The best part about Kestrel is that she's the protagonist of a fantasy series, but she isn't a warrior. In fact, her battle skills aren't all that great. She's better at strategy and music, and she's determined and clever.
2. Cress from The Lunar Chronicles by Marissa Meyer

Most people talk about Cinder, when they talk about Marissa Meyer's sci-fi series. Cinder, Scarlet, and Winter are all great heroines in their own right, but Cress is often shoved under a rug because she's a hopeless romantic, a bit naive, and not physically strong. But, boy, is she emotionally strong, and she grows in so many ways over the course of the series. She's curious, smart, and gifted with computers.
3. Elisa from The Girl of Fire and Thorns by Rae Carson

[rebelmouse-proxy-image https://media.rbl.ms/image?u=%2Ffiles%2F2016%2F06%2F09%2F636010336753969313-1800850426_tumblr_m3n05qh1um1r3ibgko1_500.jpg%3Fw%3D500&ho=https%3A%2F%2Faz616578.vo.msecnd.net&s=981&h=9f333714f0452a7cd5a2b10d819c3d534d105416748371e603d7098c49b7ba0f&size=980x&c=1461978748 crop_info="%7B%22image%22%3A%20%22https%3A//media.rbl.ms/image%3Fu%3D%252Ffiles%252F2016%252F06%252F09%252F636010336753969313-1800850426_tumblr_m3n05qh1um1r3ibgko1_500.jpg%253Fw%253D500%26ho%3Dhttps%253A%252F%252Faz616578.vo.msecnd.net%26s%3D981%26h%3D9f333714f0452a7cd5a2b10d819c3d534d105416748371e603d7098c49b7ba0f%26size%3D980x%26c%3D1461978748%22%7D" expand=1 original_size="1x1"]

The transformation of Elisa through the trilogy is amazing. She becomes a leader and she really embodies the Peggy Carter quote I included above, and she will do anything for those she loves.
4. Cath from Fangirl by Rainbow Rowell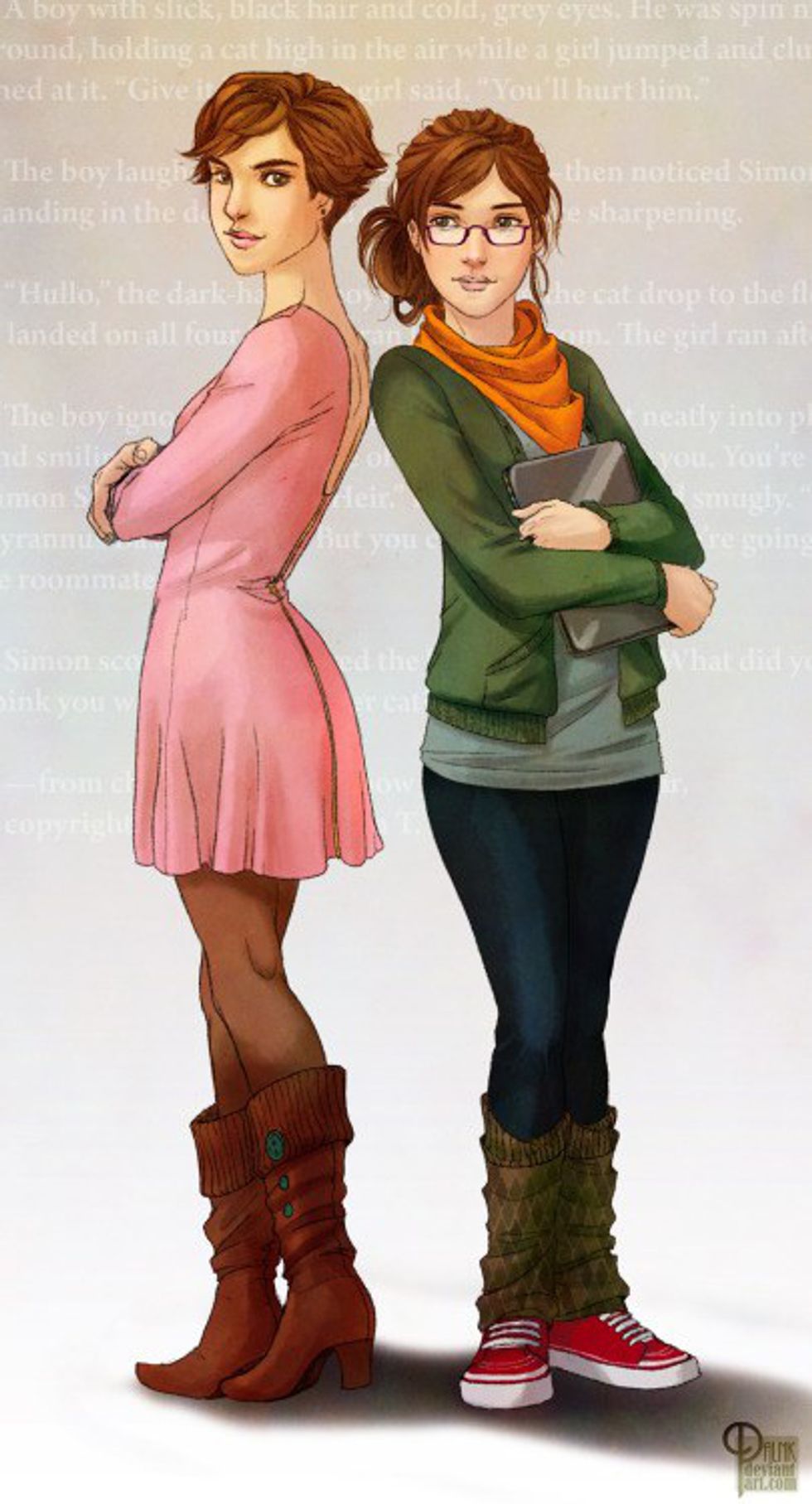 (Cath's the one on the right; her twin, Wren, is the one on the left.)
Cath is basically every introverted book nerd come to life. Yet, she learns to stand on her own, make friends, and succeed in school, all while pursuing her love of writing.
5. Naila from Written in the Stars by Aisha Saeed

I couldn't fathom going through what Naila does. She is a fighter, who never stops believing
6. Mercy Wong from Outrun the Moon by Stacey Lee

Outrun the Moon is a very new title, but I loved Mercy's story. She's clever, determined, and driven. She fights for her happiness, and she is kind, even when the recipient may not deserve Mercy's kindness.
7. Paige Hancock from The Start of Me and You by Emery Lord

Paige is a kindred spirit. She is someone I think I could be best friends with. Her life hasn't been easy, up to the start of her book, but she's a survivor and she is determined to thrive. She thinks female friendships are important and she wants her family to be happy.
8. Tess from The Fixer by Jennifer Lynn Barnes
I've seen The Fixer described as Veronica Mars meets Scandal, and that is so accurate. Tess is so like Veronica Mars - tough and sassy. She doesn't like bullies or jerks, but she doesn't just say so. She does something about them. Plus, she takes on the role of junior fixer at her school, just like her sister, Ivy.
[rebelmouse-proxy-image https://media.rbl.ms/image?u=%2Ffiles%2F2016%2F06%2F11%2F6360128463521605661342409524_For%2520June%252020%2520Post%25201.gif&ho=https%3A%2F%2Faz616578.vo.msecnd.net&s=485&h=131e5899f63c272cd7caa5d7ffe526122135d59595879da68604dee6f8624bb9&size=980x&c=3867970037 crop_info="%7B%22image%22%3A%20%22https%3A//media.rbl.ms/image%3Fu%3D%252Ffiles%252F2016%252F06%252F11%252F6360128463521605661342409524_For%252520June%25252020%252520Post%2525201.gif%26ho%3Dhttps%253A%252F%252Faz616578.vo.msecnd.net%26s%3D485%26h%3D131e5899f63c272cd7caa5d7ffe526122135d59595879da68604dee6f8624bb9%26size%3D980x%26c%3D3867970037%22%7D" expand=1]

9. Sam from Every Last Word by Tamara Ireland Stone

Every protagonist with mental illness who fights for a good life is strong. Sam also learns what friendship really is and how to be herself.
10. Caddie from Don't Touch by Rachel M. Wilson

Caddie, too, has a form of OCD, like Sam. Her character arc is perhaps a bit more of a downward spiral at first, but she too gains strength, friends, and a love for who she truly is.
11. Blue Sargent from The Raven Cycle series by Maggie Stiefvater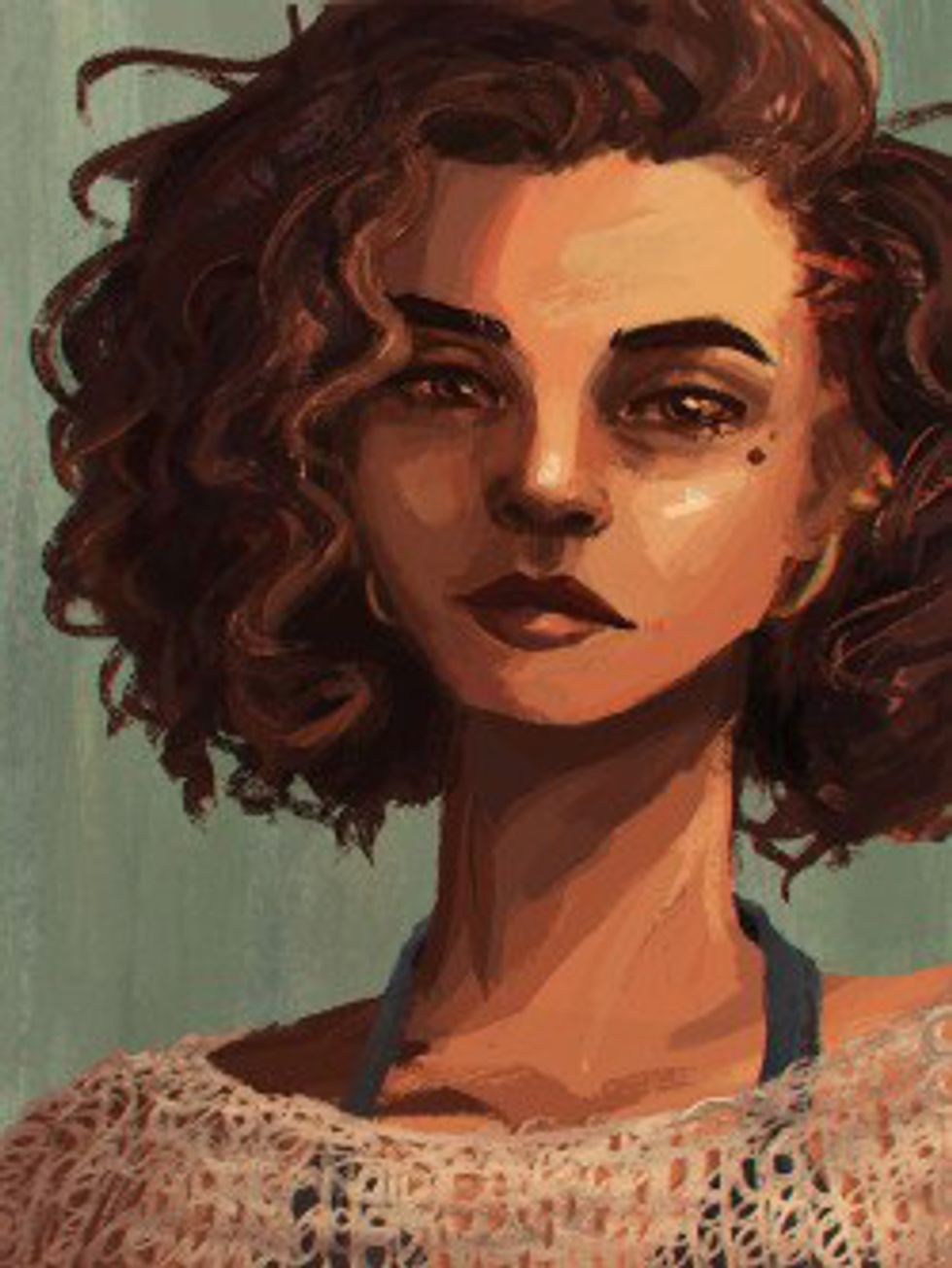 I love Blue for her fierce quietness, the way she cares deeply, and how she wants adventure and something more than her tiny Virginia town.
12. Lara Jean Covey from To All the Boys I've Loved Before by Jenny Han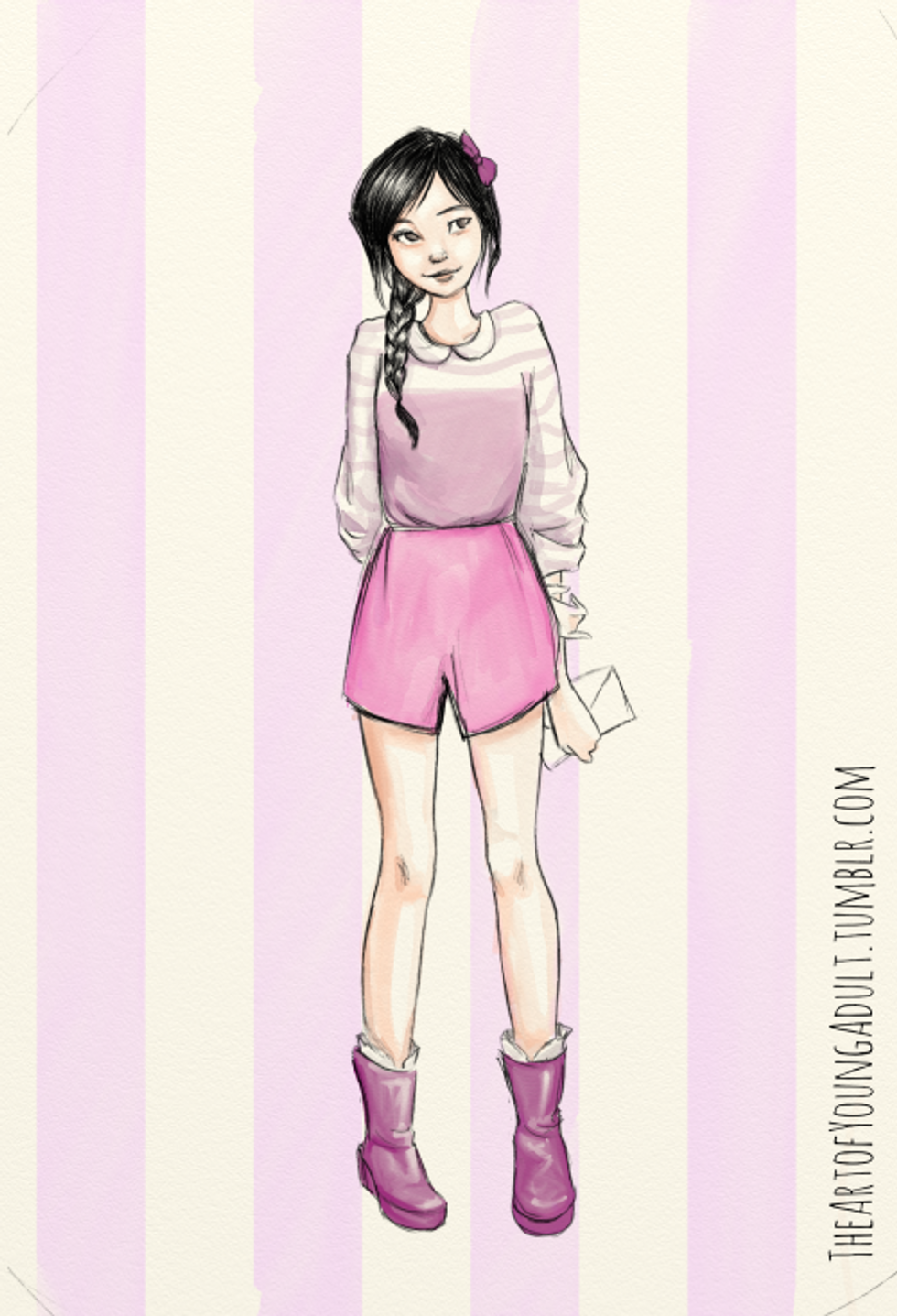 Any girl who is proudly feminine and hopelessly romantic is strong, too. She loves her sisters and father, and she learns about mistakes and taking chances.
Those are twelve of my favorite strong YA heroines, but there are so many more, including the ones that fight battles and win wars. Celaena Sardothien is one of the best examples in that category. Young Adult fiction is full of diverse heroines - in looks, personalities, religion, and so much more. It isn't just a bunch of Katnisses and Trises like the media wants you to think. So if you're want to read a book with a strong protagonist, start with this list. Then branch out even more. I'm always happy to give more book recommendations. And feel free to share your favorite strong literary heroines!