I couldn't contain my excitement when I realized that "The Walking Dead" was back. I missed Rick's "Carl" calls, Abraham's hysterical one liners, Maggie and Glenn's mid-apocalyptic romance and Daryl — I missed everything about Daryl.
But then I realized how last season ended and a wave of mixed emotions hit me...
*Warning: Spoilers of season seven, episode one, ahead.
1) At first, I was super excited.
My "Sunday fun-day" ritual has been watching "The Walking Dead" since it started. With season 6's cliff-hanger ending, I was naturally excited to see what was going to happen next.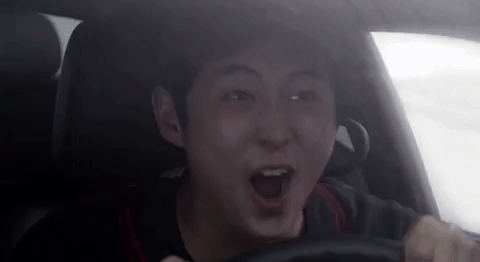 2) But then I got nervous.
As AMC counted down the seconds before the episode aired, my heart felt like it was going to beat out of my chest. I was finally going to find out who Negan's victim was, and I wasn't emotionally ready for it.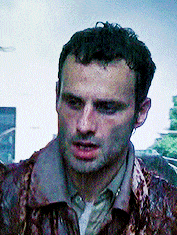 3) I became impatient.
I thought Negan's victim would be revealed within the first minutes of the show. But no! They continued to tease viewers at who it possibly could be, when Rick had flashbacks of each character from that night.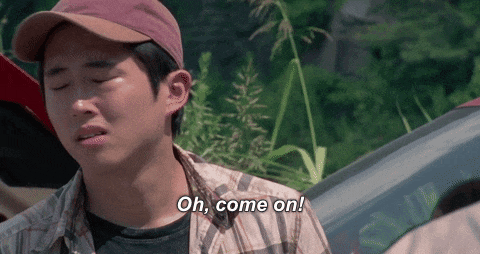 Can we just find out already?
4) I felt played with!
Negan dumped Rick in the middle of a walker parade to find an axe that he purposely threw out. Rick found it, fought off a few walkers, found sanctuary on the top of the RV, all while having flashbacks of different characters.
Sasha? Eugene? Aaron? Abraham? Maggie? Daryl? Michonne? CARL?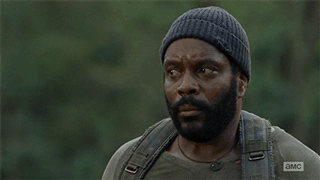 Nope, we still don't know. Rick's recollections aren't telling us a thing. Until finally, it sinks in.
5) Then I was in shock.
We finally found out who Negan's victim was...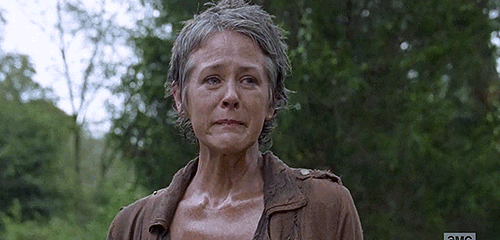 R.I.P. Abraham. Watching that scene was hard. Really, really hard. The way Negan made sure that the group wouldn't move an inch or say a thing while he pummeled Abraham, was totally disheartening.
But you could see the acceptance in Abraham's face. He took Negan's barb-wired baseball bat, Lucille, like a champ. Not to mention, his final line! Abraham: 1. Negan: 0.
6) So I tried to be optimistic.
I mean, the group's going to get their revenge, right? Right? And they could survive without Abraham. As long as Daryl, Glenn and Rick were still together. The three musketeers. The three best friends.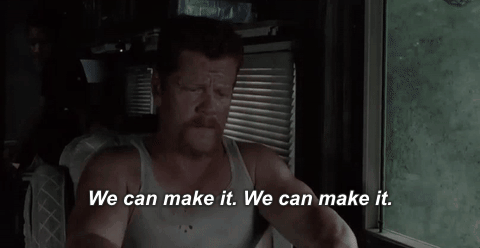 7) But that was quickly shattered.
Negan just isn't a redeemable, good guy. The way he taunted Rosita with Lucille, forcing her to look at Abraham's dripping blood, was sick.
And Daryl couldn't stand it. Now, I usually love when Daryl fights back; but this is the one time he really needed to be submissive.
Could you just stand down this time, Daryl?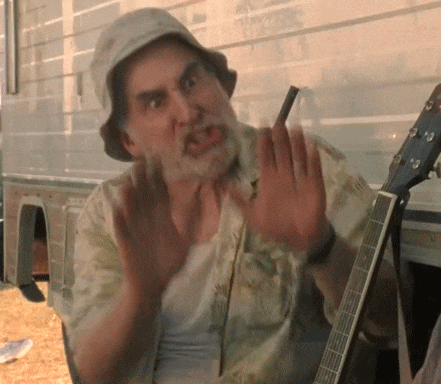 8) I got seriously scared.
He wouldn't be the Daryl we all love, if he didn't fight back, so when Daryl lunged at Negan and punched him, I really forgot to breathe.
I thought (or maybe I screamed?): not Daryl, not Daryl, not Daryl. I thought he was the next on Negan's pitch list.
9) I completely lost it.
My plea was heard, Negan didn't kill Daryl.
But he killed Glenn, instead.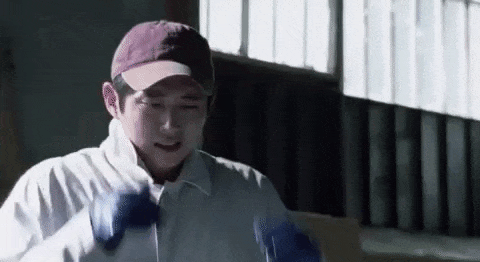 With a quick swing of his bat (seriously, I didn't anticipate it), Negan killed one of the most beloved characters in the entire series.
This is really a testament to his evil; instead of making Daryl accountable for his actions, he chose to take it out on someone else. It was a worse consequence.
Glenn could barely speak after getting his skull bashed in, but he tried anyway for Maggie, and it was a horrible sight. One of his eyeballs popped out of his head, and Negan made a joke about it.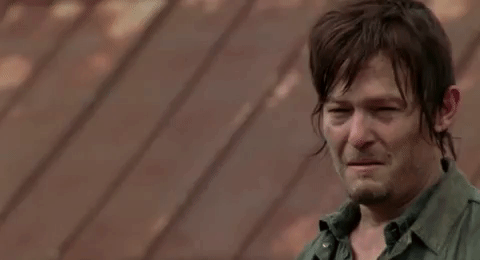 My heart broke for Maggie. My heart broke for the group. My heart broke for me.

And Negan still kept swinging his bat.
10) Then I got really confused again.
After Rick's flashback of Abraham and Glenn's deaths, we find that he's still on top of the RV. Negan starts shooting at the roof to get him off, but the ground is swarmed by walkers, so there's no way he can fall and not get bitten. He didn't have the axe, either.
As soon as he's about to plunge to his potential death and get devoured, Negan shoots all the walkers and saves Rick.
Then he left him in a life-or-death-situation again, and then saved him. Again.
So, what are you exactly trying to do here, Negan? These mind games... I hate them — and he wasn't done.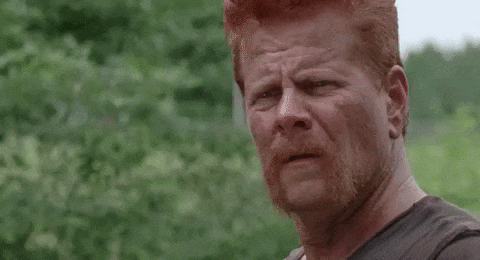 11) It was all too much.
Just when I thought this episode couldn't get worse, Negan tried to get Rick to chop his own son's arm off (WTF)!
It was emotionally, mentally and physically draining to watch this scene and this entire episode. The Rick Grimes we knew completely unraveled with Negan's sick antics. He really begged and pleaded for Negan's empathy (which let's be real, he has none), and the group looked absolutely helpless.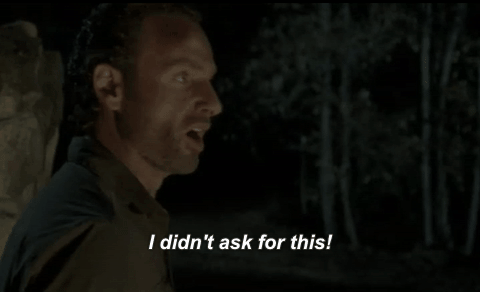 Is this what I signed up for?
12) I'm in denial.
Seeing the whole group beaten down was rough.
Everyone sat in helplessness next to Glenn and Abraham's bodies. It was definitely the group's lowest point. Maggie's attempt at a motivational speech just made the hit even harder, and when the surviving characters carried the bodies together, I really felt like I lost someone, too.
The imaginary scene of Rick's entire group having Sunday family dinner, with Glenn (sitting with the kid he'll never get to meet) and Abraham at the end of the table, was the final tearjerker of the episode.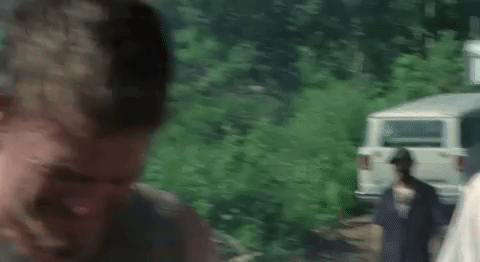 It's just not going to be the same anymore. But I do believe that in time, Rick's group will recover, and so will the fans.
Besides, that's what Abraham and Glenn would want.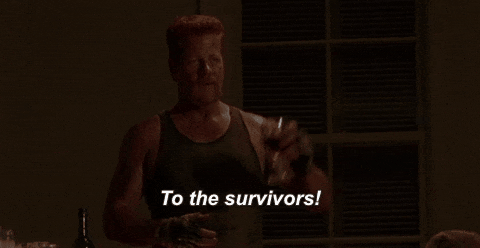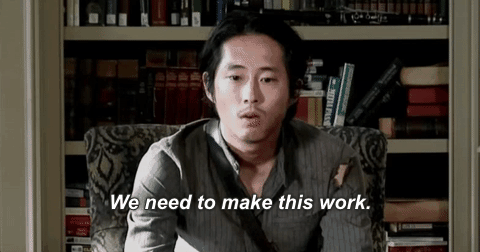 So bring it on, Negan.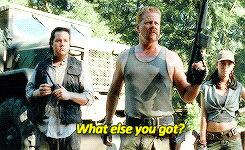 AMC's "The Walking Dead," airs on Sundays at 9/8c.