I don't care where you go to school, or how your dining service is nationally ranked -- nothing beats a home cooked meal. And nothing beats homemade treats.
With the leaves falling, temperature dropping, and everything starting to feel nice and cozy, what better way to take a break from your cafeteria cookies and impress your friends with some sweet fall favorites?
1. Chocolate-Chip Pumpkin Spice Cookies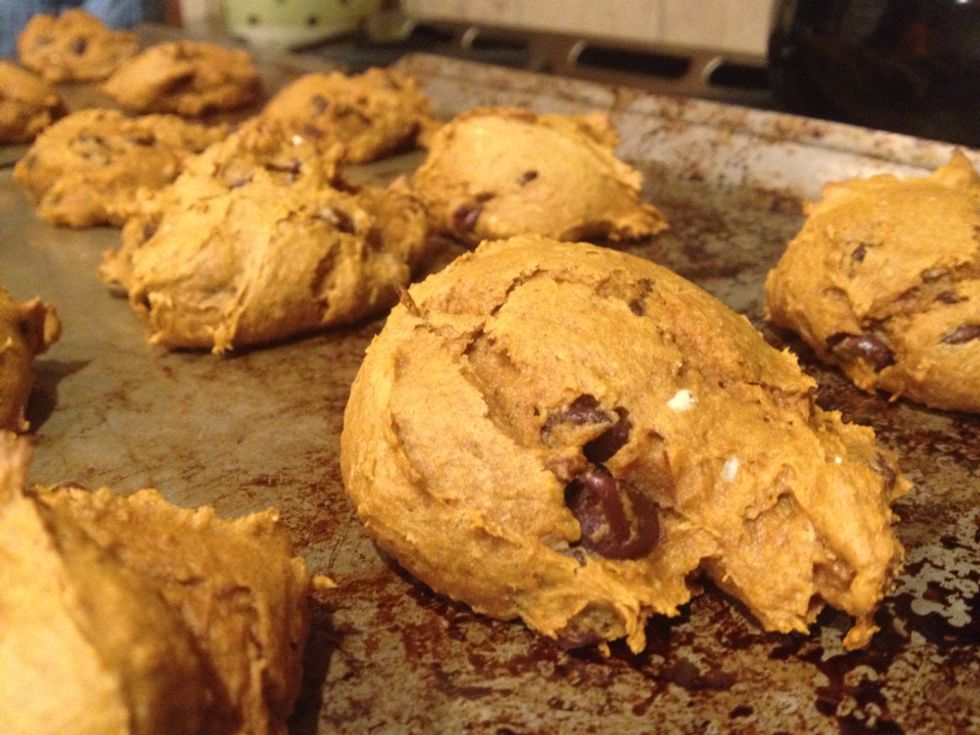 This recipe is super simple and I actually learned it from a professor last year. All you need is spiced cake mix, canned pumpkin puree, and chocolate chips! Mix together, bake at 350 until golden and you've got fall all wrapped up in warm, gooey goodness. Better yet -- this recipe is nut and egg-free, if you have any friends with allergies. Win-win!
2. Chocolate Marshmallow Puffs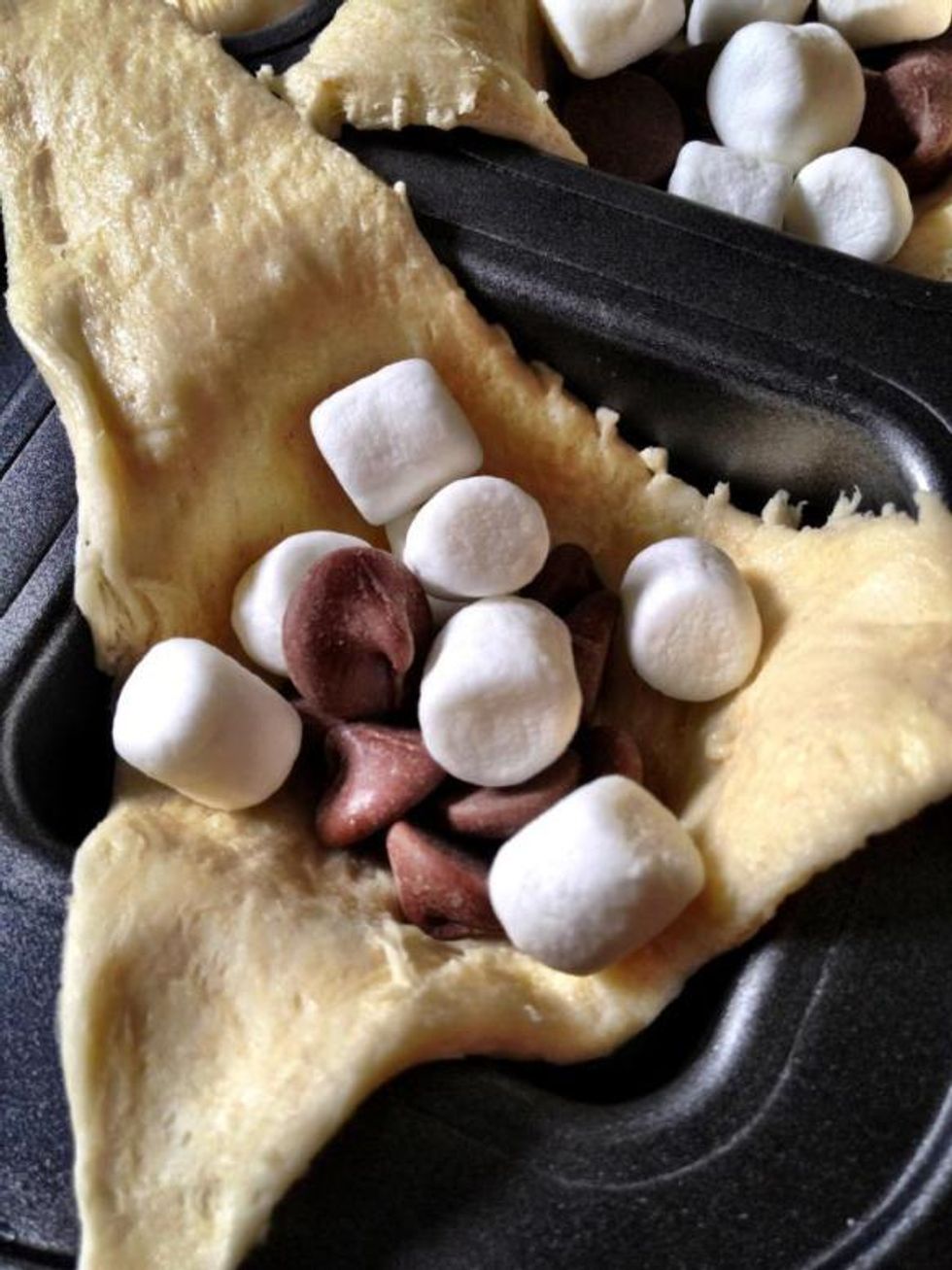 Want to bring summer s'mores indoors for the winter? Here's another simple recipe that can be done in so many ways! Get a package of Pillsbury crescent rolls, chocolate chips, and mini marshmallows. Fill muffin tins as shown above (but don't forget to fold over the pastry!) and bake at 350 for 15-17 minutes. If you don't have a muffin tin, you can place ingredients on a normal baking sheet, but just put enough filling in so that you are able to fold over the pastry and pinch edges together. If you're not a s'mores fan, add Nutella, M&M's, or whatever sweets you desire! The possibilities are endless! (And delicious).
3. Flour-less Peanut Butter Mug Cake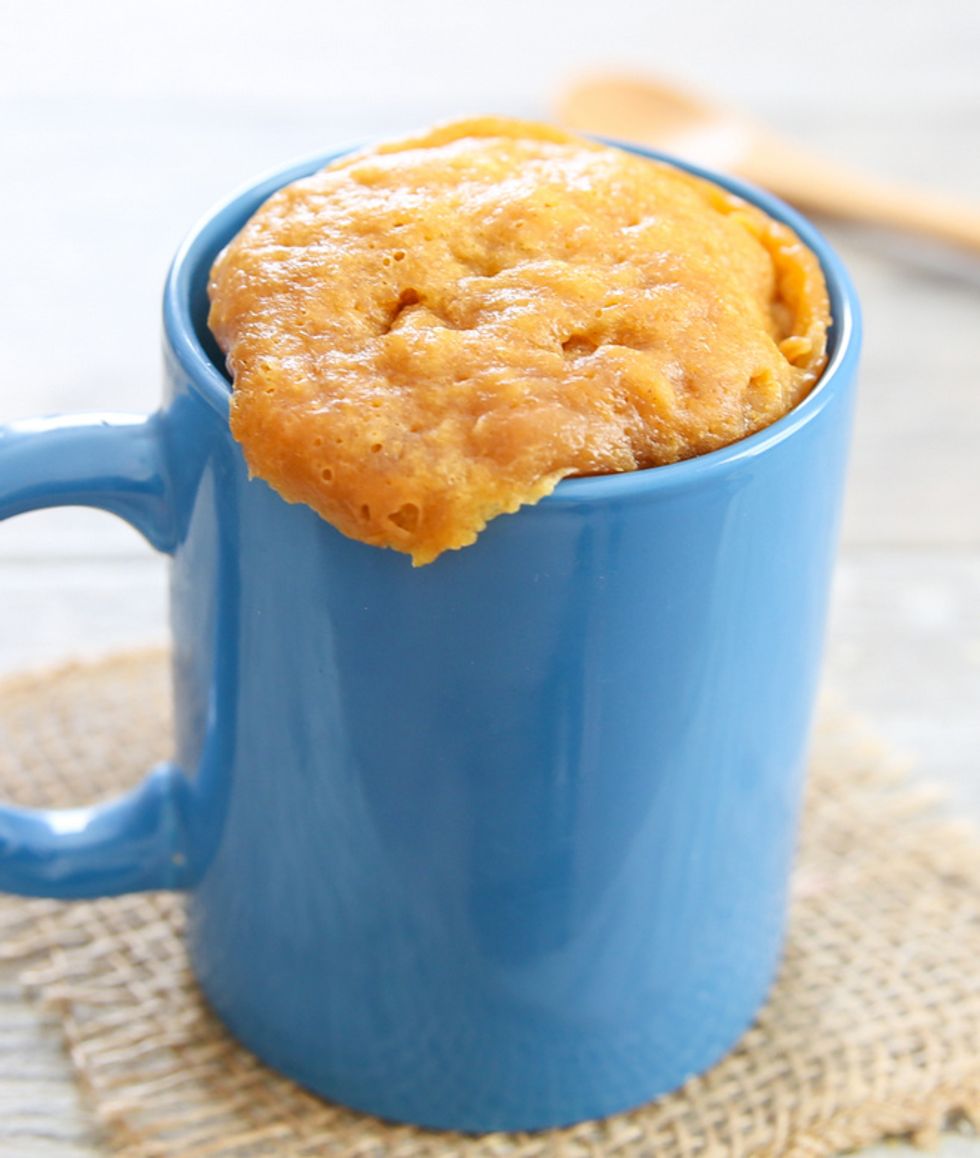 This recipe goes out to everyone still living dorm style, who have limited access to an oven (or are just too lazy to walk to their hall's kitchen). For this mug cake, you need 3 tbsp. of creamy peanut butter, 1 egg, and 1 tbsp. + 1 tsp. of sugar. Whisk together in an oversize mug, pop in the microwave for a minute and voilà!
4. Dark Chocolate Trail Mix Energy Bites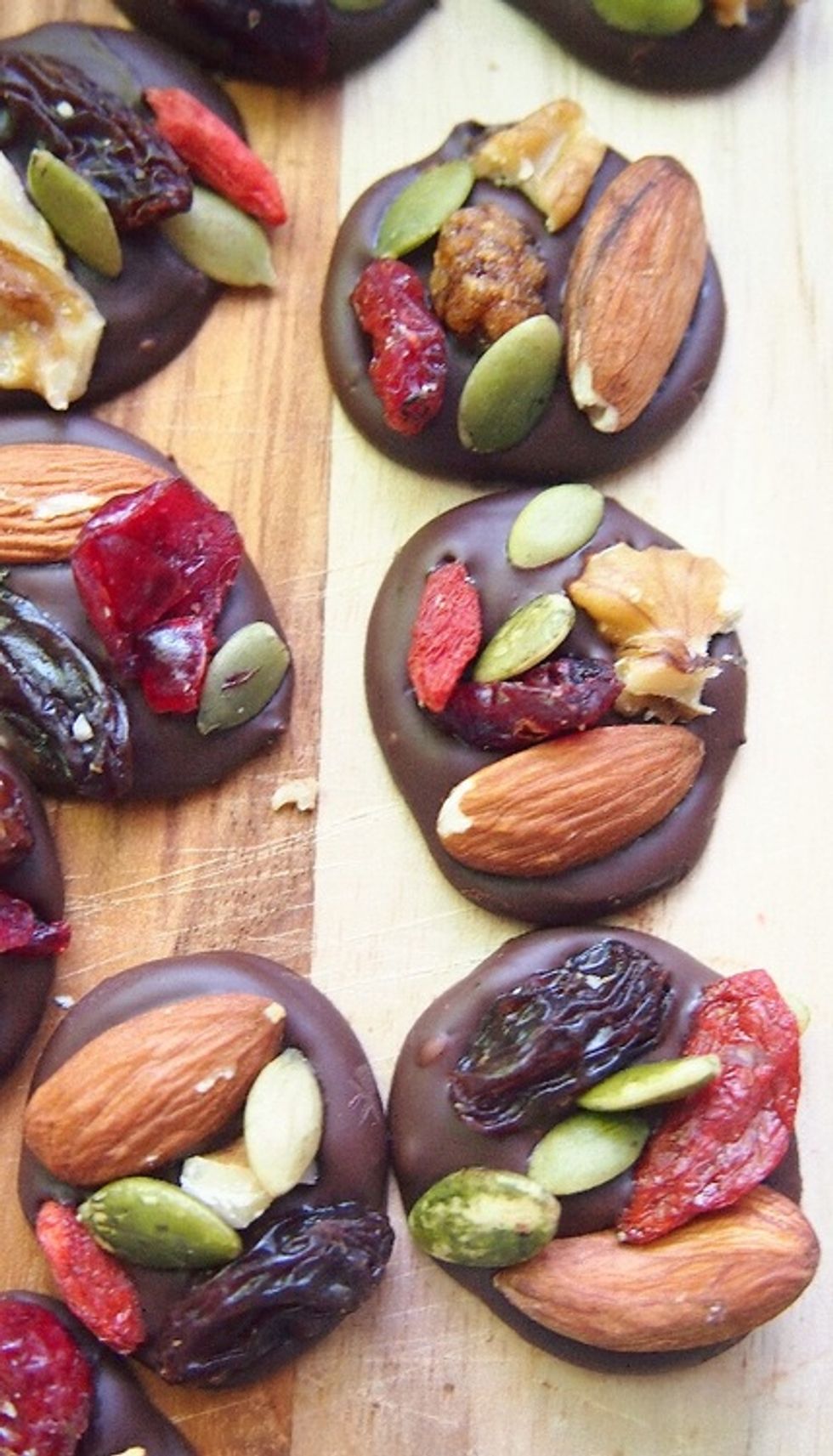 Another treat courtesy of our modern miracle (the microwave). Melt 3 tbsp. of dark chocolate chips for 20 seconds on high, then place quarter-sized dollops on wax paper. Grab your favorite bag of trail mix or nuts, press into chocolate lightly, and place in your fridge to harden. It should take no longer than a half hour to do all of this! A quick and easy in between class baking stint.
5. Pumpkin Chocolate Chip Energy Bites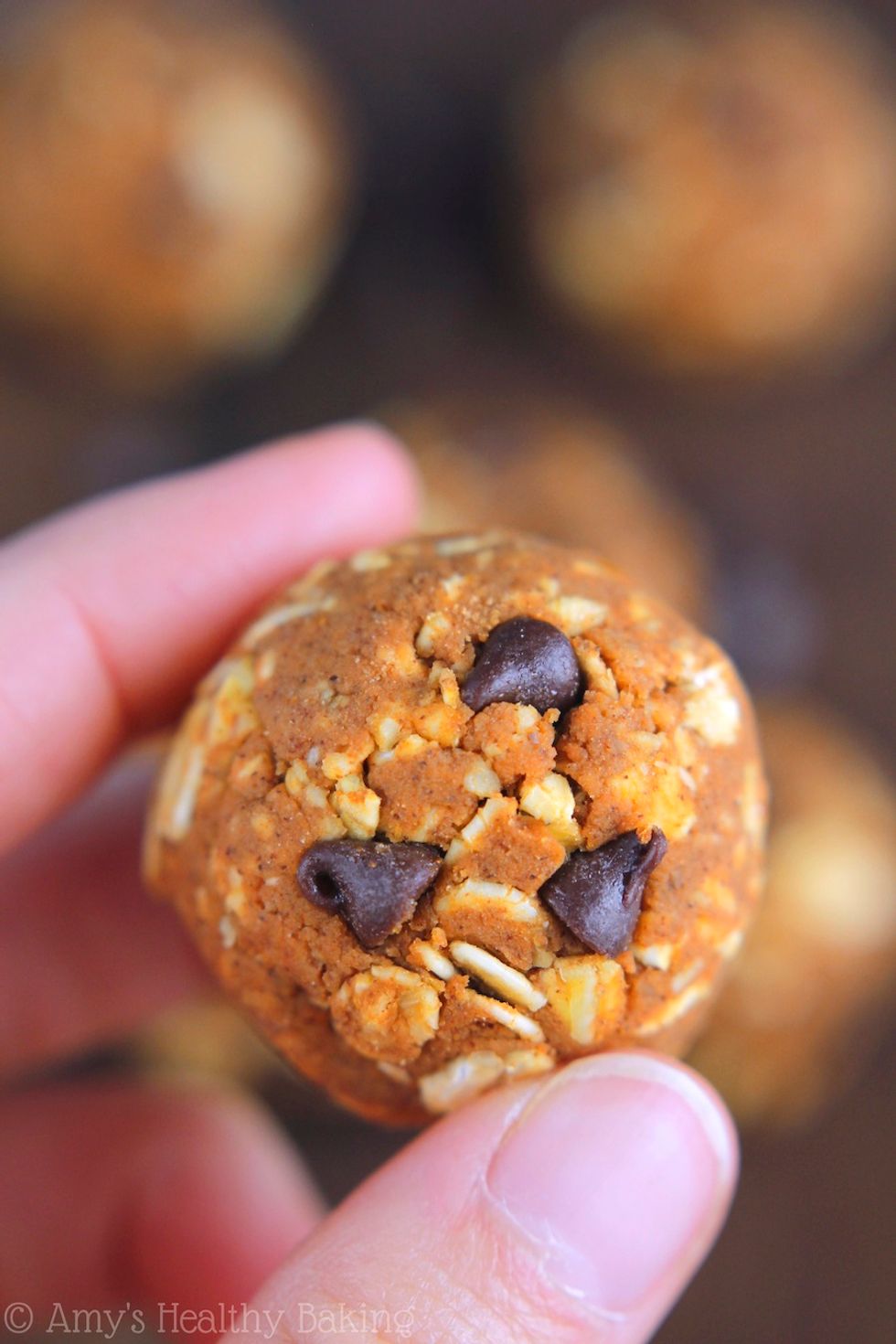 Why not use your seasonal pumpkin and chocolate cravings to keep you satisfied and full of energy? This
recipe
calls for 100g of old-fashioned oats, 1 can of pumpkin puree, 2 tbsp. ground cinnamon, 2 tbsp. Truvia (or other sweetener), 2 tbsp. of mini chocolate chips, and 2 scoops of protein powder. In a medium bowl, whisk together the oats, protein powder, cinnamon, and Truvia. Stir in the pumpkin purée and fold in the chocolate chips. Scoop the mixture to your liking, roll in a ball, and store in the fridge.
6. Cinnamon Honey Butter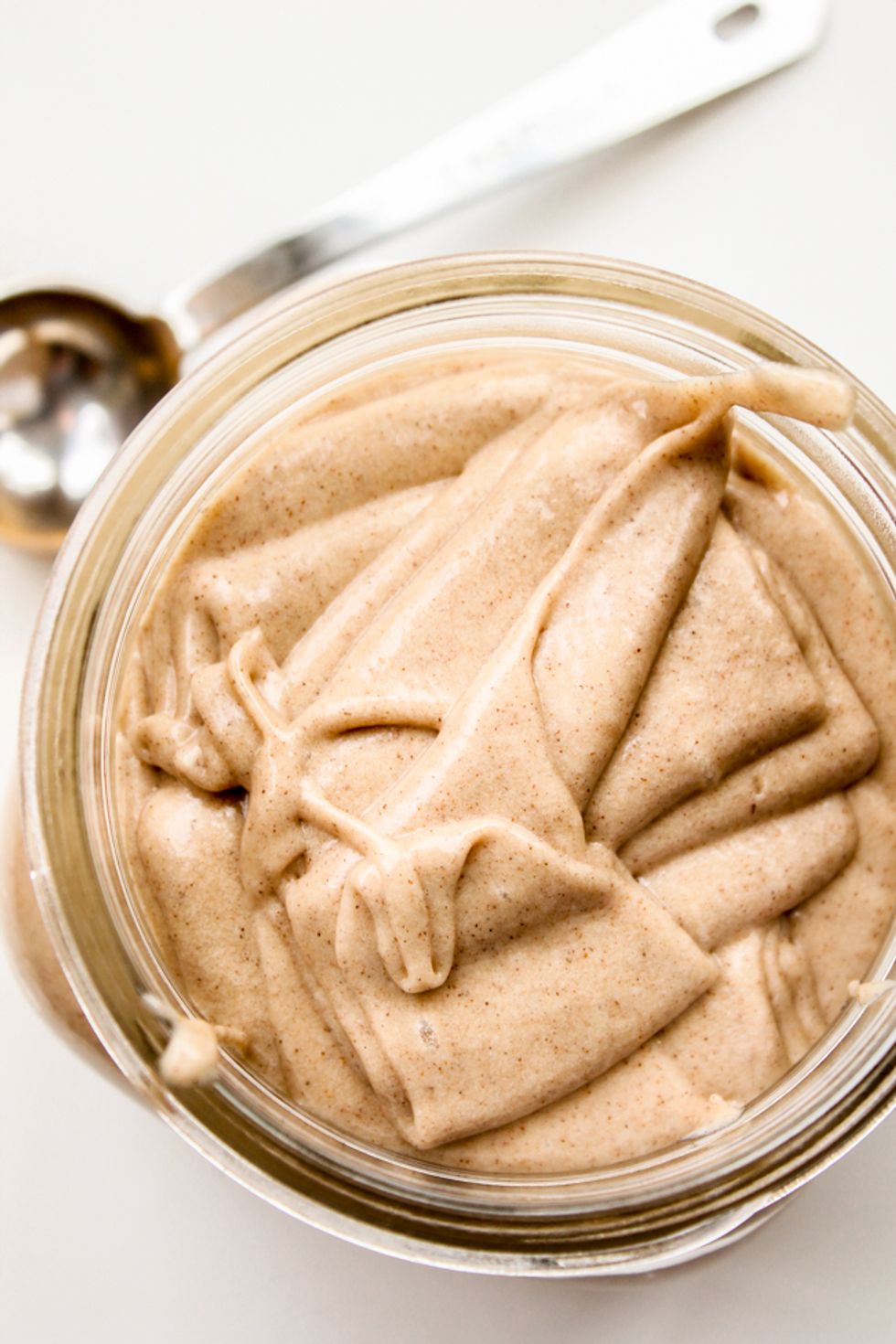 If this picture alone doesn't convince you that you need this in your life, take it a step further by imagining cinnamon honey goodness dripping from a warm biscuit or roll as you lounge in your fave fall sweater with a cup of something hot in your other hand. If that doesn't sell it, you need to reevaluate your priorities.
For this butter you'll need 2 sticks of room temperature butter, 1 cup powdered sugar, 1 cup honey, and 2 tsp. cinnamon. It helps if you have an electric beater, but good old-fashioned elbow grease can go a long way! Beat the butter in a bowl for a few minutes depending on the method. Add in the rest of your ingredients, continue beating and scraping the sides down until all is incorporated and has smooth consistency as shown above. The recipe can fit into six 4 oz. mason jars, or whatever containers you chose! Store it where you normally store butter but serve at room temperature.
7. No-Bake Peanut Butter Bars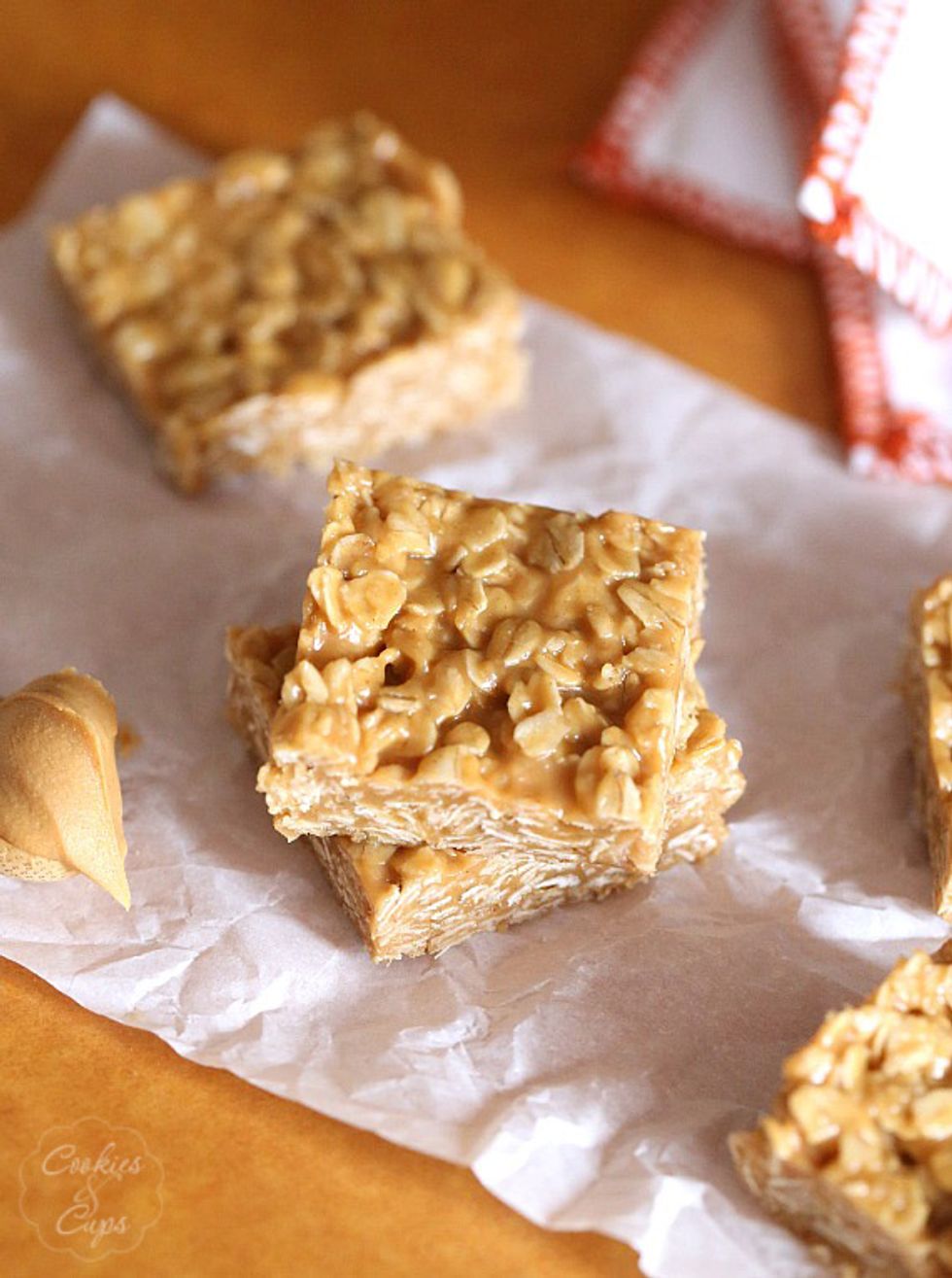 Let's be honest — don't we all wish every recipe could be a three ingredient one? Here's a simple one for peanut butter lovers. All you need is 1 cup of peanut butter, 1/2 cup honey, and 3 cups of rolled oats. Melt peanut butter and honey together until smooth using a microwave or stove top. Combine with oats, press into a 9x9 pan covered in foil and sprayed with non-stick spray. Refrigerate and cut into squares!
8. Bloomin' Baked Apples

If you haven't seen this circling Facebook already, well, you're welcome. The video is pretty self-explanatory, but here is the measurement breakdown:
2 Honeycrisp apples (or other crisp apples)
2 tbsp butter
3 tbsp brown sugar, packed
1 tbsp flour
1 tsp cinnamon
4 caramels
Optional toppings: vanilla ice cream, caramel sauce, and cinnamon
9. Baked Cinnamon Apple Chips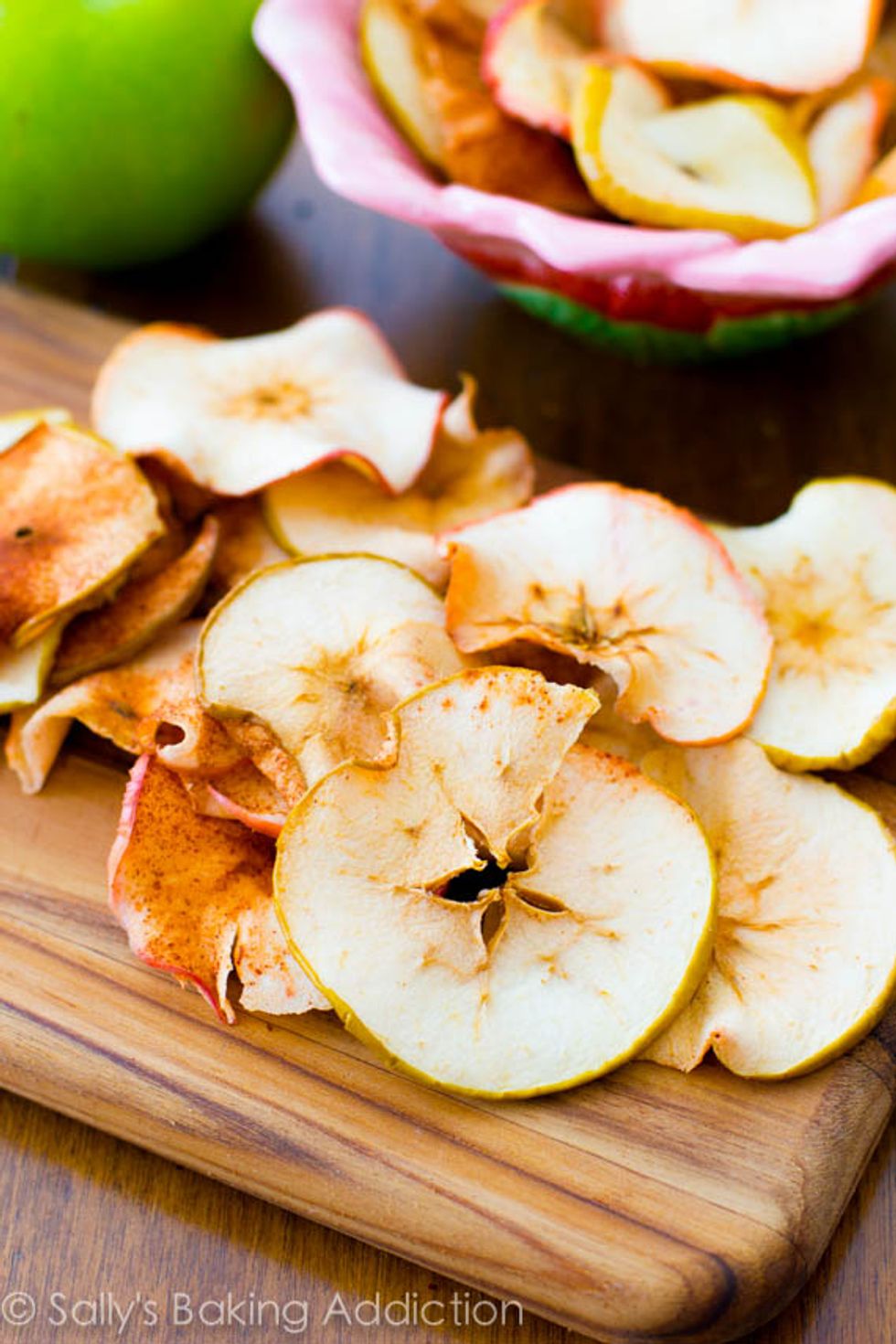 You went apple picking with your school, but now you're stuck with a whole peck of apples and don't know what to do? Figuring that a pie is a bit of a stretch considering the time and ingredients involved, here's a simpler and healthier solution!
Thinly slice your apples, sprinkle in cinnamon and sugar and bake for an hour each side at 200. Using a silicone mat on your baking sheet and leaving the apples in the oven while it cools down are the secrets to getting your chips crunchy! While this recipe is the most time consuming out of them all, its prep is quick enough where you can get some solid studying done as your chips bake!
10. Caramel Apple Nachos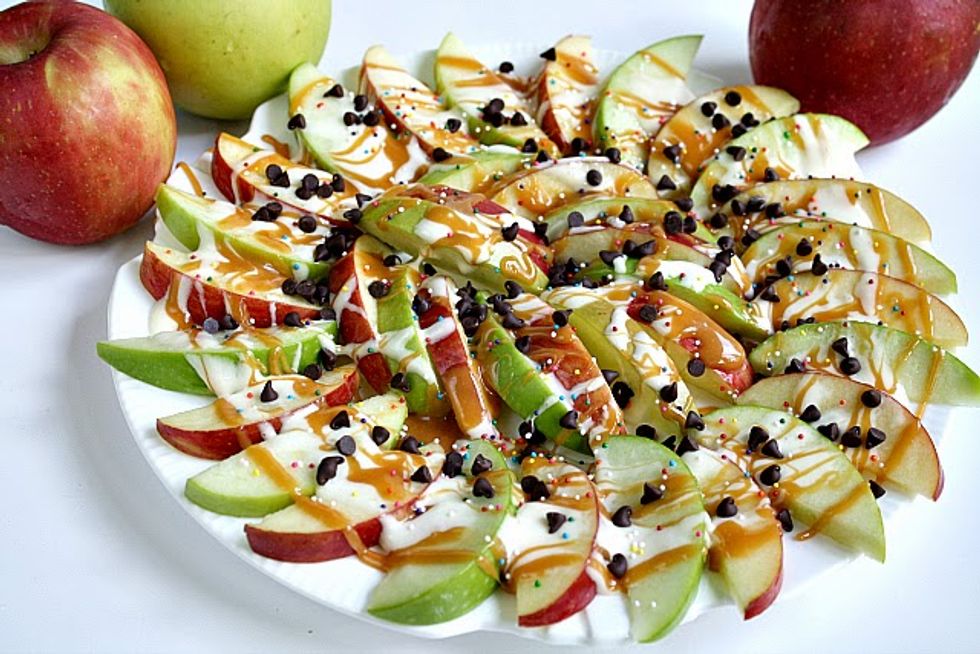 If the last recipe was too much baking for you, this one is sure to deal with your apple overload in a crowd-pleasing fashion. Cut your apples as shown above and arrange on platter/plate of your choosing. Melt caramel in the microwave along with water for 45 sec. intervals, mixing intermittently to ensure a smooth texture. Pour extra desired toppings (sprinkles, chocolate chips, etc.) and serve immediately! (This images shows marshmallow topping which can be achieved through melting butter and marshmallows on your stove top if you have one!)



11. Pumpkin Mug Cake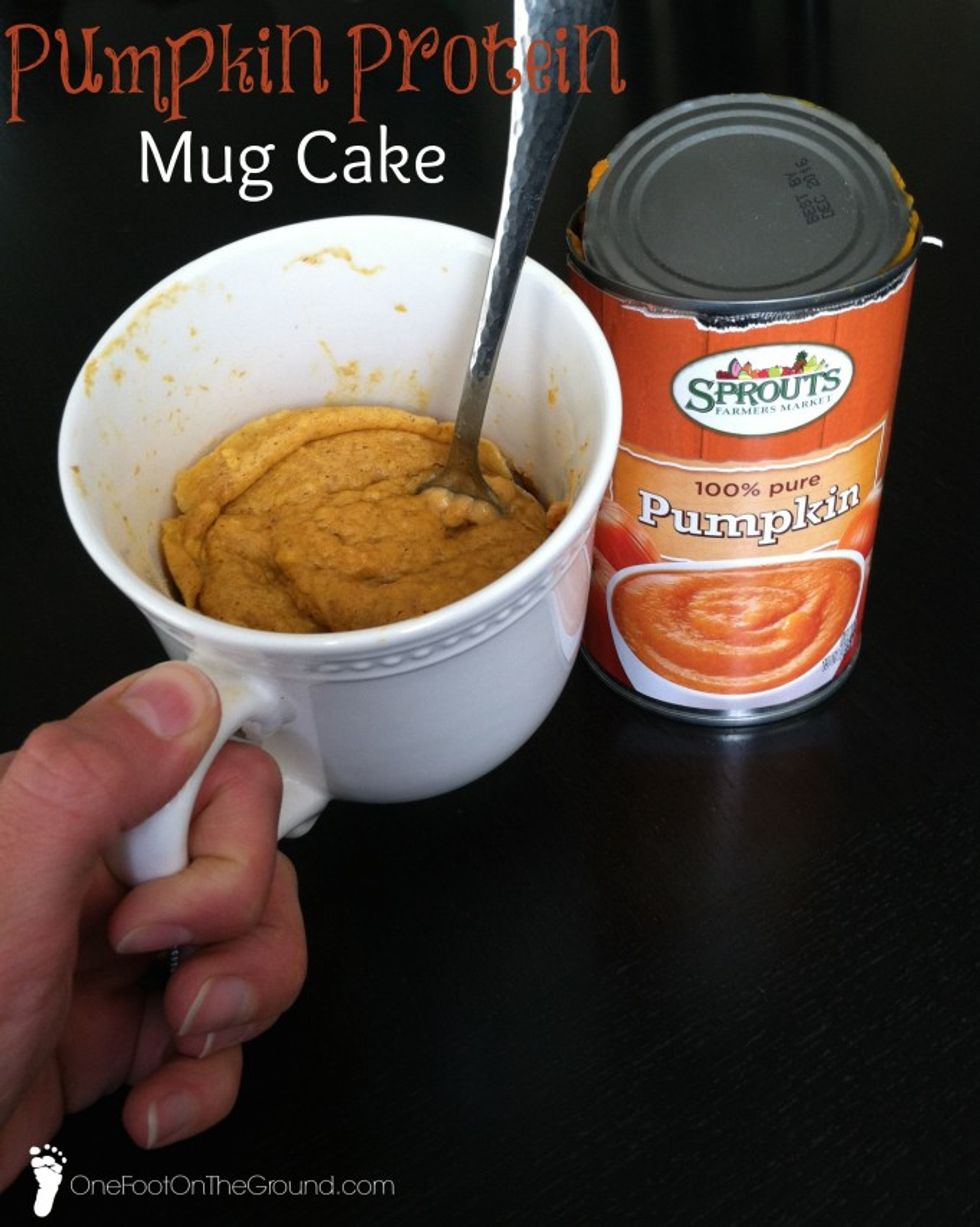 A single serving size of pumpkin deliciousness? Sign me up. Take 1/4 cup pumpkin puree, 1/4 tsp pumpkin pie spice, 1/4 tsp baking powder, 1 tsp sweetener of your choice, 1 egg, 2 to 3 tbs water/milk, and 1 scoop of vanilla protein powder if desired. Mix and microwave for two minutes, and you're done!