Food. Gotta have it to live.
Some times you just don't want to make it yourself. So instead you treat yourself and go out. Food is so expensive. Why are you expected to pay 120% for it and gratuity?
Let's face it. Servers are so greedy for wanting a mere 20% of the money we spent on our hour to two hours of dining. As customers, we are faced with so much. We travel to the restaurant and choose our food. Unlike our servers we have lives outside of this restaurant, families to provide for, and bills to pay. Plus, what if I don't agree with my server's lifestyle or like their ethnicity?! What if I don't like what they will spend my hard earned money on?! Most of the time your server just doesn't deserve it. Here are 11 reasons to NOT tip your server:
1. They are the reason there was a 20 minute wait to sit.

Forget the fact that its 6-7PM on a Friday night and the most popular restaurant in town. Don't even consider the fact that they have been at maximum capacity all night long. The server just didn't want to have you sit at their table. Thats why the hostess didn't seat your party of 27 as soon as you walked in the door.
2. It took them 3 minutes to notice your pepsi was empty.
This is the worst. I need my high fructose corn syrup and I need it NOW! If someone wants to call themselves a server then they might as well be a professional and learn to cover at 7 of their tables at the same time. Not to mention the fact that you prefer coke products ugh!
3. The prices are too high here anyways!
If the price is to high you might as well just not tip your server 20%, that would be silly. In fact, don't tip those bastards at all. They have total control over the prices the national chain that they work at sets.
4. They don't have chicken nuggets.

You shouldn't expect your child to actually eat the food that this 5 star restaurant offers. They need chicken nuggets- dinosaur shaped chicken nuggets to be exact. You'll also need a side of ranch and french fries. If your server can't make that happen its on them. Its their fault the chicken nuggets aren't on the menu.
5. They have total control of everything that happens in the kitchen.
So if your order isn't made right, your steak is over-done, or you just don't like how something you tried tastes, blame your server. Its totally their fault. I bet they meant to have your food made specifically in a way that you wouldn't like it.
6. Your server took a picture of your group for you and your eyes were closed.

Is it so much to ask that your server also be a professional photographer? I think not!

7. It took like 30 minutes to get the food for your party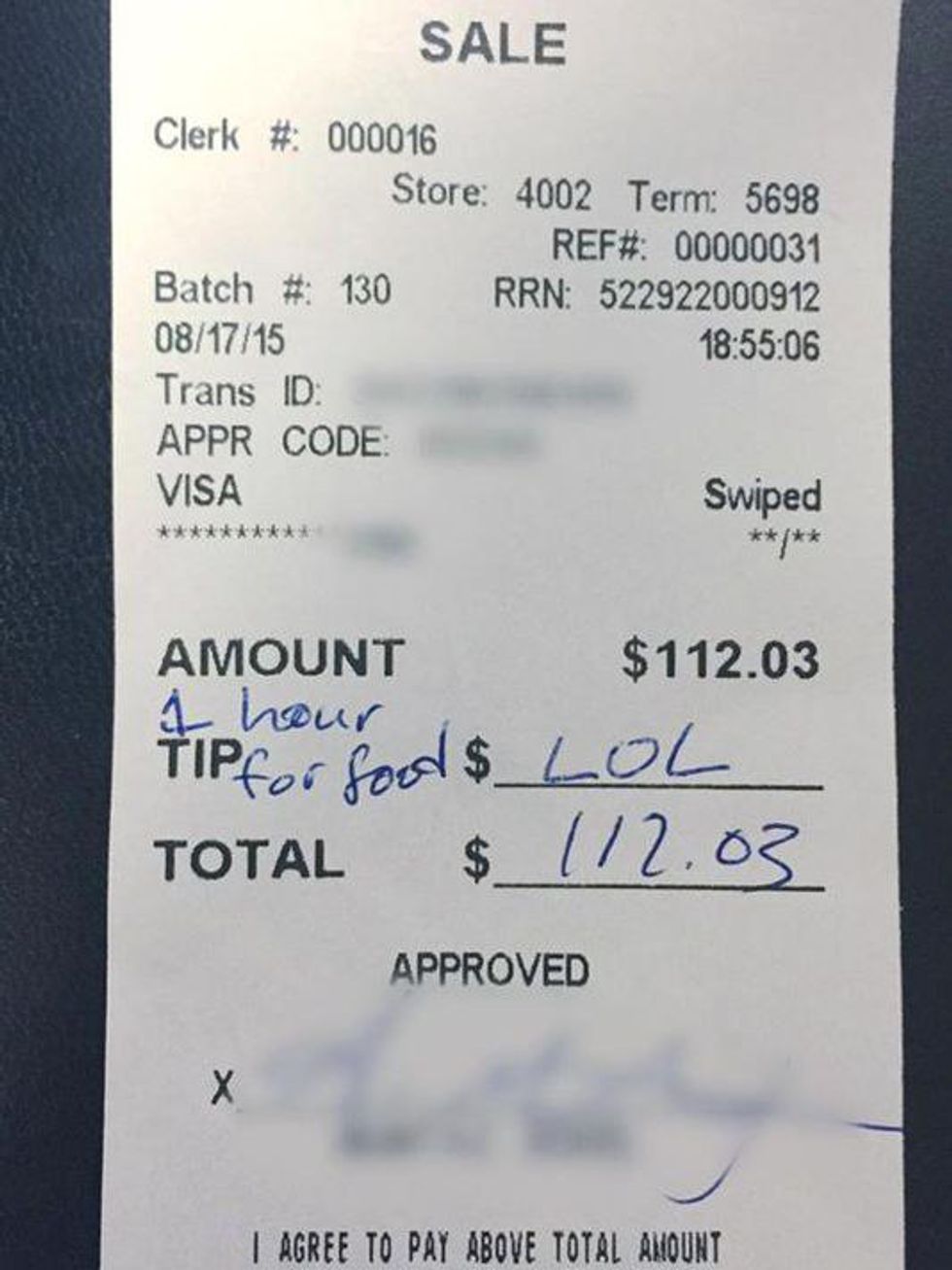 of 10.
This is no one's fault but your server. Like I said, they have total control of the kitchen. I bet it only take you 10 minutes to cook thanksgiving dinner for your family of 10. They're probably just hanging out in the back having a good ole time with each other.
8. The only thing they have to do is wait on your table.

They don't have to prepare anything in the back (like the 20 lemons you asked for to make lemonade out of your water and sugar packets on the table. Those probably come to the restaurant cut.) They should be able to give you their undivided attention. They probably don't even have 3 other tables.
8. They couldn't even take your expired coupon.
Seriously, what difference does a year make? You did all the work to save that coupon for a year! The least they could do is risk their job to give you $5 off.
9. It took them WAY too long to bring your party their checks.
You simply have 14 people in your party and everyone wants to pay separately. Not equally though, that wouldn't be fair for you guys. No, you only want to pay for what you ordered and no one else. How is that difficult?
10. They literally make $2 an hour. Why do you have to pay them extra?!
Seriously, they're already getting a pay check every two weeks. Why should you have to pay them on top of that? If your 75,000 salary paid you another pay check on top of that, it would just be ridiculous. They make like $12 a shift before taxes and tip outs. These servers are really expecting too much.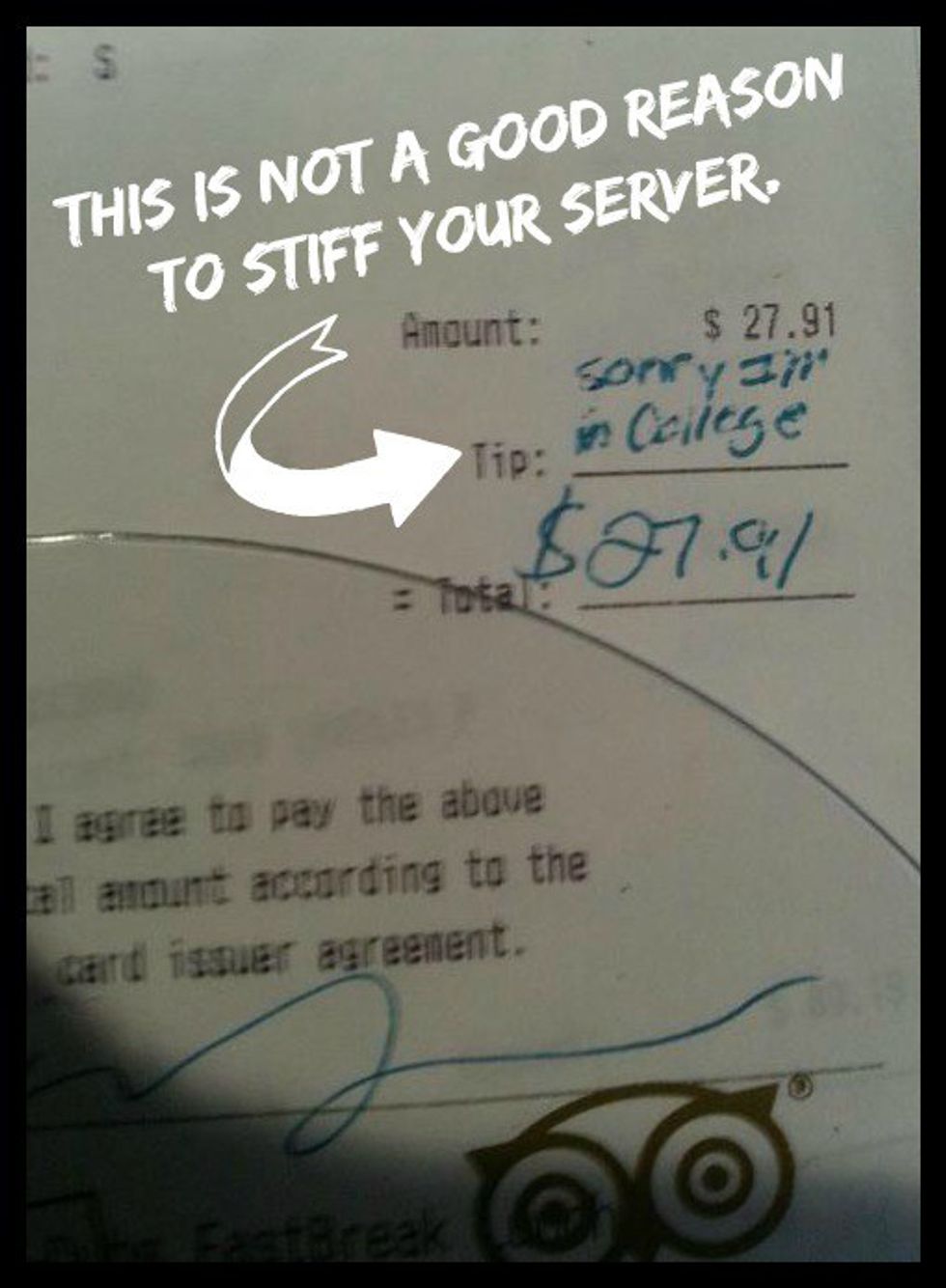 11. Servers are barley even people.
They don't have families or bills to pay for. They don't need money to buy groceries or pay for health insurance. I bet most of them aren't even working 2 jobs or trying to pay for college. Even if they did, the $2 an hour they make could totally cover that. Plus, anyone can do this job. I mean, I wouldn't. But anyone could do it.
Okay, clearly these are all sarcastic reasons. Be a decent person. Realize that your server is also a person, trying to provide for a family and pay bills. If you can't afford to tip, then you really couldn't afford the food you ordered.