If you're a fan of Parks and Recreation, you know that the incredible Leslie Knope loves to treat and celebrate all her closest girlfriends on 'Galentine's Day,' which she marks annually on February 13th. Whether you'll be spending Valentine's Day with a special someone or not, you can definitely spend the day before with your best gal pals. Use some of these ideas to have a Leslie Knope-inspired day to show your besties how much you appreciate them!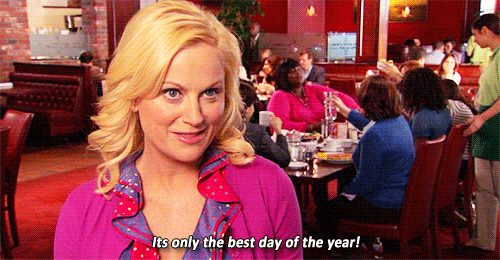 1. Brunch It Up
This new national holiday was introduced while Leslie and her gals enjoy some brunch, so get all of your favorite ladies together and have some of Leslie's ultimate breakfast fave, waffles.
2. Movie Marathon
Get some snacks and drinks and set up a jam-packed day of chick flicks, romantic comedies, and any other faves that empower and inspire yourself and your girls! Or start a binge-fest of inspirational Leslie and the Parks and Rec crew.
3. Treat Yo' Self
Tom and Donna encouraged everyone many times throughout the show to "Treat Yo Self," so spend the day with your girls shopping or treating yourselves to anything you might not normally let yourself get or do.
4. Spa Day
For an extra special Galentine's Day, have yourself and your ladies get facials, massages, nail appointments, or any other activity that would help your group feel relaxed, refreshed, and ready to go.
5. Animal Watching
Who doesn't love the zoo or the aquarium?? Head over and check out some amazing exotic creatures with your favorite gals and get lots of cute photo ops your Insta fans will die for.
6. Flower Picking
If you're somewhere warm enough for Galentine's Day, head out to a farmer's market or local farm to see if there are any flowers you can pick yourself and brighten up everyone's moods and homes with beautiful bouquets.
7. Bake Some Sweet Treats
Why not stay home with all your friends and whip up some delicious treats in the kitchen? You can all stay in your comfy clothes, jam out to some tunes, do some baking, and then enjoy your yummy snacks.
8. Sing Your Hearts Out
At home or at your local bar/club, take your gal pals to sing their hearts out to karaoke, especially some of the classics and songs you haven't heard in years. You'll all love jamming out for the night.
9. Scrapbook Your Memories
Leslie Knope is a huge fan of scrapbooking, so if you have lots of pics with your close girls, get a bunch of prints of your favorites and spend the day putting together a cute scrapbook of the highlights of your friendships.
10. Craft Mania
If you've seen how Leslie treats her friends of Galentine's Day, she loves giving out mosaics made from their favorite diet sodas. While you don't have to be as elaborate, heartful crafts would definitely be appreciated, or you can spend the day putting things together for each other.
11. Do Some Public Service
Leslie's first love is public service and government work, so spend Galentine's Day doing some Knope-inspired work by visiting your local city hall, volunteer, or doing other activities! Leslie Knope would truly be proud.
With some of these inspirations, go out and have a lovely Galentine's Day with all of your favorite gals!