I have attended to two Thanksgivings now where I have been meat-free and it can be a very difficult eating situation sometimes. But, in lieu of this, I have found simple ways to make it manageable and delicious both times so far, and I expect to make this one just as scrumptious and easy.
Here are 10 easy ways to be a vegetarian or vegan, still eat some of your families food, but also maybe convince them that meat-free and/or dairy-free options can still be amazing and not lose the flavor that turkey and/or meat can provide.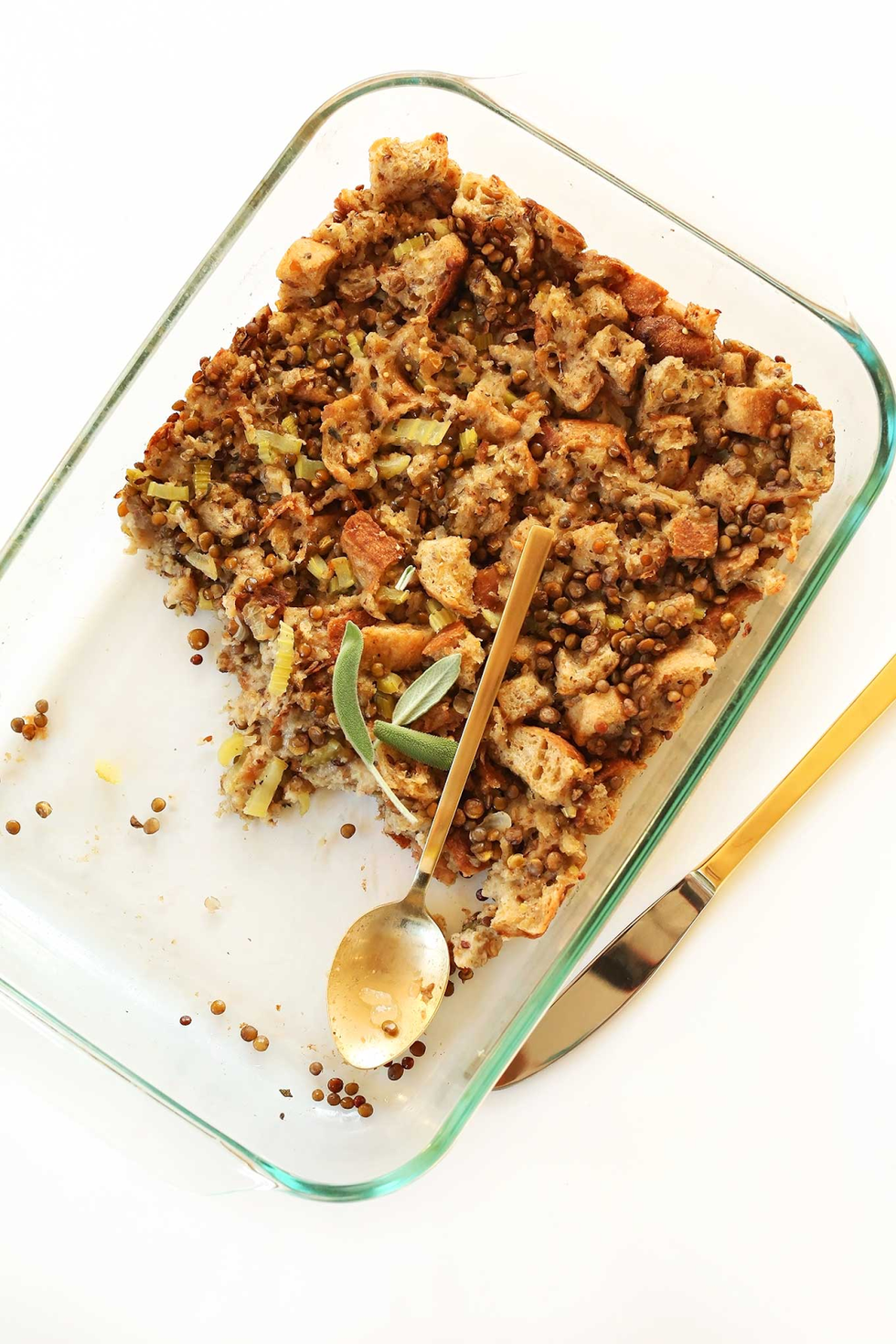 Minimalist Baker, a very popular vegan blogger who creates recipes with minimal ingredients (10 or less) with the goal of a 30 minute or less cook time, gifted us all with an amazing vegan stuffing that is easy to make and quick. With only nine ingredients, prep time being 15 minutes, and serving eight people, this can be the perfect side dish for the holiday season, especially for people who love stuffing as much as me and do not wish to miss out.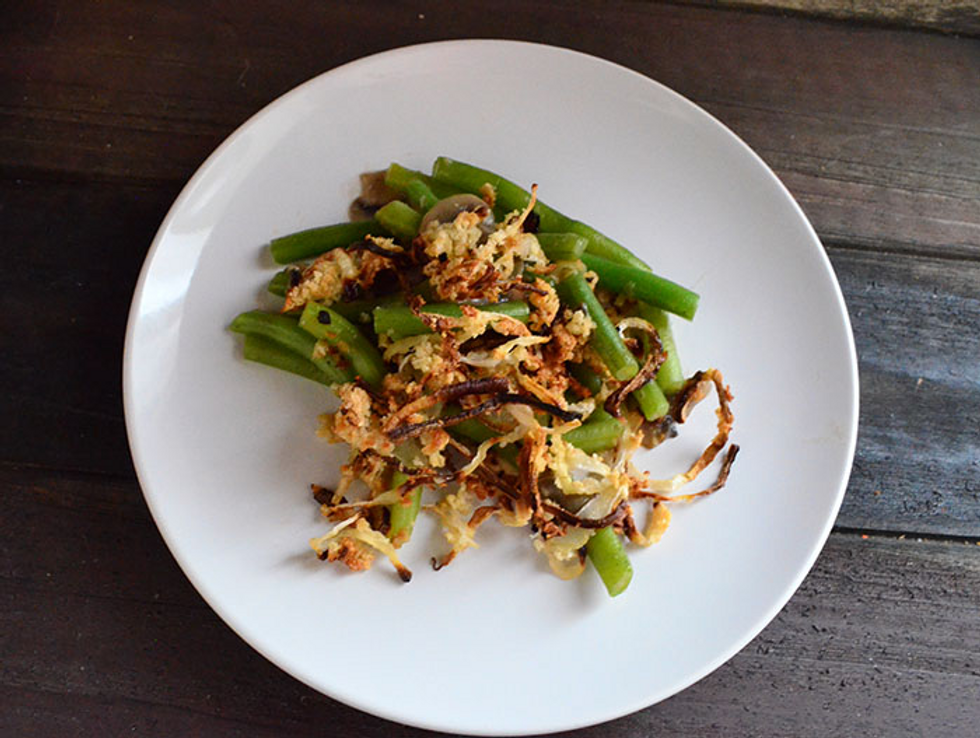 This is a vegan green bean casserole from scratch from Vegetarian Snob. With just 13 simple ingredients, this is an easy and healthy way to avoid that dairy from the other green bean casseroles being passed around at the dinner table.
3. Vegan Porcini Mushroom Gravy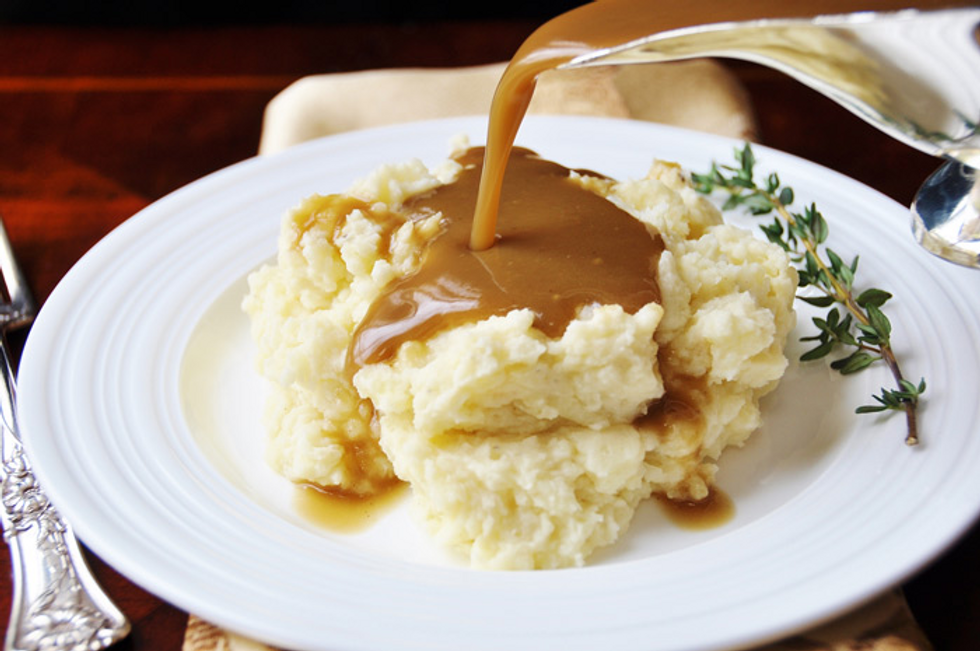 This recipe from Veganosity takes about 30 minutes prep time, it yields about two cups, and with 12 simple ingredients, many of the relatives will skip the turkey gravy and opt for this instead. I know mine did.
***If you don't have the time for this one, here is a 15-minute super-easy to make 911 recipe.
4. Butternut Squash Mac And Cheese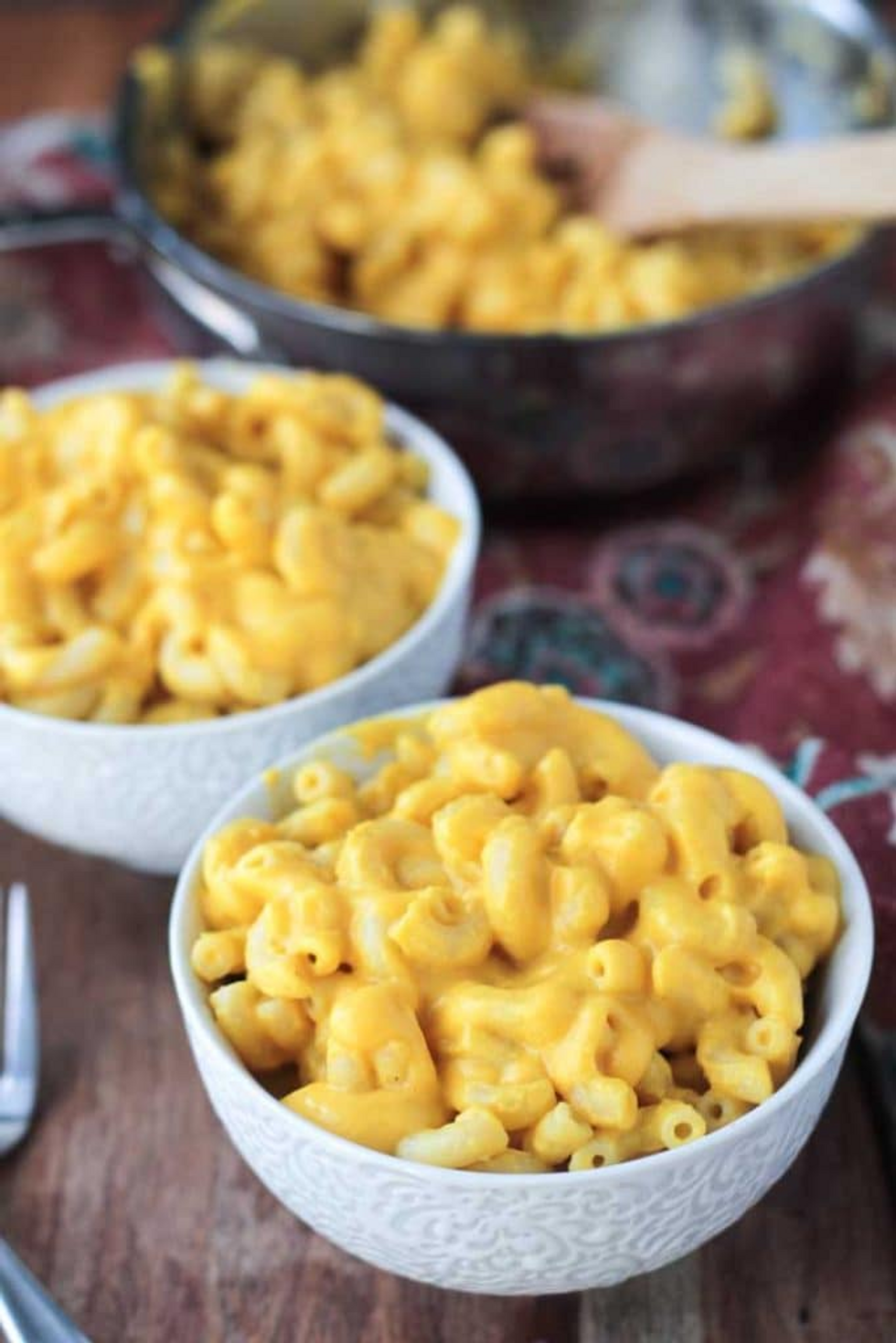 Veggie Inspired has a recipe for this side dish. Super healthy, 13 ingredients, 30 minute prep time, as well as being dairy-free, soy-free, and vegan, what is more seasonal than butternut squash? Hold the cheese, sub the squash and cashews. You won't be the bloated one this holiday season.
5. Roasted Brussels Sprouts, Cinnamon Butternut Squash, Pecans, and Cranberries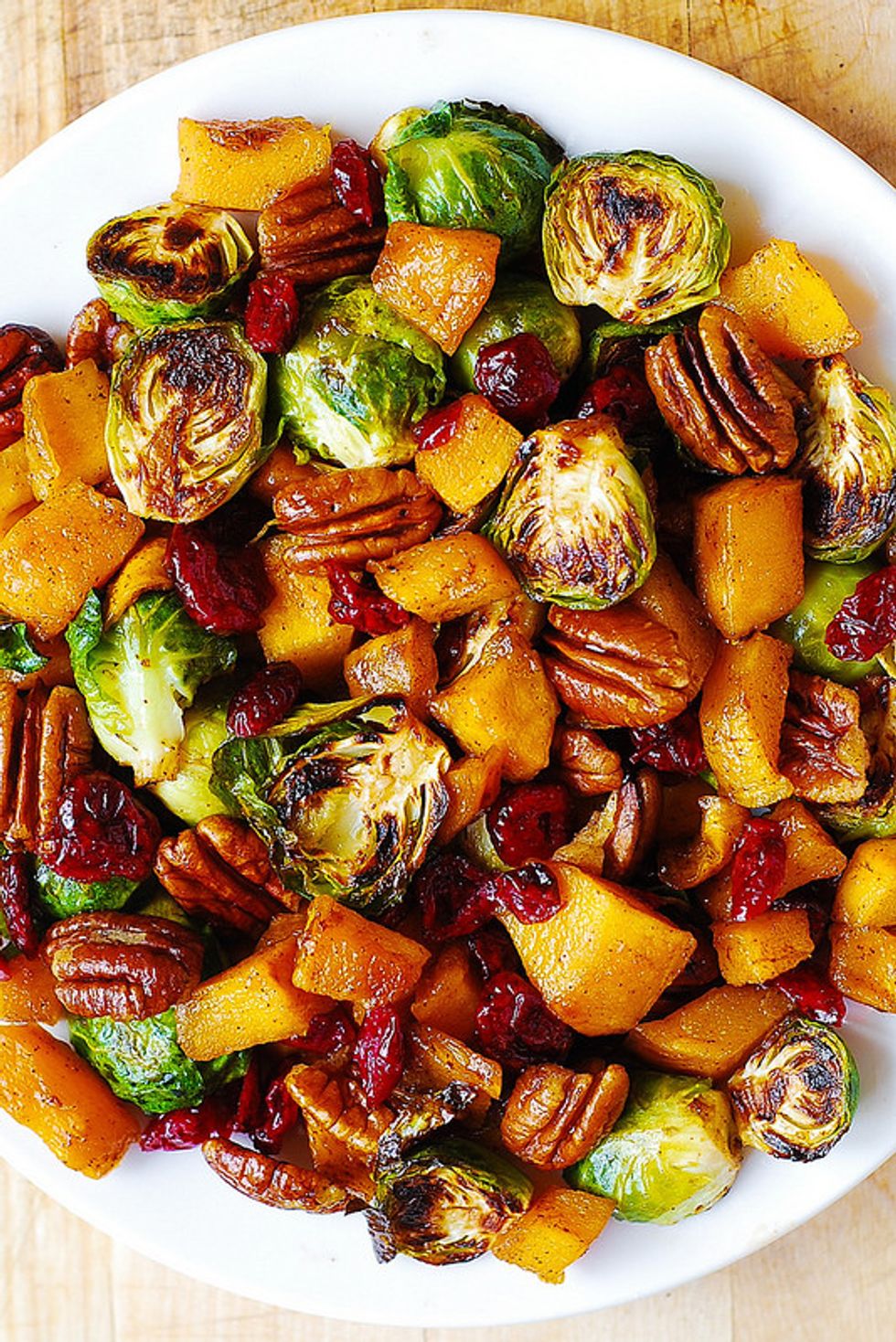 Here's yet another different side dish that packs all the holiday cheer. Self-explanatory, this dish includes ten ingredients, four of which are included in the name of the recipe. Cranberries, sprouts, squash (or sweet potato if you have another squash dish already), and pecans are totally Thanksgiving specialities. Impress your basic Thanksgiving goers with this one.
6. 7-Ingredient Vegan Stuffed Mushrooms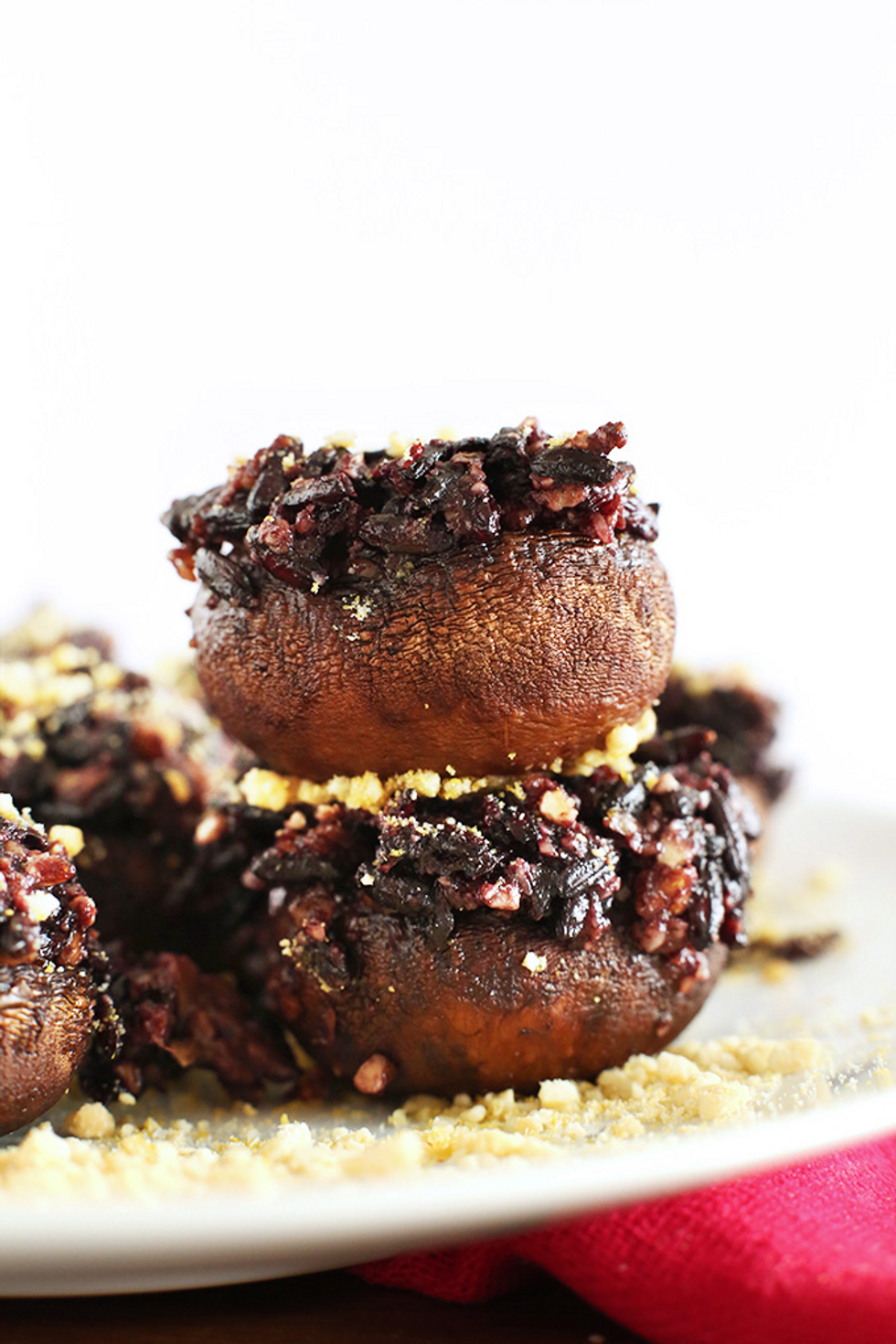 From Minimalist Baker again, this super quick and easy vegan recipe is the perfect appetizer or side dish. I love mushrooms so I couldn't resist...
Oh and if you skipped the name of this recipe because you were too busy drooling over all the pictures, there are only seven ingredients. I repeat, SEVEN ingredients. These are also gluten-free and are loaded with antioxidants, iron, fiber, healthy fats, omega-3s, and protein so you can start your New Year's resolutions early this year.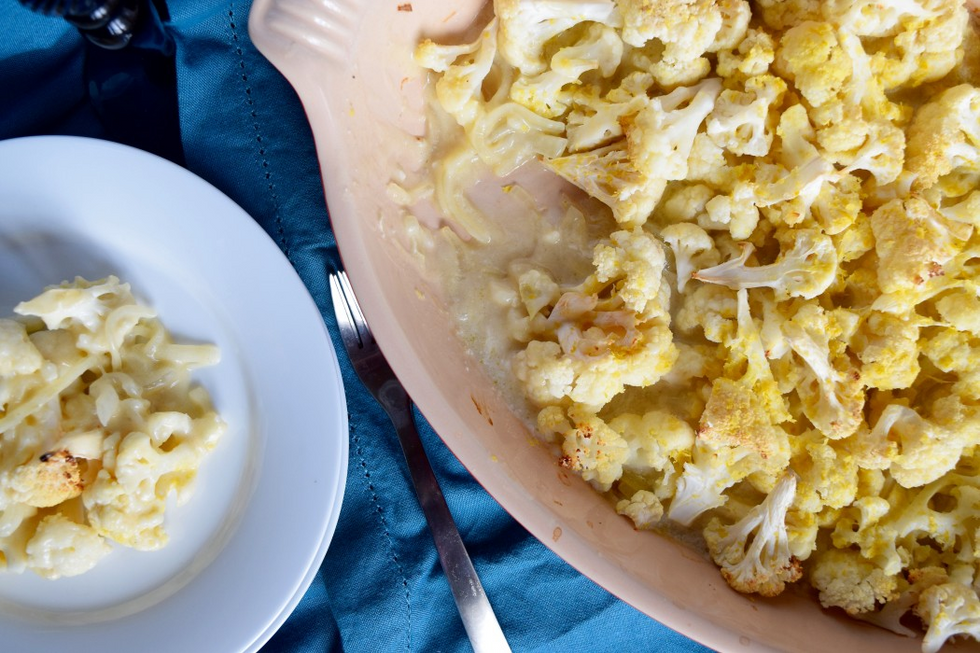 With only eight ingredients and a quick prep time, this side dish is sure to cut out the starch and find you feeling full and light. From Earth Powered Family, this is a rich, flavorful, and seasonal dish. If you're going for low-carb, skip the potatoes and try this out. I tried this one at Whole Foods and have been craving it ever since.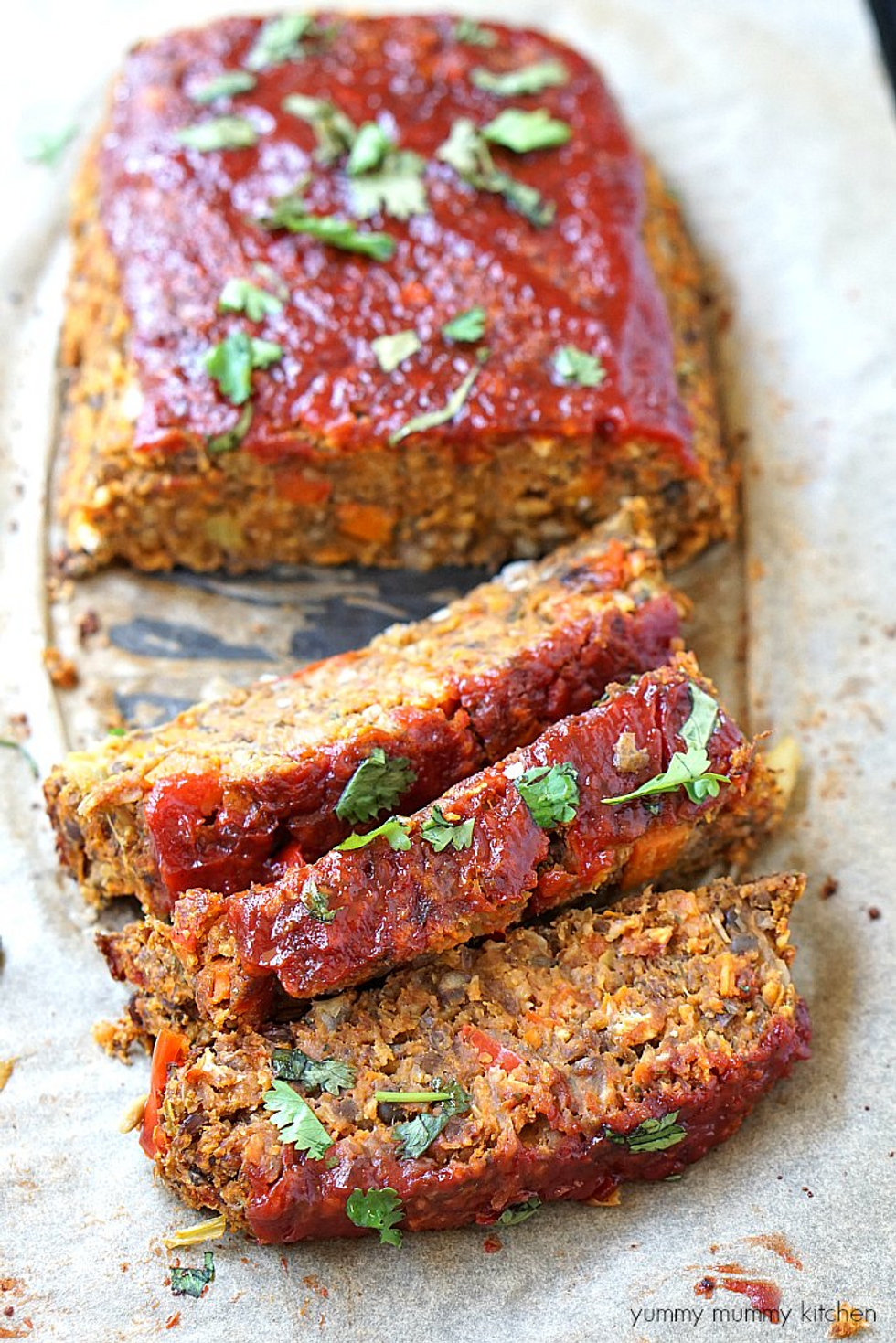 For all of those who would love the main dish as well, here is a quick and easy replacement for the turkey. I always loved meatloaf growing up as a kid, but now a loaf of meat sounds a bit too mysterious and unsatisfying.
Although it has 18 ingredients and a bit of a cook time, the prep is short and simple and remember it is a main dish, it is going to take a little more back work. Again, if this isn't a good option for you, stick with side dishes! This has worked brilliantly for me.
9. Vegetable Crescent Roll Roll Ring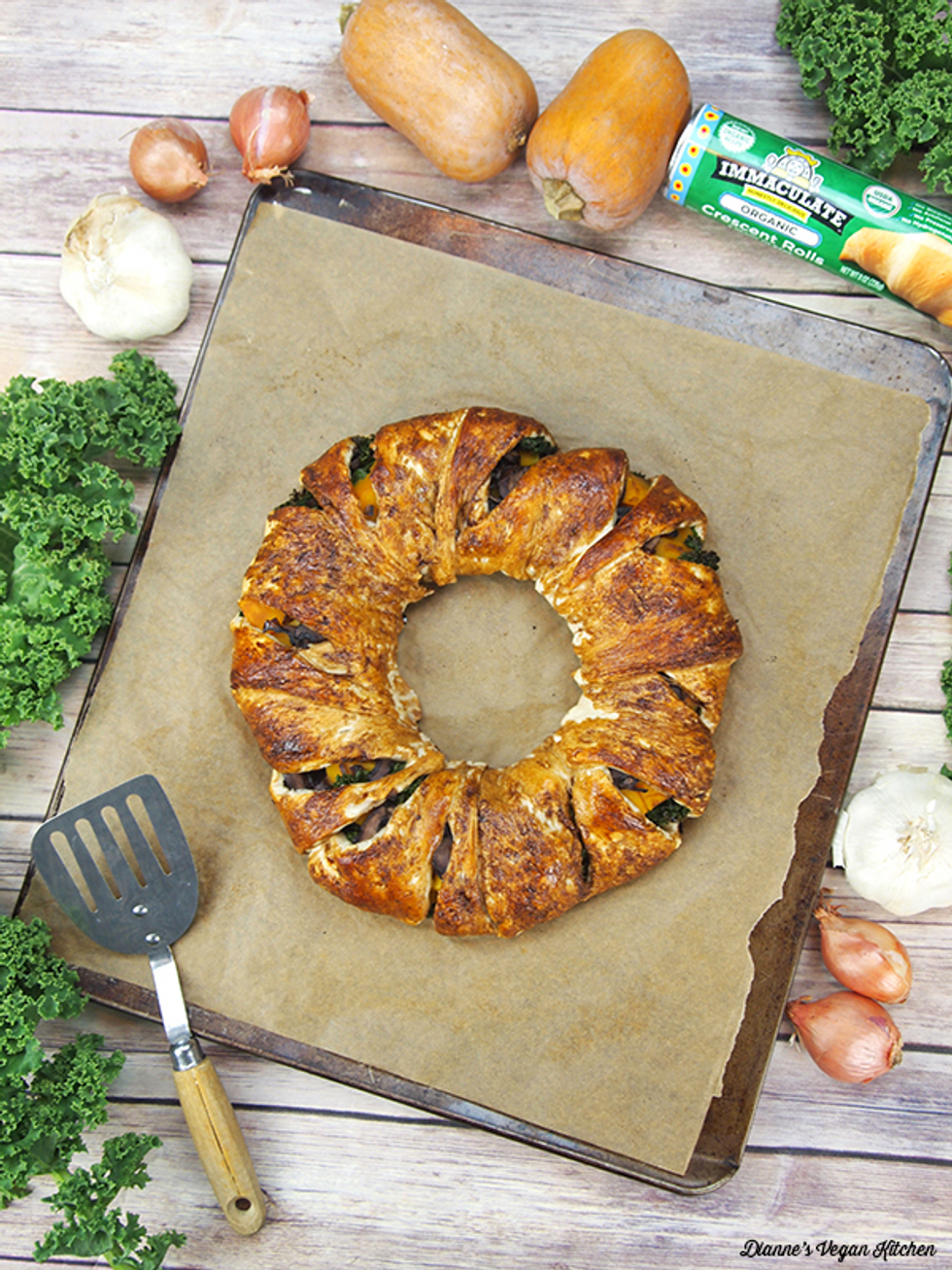 This one looked far too good enough not to share. Only ten ingredients and super easy to make, this is a perfect substitute for plain old bread rolls. Remember, your eating vegan or vegetarian so that probably means you have to be a bit more creative in your cooking. Impress your anti-vegan family members.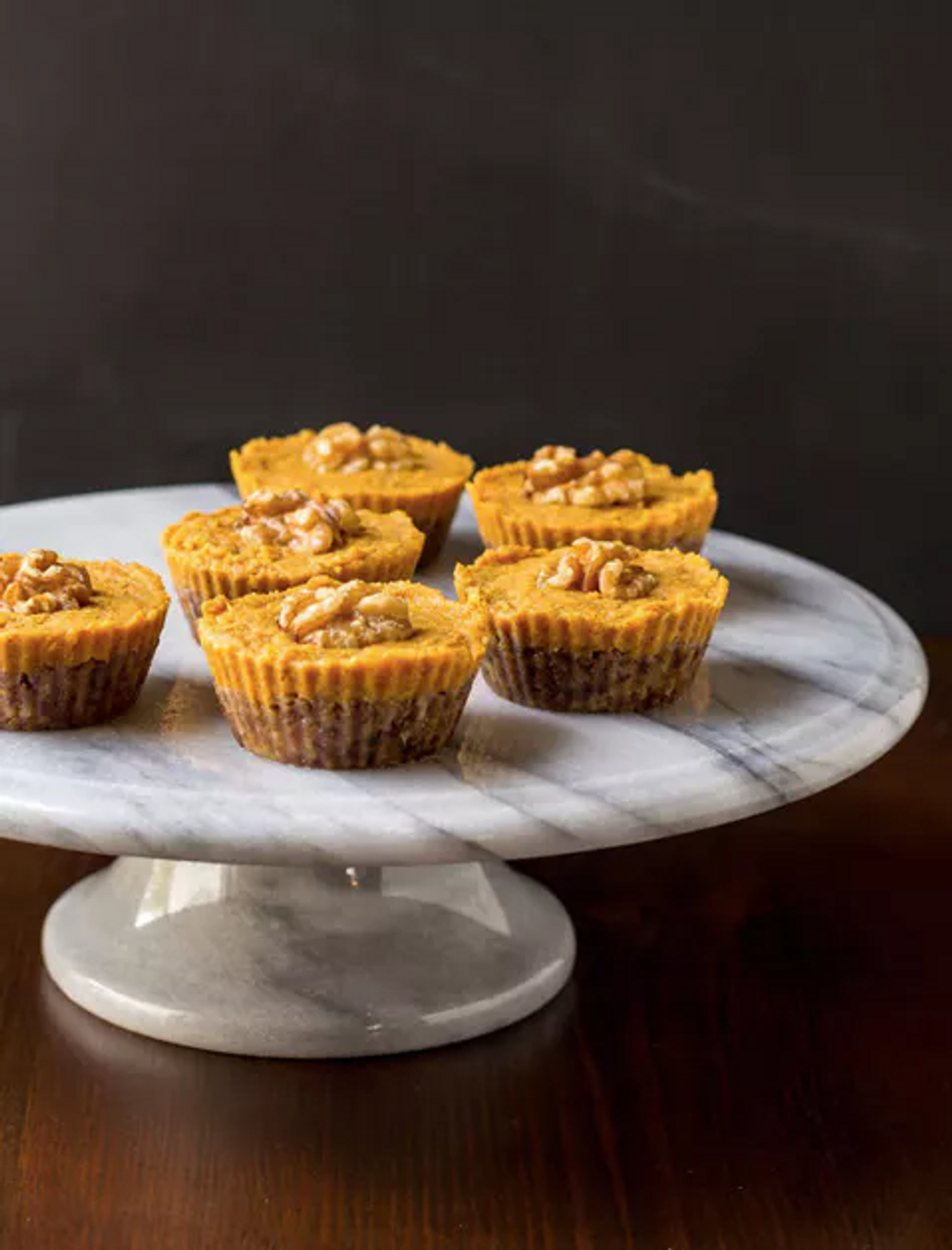 Anything no-bake is right up my alley. Anything with pumpkin and pecans and 13 ingredients is also my thing. I can say with pure confidence you will feel less guilty about eating three of these over three slices of Costco pie.
***If you're more of a pecan pie type of person,
here
is a simple recipe!
Happy Thanksgiving carnivores, pescatarians, vegetarians, vegans, etc. and eat whatever you want but make sure whatever you eat makes you happy! I mean, that's the reason we all eat right? And stop criticizing others for their food choices while you're at it.
Anyway, eat a lot and be happy about it. New Years is right around the corner and we all know that the decisions we make over Thanksgiving will carry over to our choices about New Year's resolutions. We're only human, so get eatin'!