No matter how hard you try to keep your life in order, sometimes you'll get thrown a curve ball. You'll be minding your own business, relaxing after a long day at work, and then BAM. You suddenly have to be moved out of your place in three days.
Or at least, that's what happened to me. I thought some paperwork had been worked out, blah blah blah, long story short, I found out I had to be moved out of my apartment in THREE DAYS. So, in case this every happens to you, whatever the reason may be, or if you know you're about to move and may decide to wait until the last minute to do anything, here is some insight on what happens when you only have few days to move, and how to survive the experience.
1. PANIC. OH MY GOD THE PANIC.
AGH! WHAT?! HOW IN THE HELL AM I GOING TO DO THIS? WHY DO I HAVE TO DO THIS?? ARE YOU INSANE?! I HAVE TO MOVE ALL OF MY FURNITURE, CHANGE THE UTILITIES- THIS IS GOING TO SCAR MY CAT FOR LIFE!

AHHH!

AHH!

Ahh.. uh... huh.

Panicking doesn't exactly make the process easier, but at the very least, it gets some of the anger and fear out of the way, so you can focus on what to do next.

2. Find a place to live
No seriously, when you find out you're about to lose your place, finding a new home should be THE next thing you do. I wasn't even out of my complex's leasing office before I started making phone calls. Whether it's living with a significant other, a friend, or your parents, having a plan on where to go next is CRUCIAL to not losing your mind. When things get this stressful, you're going to need all the help you can get, in any form you can get it.


3. Getting some movers might be a nightmare
A big first step in moving, be it in an orderly fashion or in a blind race against time, getting some help is always the best idea. Moving companies can provide services that will make the ordeal a lot easier, from providing boxes and helping you pack, to moving that antique bedroom set that is a lot more of a burden now that it has to fit through the front doorway. (Seriously, why did I let my dad give me that bedroom set?)
However, if you happen to be moving during a busy weekend for moving companies, such as THE END OF THE SCHOOL YEAR and you live IN A COLLEGE TOWN, finding a set of movers might be out of the question. All of their trucks will have been called for.
However, a great plan B in this scenario would be renting a U-Haul.
It's a pretty decent price, when the business isn't that far, and driving the 10' sized truck is similar to any other vehicle, just taller and louder. Still need people to move your things for you? Asking some friends is the best way to go- people are usually willing to help if they know you're in a bind and are willing to dish out some payment. Just be aware that the payment should reflect the work. Moving that antique dresser will go a lot smoother if they know they aren't just getting pizza after this.
4. The packing starts!
Now the fun begins! Now you get to at least pretend there's some order in this crazy time of your life and start putting things into little groups, and placing your belongings in a neat and orderly fashion, into some- wait. CRAP. We forgot to get some boxes.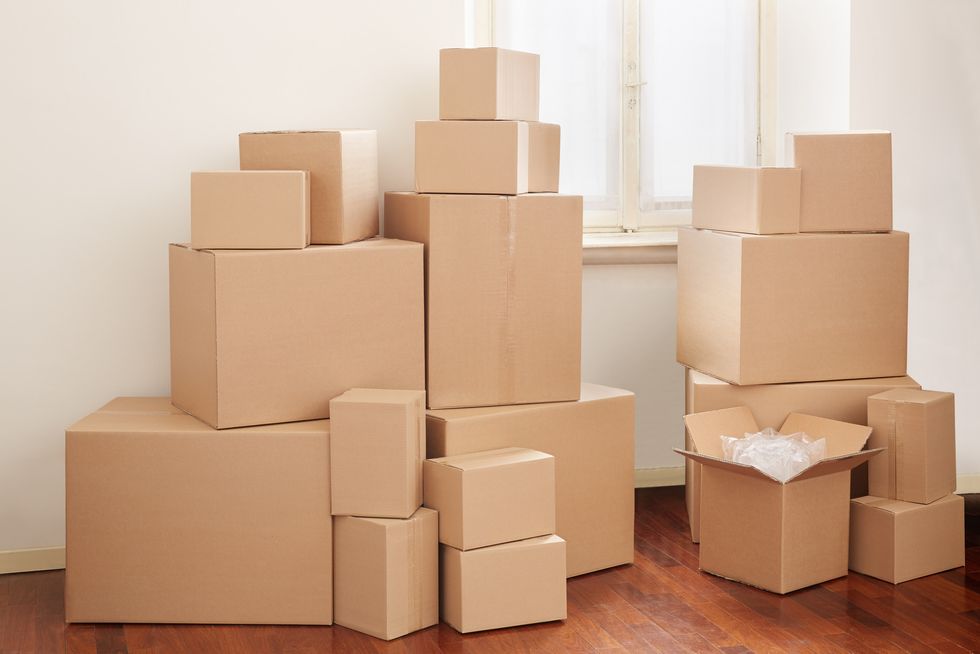 4. Get some boxes!
You're never going to be prepared enough to just have moving boxes at the ready. There are plenty of ways to obtain these cardboard cubes. You can buy them at a variety of stores, such as Home Depot, Lowes, or Walmart. Don't want to pay for boxes?
Hey! Neither did I!
I personally went to my place of work and dumpster dove the cardboard bin behind the building, but plenty of local businesses will provide you some boxes if you ask. I recommend stopping by dollar stores, bookstores, and grocery stores. Sometimes the boxes might be a bit dirty, but hey- you're in a hurry, here!
5. Pinterest is your God, now.
When you're completely over your head and don't know how to make the best use of your time, you're going to end up searching for moving hacks. Pinterest is a huge hub for Lifehacks and quick-and-easy solutions. What hack did I find the most helpful? Wrapping my hanger-clothes in garbage bags.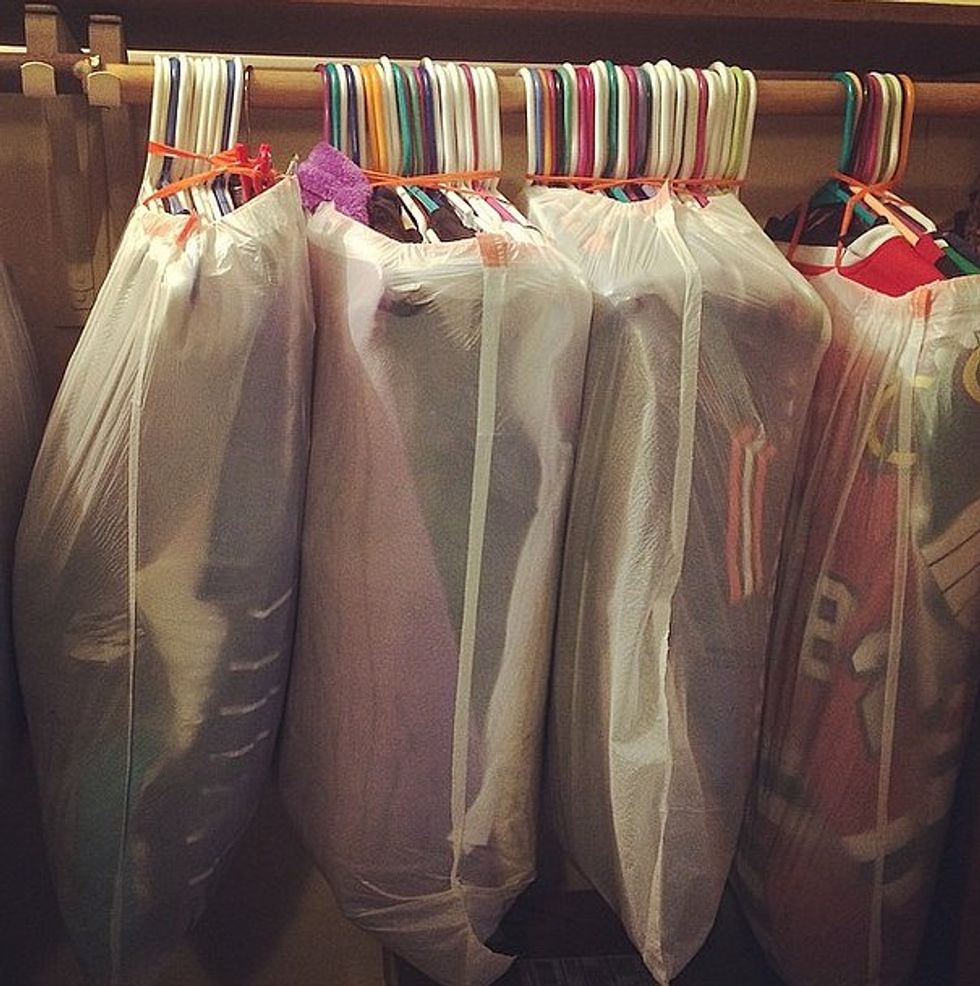 THIS SAVED ME SO MUCH TIME.

Soon you'll end up searching for every possible hack you can on Pinterest until you realize it's 2 am and you've barely packed your bedroom up.

6. Time to make up for lost time!
Remember that "order" you were going to bring to your life?
You knew that was a lie you were just telling yourself.
Instead of neatly labeling your boxes and wrapping all of your breakables in a newspaper, you're going to end up filling each and every box to the brim with stuff.
Thought you were gonna throw out some junk while you were sorting through your belongings? NOPE. Every dinglehopper and snarfblatt you own are getting turned into a Tetris piece, and you are playing the game of your life. If you're in a big enough of a hurry, you'll even pack your own garbage can into a box while it's still full of garbage. (To be fair, none of it was food or anything. I just don't stop to think when I'm in a rush.)

Nevertheless, you're pushing through! You've just got the bedroom packed, and now it's time to move on to the kitchen and living ro- Oh, wait.

7. Get more boxes! Make more boxes! BECOME A BOX.
Seriously, you're NEVER going to have enough boxes. You'll make a few more trips to the local cardboard dumpster before you decide that anything that's hollow will become a "box" of some sort.
Shove those kitchen towels into the microwave! Drop all of your earrings into the little vase from your desk! Wrap your belongings in a quilt and close it with a giant binder clip- WE ONLY HAVE ONE DAY LEFT PEOPLE LET'S GET A MOVE ON THIS MOVE!

8. The actual move is going to be a blur.
Once the actual moving starts, everything starts to slow down. After everything's been packed, all there is left to do is, well, move it. And that only goes so fast. All of your adrenaline from the last two days will start to wear off. You'll get sluggish, and soon you'll just be exhausted, both emotionally and physically.
9. The dust settles...
And there you are. In a new place. Whether it's a temporary arrangement, or where you've signed up to live next, you'll be happy that the move is over. You might still be a bit upset over why you had to move, but you'll get a moment to sit down, and it's all going to be so surreal.
A new chapter of your life has started, whether you wanted it to or not. And you'll have to admit that, as stressful as it was, you might be grateful for it later.
10. Also, good luck finding anything.
SERIOUSLY! WHERE DID I PUT THOSE KITCHEN TOWELS?!