Boys and girls, fans of every age: It's time. We've waited nine long years since the final episode of "Gilmore Girls" in which Rory turned Logan down in favor of her journalism career, in which Luke and Lorelai were solidified as a definite "maybe", in which all was well in Stars Hollow -- but somehow, things felt unfinished. We've all caught a few reruns here and there and satisfied those yearnings for rapid-fire conversation, for unlimited cups of coffee, for random musical outbursts and glorious (and undeniably educational) cultural references. But now -- this is not a drill!! -- we've been given a long-awaited answer to all our burning questions, to be delivered in one beautiful package on Friday Nov. 5.
I feel a special connection to "Gilmore Girls". The very first episode aired on my birthday -- Oct. 5, 2000. Not that I was watching. I was seven. I did, however, sit around nearly every afternoon in high school methodically working through every season, choosing to build my character this way rather than, you know, have friends. I feel an obligation to provide a pre-unveiling guide to the ultimate feel-good moments, the hilarity, the tears, the realness, the quintessential, irreplaceable Gilmore phenomena.
I also recognize the fact that we all lead busy lives. We probably don't all have time to relive every single moment in just over a month's time. We probably don't even have the time to relive the show's best dramatic sequences -- the rise and fall of Jess, the Harvard/Yale application process, the Paris/Terrance the Life Coach journey, the complete and unedited reel of jobs held by Kirk, the founding of Hep Alien. But we can pay special attention to those pivotal moments that capture a little bit of all things Gilmore that will deliver the exact amount of hype we need to carry us into November.
1. Love, Daisies and Troubadours (Season 1, Episode 21)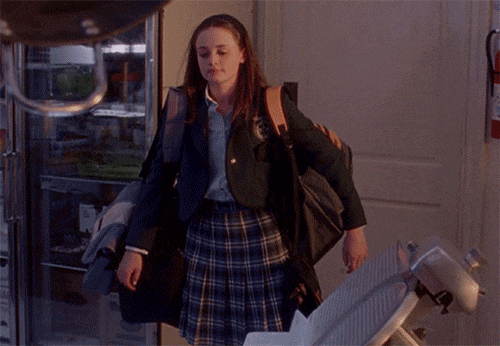 Ah, love. Season one is of course unmatched in its pure adorableness, so if you have the resources, you really ought to watch it start-to-finish. The twenty-first episode, however, encapsulates important turning points in many of the season's plot lines; Rory seeks to win Dean back after an awkward exchange a few episodes prior ("I love you, you idiot!"), Lorelai gets hot 'n' heavy with "Maaaax Medina" amidst a clearly blossoming mutual affection with Luke...and how can we forget the brief appearances of a lovestruck Chad Michael Murray, whose devotion to Rory doesn't make a whole lot of sense but effectively contributes to the hatred of an ever-crusading Paris? Pure. Gold.
2. A-Tisket, A-Tasket (Season 2, Episode 13)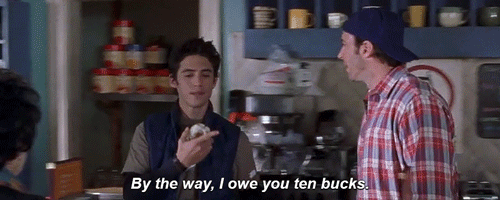 I'm going to admit to you all at this moment that I ship Rory/Jess, hand down, no questions asked, are-you-even-joking-me-right-now. A large part of these 45 minutes focus on the town's strange picnic basket auction, during which Jess upsets Rory and Dean's relationship in the most blatant way possible (because he can) -- and Sookie and Jackson decide to move in together. Meanwhile, Lorelai's mistrust of Jess deepens and she Emily find something to agree about, and Lane's "boyfriend" Henry dumps her after not going out a single time.
3. One's Got Class and the Other One Dyes (Season 3, Episode 4)
The life of Hep Alien is just taking off, but the band's regular rehearsals at Sophie's Music (AKA Carole King's guest appearance) is proving a little un-rock and roll. Lane's desperate longing to just be herself (and to spend time with the awkward dreamboat Dave) reaches a temporary culmination with a sudden urge to dye her hair purple, which Rory facilitates like the best friend that she is. And at Stars Hollow High, Luke and Lorelai make appearances at the school's Career Day where Lorelai's backstory starts to take shape as the students drill her on her choice to have Rory. It's uncomfortable, but touching, as we're reminded that Lorelai doesn't quite fit in but it's her unwavering comradery with her daughter makes their place in Stars Hollow absolutely unique.
4. They Shoot Gilmores, Don't They? (Season 3, Episode 7)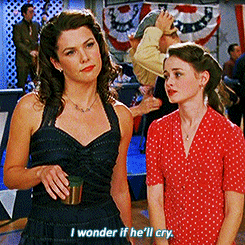 The dance marathon. 'Nuff said. Lorelai and Rory team up for a 24-hour proof of strength and pure class and a chance to beat Kirk at his own game. Classic jazz tunes abound, and there's a brief moment between Lorelai and Luke in which they discuss the possibility of having kids -- foreshadowing? Let's hope?? Of course, Jess fans everywhere rejoice with the end of Rory and Dean (for the time being) and the setup of Rory's necessary run with the local bad boy. Be still, my heart.
5. The Lorelais' First Day at Yale (Season 4, Episode 2)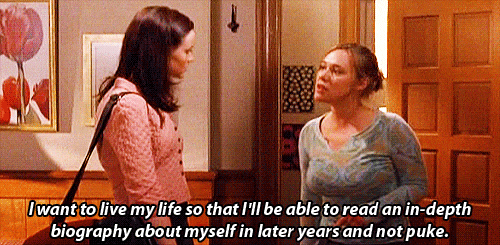 When Luke agrees to let the Gilmores borrow his truck, moving into Yale becomes a two-day ordeal full of strange roommates, mother-daughter sleepovers and one seriously tough goodbye. As one might expect, the start of season 2 marks an important shift in the dynamic between Lorelai and Rory that the entire show is based on; the endless banter, their influence on one another's life choices and even the basic comfort we as viewers enjoy seeing them always together are all challenged -- and like Rory, we're going to have to put our big-girl faces on and deal with it. The episode also marks a turning point in a short-lived relationship on Luke's end of things; having briefly married his ex-girlfriend, Nicole, the hapless diner man realizes that he's got to start taking responsibility for his own happiness -- whatever that means.
6. Girls in Bikinis, Boys Doin' the Twist (Season 4, Episode 17)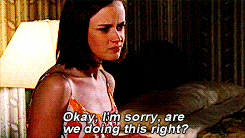 It's spring break! -- and a much-needed break from the collegiate setting. Rory, Paris, Madeline and Lousie head to Florida to finally learn how to party, and end up doing it...kind of right. A much-needed friendship blooms between Rory and Paris, there's dancing (and a guest appearance by the Shins!), awkward poolside conversation -- and back in Stars Hollow, the unfortunate introduction of Lorelai's flighty suitor, Jason. (The scumbag.) Paris thinks a banana-eating contest is about eating bananas. Good times are had.
7. Written in the Stars (Season 5, Episode 3)
Annnnnd we're finally given the Lorelai/Luke matchup we deserve. In one iconic morning scene, Lorelai wanders downstairs in her underwear to inform the whole town of the very secret she and Luke have been trying to keep, and the town proceeds to vote on whether or not they should be together. All weirdness aside, the early days between them are damn cute, y'all. Meanwhile, at Chilton, people are all busy growing up; Rory meets Logan outside her dorm room and the death of Asher Fleming prompts a macabre back-to-school wake at Rory and Paris's place, which most of the guests mistake for some weird theme party. Oh, and Emily is single, which everyone knows won't last, but gives an interesting glimpse into her character.
8. You Jump, I Jump Jack (Season 5, Episode 7)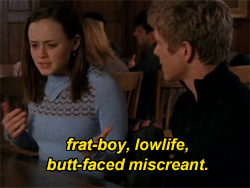 Nothing is is innocent anymore. Whether you like it or not, Rory and Logan are all in, resulting in the rich boy squad's kidnapping of Rory so she can do a little investigatory journalism into the Life and Death Brigade. Colorful, woodsy sequences and old-school attire draws Rory into the enticing world of Logan and his people, culminating with a risky, umbrella-armed leap off a scaffolding setup. Romance in Lorelai's life is reaching unprecedented moments of honesty between her and her parents (is Luke too low-class?) -- and in Lane's world, unexpected and altogether awkward sparks fly with the bumbling, lovable Zach.
9. Let Me Hear Your Balalaikas Ringing Out (Season 6, Episode 8)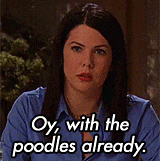 It's the peak of the sequence we cannot avoid: Rory has dropped out of Yale and is exclusively a part of Emily Gilmore and Logan's worlds, much to Lorelai's chagrin. (Thankfully, a dog named Paul Anka has entered the picture to lessen the blow.) While a tortured and often-drunk Logan questions his purpose in the future he sees for himself, a brand-new Jess reappears several times, first to share his recently published book with Rory and later to drag her back to reality. ("WHY did you DROP out of YALE?") God bless him. If you ask me, the writers have no choice but to bring him back as the permanent life companion for our heroine -- and not to mention some totall welcome viewer eye candy.
10. Unto the Breach (Season 7, Episode 21)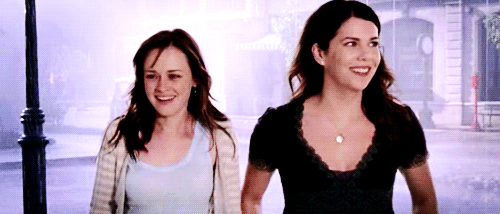 It's the penultimate episode -- which, in my opinion, is a little more important than the last because it features Rory's graduation from Yale and her rejection of Logan's marriage proposal. Sigh. The name of the episode is taken from a line in "King Henry V"; it's a rallying cry to the troops to try just one more time, to not settle for less, to be all you can be. That is where Rory is right now; she can't get married. She's just found herself and realized where she needs to go. (Good riddance, Logan.) Meanwhile, Luke finally detangles his feelings for Lorelai with the help from his eccentric sister, and you just know that the new episodes will present plans for the two that will finally, finally make sense. Oh, and Kirk suspends himself in a box over the town square without food or water. The usual.
Cover Image Credit: Netflix