Back when I was a wee lad and took piano lessons, my piano teacher had a stack of books for students to read while they waited for their siblings to finish their lessons. Among the stack of books included were multiple "Calvin and Hobbes" collections. I was enamored by the cleverness and precocious wit of Calvin, the titular 6 year old, as well as the reactions to his childlike antics by the equally ridiculous, though more subdued, Hobbes, Calvin's stuffed tiger brought to life by his imagination.
The comic strip, written by Bill Watterson, debuted in 1985 and ran till 1995. This year marks 30 years since the strip stopped running. While it was before my time, Watterson created a series so timeless that even I, years later, enjoyed the comics as much as anybody would've while Calvin and Hobbes were still frolicking in the wonderful world of imagination. Here are 10 of my favorite "Calvin and Hobbes" strips of all time.
10. Calvin as the ultimate creator.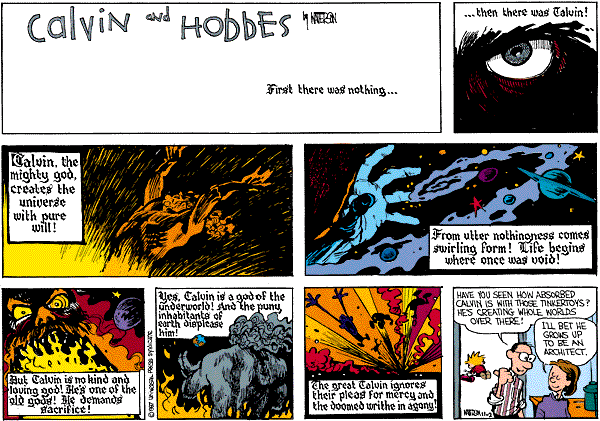 What might amount to a seemingly harmless session of building with tinker toys really amounts to Calvin with a God complex. Bet you didn't expect that, now did you?
9. The world was black and white.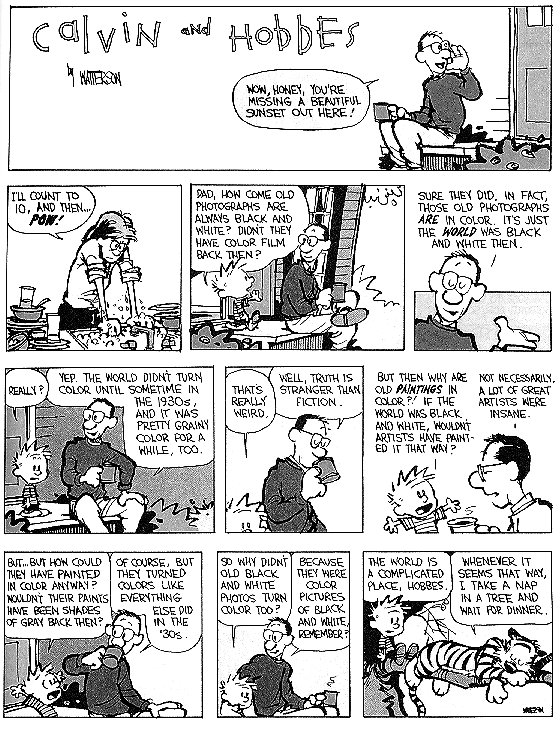 A recurring theme of the comic strip is Calvin's dad telling him blatantly false truths about the world, and Calvin falls for them because, as smart as he is, he's only six. Classic dad move.
8. Words fail me.

Calvin and his hyperactive imagination strike again, this time transforming him into a tiny, adorable tiger. But don't worry, once Calvin fixes the kinks on his machine I'm sure he'll end up looking just like Hobbes.
7. I fold.


While, again, Calvin is probably a little too smart for his own good, there are things he doesn't get (and by extension, Hobbes doesn't get them either). And when you think about it, a kid trying to play poker with his stuffed tiger is just hilarious.
6. Calvin becomes his dad.

Calvin's dad is always known for being your typical pushy father, the kind who tells you that hard work builds character as Calvin so clearly mocks. It's already funny, but having Calvin's mother crack up is the nail that seals the coffin. It's obviously a very accurate impersonation.
5. The coffee table.

This was one of the earlier Calvin and Hobbes strips, and is widely regarded as the first truly hilarious strip. I mean why does a kid do anything? Does he really even need a reason?
4. Snow art.

Honestly, Calvin sounds as intellectual as a college graduate in his attempts at artistry. I wonder if that invalidates them or validates him...
3. Manipulating the system.

Sometimes Watterson used Calvin as a way to criticize our societal constructs. Often he was right on the money.
2. Squeezing out the tears.

"Calvin and Hobbes" was not afraid to get sentimental, and what better time then the holidays to show how much Calvin and Hobbes love each other? Makes me want to cry just looking at it again.
1. Let's go exploring.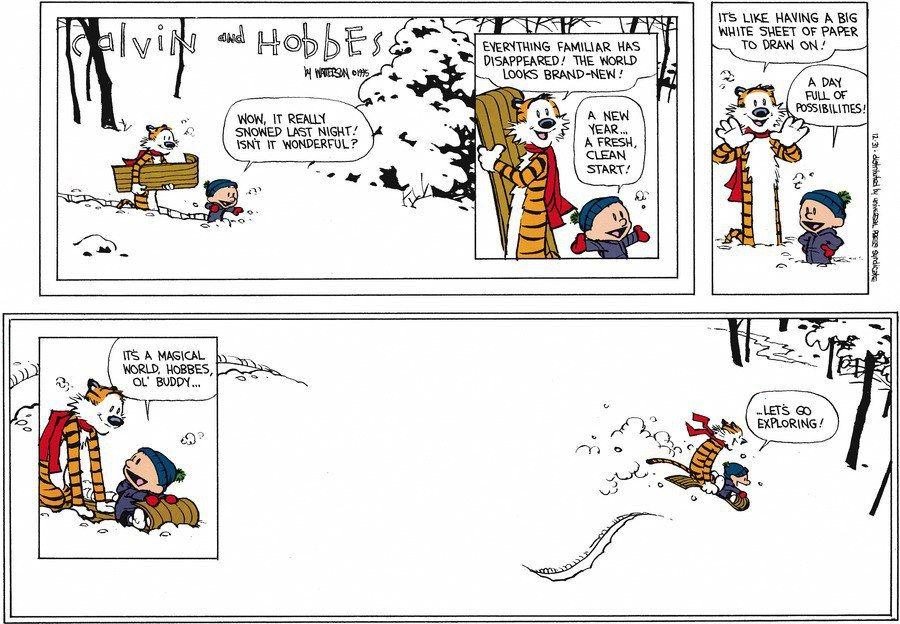 In a world of entertainment that has generally struggled to conclude sagas and stories satisfyingly, Bill Watterson creates an extremely emotional and poignant ending to the series that was so dear to many of the course of its run. The open-endedness of Calvin's final declaration perfectly encapsulates everything that the comic strip stood for and has left a tear in my eye on the many occasions I have rediscovered this strip.