An entire generation of teens and young adults just watched an actress they grew up with be the youngest actress to ever win an Emmy. Zendaya earned her first nomination for her role as Rue on the hit show Euphoria, and she won. If you're like me, you still remember Zendaya in her Shake it Up days. Even then, she was killing it. Then she blessed the music industry with hits like Replay and Something to Dance For.
I don't think any of us are surprised by Zendaya's success. She's extremely talented, and has been working at this for ten years now. That Emmy is well deserved, and Zendaya has a whole generation to celebrate with her. That's right, the Z in Gen Z stands for Generation Zendaya. Don't look that up.
In order to properly celebrate, let's go back in time a bit to see some of Zendaya's greatest hits.
Rocky Blue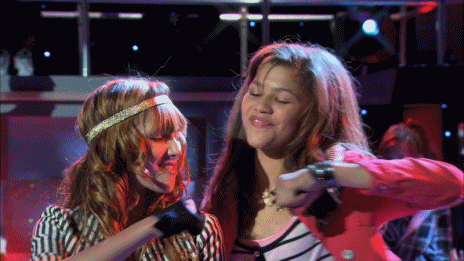 https://wifflegif.com/tags/19052-rocky-blue-gifs
Back in 2010, Zendaya graced our screens for the first time on Disney's Shake It Up. Her debut featured her as the iconic Rocky Blue, who alongside her best friend Cece Jones, appeared on a televised dance show, Shake It Up Chicago. This show was a staple for so many childhoods. I for one still know every word to the theme song.
Rocky was first presented a goody-two-shoes nerd, who often needed to be pushed to get out of her shell. However, as the show went on, it was Zendaya's undeniable talent and fire that made this character memorable. She grew into the confident, talented Rocky we love today. All of that growth reflected beautifully on Zendaya. But this was just the beginning.
Voice acting pro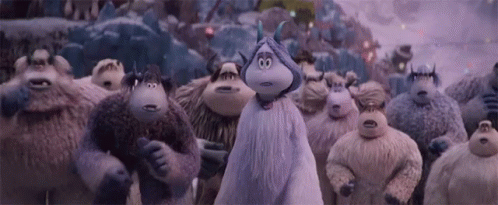 https://tenor.com/view/surprised-disappointed-sad-sad-face-unbelievable-gif-12275840
Something Zendaya isn't known for as much, but should definitely be acknowledged for, is her voice acting. Zendaya has had roles in multiple animated films throughout her career. Starting in 2013, she voiced the puppy, Lollipop, in Super Buddies. Five years later, in 2018, Zendaya tackled two more voice acting roles. One being the role of Chi in Duck Duck Goose, and the other being Meechee in Smallfoot, where she also sings as her character.
Musical genius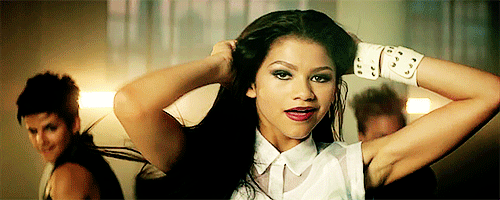 https://weheartit.com/entry/74956630
Zendaya worked on her first song with Disney in 2011, when she say Dig Down Deeper for the Pixie Hollow Games. Of course, she blew everyone away. Because of that success, Zendaya continued to work on music for a short time. With hits like Replay, Something to Dance For, and Butterflies--who could forget this brief but blessed point in Zendaya's career? Zendaya only has one full album, and despite her claiming that she most likely won't be releasing any more music, I'm hoping for a miraculous and spontaneous drop of a single one of these days. Please, Z?
Disney original movie star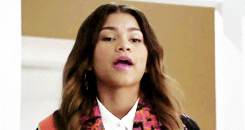 https://gfycat.com/discover/zapped-zendaya-gifs
During and after Shake It Up, Zendaya starred in two separate Disney Original Movies. The first being 2012's Frenemies, and second being Zapped in 2014. In Frenemies, Zendaya played a young girl with dreams of bringing her fashion blog to the next level, but has to choose between being the editor and being a good friend. In Zapped, she plays a dancer yet again, but this time she's one with an app that can control any boy. I'm pretty sure Zendaya can control anyone she wants on her own, but I'm sure the app was helpful.
Dancing With the Stars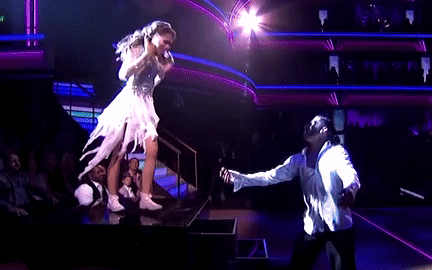 https://gfycat.com/oddballactivebullmastiff-dancing-with-the-stars-valentin-chmerkovskiy
In 2013, Zendaya made history as the youngest contestant on Dancing With the Stars (up to that point). Then only 16, she managed to be runner up. Doing this proved that Zendaya can dance well even outside of a Disney setting, and she can do it while winning.
KC undercover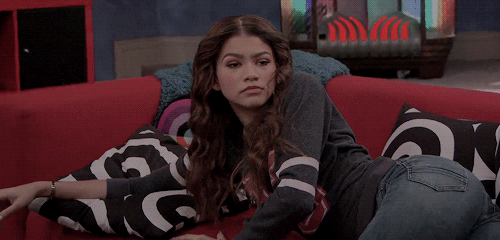 https://www.pinterest.it/pin/614248836659383347/
Sticking to her Disney roots, Zendaya starred in yet again a long-running Disney show. This time, she played a spy named KC. This means from 2013 to 2018, Zendaya dominated Disney shows. Whether you're an early 2000s kid or a bit younger, Zendaya has been a recognizable face since childhood. Zendaya's transition from her Disney career to other projects was flawless--something typically not seen. While we still may associate her with these shows for nostalgia's sake, she is known just as much for her work outside of Disney.
Viral car karaoke 
Sorry, James Corden, it was actually Zendaya who made carpool karaoke cool. In 2014, this video of Zendaya lip synching and dancing to Beyonce went viral. If you've been on Twitter for any period of time, you have to have seen it come across your timeline at least once. I swear, six years later, I still see it at least every other month. And yes, I watch it every time. How could I not?
She's the (spider) man

https://www.pinterest.com/pin/AdgDMHSmIngVpDrf_fvYqw5SSwu5hZtVNpltwf3NUCFg7pQnRDORRqE/
Zendaya exited Disney Channel and entered the film industry in a huge way: through the Marvel Cinematic Universe. One of the most successful franchises in film, and Zendaya manages to earn her role as MJ. Not only that, but she kills it. She played this role flawlessly, and in a way that made us all fall in love with her all over again. Although her role was relatively small in Spiderman: Homecoming, Zendaya had a much larger role in the second movie, Spiderman: Far From Home. We can't wait to see her in the third movie. Zendaya sparked a bit of controversy with this role, as the it is traditionally character played by a white red-head. Zendaya refused to back down, and even dyed her hair red for a short period of time. As always, she looked amazing.
Lip sync battle champion
She's a quadruple threat! She can sing, dance, act--and lip sync. Zendaya took the stage of Lip Synch Battle in 2017, opposing her costar Tom Holland. On this show, celebrities lip synch to a song of their choice and put on their best performance. Zendaya took on the role of Bruno Mars, costume and all. She then sang Bruno's 24k Magic. Her stage presence was palpable, and it was clear, even after Tom put up a good fight, that she was the winner.
 "The Greatest Showman"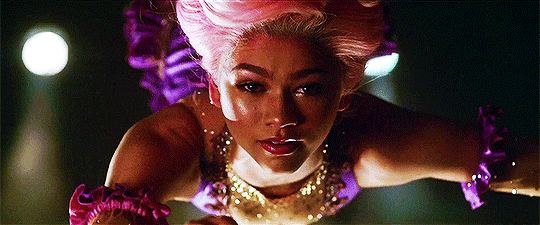 https://www.pinterest.com/pin/641692646879787291/
In 2018, Zendaya took on the role of Anne in The Greatest Showman. Her character was a trapeze artist in PT Burnam's circus, so her role required a lot of stunt work. Zendaya says she wanted to do as many of her stunts as possible, and she trained a lot for the role. Zendaya sang throughout the film as well, most notably in her duet with Zac Efron, Rewrite the Stars. The entire movie was full of star power and incredibly talented people, but Zendaya still managed to stand out. Her entire performance: acting, dancing, singing, stunts, all of it--was, for me, the most memorable thing about the movie. This role was drastically different than many of her other roles, further showing her range as an actress.
Award show looks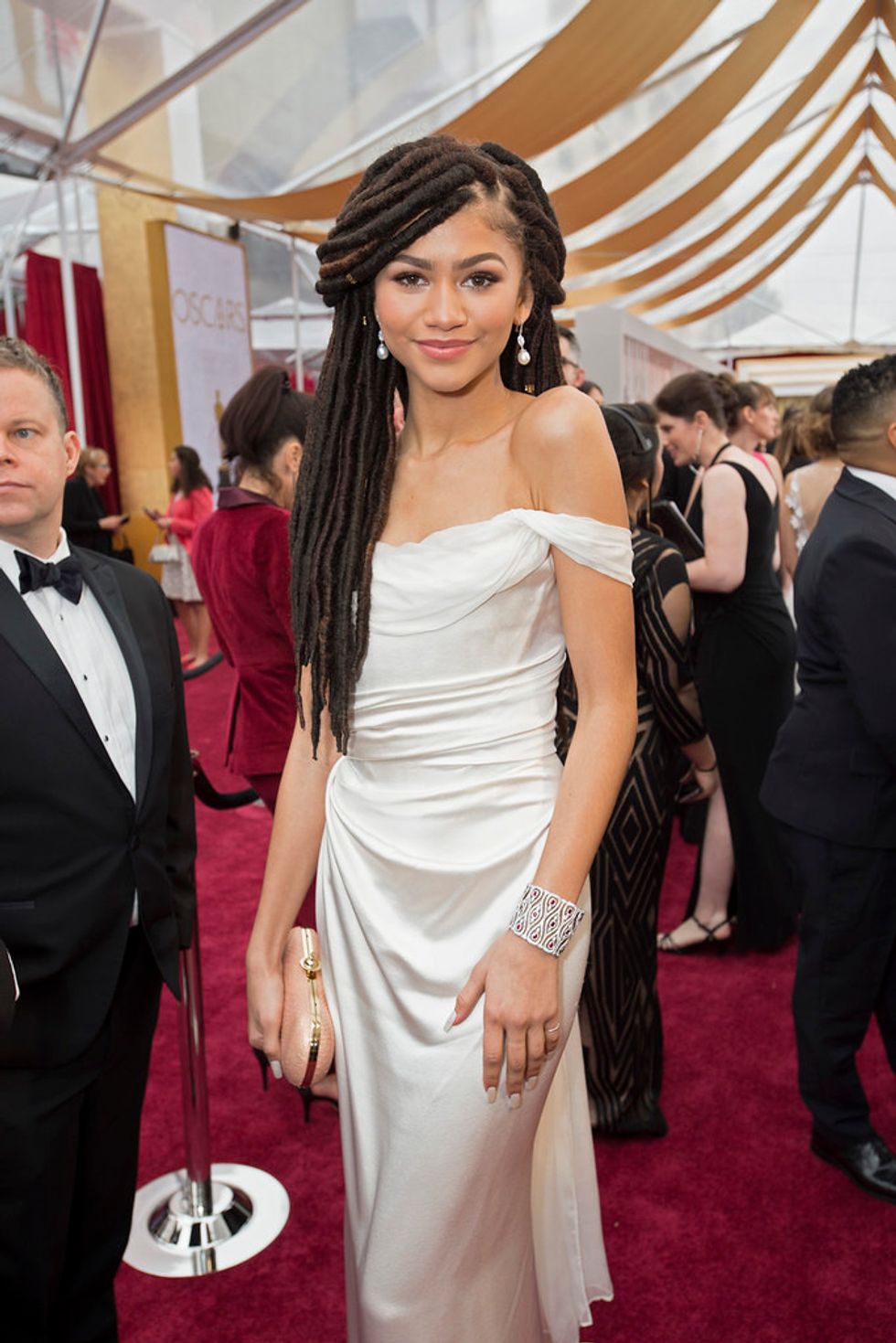 https://www.flickr.com/photos/disneyabc/15996326114
Zendaya is known for her looks on the red carpet. Her style is impeccable, and she is constantly praised at award shows and in fashion reviews. From the Oscars, to the Grammys, to the Met Gala, Zendaya has yet to disappoint in the fashion department.
Ultimately, Zendaya looks good in everything. I'm pretty sure she's the only who could pull off some of those Shake It Up looks, but she did. And she continues to pull off everything she wears.
Zendaya's 73 questions video
2019 gave us something fans had been begging for for a while: a 73 questions with Zendaya. These interviews take place in celebrities homes, and they are asked 73 questions in the span of about 15 minutes or less. This interview felt like we were really there talking with Zendaya. Being in her house, watching her at home, felt real. Her personality, style, and kindness is so genuine. No matter how many times I watch, I'm in awe of her.
She's our Euphoria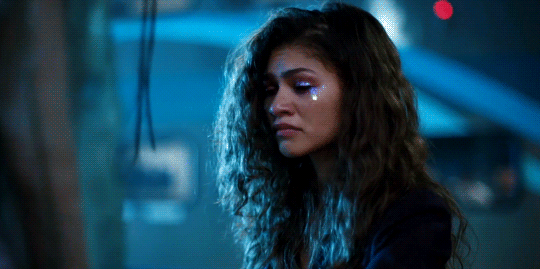 Towards the end of 2019, Euphoria aired. This would be Zendaya's first television appearance since Disney Channel, and in a starring role. Zendaya plays Rue Bennett, a teenage (recovering?) drug addict who is struggling with mental illness, first love, figuring out her sexuality, and just...high school. The show is quite possibly the furthest thing from a Disney show, and I imagine it was a challenge for Zendaya to adapt to such a different atmosphere. Still, she did this flawlessly, and delivered a performance that left the audience entranced with her. We were able to empathize with Rue, and a lot of that comes from Zendaya. Clearly, her fans weren't the only ones impressed. Her performance was applauded by many.
Emmy Award Winner, Zendaya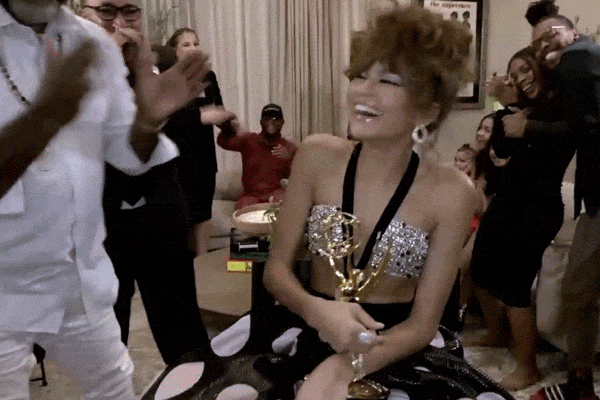 https://www.vanityfair.com/hollywood/2020/09/emmys-2020-zendaya-win
Her role on Euphoria led to Zendaya's first nomination, and first win, at the Emmys this past Sunday. She is the youngest Emmy winner in history, and only the second black actress to win Lead Actress in a Drama Series, following Viola Davis.
At just 24, Zendaya has accomplished so much and is making history. We can't wait to see what she does as we continue this decade. I'm sure whatever it is, none of us are ready.