It's one thing when you are someone without a hair license and you mess up your hair at home, but it's another thing when you are a professional and mess up someone's hair, badly. Being a hairstylist myself, I love following another hairstylist channel out there. I love finding hairstylists with their own blogs, or YouTube channels. Lately, I've been watching Brad Mondo, who is fairly new in the world of YouTube. He became viral for reacting to other Youtuber's videos of themselves box coloring their hair at home and drastically ruining their hair. The videos he reacts to are usually done with box color, not done with salon professional products. So it's fair to assume that box color + DIY hair is a recipe for disaster. But when you make an appointment at the hair salon to see a professional, you expect to see professional results, right?
I have watched a ton of Brad's videos, and he's hilarious! His sense of humor is very relatable, it's sarcasm mixed with genuine weirdness and silliness. He's not afraid to be himself on camera, and when I'm watching his videos it doesn't feel like I'm watching a YouTube video. It feels like I'm watching one of my favorite shows on TV. Brad has 2 million subscribers on YouTube, so obviously, people like watching him and he has gained some fans. He has other videos of himself doing hair tutorials on mannequins, product reviews, and even a segment where he picks one of his fans to do a total hair transformation makeover on. I've watched those videos as well, and he delivered some impressive results!
So as you can imagine, when I came across one of Brad's videos and watch him majorly mess up somebody else's hair, I was a bit thrown off.
Brad had decided to collab with YouTuber and make-up artist, Snitchery. He decided to give her a hair makeover. She had a pixie cut, to begin with, and when she and Brad were doing their consultation she had mentioned that she had box color on her ends. Brad seemed worried when she mentioned that, but for the sake of the collaboration, he had no choice but to continue and color her hair anyway.
Now, Snitchery's hair was already damaged, brittle, and dry to begin with. Generally, when your hair is in that condition, the last thing you want to do is bleach the crap out of it. But that's what Brad decided to do because he wanted to transform her to a platinum blonde. Brad decided to completely bleach her out (or attempt to) and try to make her a platinum queen in one sitting. As the YouTube video continues, you can see Brad's confidence in the whole makeover start to dwindle, although he plays it off well. The whole video is just a mess, I've put the pictures of the transformation below, and yes, the final look is that blue rooted ramen noodle hair.
I was just cringing the whole time while watching this whole video. It's ironic because Brad is famous for reacting to DIY videos gone wrong, but when he goes to walk the walk he has majorly disappointed his audience. There were lots of mistakes that professionals should have a basic understanding of in this transformation, and it's embarrassing to have collaborated with another YouTuber with a lot of following and then just mess up this badly.
If I'm being completely real though, I still love his sense of humor and his other videos. It sucks that he completely fried this poor girl's hair off, but he's still funny! YouTube land never ceases to amaze me.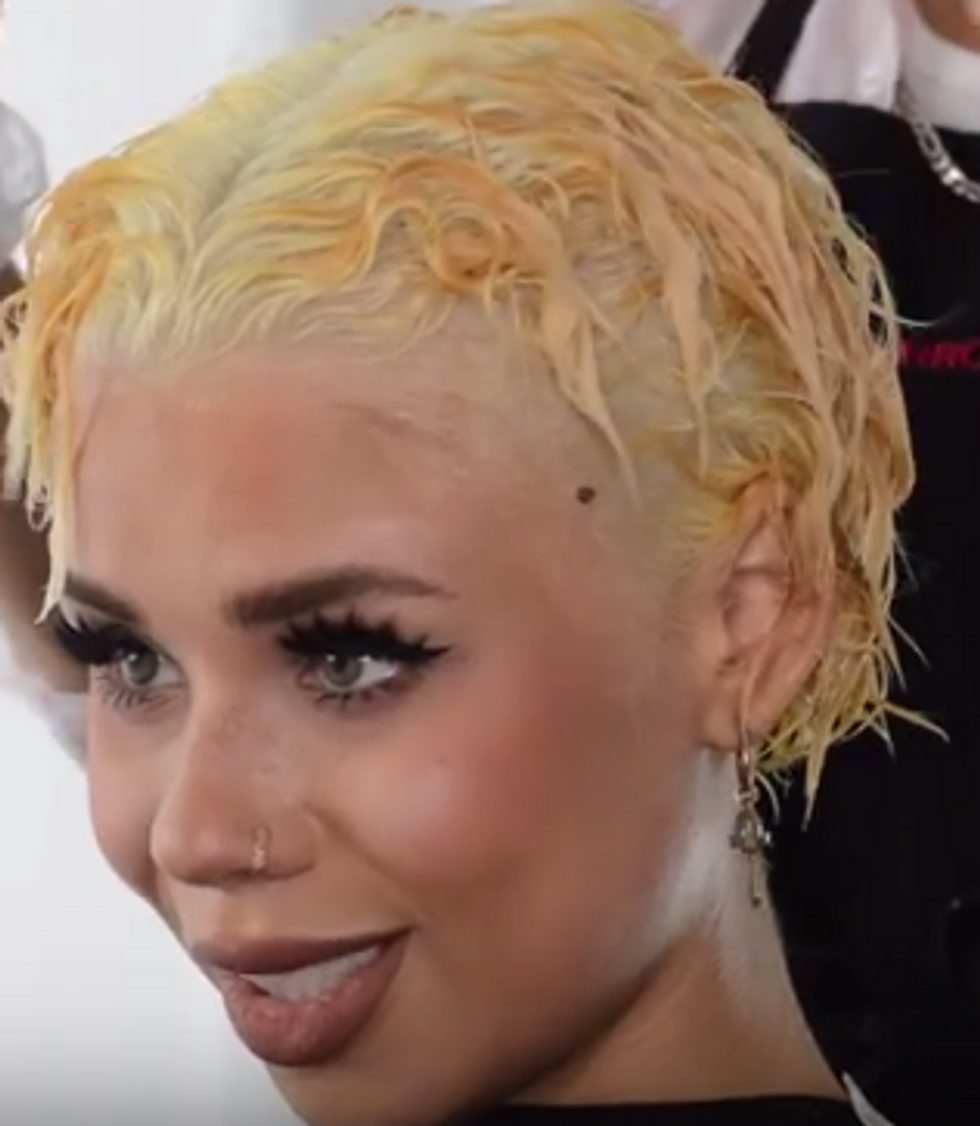 Snitchery's hair after bleach out, no toner