As you and your friends cruise down to you spring break location, you cannot trust the radio stations of other regions to keep the hits coming. But you have to keep the energy high for the full 12-hour ride. So when you're handed the aux cord, make sure you've got the quality songs to jam to.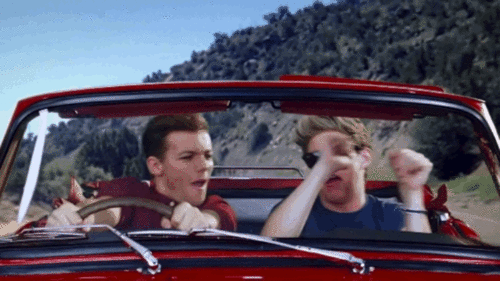 1. The Classics:
It's 6 a.m. and you're cramming into a car full of all your friends after a week full of midterms and papers. No one is completely awake yet but everyone is still beyond excited to be getting away for a few days. The classics are perfect for getting situated and setting the mood that this week will be one you'll be talking about for ages, just like these songs.
"I Would Walk 500 Miles" – The Proclaimers
"Sweet Caroline" – Neil Diamond
"Benny and the Jets" – Elton John
"Come On Eileen" – Dexy's Midnight Runners
"Brown Eyed Girl" – Van Morrison
"Rich Girl" – Hall & Oats
2. The Throwbacks:
Everyone is awake and the excitement has built. Moving along past classics and into the throwbacks of our middle school dance days. Jam to one of these and your practically back in you school gym, wearing Uggs, short-shorts, and an Aeropostale t-shirt. Throw these songs on at a party and you'll probably get the aux cord confiscated from you; but on a road trip, anything goes. Revel in it.
"It Wasn't Me" – Shaggy
"Ms. Jackson" – Outcast
"Run It!" – Chris Brown
"Temperature" – Sean Paul
3. Current Hits:
Once the middle school memories begin to overwhelm you, it's time to move on. The hits of right now are perfect for the middle of the ride. They're not as exciting as a throwback, but we all still know and love them and can sing along without having to go all out.
"My House" – Flo Rida
"Hotline Bling" – Drake
"Work (feat. Drake)" – Rihanna
"Love Yourself" – Justin Bieber
"Stand By You" – Rachel Platten
4. Girl Group Songs:
You're getting closer to your destination and it's time to bring the energy levels back up. We all know we dance around to these in front of our mirrors with a hairbrush mic in hand, so bring those jams back out for everyone to enjoy.
"Obsessed" – Mariah Carey
"London Bridge" – Fergie
"Party in the U.S.A." – Miley Cyrus
"We Are Never Ever Getting Back Together" – Taylor Swift
"Girlfriend" – Avril Lavigne
"I Wanna Know You" – Hannah Montana
5. The Arrival (Beach Jams):
Everyone freaks out as you pull begin to smell the salt air of the beach and you need to turn up the volume to match your moods. Songs everyone can scream along to are what you need for the big arrival to start spring break off right.
"Super Bass" – Nicki Minaj
"Send My Love (To Your New Lover)" –Adele
"Cheerleader" – OMI
"Jordan Belfort" – Wes Walker