Everyone has their way of coping, and this is mine.
So, if you've read the headline and the sub-line and are shaking your head at it, stop reading right here. If you want to continue reading to learn about how I perceived the type of person X was, then by all means, please do. Otherwise, no one needs negative energy.
The world doesn't need hate, it needs love.
I can't believe I have to even write about this. I can't believe I have to put these emotions and feelings of mine into words. I never thought I'd have to experience this type of feeling with another artist -- the first being Michael Jackson.
I first heard about you back in 2016 when 'Look At Me!' had blown up. I listened to the lyrics and thought it was the worse song, though the beat was pretty tough.
I googled who you were and, of course, the picture that popped up was your mugshot.
Nonetheless, I didn't pay much mind to it. I eventually low-key began to blast your song, secretly hating myself for how much I've grown to love it.
My next encounter with you was when I was bored on Snapchat and watched one of the stories from a news outlet, which I believe was Complex. The title of the story was "How To Pronounce These Rappers Names," or something like that. I thought it would be useful, so I watched it. Your name was one of the first ones to come up and I remember reading the pronunciation and thinking to myself, "This might be handy. I might need to know this."
Fast forward to this past late December, I've been listening to 'Look At Me!' with no shame for the past year. As I was on my way to school, I decided to go to your artist page on Spotify, instead of listening to your one song for the millionth time -- that's when I came across "17."
My jaw dropped as I walked to my first class. It was 9 a.m. and I was already in my feels because of 'Jocelyn Flores.' When I got the chance, I searched up who she was and found out that she was someone whom you were working with, and then you found she committed suicide in your hotel room.
That's devastating.
I continued listening to you for the next few weeks and even told my family and close friends how you had a "softer" side to you. I laugh now because I referred to it as your "Drake" side.
Nonetheless, I grew such an attachment to you.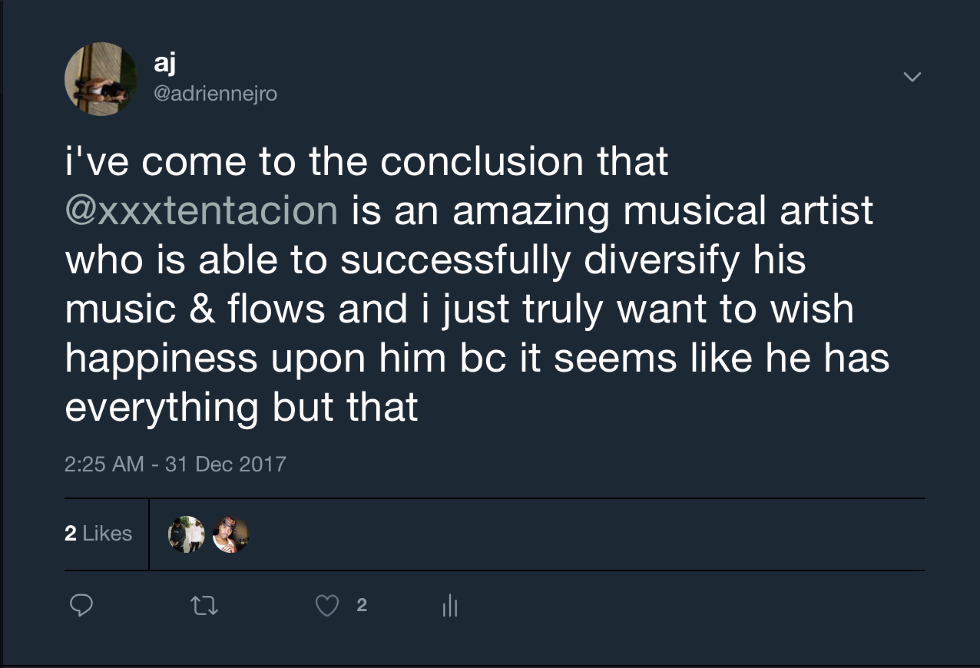 I still can't believe I'm writing about this.
I listened to the rest of your music -- from "Vice City" to "I don't wanna do this anymore" to "I spoke to the devil in miami, he said everything will be fine."
I heard it -- I heard it in your voice and your lyrics how much pain and heartache you've been through. You were just trying to escape from all the bad things, but you never had an outlet. Your only outlet, if anything, was music. And with the music, it was your supporters that kept you going.
I then needed to do more research; I was hooked and needed to learn more about you as a person, which is when I stumbled upon the infamous No Jumper interview.
I still can't believe you're gone.
You spoke about your childhood, your jail days, how you got into music, why you are the way you are, loyalty, love, peace of mind and your piece of mind. You talked about so many things that half the people on this planet can't even comprehend.
I continued watching all two (2) of your interviews, the first one being that you dissed Drake after you got out of jail -- and I'm not sharing this interview to hold your past against you, I'm sharing it to show how people can always strive to be better than their past self, and that's exactly what you did.
But you'll never be able to finish, and that probably hurts me the most.
In the few months, I was able to spend devotedly supporting you. I watched you show that you're just like the rest of us by playing games and spending time with regular YouTubers and playing on Twitch with your close friend, Craig Xen.
Then you showed that you're only human, and you're trying to change your ways and become a better person by donating to the needy and giving us the advice we needed -- I needed.
Unfortunately, I don't know how to link the video here, so that you can press play, but nonetheless, this video really changed my perspective on things -- X always helped me change my perspective on things for the better.
All of which, made me feel inclined to write this: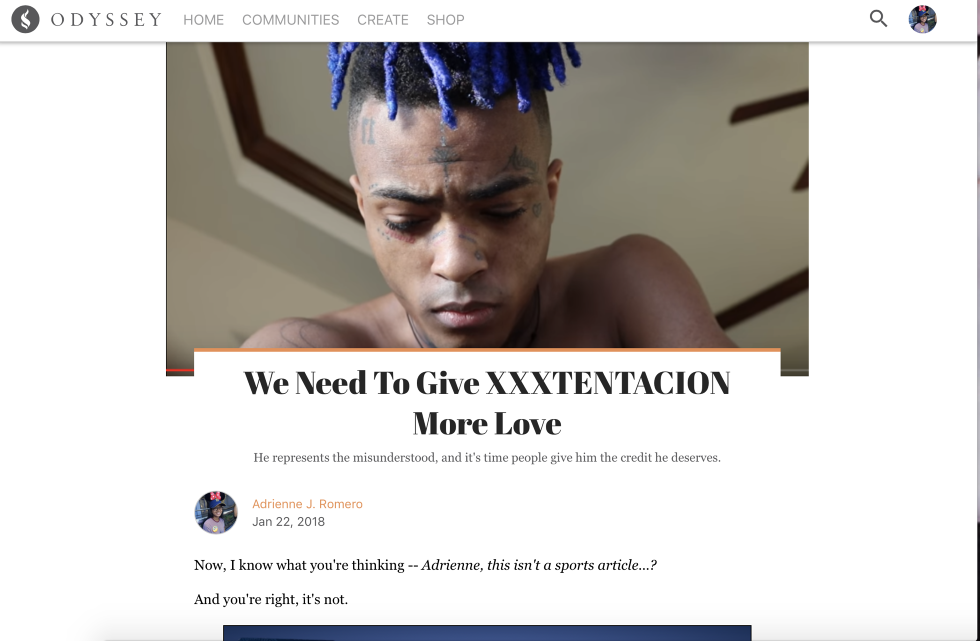 It was one of the top articles in my community for the week, and then for another week. And I don't regret writing it at all.
Looking at his picture I used in that one hurts me to the very core, and I don't know how I'm still writing this, but I know I need to for a peace of mind -- or some type of peace.
I still can't believe it.
I still can't believe how he had posted a story on Instagram talking about doing a charity event soon in Florida, then hours later my cousin told me he had been shot, and then by the time I saw that, he was pronounced dead.
I still can't believe how just yesterday I was telling my brother and my cousin about how if I'm going to spend any more money this summer, it would be to see this man, XXXTENTACION, in concert, performing and living his life.
I still can't believe how on Saturday I spent three hours just watching old funny moment videos of X, and how I discovered this interview I seemed to miss.
It hurts to hear his voice.
It hurts to think that I'll never see him perform. I'll never see him smile or hear his stupid laugh. I'll never see him tease new music he's working on. I'll never see him tease new merchandise he's working on. I'll never see him play video games with ImDontai or make posts on Tumblr. I'll never hear him yell at Craig to help in League.
We'll never see him get the chance to grow as a person. We'll never see his true talents that he wanted so desperately to share with the world. We'll never see him smile at his accomplishments. We'll never see him own his "King of the Youth," spreading and looking to inspire the youth. We'll never hear him say he's happy with himself.
We'll never see X become the legend I know he was destined to be.
I'm going to let these haters hate and not feed into their negative energy because that's what you would've done, and it is what you did for these last few years.
I'm sorry we failed you and didn't give you the chance to grow and improve as a person -- something that everyone in the world deserves to have.
He was 20 years old. He was my age.
I still can't believe this is true, and my heart aches terribly.
Rest in Paradise Jahseh Dwayne Onfroy - January 23, 1998 to June 18, 2018. I'll love you more than you'll ever know.
Cover Image Credit:
YouTube