We all know the feeling. Maybe you're trying to start in on your 5-page paper and you can't for the life of you come up with an introductory paragraph. Or maybe you're halfway into it and you've hit a roadblock on where to go next. Or maybe you just have no idea where to even start. You spend countless hours typing and deleting, racking your brain for a strike of inspiration, procrastinating until you have no choice but to push through and come up with something to say. It feels like that blinking vertical line on Microsoft Word is sitting there laughing at you.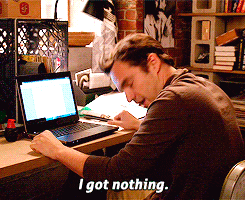 Writer's block is so frustrating. So many times, I just sit there and I know what I want to say but I can't figure out how to say it. Or worse, I'll have no earthly idea what I want to say and creativity is deciding it would be funny to not show up when I need it most. It's a complete roadblock, a brick wall stopping me from moving forward. And then, all of the sudden, something happens…
It'll be 1 AM, and I'll sit up in my bed and say "That's it!" I have so many random notes on my phone of times when inspiration has struck at the most inconvenient times. But it is truly one of the best feelings when it does. That "aha!" moment is so relieving—being able to watch the brick wall in front of you crumble so that you can run full speed ahead to the finish line.
I've found that a lot of times, I get "writer's block" with my life. I'll either know what I want to do but have no idea how to start or I'll simply have no idea what to do. These roadblocks make me slam on the breaks when I'm speeding through life, and it's tough.
In our lives, we're presented with so many questions.
Where do you want to go to school?
What do you want to study?
What do you want to do with that?
What ideas do you have for this position?
How can you make things better?
It's madness! Many times, these question cause us to hit a standstill—wait a second… I have no idea what I want to do with my life! It feels like you can't move forward, like you're stuck.
The world that we live in gives us a lot of ways to distract us from these questions. We can run away from the big questions, but eventually we find ourselves having to answer them. And it's scary.
The good news is that writer's block doesn't last forever… at some point or another, you'll get that strike of inspiration. It may not come at 1 in the morning, clear as day. In fact, most of the time it takes some trial and error, some typing and backspacing, until you know what to do.
Don't let these roadblocks stop you. Allow yourself to make mistakes, figure out things that you don't like until you find what you do. Allow yourself to find inspiration in the most unexpected of places—a flyer on the bathroom stall, a YouTube video, a BuzzFeed quiz, who knows! You'll never know unless you try.