Do all lives matter? Of course, they do. However, there are some lives that are currently being treated by society and authority figures in a way that makes them feel like they don't. This is why I refuse to stand by the "All Lives Matter" movement. The movement masquerades as a uniting force, but what it does is erase the racial struggles present in today's society, try to redirect attention back to white individuals and whiteness and silence those crying out for help and respect. Some of the lives it claims matter are the ones it shuts out of the conversation and rejects into silence. It's ignorant at best, oppressive and racist at worst. Perhaps as a white person myself, I can use some of that same white privilege to address why "All Lives Matter" is making racism worse and creating divides instead of "uniting" people in attempt to reach any who are supporting or considering supporting this group. I obviously cannot speak for black individuals on the complexity and depth of these issues, but I know enough to see why this movement is not helping at all.
I will preface this by saying that standing with "Black Lives Matter" does not mean I support the murder of the Dallas police officers, and neither do the vast majority of BLM individuals. It should not even be an assumption that is made. This was an act of a few individuals and does not represent the majority of the BLM movement. I fully respect and appreciate the protection that police officers and law enforcement provide on a daily basis. My problem here is not with those who genuinely aim to serve and protect the American people. My problem is with the ones who contribute to the targeting of black and minority individuals, use their position and power in an abusive manner and those who stand silently as their fellow officers do this.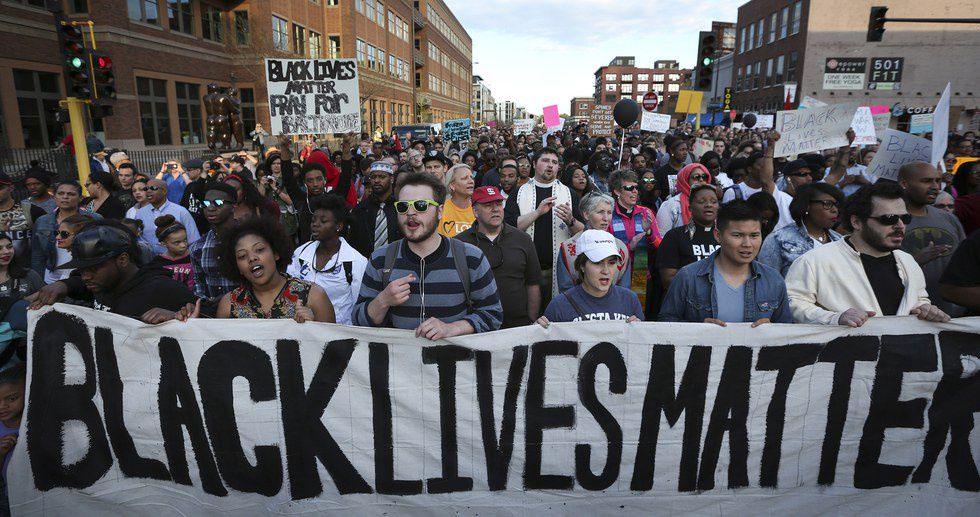 Let's look at some statistics. According to sources cited through a personal blog post, black individuals are two times more likely to have police force used upon them, and a black adult is six times more likely to be arrested and jailed than a white adult. The "Stop and Frisk" within my very own home state of New York stops 52 percent black individuals and 32 percent Latinx. That doesn't leave a whole lot of room for whites, which make up the majority of the population in New York State, not to mention most places. Saying that's just chance is simply ridiculous. If you're more likely to be stopped and searched in the first place, of course you're more likely to be arrested and incarcerated. When a white person is carrying something illegal, these numbers show that they are much more likely to get away with it.
It goes even deeper than that. Black youth are more likely to be tried as adults than white youth. Sentences for black men tend to be 20 percent longer than white men, according to the U.S. Sentencing Commission. This is a statement I shouldn't need to assert, considering just recently a white Stanford rapist didn't even get the minimum sentence; he got six months. Meanwhile, similar cases of black rapists received years. Black-on-white murder is also seen as more heinous than white-on-black murder and punished with longer, worse sentences. To me, murder is murder. Apparently, that isn't how our legal system feels.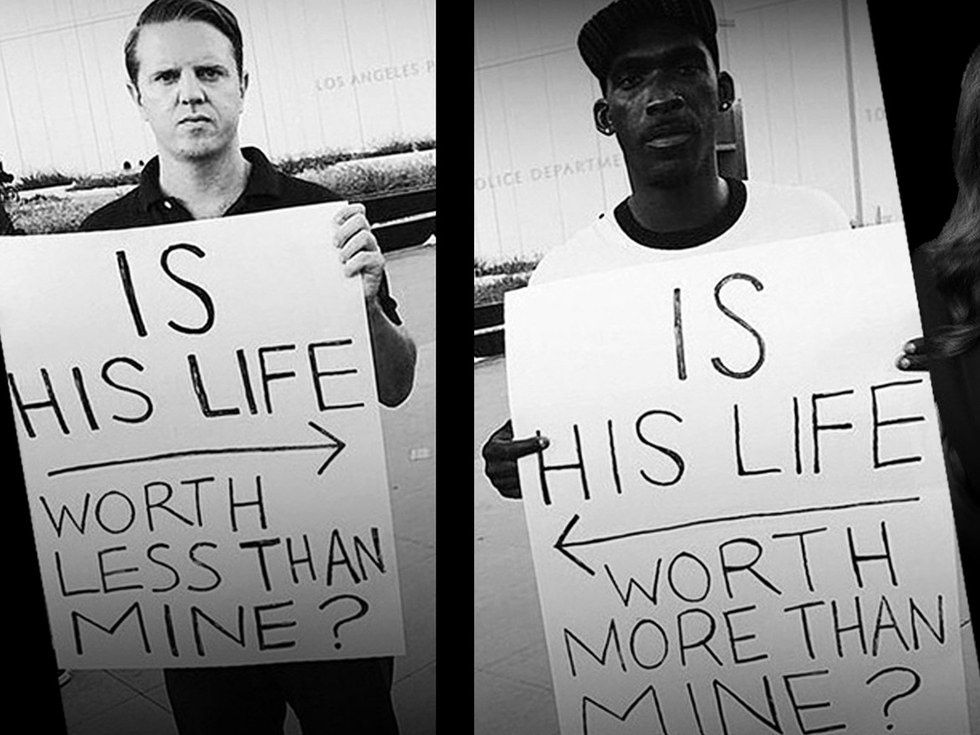 Therefore, when I see "All Lives Matter" cite statistics saying that white people account for more deaths by police force, I will still disagree. White individuals account for more bodies in general. Simple math reveals that, comparatively, a larger percentage of the black population is killed by police force than the white population. Additionally, the numbers do not count as much as the circumstance of the death by police force. Black unarmed individuals are much more likely to be shot than white unarmed individuals. Furthermore, these deaths are then justified by other police officers and written off as self-defense by the law and society. Not only are they often unwarranted force, they are not even acknowledged as so.
Yet, despite all these numbers and personal stories, the stories of Philando Castile, Alton Sterling and countless others, the "All Lives Matter" movement constantly uses statistics to redirect the attention back to whites. They say, "whites are victims, too." Sometimes, they try to claim whites are the only "real" victims. I've yet to see material from "All Lives Matter" that doesn't assert statistics about white deaths or white victims. White this, white that. This movement is not concerned with "All Lives," it is concerned with white lives and white lives being the constant focus. They want to tell the "Black Lives Matter" movement to sit down and be silent, they want to say that black individuals don't experience any institutional racism. As privileged, whites, who make up the majority of the "All Lives Matter" activists, cannot properly rule on what is an issue of race because they have the luxury of largely not having to worry about being targeted due to their race. Whites also have little pull in deciding how to handle and address generations of oppression, discrimination and issues that they did not go through.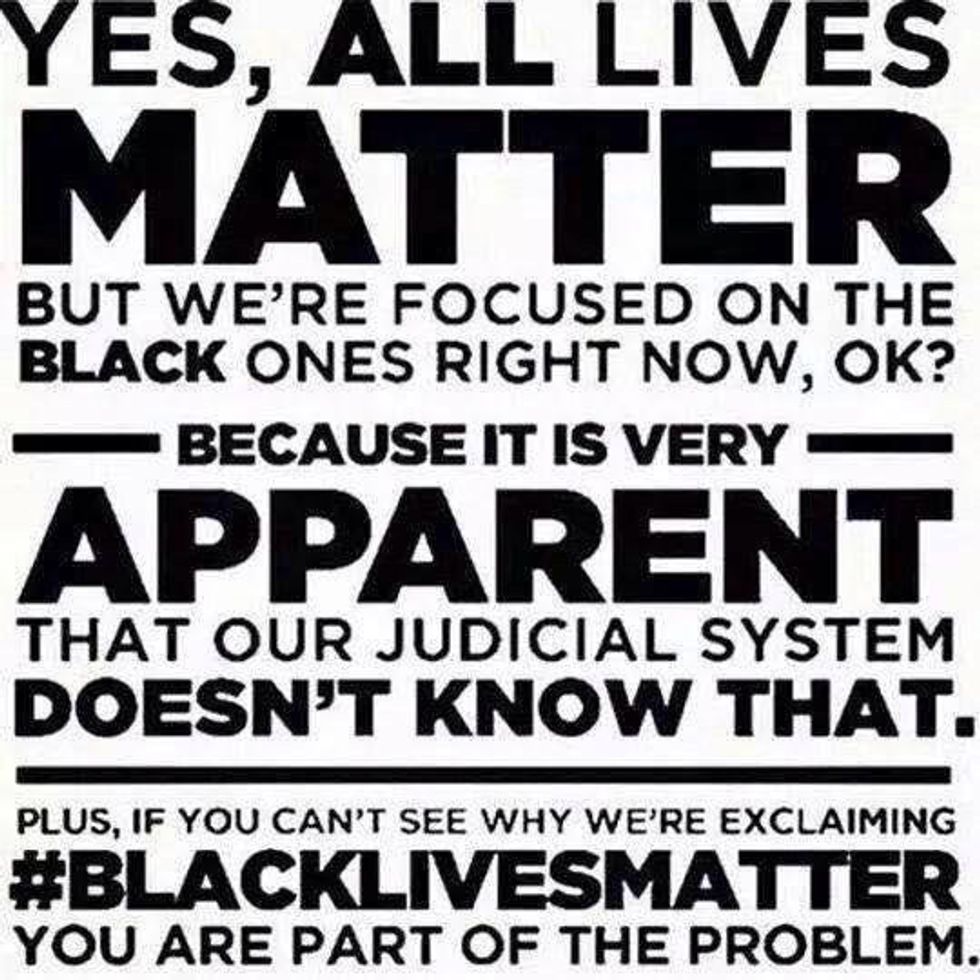 "All Lives Matter" is mainly employed in spaces that advocate for Black Lives Matter. It's used as a rebuttal, a power play of whiteness, and not to unite anyone. When individuals are shot unjustifiably by police, even when the victim was white, "All Lives Matter" is silent. They mostly emerge when someone states that Black Lives Matter. Alternatively, Black Lives Matter are the ones who stand up and speak out, even for white victims of unjust police force, and truly show that those lives matter. "All Lives Matter" simply disrespect and discredit the very lives they claim matter to them. They shut their eyes and cover their ears to actual incidences of lives being devalued and invalidated, and instead hide behind false compassion and sense of unity, claiming that all lives matter but standing up for no lives. They regurgitate statistics and use them in a narrative to show that white individuals are the true victims here, but take no action. They simply want to silence those who are taking action.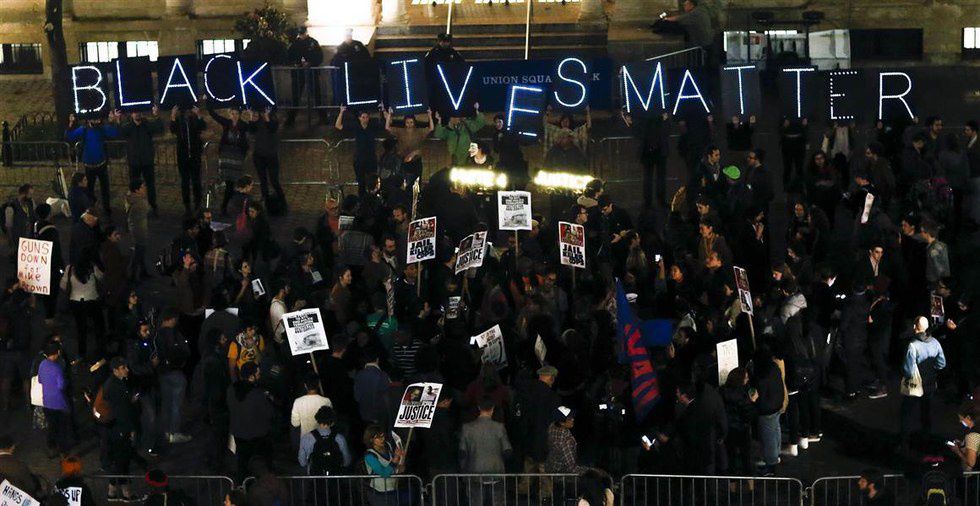 "All Lives Matter" supporters claim BLM is "making everything a race issue" and "playing the race card," and by doing so, they are putting whiteness above race. When they say "race," they almost always mean "non-white." Not once do they call a white person out for "playing the race card." They refuse to listen to individuals telling them that they are being willfully blind to racial struggles because, again, they have the luxury of being the generally favored race. Daily consideration of race is not necessary for white people. Society already celebrates us. Saying "Black Lives Matter" is not to say that other lives do not, just as certain cancer awareness months don't say that other types of cancer are not devastating. Also, claiming that BLM is "creating racial tension" is a roundabout way of projecting discomfort with racism being pointed out and addressed onto the victims. The implication is that blacks gaining more rights and being heard takes rights or attention away from whites. Which is not true, simply subconscious bias and unchecked white privilege. It also implies that blacks would have better treatment if they simply stopped fighting or speaking out. Which is ridiculous. Their fighting or speaking out is what is causing or worsening racism, according to "All Lives Matter," and it couldn't possibly be that this "tension" existed before and people are simply feeling guilty about it being shown to them. Absurd. There is racism even in the discourse about racism.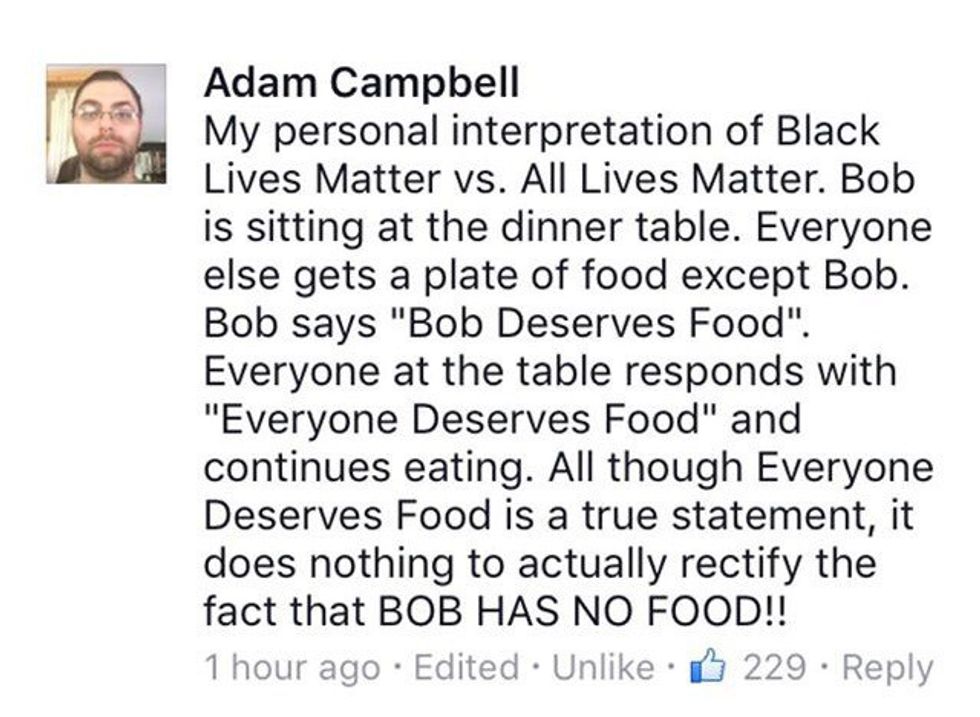 I cannot and will not stand by the "All Lives Matter" movement because it is not a movement at all. It is another opposing force to those fighting for rights they should already have, fighting for the respect to be treated like everyone else and listened to, fighting to not be put at a disadvantage for the color of their skin. It is trying to silence and erase racial struggle by claiming not to see color, meanwhile it does nothing to acknowledge or change the situation for lives saying they feel they don't matter. They are forcibly ignoring those lives by claiming that yes, all lives already matter in this society so everyone is on the same level, despite the outcry that certain lives are indeed being invalidated more widely and more often than others. Yes, all lives matter is a true statement. But "All Lives Matter" is an obstruction on the path to racial equality.
Black Lives Matter. Let's start acting like it.