Two Saturdays ago, I went to an Earth, Wind & Fire concert (rest in peace Maurice White) where Chic and Nile Rodgers opened for the show. Chic is known for hits such as We Are Family and Le Freak, while Nile Rodgers is a music producing icon credited for the Grammy winning song Get Lucky featuring Daft Punk. You might have heard of it. For the giant stadium I was in, it was a relatively small crowd size and definitely an older crowd, but man, do they know how to get down. By 'they' of course I mean both the crowd and Earth, Wind & Fire, not to mention the band served some serious aesthetics. How can you not gaze upon these screens with awe?
---
---
The band also sang a beautiful tribute to Earth, Wind & Fire founder and main vocalist Maurice White who passed in 2016.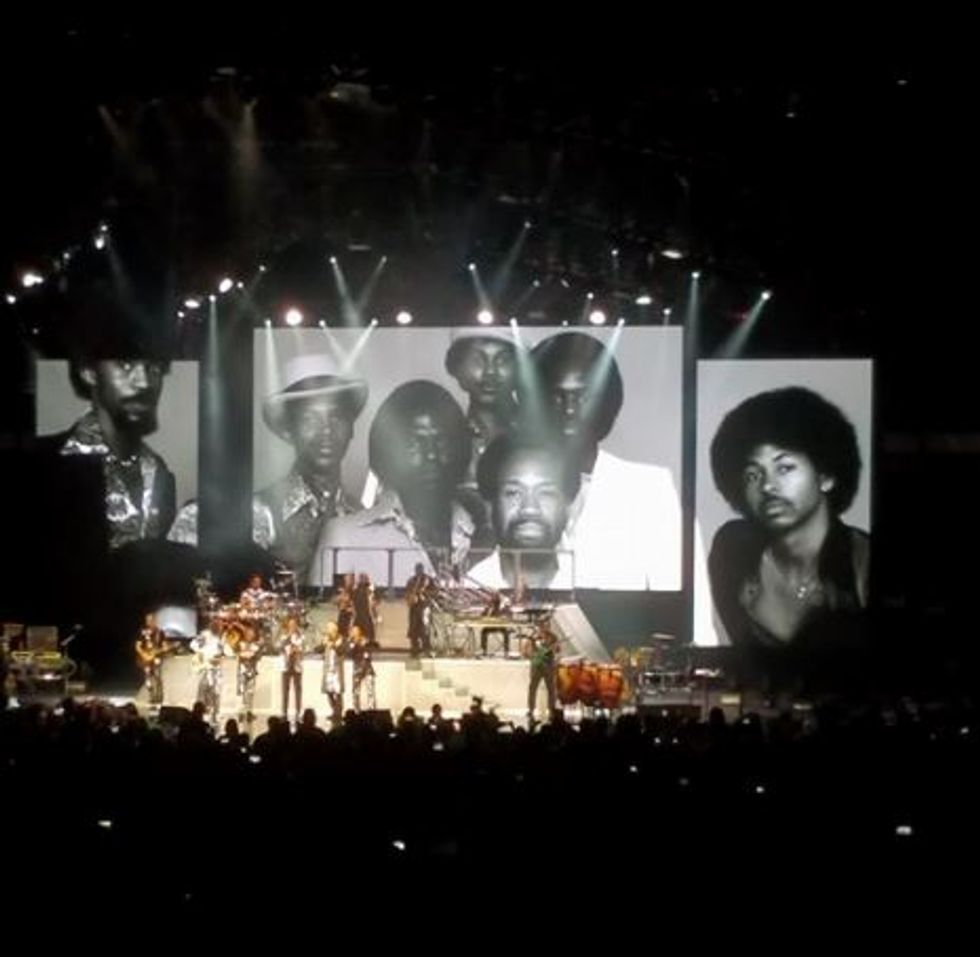 While jamming out to their hit Let's Groove that funky fresh Saturday, I wondered what happened to the groove. Where did it go? What happened to disco? What, or who killed disco? And is it even worth bringing back?
Anyone who has a stereotypical knowledge of the late 1960s and 1970s knows that disco and disco dancing became an extremely popular genre on the charts and in the nightclubs, with the famous John Travolta film Saturday Night Fever at a critical pinnacle of disco's popularity. Disco graced us with an array of legendary artists such as Diana Ross, KC and the Sunshine Band, Gloria Gaynor, Donna Summers, Chic, and brought some of Earth, Wind & Fire's greatest hits, even if their songs weren't always purely disco, but let's not kid ourselves here. Listen to Boogie Wonderland and tell me you don't taste disco flavors in that jam.
To some groups, disco was more than a music genre. It was a creative outlet to express what society deemed deviant or against the norm. Disco provided an effeminate vehicle of expression for the LGBT community as well as Blacks and Latino men and women stuck in strict gender expectations. I mean, come on, have you heard the lyrics to YMCA? From the fun and seemingly silly to straight up sultry (i.e. Donna Summers' erotic Love To Love You), disco anthems gave marginalized groups an inclusive space for expression.
On July 12th, 1979, that space would be threatened by what is known as Disco Demolition Night where hundreds of disco records were destroyed and burned as a radio promotion during a double header game between the Chicago White Sox and Detroit Tigers thanks to a disgruntled DJ named Steve Dahl. As I mentioned before, Disco became insanely popular and took over airwaves previously ruled by rock 'n roll. The promotion, hosted at Comiskey Park (now known as Guaranteed Rate Field) in Chicago, sold 98 cent tickets to fans if they brought in a disco record to be burned, snapped in half, or demolished. Butthurt rock fans swarmed in droves to the stadium.
Disco's limelight went out fast after Disco Demolition Night. Artists faded into the underground disco scene or focused more on R&B, pop, or electronic. Director Spike Lee produced a documentary called Off The Wall about Michael Jackson's musical journey leading up to his breakout solo album Off the Wall, but the film also talks a bit about the perceived racism behind disco's hatred.
Disco deserved and still deserves better. In a country where its residents believe to be more divided than ever, perhaps disco can invite us together. On a chart where all the top hits have the same single sounding synths with depressing tones, Disco can bring a pep in those steps.