So have you ever seen that "Friends" episode where Ross and Rachel are discussing baby names? Rachel wants to name her Rain. Ross goes, "Hi my name is Rain. I have my own kiln, and my dress is made of wheat!"
So what is this? Just another misconception of what it means to be an artist. Artists are often misconceived as stereotypically weird, quirky, snobbish, unintelligent, etc. As an artist, and knowing many others, I can tell you we all are much more than this.
Here's a few misconceptions about the college art major and artists in general:
1. Artists are air-brainy and stupid. Wrong!
Many art majors are very intelligent and had to sit through gifted and AP classes, were on high honor roll and still have to take really challenging classes. We also really like to paint.
2. Most of us do not spend all day sitting with a brush in hand, daydreaming about what to paint.
Ain't nobody got time for that. We still have to fit a ton of other subjects and work into our days.
3. We will never possibly have a "real job."
There are tons of professions in the arts, we can do other things! Many of those professionals make up to six figures a year. Because no one ever said:
- "Wow!! That lawyer really designed that high end couch you have! The textures and textiles work perfectly for this building interior!"
- "What doctor designed your prom dress? He knew exactly where to place the bling so it was both tasteful, but not too slutty. It's so fun and playful."
- "That scientist really mixed the right chemicals to make that landscape pop!"
- "The graphics on that movie were fantastic! So realistic! The astronaut did a great job creating that! It almost looked like a graphic designer did it!"
4. We don't live in cafes, discussing for hours the details of free form jazz and artisan free trade coffee, in our thrift store dresses and man buns.
What is this, a Macklemore song?
5. We are not all loners who smoke a lot walking around talking about how "different" we are.
6. We are not all tortured, brooding souls that you would never want to be around because we are all depressed and snotty and will probably harshly critique everything.
Come on guys, we're a bundle of fun!
7. We are "never busy, our major or job isn't hard."
This is by far my favorite, considering I hear people all the time, especially in different majors, saying how art students don't have any work to do. From experience, we have just as much work, if not more! Sometimes if you don't see us for a week at a time, it's not because we are having a stereotypical existential crisis, it's because we are pulling all nighters in the studio, writing huge analyses, all while balancing that with other classes, work, internships and commissioned work.
8. We love when you send us this llama. We don't! Stop! I get this thing sent to me like three times a month and really, it's not that funny anymore.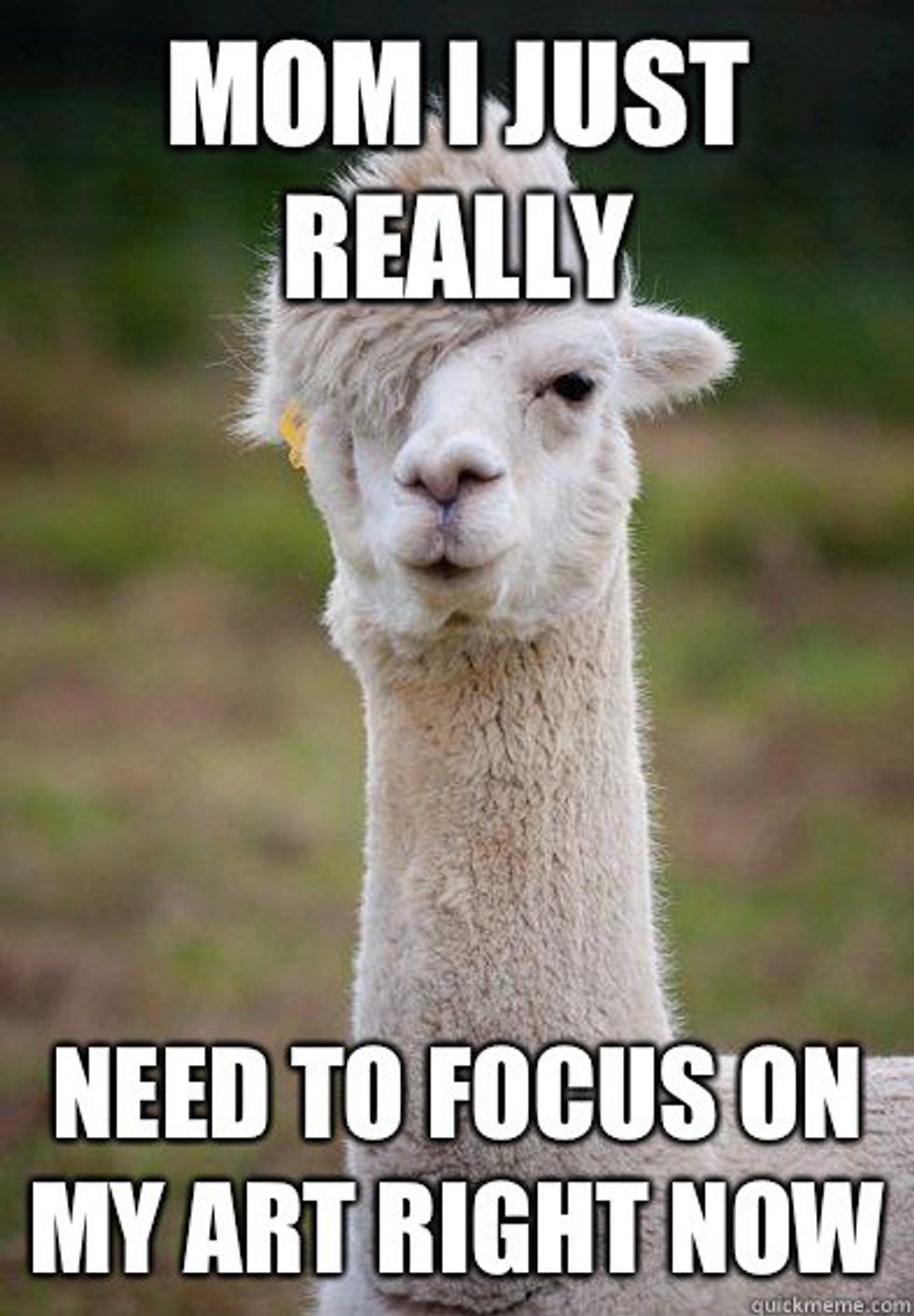 But putting humor aside, seriously remember that we are not all the same. As artists, our majors in college are just as important as any other. We live in a world with all types of art surrounding us. Your college was designed and created by artists. So next time you meet an artist, remember we are not just little freaky people that sit and are crafty.