Earlier this month, Colin Kaepernick started a trend of kneeling for the national anthem to protest racial, social, and economic inequality among the African American community. Rapinoe was one of the first of many athletes to stand in solidarity with Kapernick's stance. On Thursday, Rapinoe continued her stance by deciding to kneel during the USWNT friendly against Thailand. The women's soccer team destroyed Thailand by a ghastly score of 9-0, but Rapinoe's protest on the national stage consumed headlines. Thursday marked the first time Rapinoe had protested the anthem while representing her country, as she continued to support Kaepernick. While Kaepernick and several other athletes who emulated him in recent weeks were on professional teams or school teams, Rapinoe was representing her country, which upped the stakes in many minds. Rapinoe protesting, while representing the red, white, and blue, garnered some very harsh criticism. When asked about protesting the anthem while wearing a national jersey Rapinoe said: "I think it is different. I think it means a lot more. I truly feel like I am representing my country by doing this, in representing everyone that lives in this country, not just the people who look like me." Rapinoe issued additional statements after the game in regards to criticism that claimed her protest disrespected her the country and her team; "I think that we need to look at all the things that we say the flag and the anthem mean and everybody that it represents and all the liberties and the freedoms that we want it to mean to everybody, and ask ourselves: Is it protecting everybody in the same way? Is it giving all the freedoms to everyone in the country the same way, or are there certain people that don't feel as protected as I do every day?"
Rapinoe has faced a lot of backlash from the American public, but it looks like she may face repercussions from the U.S. soccer federation. U.S. soccer released this statement during an ESPN2 broadcast: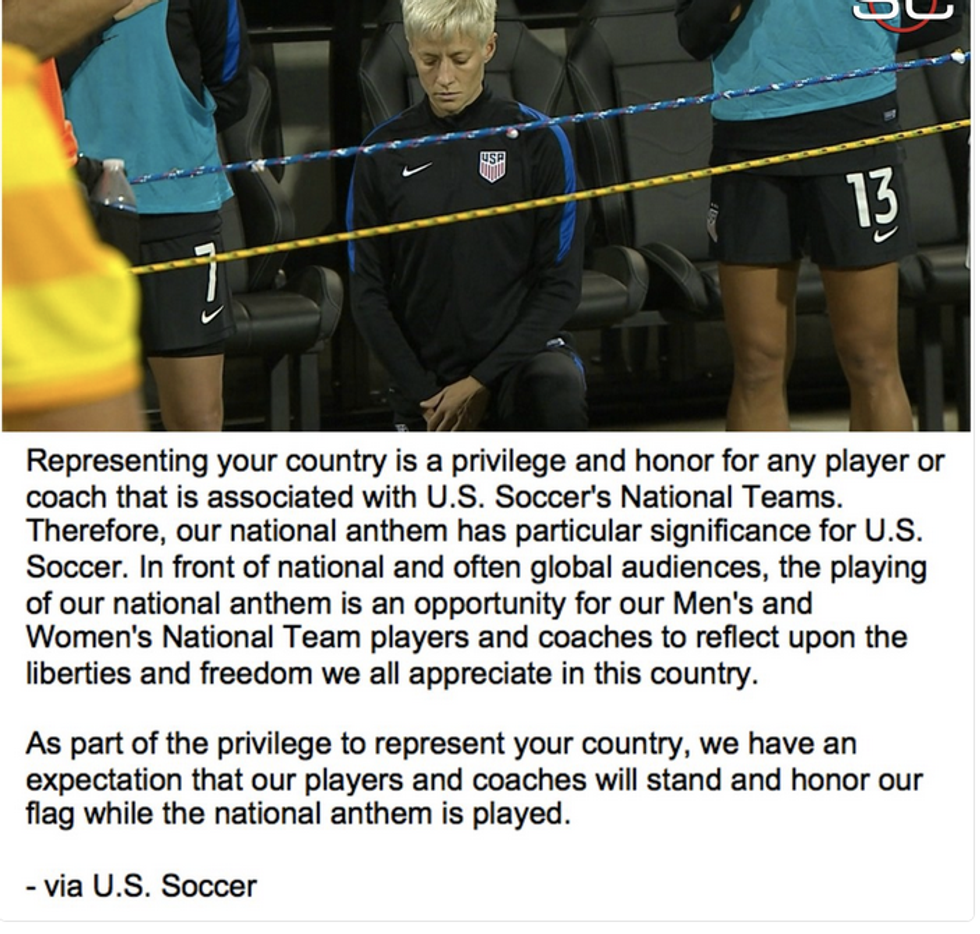 The topic of kneeling for the national anthem is a very controversial one. Although I may not agree with their stance I believe everyone has a right to express their First Amendment privileges. In this case, the criticism and possible consequences that Rapinoe faced are completely justified. It is hypocritical to protest the flag while representing the flag on a jersey. Rapinoe could have made a huge political statement by choosing to no longer play the USWNT for the sake of injustice. However, that would have been a very significant fiscal sacrifice on Rapinoe's part. For change to happen in this country, there needs to be action following a voice.