No one likes to hear the word "No." Some people take it as a challenge, some as a loss, some as ultimate defeat. Hearing those words sucks sometimes because we have a plan. We have an idea in our head of how we want things to go and that idea is the best one, and we are willing to make them happen come hell or high water. Sometimes even when we can't see it, no is the best answer we can get.
Growing up, I remember praying for some wacky things. I prayed that I needed wings so I could go places faster and who doesn't believe a person with wings, I prayed that I could be a mermaid so I could and hang out with Nemo. I also prayed that I would have my mom back even if she was a zombie version; I just wanted her back (my mom passed away when I was 6 of a heart attack, it was sudden and came out of nowhere). Even though I was young and naïve, these were my heart's desires, and I've always been told God will provide so why wouldn't He provide this? I mean they seemed like good things and God likes good things so why would He tell me no? Even today it's hard to understand why God says no until down the road, we will one day see a bigger picture and understand "no" was the best thing that could ever happen to us.
Looking back now, I realize those prayers I made as a kid were silly and selfish. They were all about what I wanted, not what God had in store for my life and to do His will. Now granted, not having wings is still kind of a bummer because plane tickets are SUPER expensive, but they wouldn't be practical and finding a dress would be very near impossible. I just kind of shook it off as me being a kid and asking those things, but even as we grow up, we will ask for things and not understand why they don't work. I'm not going to say my prayers changed from me wanting MY will, but they evolved. They evolved into things that were more of, "God this is a good thing, let's both try and make this one work." They turned into "Lord, let that boy love me, or Lord don't let that friend leave." I was saying God it's your will, but honestly and truly they were my hopes and my dreams, not the Lord's.
Sometimes God changes things and says no or not right now. Not to punish us or because he doesn't want us to be happy, but because he has an even better plan for us. We can make plans and seek them out, but God has a way better plan than we could even imagine. Things might get rough at times, they won't be fun and there will be sorrow. But as Tupac said," for every dark night, there's a brighter day." There is a season for everything. There is a season for happiness and joy. There is a season for sorrow and mourning. Sometimes we have to experience these things we don't understand so God can bring us to the place he wants us to be at.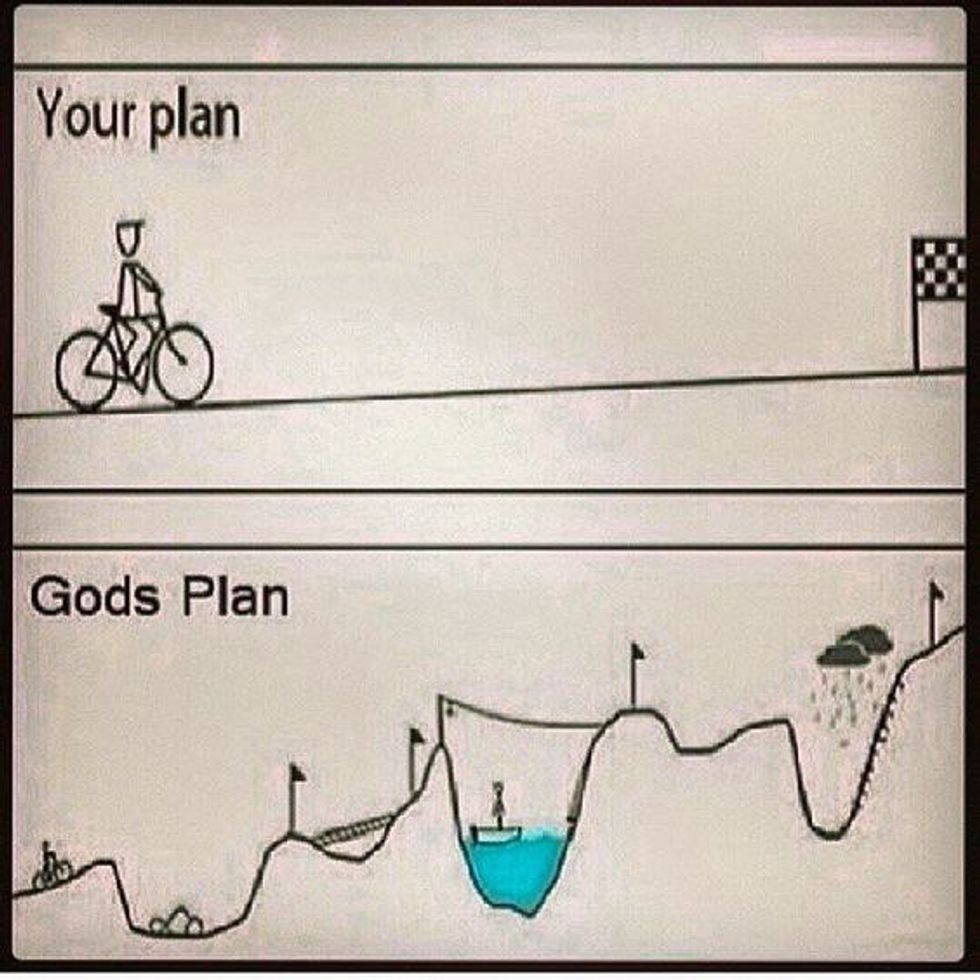 So if it be God saying no to a relationship, a job or doing a 180 in your life like He did mine, He has a better plan than one we could ever come up with. Just because He might say no to your prayer doesn't mean He doesn't care, it just means that there's something better to come. Proverbs 19:21 says, "You can make many plans, but the Lord's will prevail." No's aren't always bad, sometimes they redirect our lives to a better plan. There's A TON of scripture to prove that. Here's just a few to prove to you God is in control and He has an awesome plan.
* Jeremiah 29:11
* Isaiah 14:27
* Isaiah 66:9
* Luke 12:32
* 1 Thessalonians 5:9
And so many more! So even with a no from God, there is more to come. So if your prayer for a relationship to work, the panthers to win the Superbowl or to have one more moment with a family member, there's a reason for everything and there is something better ahead. That no isn't defiant, but solidifies there is something better. As my cousin likes to remind me, "You can do hard things while waiting", so go and do hard things in between your no and your blessing!