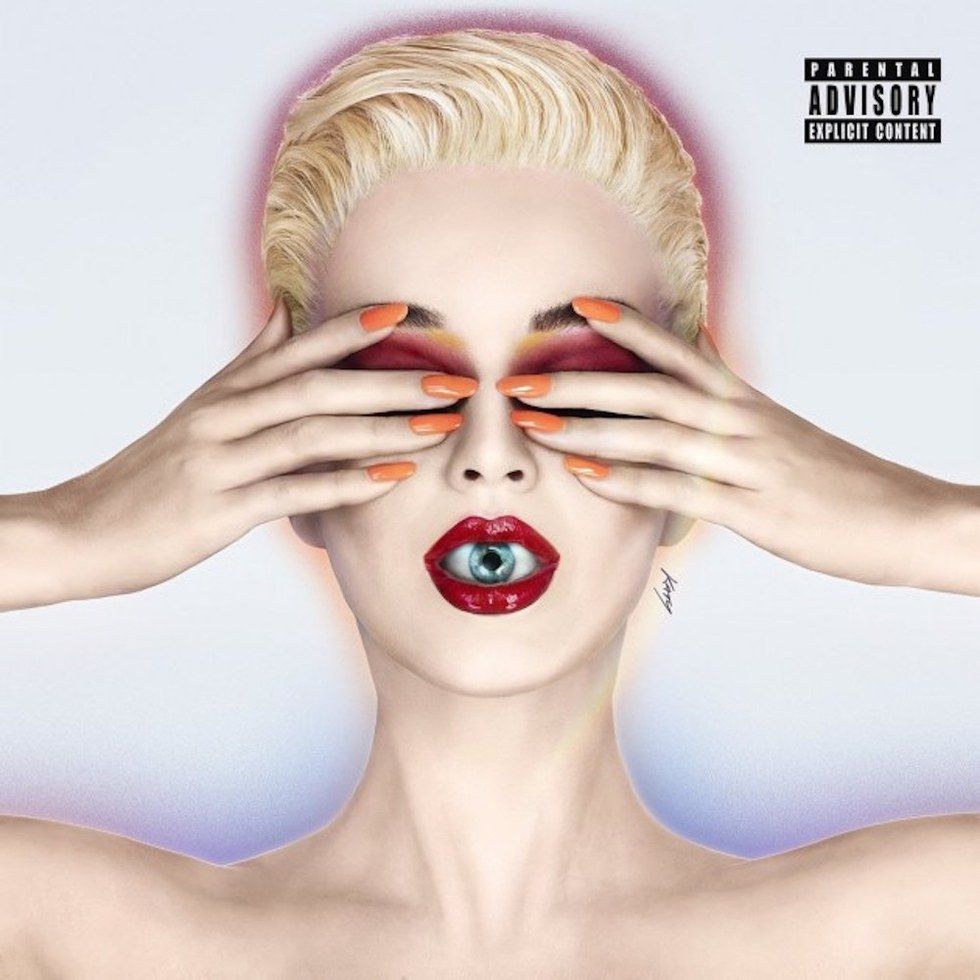 http://www.nme.com/news/music/katy-perry-witness-a...
So... yeah. I decided to review Katy Perry's new release Witness, which is her fifth studio album. I know that it is totally out of my comfort zone to state my thoughts on something by an artist as mainstream and controversial as Perry, but my adventurous mind decided to delve into this record and give it a shot. Now, going into this thing, I wasn't expecting much because I honestly have never had the time or urge to sit down and listen to one of Perry's albums all the way through. If you somehow are wondering why that is, it's basically because to me her album's end up being summed up by three words: spotty, boring, and forgettable. However, I will admit that throughout the time that Perry has been around dominating the mainstream pop music scene, I have found some of her singles to be somewhat enjoyable and fun to listen to. These songs that are favorites of mine include the infectiously catchy dance tunes "California Girls" (featuring Snoop Dogg), "I Kissed a Girl," and "Last Friday Night (T.G.I.F.)," as well as her love and empowerment tracks "Teenage Dream," Roar," "Part Of Me," and "The One That Got Away." So, while I'm not a die-hard fan of Ms. Perry's music by any means, I do find myself listening to a few of her hit songs on occasion, and I know I may have just lost my man card for saying that, but everyone has at least one or two Katy Perry songs that they secretly jam out to (and if you're one of those people that say you don't have one, you're lying to yourself). Well, after that little ramble about my history with Perry's music in the past, I gave her new project a listen over the weekend and how did it turn out?

Ehhh.... It definitely had A LOT of iffy spots throughout (especially towards the end of the record), but this album also included a few highlights in the track-listing too, but I use the term few "loosely." One thing I noticed right away while listening to this record is that it seemed to me that Perry sort of shifted her musical style from a bit of a traditional, dark, moody and dance type of pop sound on her last album Prism from 2013, to a more contemporary and Caribbean dance hall vibe on Witness, with a bit of reggae-inspired elements incorporated throughout it as well. However, while this might be a new direction for her music, I'm not here to say that it all works out and fits together, because it simply does not. In my opinion, I felt that this was Perry trying to fit in with the popular trends and sounds of today's music scene, especially since Caribbean dance hall and reggae, along with EDM (electronic dance music), seem to be the genres that current musicians in the mainstream are tending to add into their songs. There are actually a good amount of songs on this project that fall flat on their face completely, particularly in the songwriting department. While I realize that lyrics aren't exactly the reason why people listen to Perry's music and have made it so popular, it was still painful to sit through some of these tracks due to their downright cheesy and laughable lines which try to act serious, but end up failing to do so. This also includes the instrumentals found on many of these songs as well because of how bland, boring, and uninteresting they sound.
The songs that I found to be the worst on this record are "Tsunami," which is basically a love/sex song which contains lyrics that sound very cliche as it seems that Perry tries to use every metaphor pertaining to the ocean or sea-like objects that she could think of, the most cringe-worthy line to me being in the chorus where she sings "make me ripple 'till I'm wavy," to which I laughed out loud because of how incredibly cheesy that line is. I think what really makes me dislike this song is the fact that Perry is comparing the act of having sex with a guy to a tsunami, which are tidal waves (what I like to call water earthquakes) that are known to be very dangerous and have caused major damage to many countries and islands around the world throughout history such as Indonesia in 2004 and the islands of Mindanao and Sulu in the Philippines during the year 1976, leading to many deaths and injuries as well. I don't know about you guys, but I find this move by Katy Perry recording a song like this to be distasteful and out of line (even if I might be overreacting a bit to it, but how can I not?).
Other songs that I didn't care for at all on this album include "Mind Maze" in which Perry puts on her best (and by best I mean worst) "Mr. Roboto" impersonation with the HEAVY amount of auto-tune that is being used on her vocals (and made blood come out of my ears too as they were aching with absolute pain) as she sings about the complications and struggles that she is having with a relationship and love in general (so, overall nothing special as it's just an underwhelming and absolutely annoying track), as well as the painfully awkward and "trying to be emotional" song titled "Save As Draft," which has Perry talking about how she has a hard time deciding if she wants to send this text to an ex-boyfriend so they could possibly "hook-up" or get back together again and while I don't particularly care for those type of songs, I can at least understand them in a way because some people do have feelings about getting back into a relationship with a former lover. However, this song falls flat because during the chorus of the song, Perry gives this mediocre vocal performance in which she decides not to go along with sending the text because she refuses to revisit or experience the wounds that made her relationship with this guy fail the first time. So, what does she do? Well first, she takes a deep breath (and she actually takes a deep breath on the recording of the song after saying that lyric, which makes it even more corny), and then she decides to save the text as a draft (what?!). Katy Perry, if you don't want to rekindle your partnership with this guy by not sending this text message to him, just delete it! Don't save it as a draft. This song was so terrible, lackluster, and cheesy as hell, but to me it's surprisingly not the worst song on the album.
My least favorite song on this project by far was the song "Bon Appétit," which features the rap trio Migos, and this was actually released as the second single in support of the album. Now, as most of you already know, this song is basically Perry using food terms and phrases as sexual metaphors to try and persuade a guy to be with her. While I don't really mind the synth-driven instrumental that this song incorporates as it is actually somewhat catchy, I can't stand the lyrics in this song as many of them are incredibly disgusting. For example, on the hook of the song that leads into the chorus Perry sings, "If you take your time/Eat with your hands fine/I'm on the menu." EWWWW!!!! I mean there were a lot of gross lyrics in this song, but this one especially almost made me want to puke because it was so bad. Can we please keep this song from getting any higher on the Billboard Hot 100 chart please? Because the fact that it has climbed up to number 59 is bad enough. So... yeah this was without a doubt my least favorite song off of Witness and for good reason because it is absolute trash and just downright weird (I'm assuming you've all seen the music video so you know what I mean when I say that).
However, as I said earlier in this review, despite the large number of miscues on this record, there were a few decent tracks on this thing that I could possibly see myself listening to from time to time. These songs include the groovy Caribbean dance hall influenced track "Swish Swish," which has been speculated as a diss track to fellow pop sensation Taylor Swift, and features a laughable but entertaining guest verse from Nicki Minaj. Also, I thought that the song "Roulette" was a good song, particularly because of the nice synth-beat that this song rides on, and while the lyrics aren't anything exciting, they are passable as Perry sings about letting her guard down to go out for a night on the town which also involves a former ex coming back into her life too. Lastly, I have to say that the song "Chained To The Rhythm" with Skip Marley, which was also the lead single from this album, has grown on me quite a bit ever since it came out back in February, because while I might not care so much for the track from a lyrical standpoint, it's reggae-influenced instrumental is pretty catchy with every listen i give it and it can be something to vibe to if you need a time to let loose and dance the night away. So, while I might not have found the lyrics on any of these tunes to be interesting, thought-provoking or even memorable, I still thought that the hooks and instrumentals were enough for me to like them.
Well, after all of that in-depth analysis that I had to say about this record, I will sum up what I think of this album as a whole. First, being that this is her longest running album as it clocks in at 57 minutes and 28 seconds, I thought this record was a bit too lengthy for a Katy Perry album mostly because a majority of its run time is filled with both bad and forgettable tracks on it. If she would have cut out 3 or 4 of the songs, It probably wouldn't have changed my mind on how I feel about it as a whole. but at least I could've gotten through the whole thing without pulling my hair out or almost falling asleep, because I was close to doing both while listening to this thing.
Second, after listening to this album all the way through three times, I was still contemplating one question that was and still is in my mind: "Is this a pop album?" I know that might be a little insane for me to think about, because it is Katy Perry and obviously she's a pop sensation/diva, but really the three singles ("Swish Swish," "Chained To The Rhythm," and "Bon Appétit") that were released to promote this album were the only songs that I found myself bobbing my head to. Therefore, my point is that there are way too many ballads on this record. Now, I'm not saying that pop ballads are always bad, but a pop album to me is something that incorporates a handful of tunes that have catchy sounds and memorable hooks, as well as charismatic vocal performances to showcase the artist's personality. In addition, if you're going to make a pop album with a majority of the tracks being ballads, like Witness, you have to include interesting and believable story lines with beautifully arranged instrumentals, as well as emotionally captivating performances from the artists themselves. However, with this project, Perry sadly didn't convince me very much on many of the pop ballads due to her inability to make them seem credible or even believable with sub-par vocal performances throughout. In her defense though, I did think that ballads like "Into Me You See" and "Miss You More" contained pretty piano arrangements throughout even though I believed that the tracks missed a little as far as the lyrics go, therefore making them hard for me to feel engaged with them as overall pop songs. So, it was just really hard for me to believe that this was a "true" pop record because compared to the past works I've heard from her, while they did contain some slow ballads, there were more catchy dance-pop tunes found on those previous releases. Sadly, that was something that this project just failed to contain in order for me to like.
Last but not least, my third sum up point about this record is that it sort of reminds me of a salad. If you just put the greens in, it's just considered a plain ol' bowl of lettuce with nothing else special added to it, therefore not making it a salad. That's what I think of Witness. While Katy Perry completed step one by bringing out the bowl and adding the greens inside of it, she forgot to add the tasty toppings (sun-dried and cherry tomatoes, Italian or ranch dressing, cucumbers, shredded cheese, and pieces of chicken breast) that truly makes it a salad that everyone would have enjoyed.
Favorite tracks: "Swish Swish" (featuring Nicki Minaj), "Roulette," "Chained To The Rhythm" (featuring Skip Marley)
Least favorite tracks: "Mind Maze," "Power," "Bon Appétit" (featuring Migos), "Save As Draft," "Tsunami"
Album rating: 2/5