Back in 2009, a group of college students at the University of Michigan under the group name Starkid Productions created a musical spoofing the Harry Potter series, titled "A Very Potter Musical." Since then, it has been watched by millions on YouTube and acclaimed by the Harry Potter stars themselves, as well as pushed its fearless leader, Darren Criss, into stardom. Here are five reasons why you should take some time away from binging Netflix shows to binge this delightful, hysterical, and spot-on spoof of the wizarding series we have come to know and love.
1. The AMAZING Cast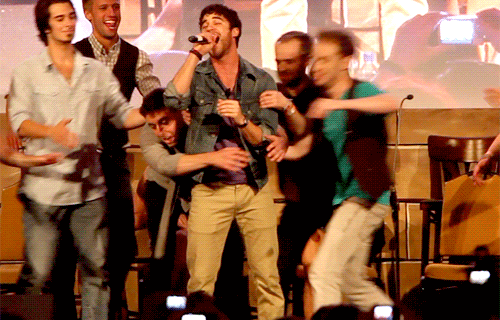 Giphy
If you watched Glee or American Crime Story: The Assassination of Gianni Versace, you might have seen this show's frontrunner, Darren Criss, in action. For those of you who have not, this cast's Harry Potter is an incredibly talented Golden Globe and Emmy winner with a heart and voice of gold. This series shows him right before he hit his big break, and his talent in both acting and singing is very prevalent throughout each of the three AVPM plays (including the third one when he had to perform without having ever read the script and only hearing demos of the songs). However, do not think that he is the only star of the group. The entire Starkid cast is aptly named, as they each bring in wonderful acting, comedic genius, singing, and sheer love for what they are doing to each show -- all that which a star would do. It is a joy to watch this group of friends combine their individual talents on screen, and as seen at the end of the final installment, A Very Potter Senior Year, it is also a joy to watch the love they have for each other. This is a crew to be respected, and AVPM was only the beginning of their story.
2. The Music
Not only are basically all of the songs incredibly catchy, but most, if not all, were written by Darren Criss himself. There are soulful ballads such as the one shown above, documenting the feelings Harry felt being sorted into Hogwarts, silly tunes such as The Dragon Song, played to defeat Harry's Triwizard Tournament dragon instead of magic, a sweet realization of love in Granger Danger, and No Way, a quartet sung as the Golden Trio and Draco set forth to save the day in A Very Potter Sequel. The show also has an iconic theme song that opens the first show and pops up in the later ones as well. Before you know it, you'll find yourself singing right along to each one.
3. The Comedy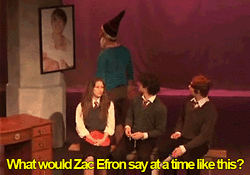 Giphy
Draco Malfoy rolling on the floor dramatically during speeches. Ron promoting Redvines every two seconds because without their sponsorship, the show might not have been made. Snape making werewolf jokes at Lupin any chance he can. Students having to fight Puff The Magic Dragon in the Triwizard Tournament. If that all sounds ridiculous to you, it is only the beginning of the nonsense and hilarity that this show brings.
4. The Serious Moments
As you can see here, spare the technical difficulties with Criss' mic, there were darker, sadder scenes in the three musicals. While each one has plenty of hilarity, they also dive into emotional traumas not elaborated so heavily on in the actual series, such as the similarities between Harry and Tom Riddle's struggles. They explore the hurt Sirius and Harry have over the loss of James and Lily, the emotional turmoil Draco is in as someone meant to be bad looking to simply find a place he belongs, the dark place Harry goes into when he feels as if must deal with saving everyone on his own, and the way Hogwarts really was a home for each character. Don't be fooled, it is still mostly a comedic series. It is just those real deep parts that will stick with you long after the series ends.
5. The Lessons It Teaches
While we all know the lessons the original series teaches us, A Very Potter Musical and its sequels teach us even more. The first one teaches that we are not alone in this world, be it in our struggles or our triumphs. The second one teaches us that, while summer might be long and being away from friends or loved ones can be tough, those distances and periods away from those you call dear do not erase the love and friendship they have instilled within you from your time together. Lastly, as seen in the clip above, the third one teaches that it is okay to let go and move on from what you love or grew up on. It is okay to open up new chapters in your life. In fact, it is wonderful.