Do you want to vote in this year's election!?
The answer should be yes!
As a college student, voting can be confusing. It is a new experience, but one that you don't want to miss! Here is a simple guide for how to vote in the first step of the Presidential elections.
The first step in the Presidential elections is the primary elections.
Many people consider the primary elections less important than the main elections that happen in November, but the primary elections are just as important.
The primary elections take place in the spring – they are happening right now!
During the primary elections people pick their favorite candidate from each party. Republicans choose their favorite and Democrats choose theirs. Once everyone votes, one of the candidates receives the party's nomination, narrowing it down to the one Democrat, and one Republican for the election in November.
The way primary voting works, is by state. You can only vote for your own state, the state you're a resident in.
I go to college out of state, so how am I supposed to vote when I'm not currently living in the state I am a resident in?
Easy - get a mail ballot!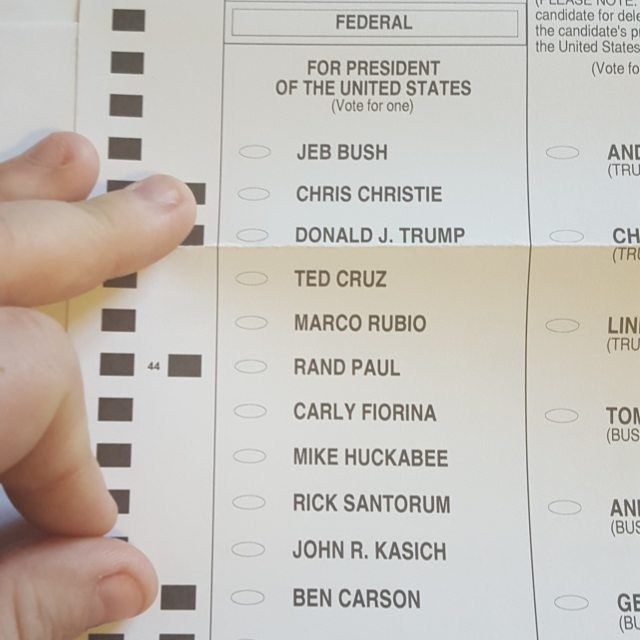 Mail ballots are extremely easy for registered voters to get. They are also known as absentee ballots for absentee voters who are not going to go to the actual physical poll locations to vote. Mailing in a ballot is as easy as 3 steps!
1. In order to get absentee mail ballot, you have to make sure you are registered to vote.
2. If you are registered to vote, then you just need to call your county's voter quarter and ask how you can get a mail absentee ballot. Most of the time, they will tell you to go to their website to fill out the absentee ballot request form. Some counties have the form available to fill out online, where other counties require you to print it and mail it.
3. Once you print it and mail it you are all set! You just have to wait for them to send you the ballot in the mail and you fill it out and send it back, easy as that! You just have to make sure you send in your request for an absentee ballot, before your state's primary election date, because that is when it will be due.
Happy Voting!