In this article I am focusing on vegetarian options because it's a lot easier to start as a vegetarian that jump right into being vegan. A lot of times people get discouraged and give up if they cut out their favorite foods too fast.
Being vegetarian is a process and my best advice is to be kind to yourself during slip ups. Now onto the food!
Morning Star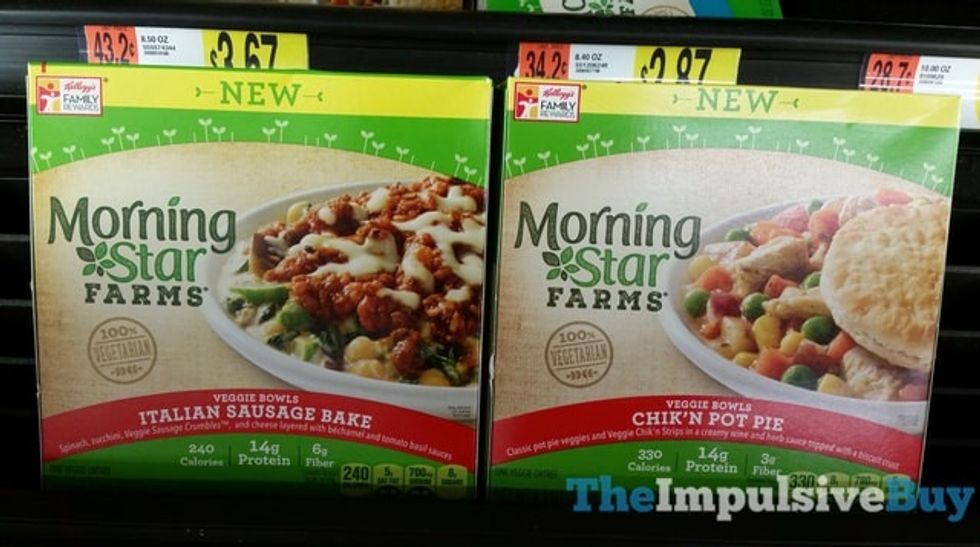 Morning Star is my absolute favorite vegetarian brand on this planet. I don't know if I could be vegetarian without it. They have so many options, like pot pies and Italian sausage, and almost anything you can think of.
My personal favorites are the Morning Star chicken nuggets as well as the corndogs.
If you try anything from this article try Morning Star!
Impossible Whopper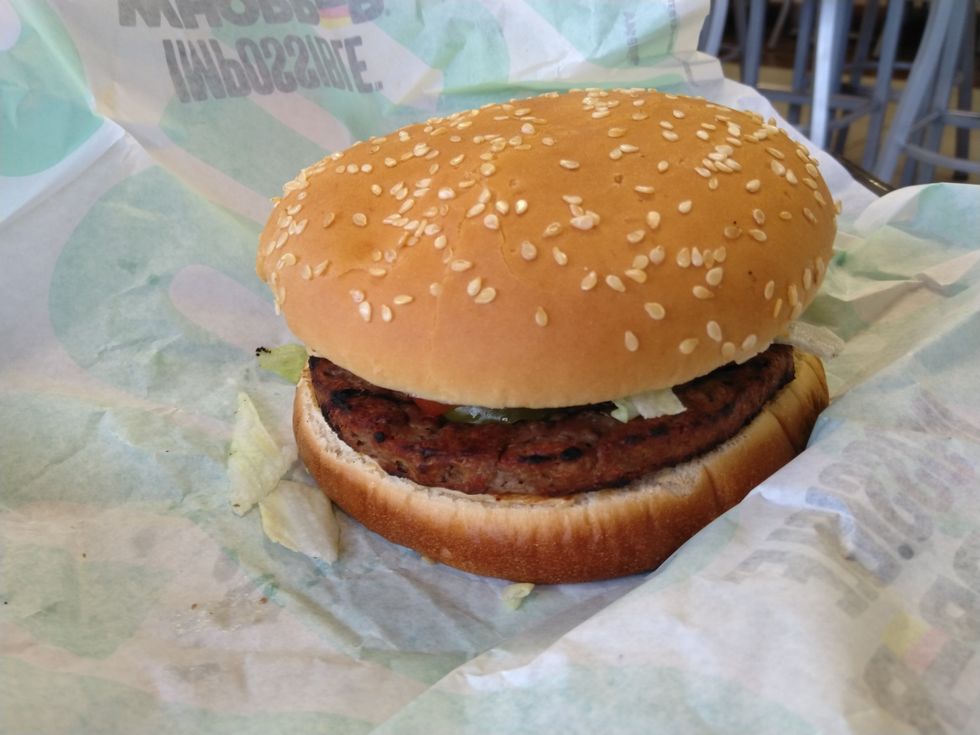 One of my biggest issues when I first started my vegetarian journey was my fast food craving. I could no longer have McDonald's McChickens or Wendy's burgers and it was hard to give up.
Then Burger King came out with a vegetarian whopper which is perfect to satisfy fast food cravings.
A quick disclaimer: Burger King has stated these burgers may be cooked on the same grill as real meat patties so many vegetarians and vegans have avoided this product.
Depending on how strict you are, or how early you are in the transition away from meat, this could be a great product for you.
Chipotle Sofritas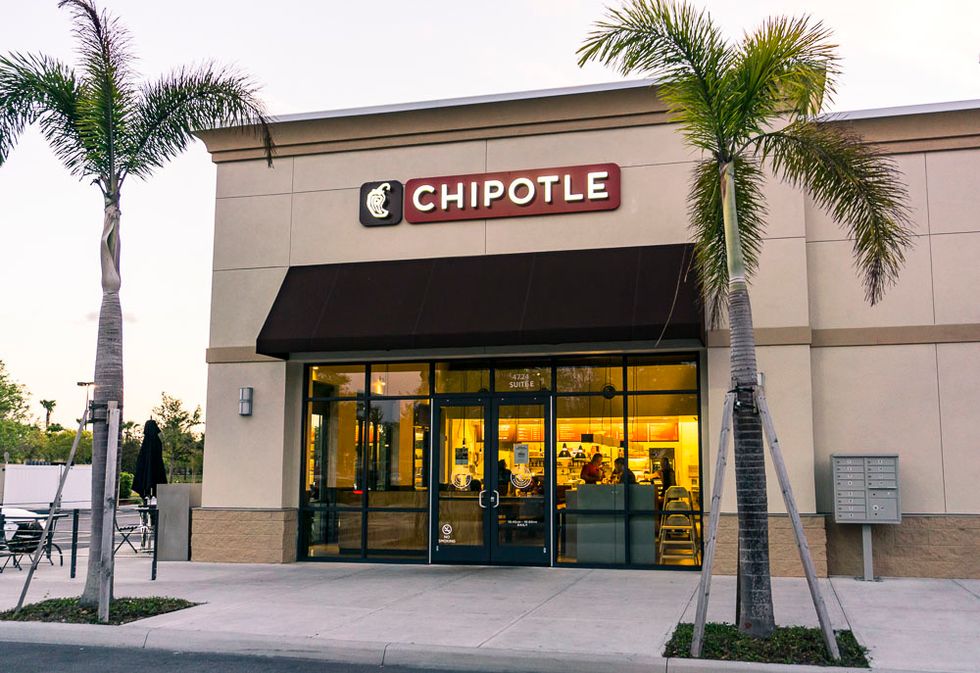 This is another one of my ultimate favorites because it's perfect for vegetarians and vegans! Chipotle is an amazing place to eat because the tortillas and chips are vegan, so no worries about burritos, and the sofritas meat substitute is vegan as well.
I am honestly obsessed with my order so I will list it out now: bowl, brown rice, sofritas, corn, lettuce, and chips. It's the perfect vegan/vegetarian meal for me and I get it at least once a week.
There's plenty of ways to customize your bowl or burrito here to fit whatever dietary restrictions you may have. There is also no cross-contamination which is perfect for serious vegetarians and people with allergies.
Salad Substitutes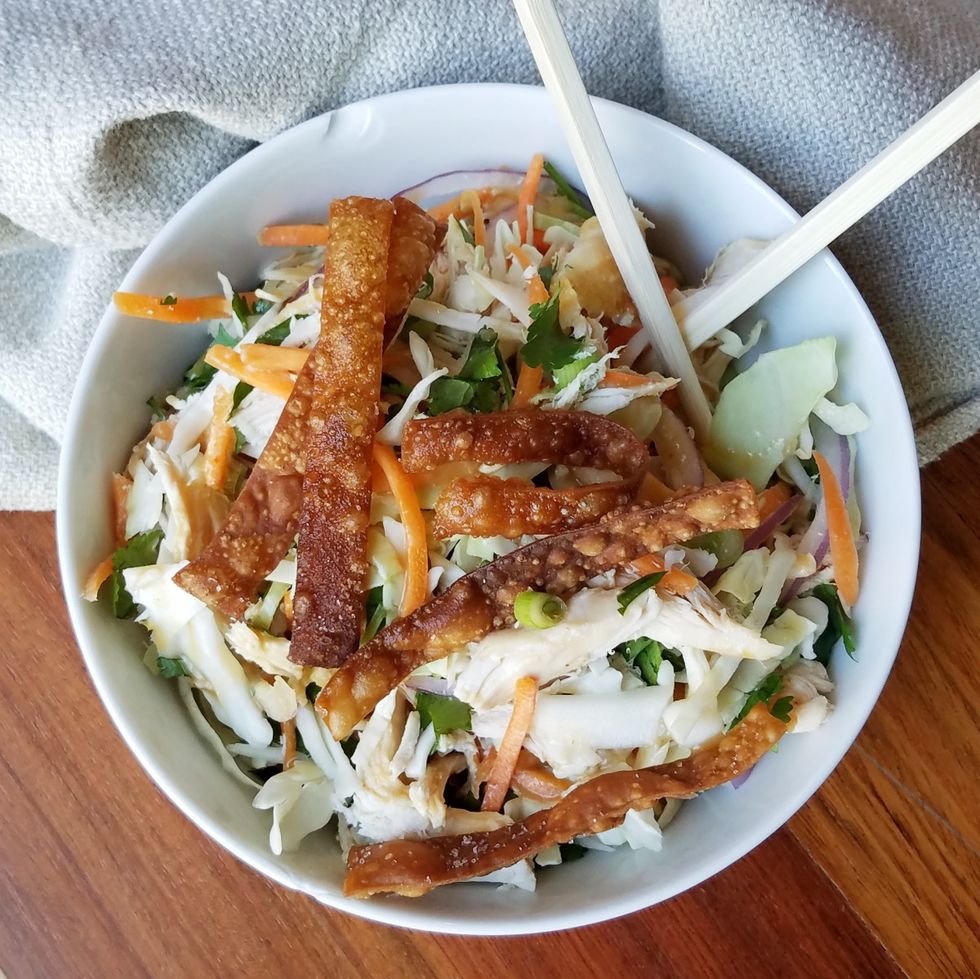 rumblytumbly
This is a more general suggestion but still something people tend to forget about. Often times I steer away from salads at restaurants because I know they won't fill me up once I take the grilled chicken, or steak off.
This is when I started requesting veggie burger to be my topping instead. Almost all restaurants have some form of a veggie burger now and it's a quick fix to the salad dilemma.
It honestly makes it so much more enjoyable and gives more flavor and substance to the meal.
Now that I have covered frozen food, fast food, and restaurants, I just want to finish with a list of some other vegetarian meals that are easy to make at home.
Toasted cheese and tomato soup is a classic combo that can't be beat, especially with cold weather approaching. I love making deli sandwiches with vegetarian deli meat, mayo, lettuce, and all the classic toppings.
I also love tacos with vegan taco meat because usually the meat cooks really fast and you never have to worry about it being underdone!
I hope that this article helped becoming vegetarian a little less intimidating and I would love if a few more people in the world tried out being vegetarian.
Even a few days as a vegetarian can make a huge difference in not only health but climate change as well.
Raising animals, or meat, takes a huge amount of resources and contributes to ozone depletion due to manure emissions. By lessening the amount of meat the average person consumes, we can lessen the amount of resources needed to produce meat as well as the negative affects of meat production in the environment.
Whatever the reason-health, climate concern, or curiosity-being vegetarian is awesome and once you find your comfort foods you'll never want to go back!
From Your Site Articles
Related Articles Around the Web