Gratitude is the inward feeling of kindness received. Thankfulness is the natural impulse to express that feeling. Thanksgiving is the following of that impulse.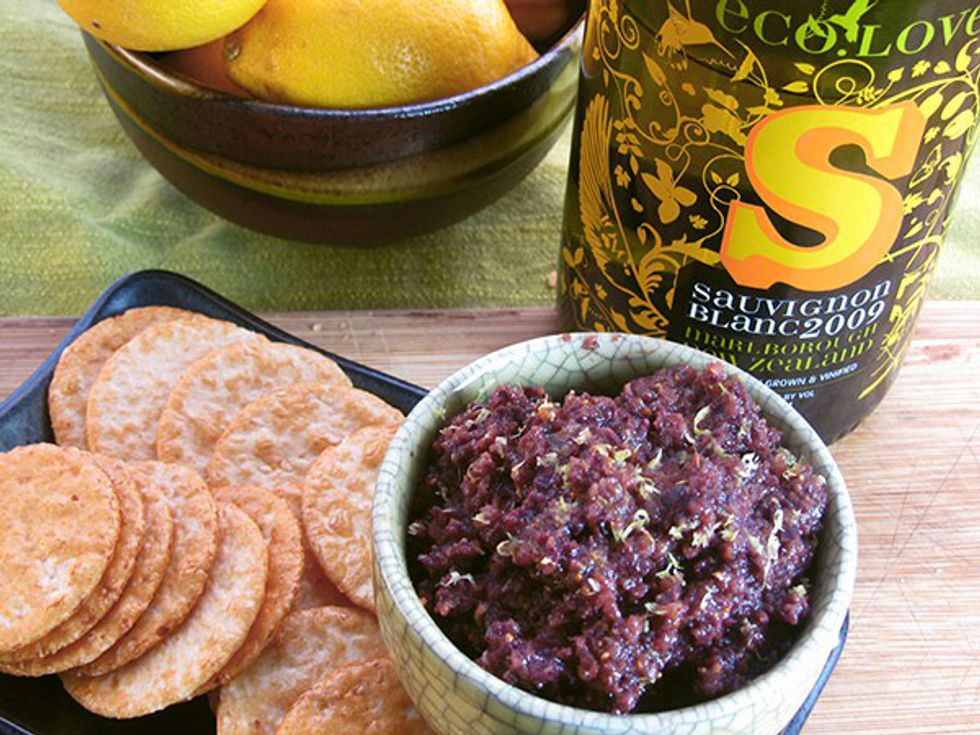 INGREDIENTS FIG AND OLIVE TAPENADE
1 cup kalamata olives- pitted
1 cup dried black mission figs- quartered and stemmed
juice of ½ half of of an organic lemon
zest of one organic lemon
1 cup sauvignon blanc
¼ cup extra virgin olive oil
INSTRUCTIONS FIG AND OLIVE TAPENADE
Soak quartered figs in wine for at least a half hour and up to 2 hours
Drain figs reserving the liquid
Add figs, olives, lemon juice, ¾ of the lemon zest, and about 1 tablespoon of the wine to the bowl of your food processor and pulse until blended.
Add more wine if the mixture is too hard to blend. Do not over process. It should still have texture.
Finally pulse in olive oil.
Put into a pretty serving dish and garnish with the rest of the lemon zest.
This tapenade tastes great right away, but even better the next day.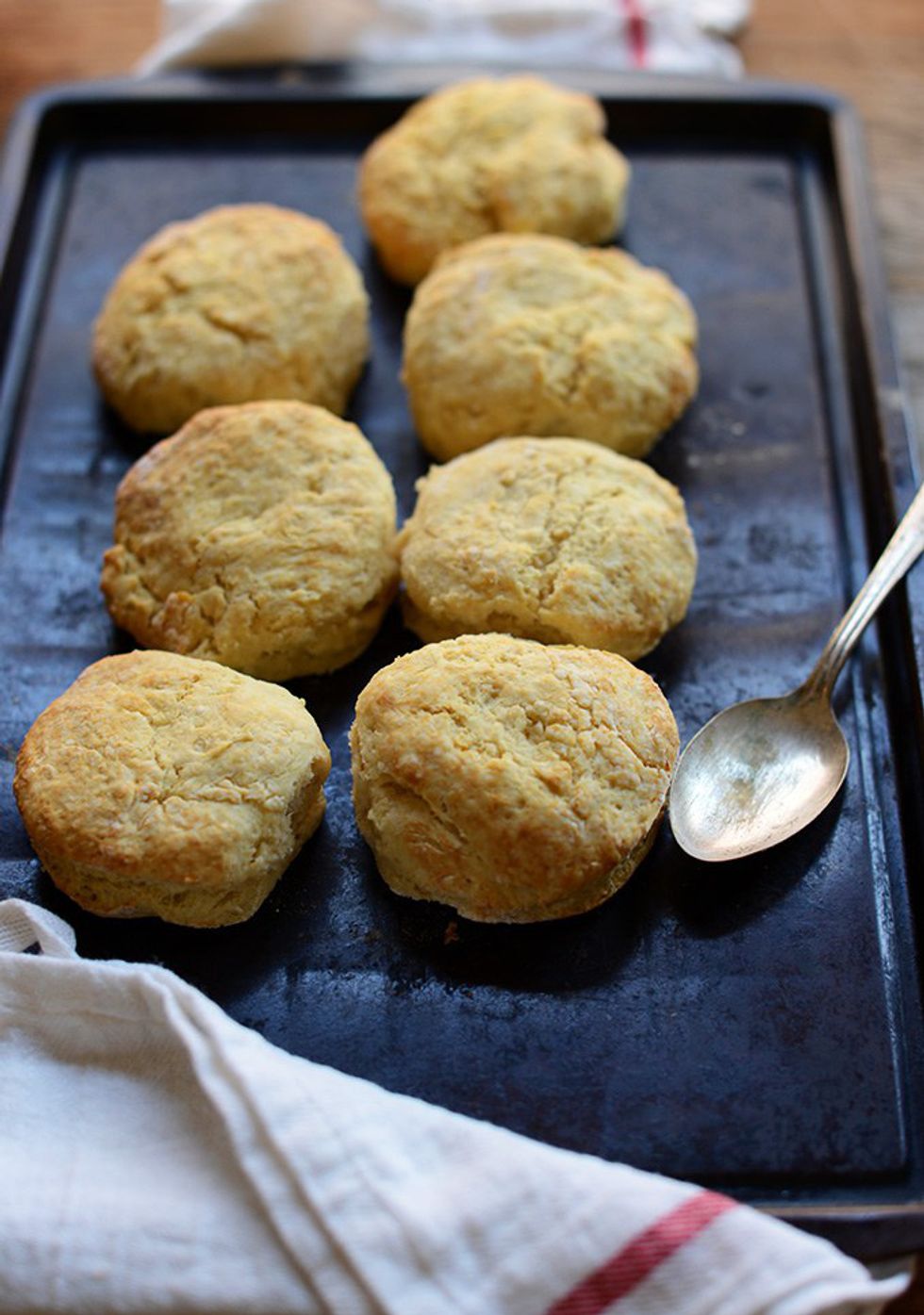 1. Unbleached all purpose flour.
2. Non-dairy butter (such as Earth Balance).
3. Sea Salt
4. Baking Powder
5. Baking Soda
6 Plain almond milk.
7. And lemon juice
1. Do not over-handle the dough.
2. Never use a rolling pin, fool.
3. Make sure yo' butter is cold.
4. Baking powder and soda are a must for fluff.
5. Brush the tops with butter to achieve that crusty, buttery top.
6. Make a divot in the middle with your fingers to prevent them from rising in a "dome."
7. A hot oven (450 degrees) is essential. Don't ask questions.
8. Biscuits must touch while baking to help them rise properly.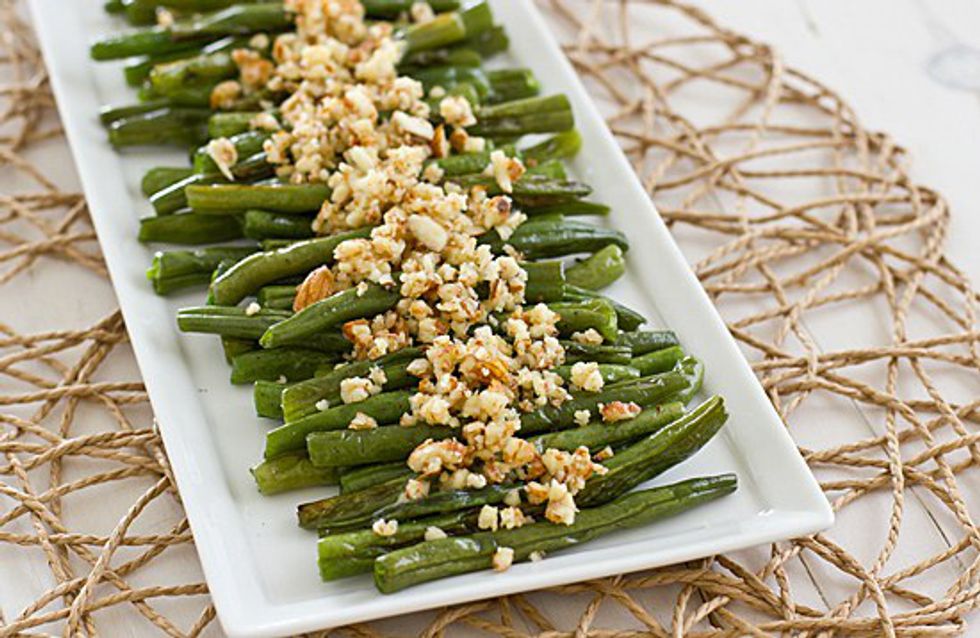 Ingredients
cooking spray or olive oil mister
1 1/2 lbs. green beans, trimmed
1/2 c. almonds
1 garlic clove
1 tbsp. lemon juice
1 tbsp. extra-virgin olive oil
salt and pepper to taste
Instructions
Preheat oven to 400 degrees.
Spray a rimmed baking sheet with cooking spray. Place beans on sheet in a single layer and spray tops with additional cooking spray. Roast for 15 minutes or until tender.
Combine almonds, garlic, lemon juice, olive oil, salt, and pepper in food processor and process until roughly chopped. Spoon over green beans before serving.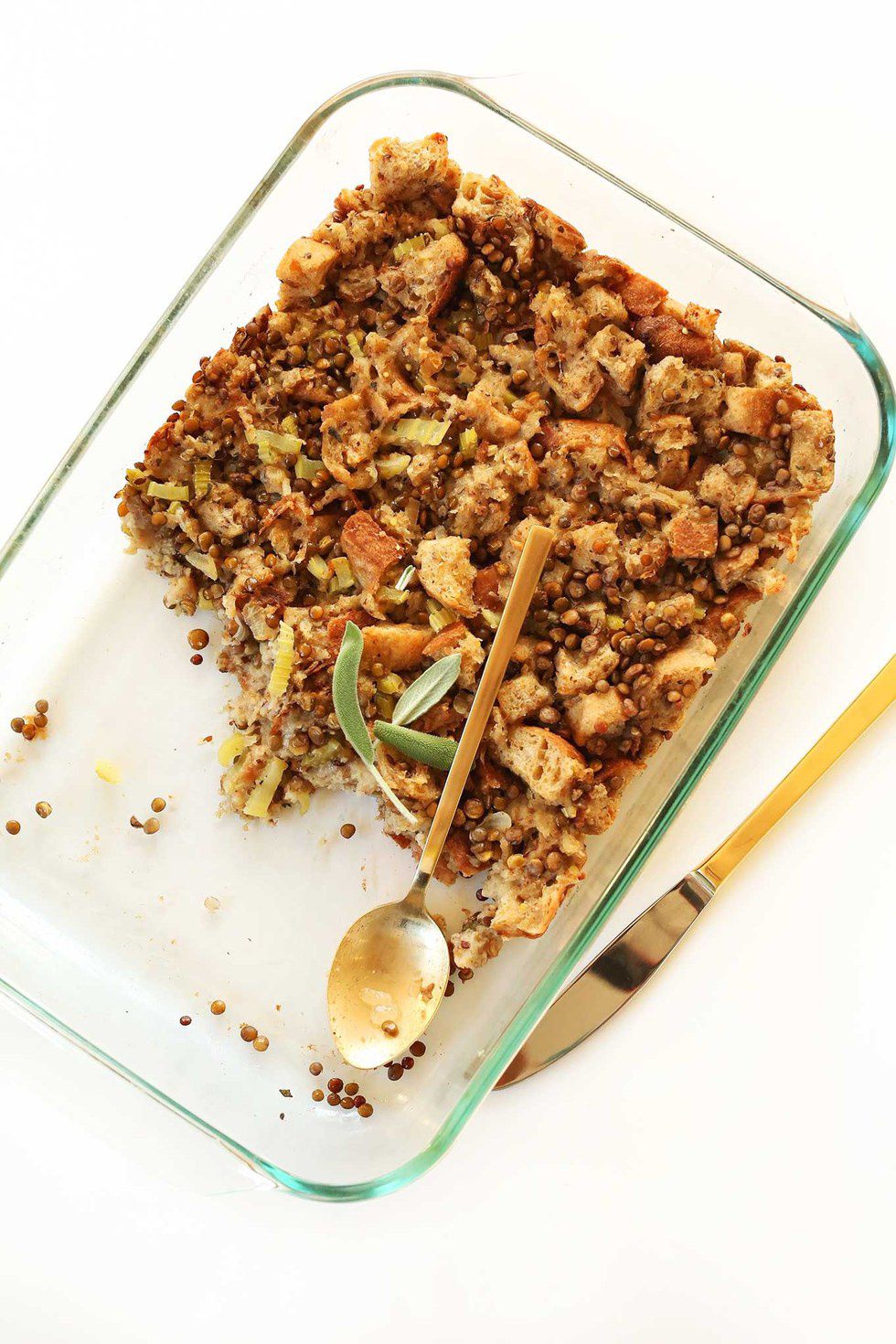 Author: Minimalist Baker
Recipe type: Side Dish
Cuisine: Vegan
Serves: 8
Ingredients
1 large loaf wholegrain bread or 2 small baguettes, cubed & set out to dry overnight (~9 cups loosely packed)
3/4 cup uncooked green lentils
3 Tbsp olive oil or vegan butter (I used a mix of both)
1/2 cup white onions, diced
3/4 cup celery, diced
salt & pepper
3 - 3 1/2 cups vegetable broth (+ more for cooking lentils)
1 flax egg (1 Tbsp flaxseed meal + 2.5 Tbsp water)
3/4 tsp dried sage, or 1 1/4 tsp fresh sage, chopped
Instructions
The night before, cube your bread and set it in a large bowl to dry out - you want it to be the texture of day old bread - noticeably dry but not rock hard.
The day of, if you haven't already cooked your lentils, do so now by thoroughly rinsing 3/4 cup lentils in cold water, then adding to a small saucepan with 1 1/2 cups veggie broth or water.
Cook over medium-high heat until a low boil is achieved, and then lower to a simmer and continue cooking uncovered for 20-30 minutes. Set aside.
Preheat oven to 350 degrees and line a 9x13 pan (or comparable sized dish) with foil or spray with nonstick spray. Also prepare flax egg and set aside.
Sauté onion and celery in the olive oil or vegan butter and season with a bit of salt and pepper. Cook until fragrant and translucent - about 5 minutes. Set aside.
To the bowl of bread, pour most of the broth then add the remaining ingredients (sage, cooked veggies, flax egg, and lentils) and mix with a wooden spoon. The key is to make sure it is about the consistency of a meatloaf. If it's too dry, add more broth and mix again. If it's gotten too wet, add more bread.
Transfer to the prepared pan and cover with foil. Bake at 350 for 45 minutes, then remove the top layer of foil so the top can brown. Increase heat to 400 degrees and bake for another 10-15 minutes, or until the top is well browned and crisp.
Remove from oven and let cool slightly before serving. Leftovers reheat well in the microwave or oven, though best when fresh.
This dish would be awesome with vegan mashed potatoes and my vegan mushroom gravy!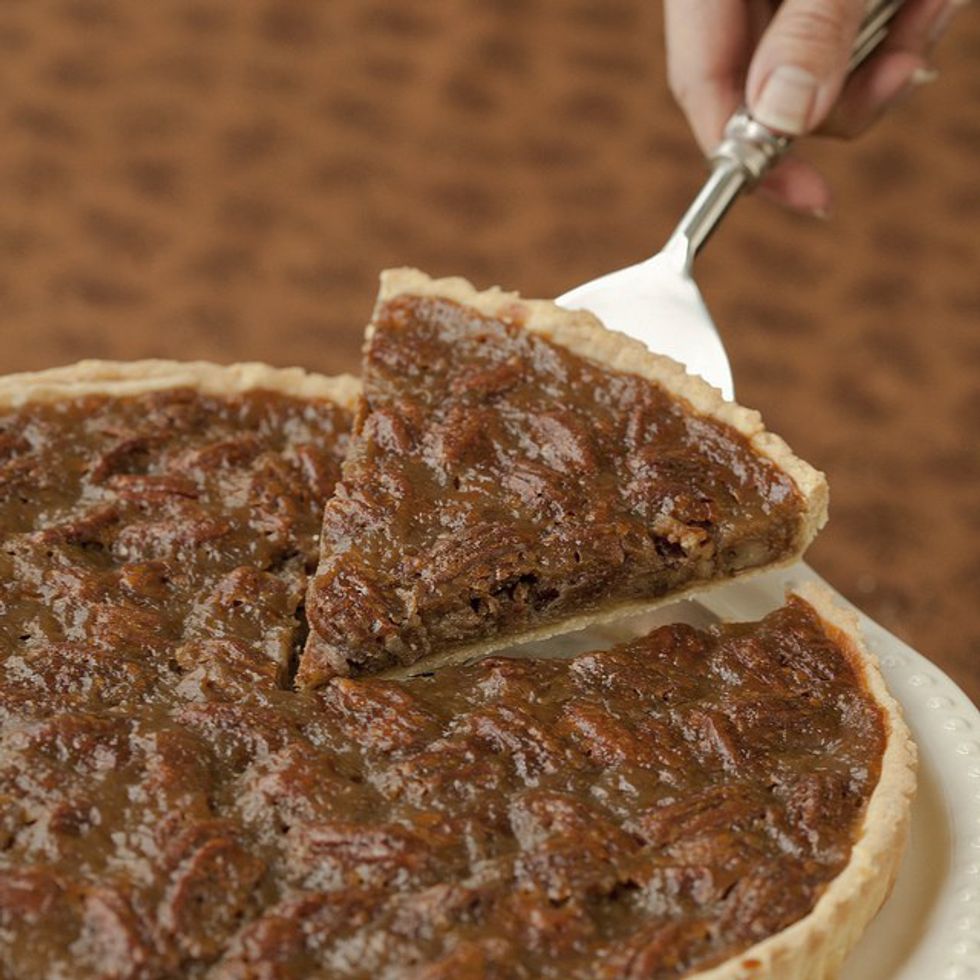 1/2 cup sugar
1/2 cup brown sugar
1/2 cup pure maple syrup
1/4 cup non-hydrogenated margarine
6 oz extra firm silken tofu (1/2 of a tetra pack)
1/4 cup cold unsweetened plain non-dairy milk
2 tablespoons cornstarch
1/2 teaspoon salt
1 teaspoon vanilla extract
2 cups pecan halves
Prepared Single Pastry Crust, pressed into a tart pan or pie plate (no need to parbake)
First we're going to make a caramel. In a 2 quart sauce pan, mix together sugars and maple syrup. Heat over medium heat, stirring often with a whisk. Once small bubbles start rapidly forming, stir pretty constantly for about 10 minutes. The mixture should become thick and syrupy. It shouldn't be boiling too fiercely, if it starts climbing the walls of the pan in big bubbles then lower the heat a bit.
Add the margarine, and stir to melt. Turn the heat off, transfer mixture to a mixing bowl. In the meantime, prepare the rest of the filling, working quickly so that the caramel doesn't completely set.
Crumble the tofu into a blender or food processor, along with the milk, cornstarch and salt. Puree until completely smooth, scraping down the sides of the blender to make sure you get everything.
Preheat oven to 350 F.
With the caramel still warm in teh mixing bowl, add in the tofu mixture and the vanilla, and mix well. Fold in the pecans to incorporate.
Transfer to prepared pie crust and bake for 40 minutes. The pie is going to be somewhat jiggly, but it should appear to be set.
Let cool for a few hours, slice and serve! No cheating and pulling pecans off the pie.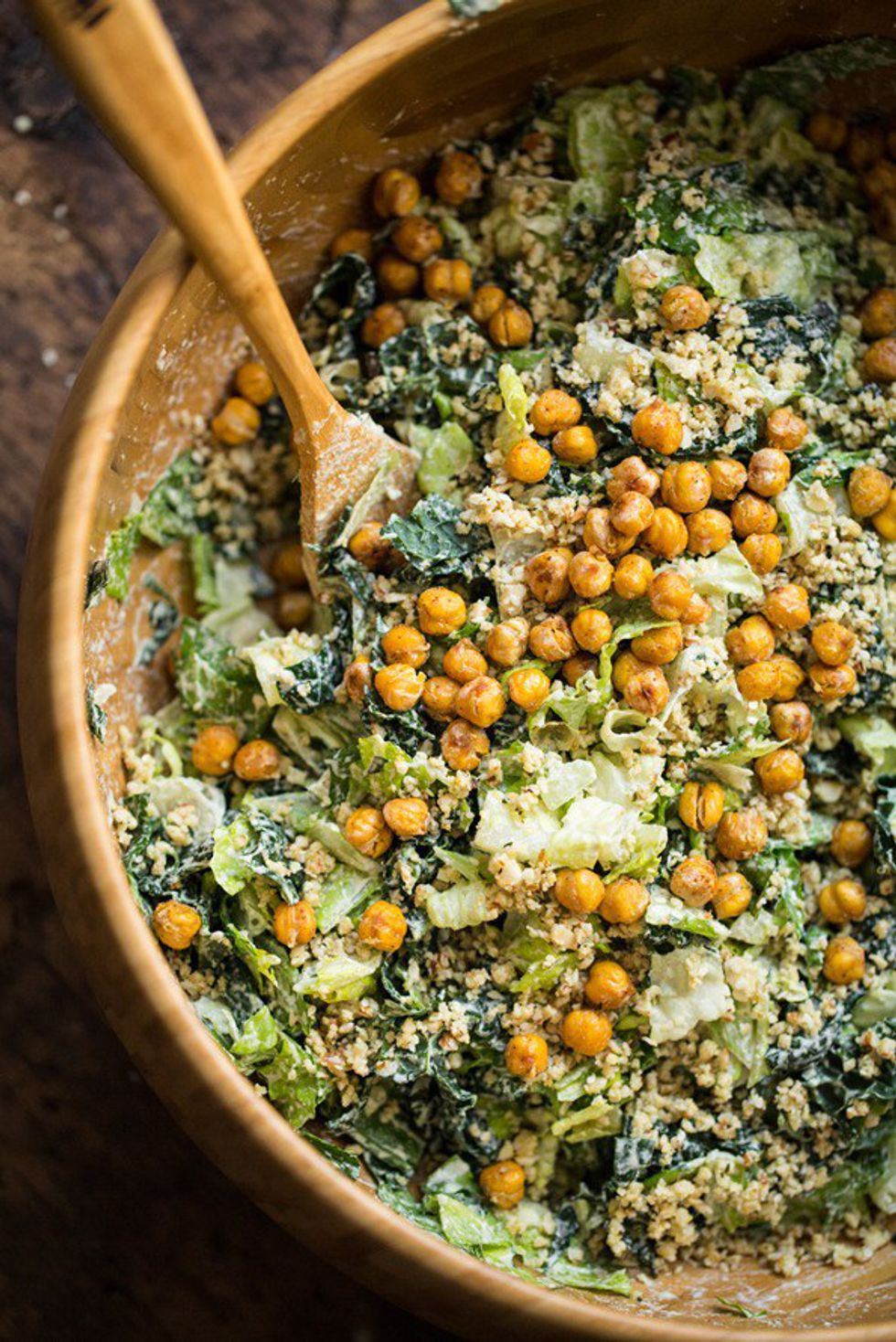 Ingredients:
For the Roasted Chickpea Croutons:
1 (15-ounce) can chickpeas (or 1 1/2 cups cooked), drained and rinsed

1 teaspoon extra-virgin olive oil

1/2 teaspoon fine grain sea salt

1/2 teaspoon garlic powder

1/8 to 1/4 teaspoon cayenne pepper (optional)
For the Caesar Dressing (makes 3/4-1 cup):
1/2 cup raw cashews, soaked overnight

1/4 cup water

2 tablespoons extra-virgin olive oil

1 tablespoon lemon juice

1/2 tablespoon Dijon mustard

1/2 teaspoon garlic powder

1 small garlic clove (you can add another if you like it super potent)

1/2 tablespoon vegan Worcestershire sauce (I use Wizard's gluten-free brand)

2 teaspoons capers

1/2 teaspoon fine grain sea salt and pepper, or to taste
For the Nut and Seed Parmesan Cheese:
1/3 cup raw cashews

2 tablespoons hulled hemp seeds

1 small garlic clove

1 tablespoon nutritional yeast

1 tablespoon extra-virgin olive oil

1/2 teaspoon garlic powder

fine grain sea salt, to taste
For the lettuce:
1 small/medium bunch lacinato kale, destemmed (5 cups chopped)

2 small heads romaine lettuce (10 cups chopped)
Directions:
Soak cashews in a bowl of water overnight, or for at least a few hours. Drain and rinse.
Roast chickpea croutons: Preheat oven to 400°F. Drain and rinse chickpeas. Place chickpeas in a tea towel and rub dry (it's okay if some skins fall off). Place onto large rimmed baking sheet. Drizzle on oil and roll around to coat. Sprinkle on the garlic powder, salt, and optional cayenne. Toss to coat. Roast for 20 minutes at 400°F, then gently roll the chickpeas around in the baking sheet. Roast for another 10 to 20 minutes, until lightly golden. They will firm up as they cool.
Prepare the dressing: Add the cashews and all other dressing ingredients (except salt) into a high-speed blender, and blend on high until the dressing is super smooth. You can add a splash of water if necessary to get it blending. Add salt to taste and adjust other seasonings, if desired. Set aside.
Prepare the Parmesan cheese: Add cashews and garlic into a mini food processor and process until finely chopped. Now add in the rest of the ingredients and pulse until the mixture is combined. Salt to taste.
Prepare the lettuce: Destem the kale and then finely chop the leaves. Wash and dry in a salad spinner. Place into extra large bowl. Chop up the romaine into bite-sized pieces. Rinse and then spin dry. Place into bowl along with kale. You should have roughly 5 cups chopped kale and 10 cups chopped romaine.
Assemble: Add dressing onto lettuce and toss until fully coated. Season with a pinch of salt and mix again. Now sprinkle on the roasted chickpeas and the Parmesan cheese. Serve immediately.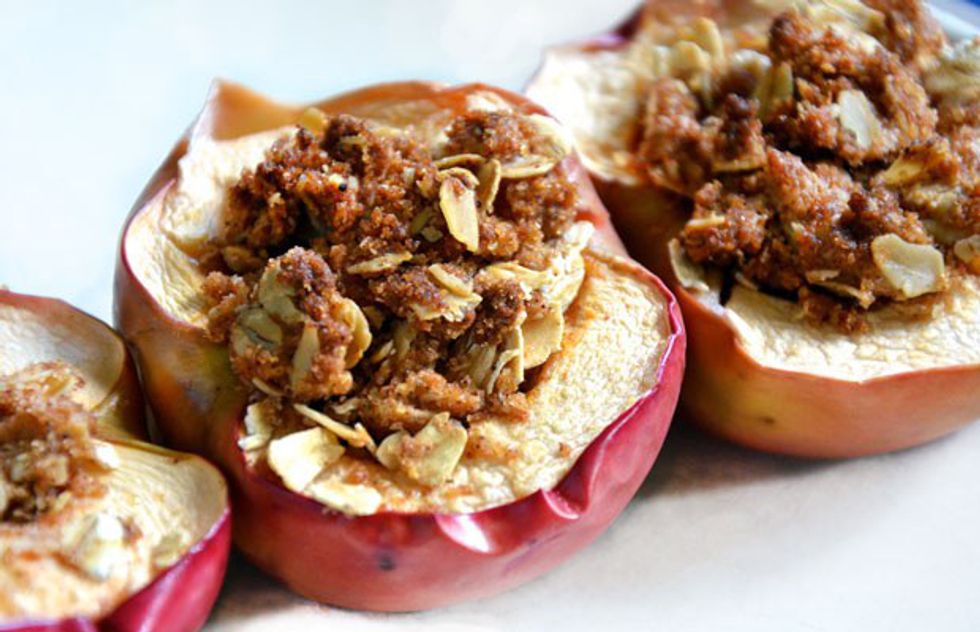 Prep time: 10 minutes
Cook time: 30 minutes
Ingredients
3 apples
1/4 cup light brown sugar
1/4 cup old-fashioned oatmeal
1 tablespoon peanut butter
1/2 teaspoon cinnamon
1/4 teaspoon nutmeg
Pinch of cloves
1 cup water
Preparation
Preheat oven to 375°F and line a glass baking dish with tin foil.
Wash and slice apples in half, along core. Scoop out the core with a melon baller or spoon.
In a small bowl, mix sugar, oatmeal, peanut butter and spices. This should be crumbly.
Spoon one heaping tablespoon into each apple core and place apples in prepared glass dish.
Pour 1 cup of water around the apples.
Bake at 375°F for 20-30 minutes, until apple skin starts to wrinkle.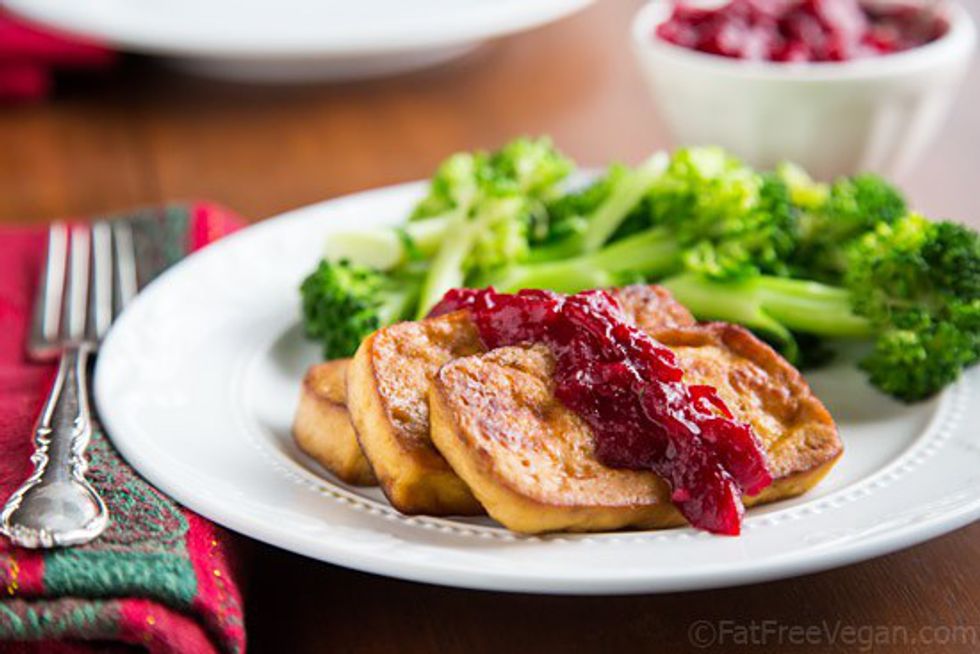 Author: Susan Voisin, FatFree Vegan Kitchen
Serves: 10
Ingredients
12 ounces cranberries
1/2 cup orange juice
1/2 cup sugar
1/2 to 1 jalapeño pepper, seeded and minced
2 large cloves garlic, pressed
1 teaspoon grated orange zest
1/8 teaspoon salt (optional or to taste)
2 tablespoons thinly sliced green onions (white and green parts)
Instructions
Wash and pick over the cranberries, discarding any bad ones. Combine all ingredients except green onion in a medium-sized saucepan. Bring to a boil, stirring to dissolve the sugar. Reduce heat and simmer, stirring often, until the berries pop and burst. Continue to cook for a couple of minutes, until the sauce begins to thicken. Remove from heat and allow to cool to room temperature.
Transfer to a serving dish and stir in the green onion. Cover and refrigerate until ready to serve.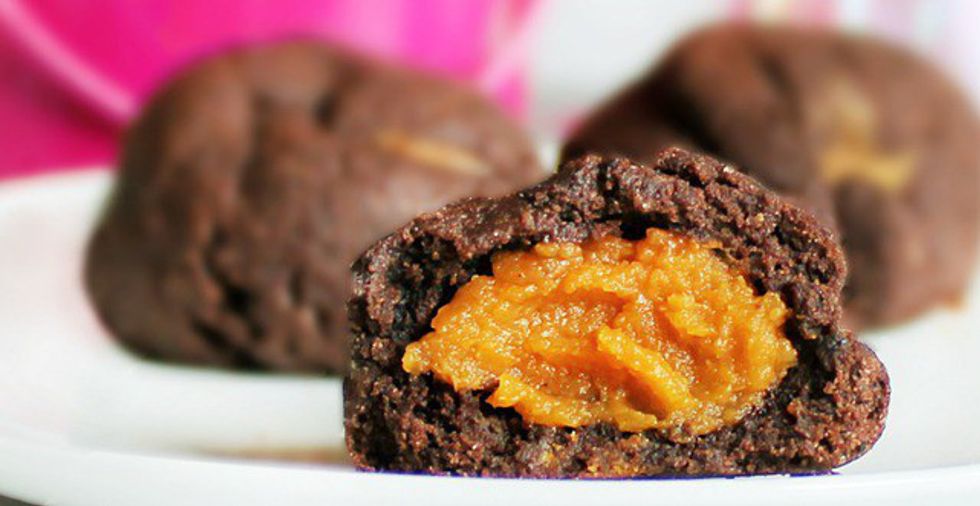 3/4 cup white-ww flour (or white or spelt)
6 tbsp plus 1 tsp cocoa powder
scant 1/4 tsp salt
1/4 tsp baking soda
1/4 cup plus 2 tbsp sugar (xylitol might work, but I haven't tried it)
2 tbsp maple syrup or agave
3 tbsp milk of choice
1/2 tsp pure vanilla extract
3 tbsp plus 2 tsp vegetable oil
3 tbsp pureed pumpkin
3 tbsp nut butter of choice (I used pb. For a fat-free option, a few readers have subbed more pumpkin. I can't personally vouch for it, though.)
1/4 tsp cinnamon
1/2 packet stevia (or 1/2 tablespoon sugar)
1/8 tsp pure vanilla extract
Combine first 5 ingredients, and mix very well. Add ingredients 6-9 and mix again to form dough. In a separate bowl, combine all other ingredients to make the filling. Using about a heaping tablespoon of dough, roll into a ball and then flatten. Place a little scoop of the filling in the center and fold up the sides of the dough. Form into a ball. (The sides might crack a little, but that's ok. They don't need to be perfect.) Bake at 330 F (preheated) for around 10 minutes. They should be a little undercooked when you take them out. Let stand 10 minutes… if you can wait that long!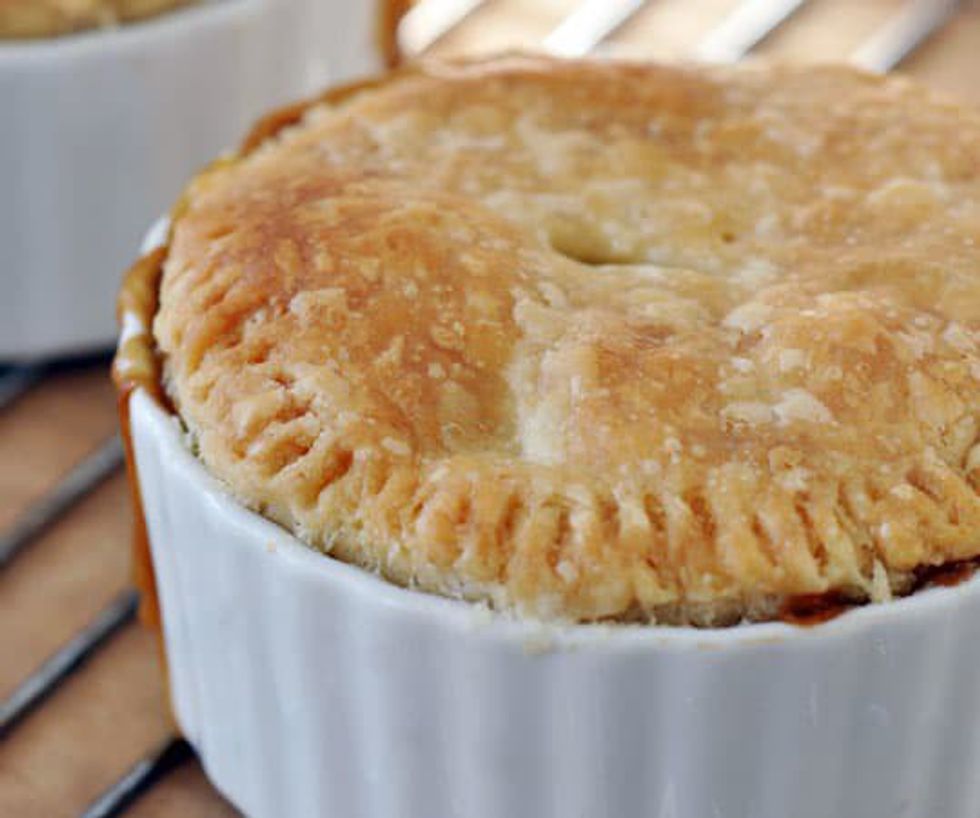 Crust
1 cup + 2 tablespoons all-purpose flour
1 stick or 1/2 cup frozen Earth Balance Vegan Buttery Sticks
Ice water
Filling
8 ounces super or extra firm tofu
3 tablespoons olive oil, divided
1 small yellow onion, diced
1 celery rib, diced
1 carrot, diced
2 cloves garlic, crushed
1 Russet potato, diced
1/4 cup all-purpose flour
2 teaspoons nutritional yeast
2 tablespoons soy sauce
1 1/4 cups vegetable broth
1/2 cup fresh or frozen peas
1 teaspoon finely chopped sage
1 teaspoon thyme leaves
Salt and pepper
Special Equipment
2 (12-ounce) ramekins or other oven-safe dishes
For the Crust (Part 1)
The secret to this crust is chilling the ingredients and tools. Place the flour in a mixing bowl and chill in the freezer while you are preparing the filling. Also place a pastry blender or fork in the freezer.
For the Filling
Preheat oven to 400° F.
Cut tofu into 1/3-inch dice and press between clean kitchen towels or paper towels to rid of excess water.
Heat 1 tablespoon of olive oil in a large skillet over medium heat and cook tofu until golden on all, or most, sides. Remove tofu from skillet and set aside.
Heat remaining 2 tablespoons of olive oil in the same skillet. Add onion, celery, carrot, and garlic and sauté until onion is translucent.
Add potato to the skillet and cook, stirring frequently, until tender but not mushy.
Add flour, nutritional yeast, and soy sauce to the skillet and stir into the vegetables.
Add vegetable broth and stir until combined, scraping all the browned bits from the bottom of the pan.
Add tofu, peas, sage, and thyme and stir until combined.
Remove from heat and season to taste with salt and pepper.
For the Crust (Part 2)
Take the supplies out of the freezer.
Cut the Earth Balance into smaller cubes or slices and add to the flour. Using a pastry blender or fork, cut the mixture until it resembles coarse meal. Then, using your hands, quickly rub the mixture together so that the Earth Balance is absorbed into the flour.
Gradually drizzle ice water into the bowl, mixing with the pastry blender or fork until the dough just comes together.
Quickly shape the dough into a ball and flatten into a disk. Place on a floured surface a roll out to 1/8 inch thick.
Place the ramekins upside-down over the dough and use a paring knife to cut out circles about 1/2 inch larger on all sides.
Assemble and Bake
Divide the tofu and vegetable mixture between the ramekins.
Place a dough round over each ramekin and tuck the sides under to form a thicker crust around the edge. Press to seal around the edges of the dishes and crimp with a fork. Cut a slit in the middle.
Bake in the oven until golden and bubbly, about 30 minutes.
Let sit for about 5 minutes before serving.