People choose to be vegan for health, environmental, and/or ethical reasons. For example, some vegans feel that one promotes the meat industry by consuming eggs and dairy products. That is, once dairy cows or egg-laying chickens are too old to be productive, they are often sold as meat; and since male calves do not produce milk, they usually are raised for veal or other products. Some people avoid these items because of conditions associated with their production.
1. Breakfast Tacos
Simple, 30-minute vegan breakfast tacos with a spicy tofu scramble and hearty black beans topped with veggies, creamy avocado and pomegranate arils! Healthy, filling and so delicious.
Author: Minimalist Baker
Recipe type: Breakfast, Vegan
Cuisine: Mexican
Serves: 2-3
Ingredients
TACOS
8 ounces firm tofu
1 cup cooked black beans
1/4 red onion, diced
1 cup fresh cilantro, chopped
1 ripe avocado, sliced (or sub guacamole)
1/2 cup salsa for serving (hot sauce also optional)
1 lime sliced, for serving
1/4 cup pomegranate arils
Corn tortillas (2 per person)
TOFU SEASONING
3/4 tsp garlic powder
1/2 tsp chili powder
1 tsp cumin
1/8 tsp sea salt
1 Tbsp salsa
1 Tbsp water
Instructions
Wrap tofu in a clean, absorbent towel and place something heavy on top, such as a cast iron skillet, while prepping toppings.
Cook black beans in a small saucepan over medium heat until bubbly, then reduce heat to simmer and set aside. If unsalted/unseasoned, add a pinch of salt, cumin, chili powder and garlic powder.
Add dry tofu spices + salsa to a small bowl and add enough water to make a pourable sauce. Set aside.
Heat a large skillet over medium heat and unwrap tofu. Use a fork to crumble.
Once the pan is hot, add 1-2 Tbsp oil of choice and the tofu. Stir fry for 4-5 minutes to brown. Then add seasoning and toss to coat. Continue cooking until browned and fragrant - about 5-10 minutes - stirring frequently. Set aside.
To serve, warm tortillas in the microwave wrapped in a damp paper towel or in a 250 degree oven (optional). Top tortillas with tofu scramble, black beans, onion, avocado, cilantro, salsa, fresh lime juice and pomegranate arils (or desired toppings).
Serve immediately with the best breakfast potatoes or fruit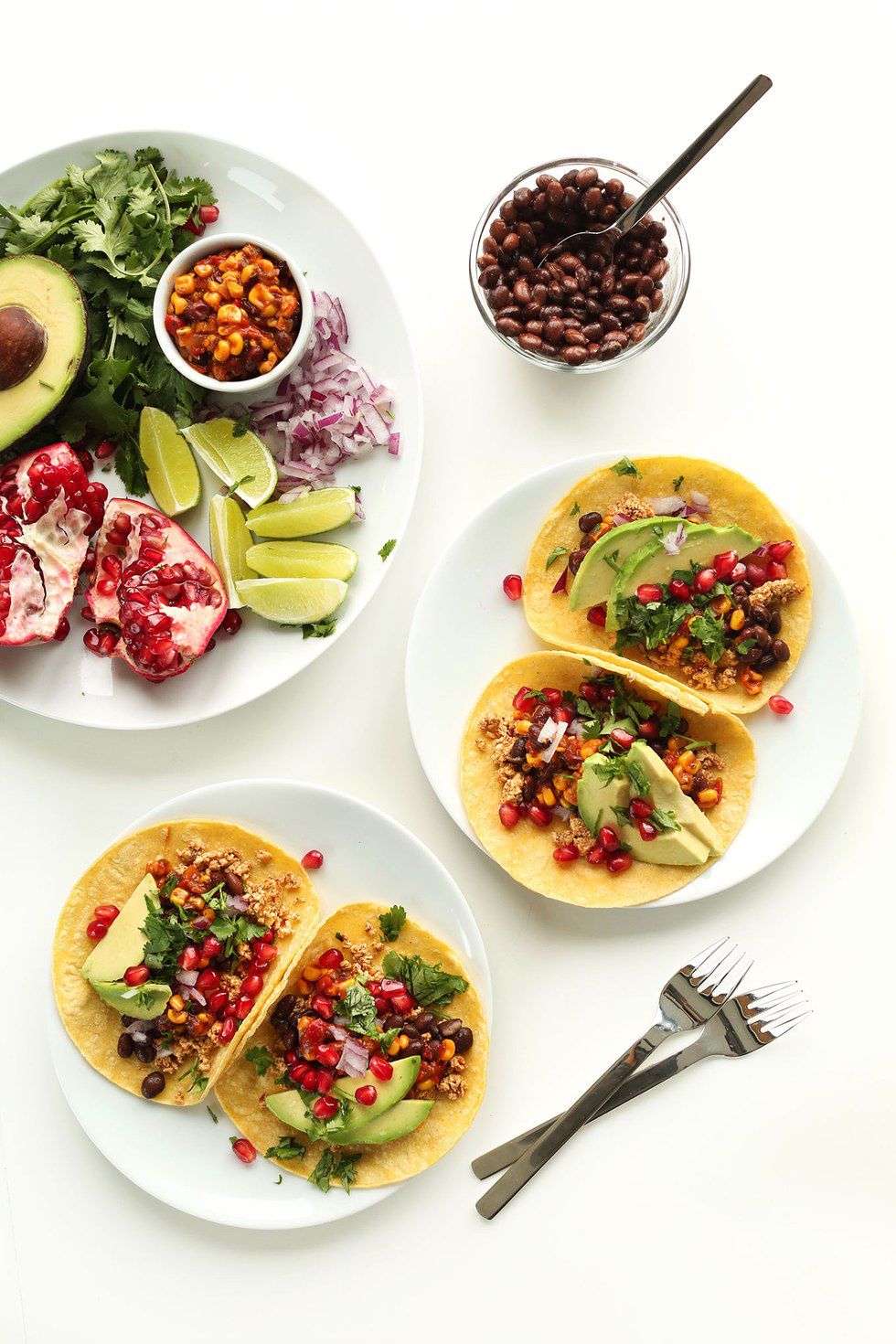 2. Omelettes
author: Fork & Beans
serves: 2 Chickpea Omelets
INGREDIENTS
For the Chickpea batter:
¾ c. chickpea flour
¾ c.+ 1 Tbsp. unsweetened nondairy milk
2 tsp. apple cider vinegar
2 tsp. nutritional yeast (optional)
¼ tsp. turmeric powder
¼ tsp. garlic powder
¼ tsp. onion powder
¼ tsp. baking soda
⅛-1/4 tsp. sea salt to taste
Stuffing options:
¼ of a red onion, chopped
2 garlic cloves, minced
¼ c. tomatoes, chopped
¼ c. small broccoli florets
1 Tbsp. cilantro
INSTRUCTIONS
In a Pyrex measuring cup, whisk together the chickpea batter. You don't want the batter too thick to stir. It should be like pancake batter, easy to pour. Allow to sit.
In a heated nonstick skillet, saute the red onion and garlic until lightly browned. Add the broccoli to soften. Remove and place on a plate.
Return to the heated skillet, add a little olive oil and pour half of the batter into the pan. Add the garlic, onions, broccoli, and tomatoes on top of one half of the batter. Wait until it bubbles and firms up along the edges (approx. 2 minutes to cook).
When able to, gently fold over one side to cook another minute. Cover with a lid and turn off the stove and allow to steam for 5 minutes.
Garnish with more tomatoes, minced red onion, sliced avocado and lime wedges.
Add sea salt and pepper to taste.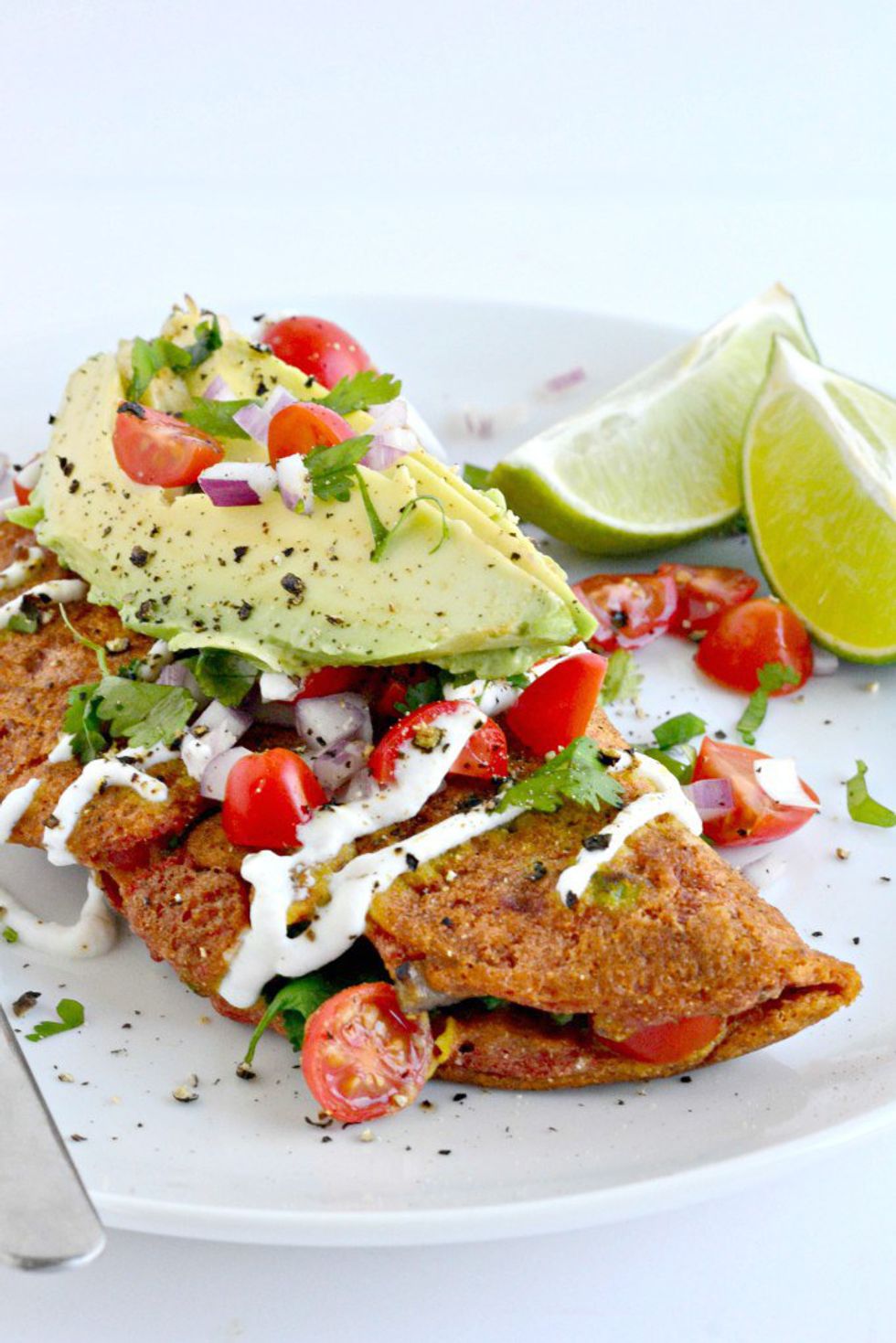 3. Pancakes
1 cup Bob's Red Mill Organic Whole Wheat Flour
1 tablespoon baking powder
¼ teaspoon salt
1 cup almond milk or dairy-free milk of choice
2 tablespoons olive oil or melted coconut oil
2 tablespoons maple syrup or sugar of choice
1 teaspoon pure vanilla extract
More oil to grease your pan/skillet, if necessary
INSTRUCTIONS
In a mixing bowl, whisk together the flour, baking powder and salt. In a 2-cup liquid measuring cup or another mixing bowl, whisk together the milk, oil, maple syrup and vanilla extract until thoroughly blended. (If your coconut oil solidifies on contact with the cold milk, gently warm it in the microwave just until it liquifies again.)
Pour the liquid mixture into the dry mixture. Stir until combined, so only a few lumps remain (don't over-mix or your pancakes will be tough!). If you'd like to mix in any totally optional add-ins (like chocolate chips or blueberries), gently fold them in now. Let the batter rest for 5 minutes so your pancakes will be nice and fluffy.
Meanwhile, if you'll be using an electric skillet, heat it to 350 degrees Fahrenheit. Otherwise, heat a heavy cast iron skillet or nonstick griddle over medium-low heat. You're ready to start cooking your pancakes once the surface of the pan is hot enough that a drop of water sizzles on contact.
If necessary, lightly oil the cooking surface with additional oil or cooking spray (I don't oil the surface of my non-stick griddle and my pancakes turned out great).
Using a ¼-cup measure, scoop the batter onto the warm skillet. Cook for 2 to 3 minutes until small bubbles form on the surface of the pancakes (you'll know it's ready to flip when about ½-inch of the perimeter is matte instead of glossy), and flip. Cook on the opposite sides for 1 to 2 minutes, or until golden brown.
Repeat the process with the remaining batter, adding more oil as needed. You may need to adjust the heat up or down at this point. Serve the pancakes immediately or keep warm in a 200 degree Fahrenheit oven.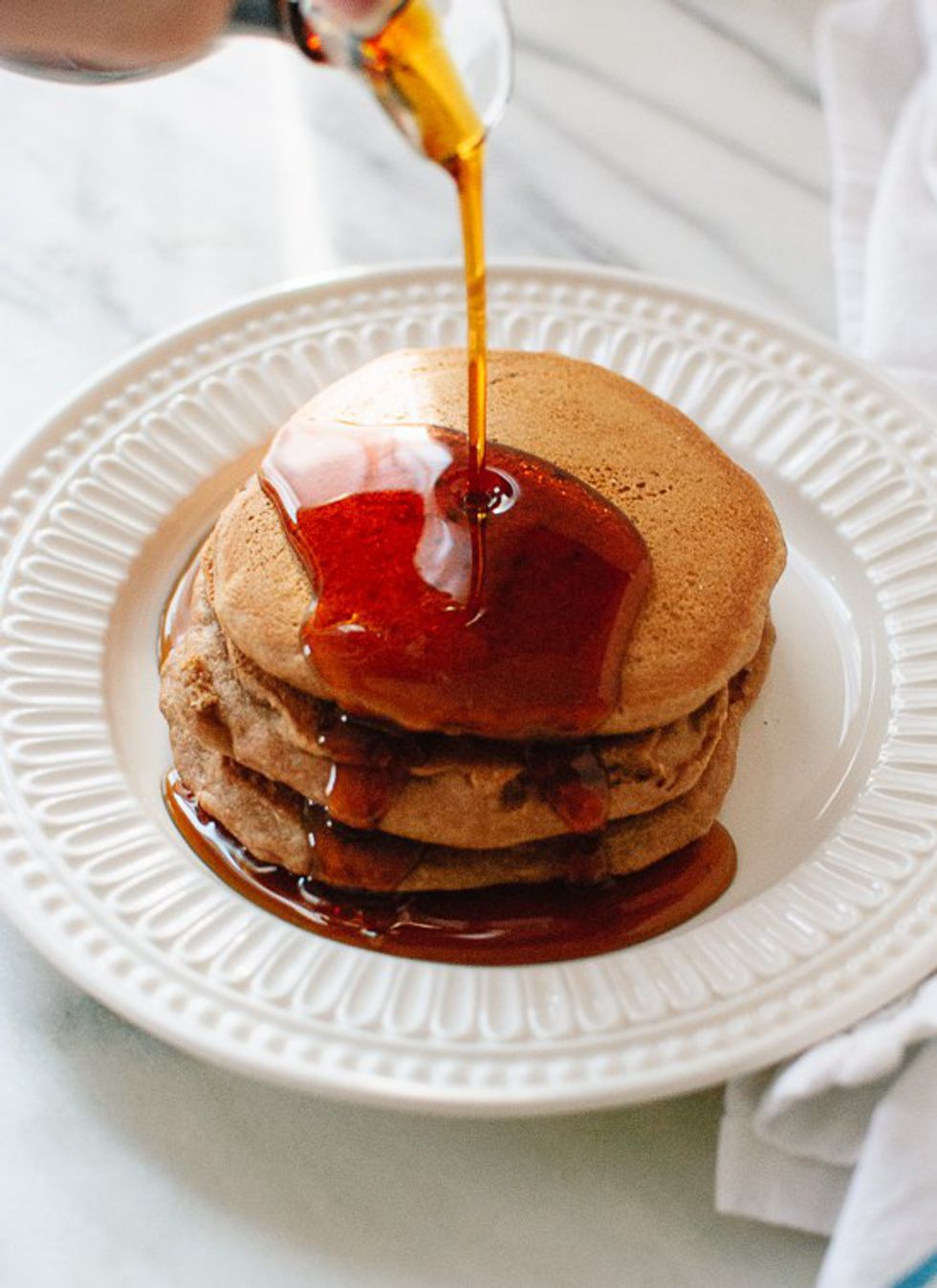 4. Biscuits and Gravy
Flaky vegan biscuits with thick, peppery mushroom gravy! A flavorful, healthy, satisfying 30-minute vegan breakfast.
Author: Minimalist Baker
Recipe type: Breakfast
Cuisine: Vegan
Serves: 3
Ingredients
MUSHROOM GRAVY
2 Tbsp vegan butter or olive oil
2 cloves garlic, minced
1/4 cup diced white or yellow onion
1 cup thinly sliced mushrooms (crimini or white button || chop finely for smoother texture)
Pinch each salt and pepper + more to taste
Optional: 1/2 tsp fresh sage or thyme, chopped
1 1/2 Tbsp all purpose flour
1/2 cup vegetable broth
3/4 - 1 cup unsweetened plain almond milk
2 Tbsp finely chopped walnuts (optional)
Instructions
Preheat oven to 450 degrees and prepare biscuits. Add to baking sheet. Place in the oven once you get to step 6 (when adding the walnuts to the gravy).
Add butter or olive oil to a cast iron skillet large saucepan over medium heat. Then add garlic, onion, mushrooms and season with a pinch each salt and pepper. Cook for 3-4 minutes or until the onions are translucent.
Add flour and whisk to coat. Cook for 1 minute.
Then slowly whisk in broth and almond milk, starting with 1/2 cup almond milk and building up. Season again with a pinch each salt and pepper.
Cook until thickened, stirring frequently, over low heat. Taste and adjust seasonings as needed. I go heavy on the pepper out of preference.
Add walnuts and stir to combine. Keep on low until you're ready to serve, adding more almond milk as needed if it gets too thick. (Bake biscuits for 10-15 minutes.)
To serve, split biscuits and top with gravy. Store leftovers separately - store gravy covered in the fridge for up to 3-4 days, and store biscuits (once completely cooled) at room temperature in a tupperwear or plastic bag. Reheat in a 350 degree oven to keep flakiness intact.
5. Mcgriddle
soy sausage or make some with textured vegetable protein
[u]Pancake[/u]
1-1/2 cups flour
1 teaspoon baking powder
1/2 teaspoon baking soda
1/2 teaspoon salt
1/2 teaspoon sugar
1/4 teaspoon cinnamon
1/2 cup nondairy milk or water [u]"Egg"[/u]:
1/2 (12-ounce) block tofu, sliced thin like for tofu bacon
1/2 teaspoon turmeric
1/4 teaspoon chili powder
1/4 teaspoon cumin
1/4 teaspoon salt
1 tablespoon olive oil [u]The Fixings[/u]
agave or maple syrup
1 slice vegan cheeze
1. "Sausage": Heat the soy sausage.
2. Pancake Batter: In a bowl, mix together flour, baking powder, baking soda, salt, sugar, and cinnamon. Add nondairy milk until the batter is thick, but still able to pour, like muffin batter. (You don't have to use the whole 1/2 cup of milk unless you want thinner pancakes.) Half batter to make two pancakes and cook in a skillet. Place pancakes on a warmed plate and cover to keep pancakes warm.
3. "Egg": In a bowl, mix together the turmeric, chili powder, cumin, salt, and oil. Carefully coat tofu slices with seasoning. Pan fry the tofu until heated and beginning to brown.
4. Place on plate in the following order: drizzle syrup, pancake, tofu, cheeze, sausage, pancake, and drizzle the very top with more syrup!! Must eat with a fork, it's huge!!
Source of recipe: My husband made this up..
Preparation Time:
5 minutes, Cooking time: 10 minutes
Cooking Time:
10 minutes
Servings:
1
Recipe Category:
Miscellaneous Breakfast Recipes


All recipes came from independent cooks,chefs, and bakers.