Urban Exploring is becoming an increasingly popular trend around the world, in which daredevil millennials take to restricted areas of grandeur. We've all seen at least one clip in passing; a Russian boy scaling cranes perched high above the clouds, hanging off the side of a building undergoing construction with one hand, and many more. But not all urban adventures need to be reckless and terrifying; they can be beautiful and awash with culture and social conversation, too.
Graffiti Pier, a coal shipping pier formerly known as Pier 124, was once an epicenter of trade. Now it stands a monument to the Industrial Era, reclaimed by nature and local communities and artists, though still owned by Conrail and technically private property. Situated in East Philadelphia mere minutes from Fishtown and Northern Liberties, the north-east Cumberland area has yet to feel the tight grip of gentrification. In the summertime, the Pier becomes a playground. Local youths can be found swinging from ropes overhanging the river, swimming, fishing, and playing while others light bonfires and drink beer with the light popping soundtrack of paintball fights.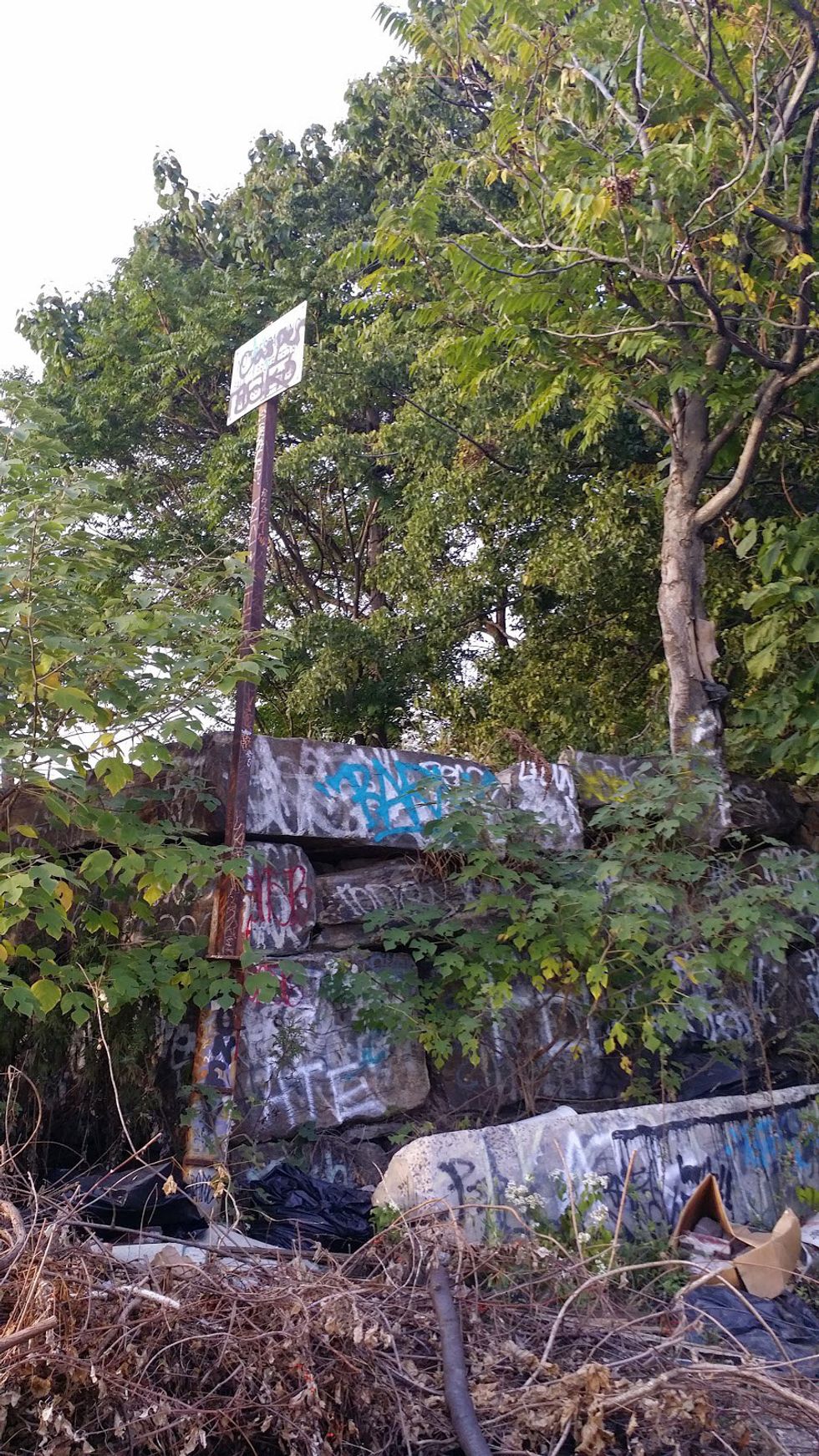 Spatters of graffiti and tagging greet you as you walk towards the pier

In the shadows, figures coated in black stalk with cans of aerosol paint in each hand and art at their finger-tips. These are the keepers of the pier, the artists that give it lore. Throughout the seasons, impromptu concerts, record release shows, photo shoots and music videos give new life to the Pier and freeze the graffiti and tags adorning the cement in time before it is covered in a new layer of paint. The ever changing appearance, local and tourist uses, and peppering of nature reclaims the industrial space, transforming it into something organic and gritty.
"The diversity of visitors, activities and lively engagement with the spot is fantastic on its face, but the fact that it all happened without guidelines, without permission, without a master plan, is even more compelling." -Liz Spikol
A large part of Graffiti Pier's allure comes from it's thoroughly underground nature; the intrigue of restricted access, the sex-appeal of unregulated danger makes visiting there a rush similar to those who film acrobatic stunts on the scaffolding of skyscrapers. But for those who reside in the area, the pier is home; an adult jungle-gym and playground accessible to all. With no renovation plans for the space in the near future, the pier can be expected to continue attracting visitors. But as it's existence becomes known to more and more people, it cannot be expected to remain in the same condition for long.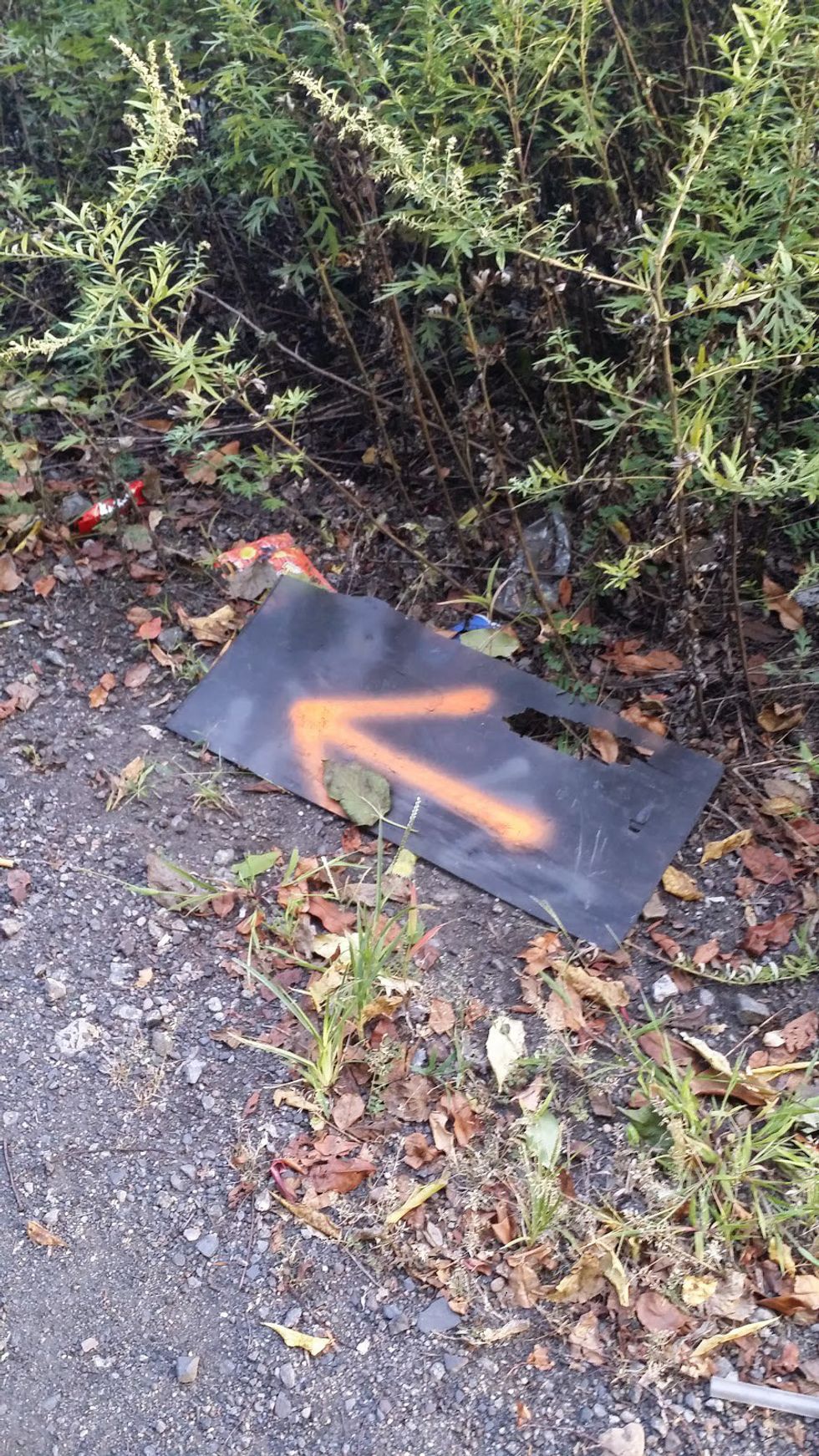 Don't worry about getting lost. Arrows will point you the way

That being said, I have a few suggestions and directions to propose, should you find yourself in the area:
Before you go, make sure you wear closed-toed shoes and carry bug-spray with you. There is a lot of glass and trash so bring a chair or towel to sit upon, in case you get tired, and clean up after yourself. Go with a friend, or two, and most importantly, do not forget to bring a camera.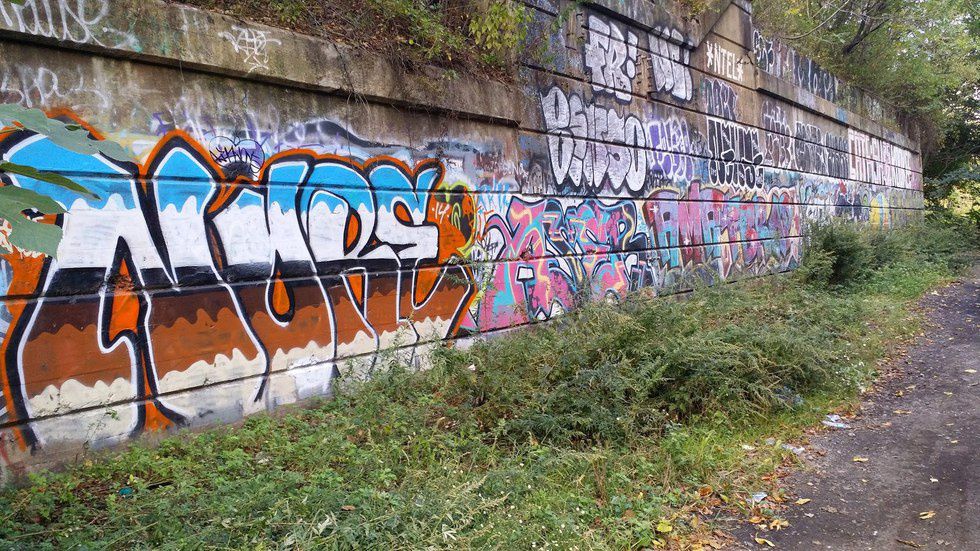 Welcome to the Pier!

To get to the Pier, one must park in the Port Richmond shopping mall, cross underneath I-95 and across Richmond St. and follow a beaten path guarded by a locked yellow gate. Following spray painted markers, in one instance a piece of metal with an orange arrow, you only need to walk five minutes before you arrive. And when you do, you can expect to spend an entire day there following the labyrinth of cement columns, marveling at the bright colors along the walls, and gazing at the backdrop that is the Philadelphia skyline. More ambitious individuals might be tempted to climb a tree, as I was, and walk along the train tracks above the pier. Be careful to watch your step, though, due to the decrepit condition of the pier some areas may have rotted through.
If you get thirsty or have to use the restroom, the employees of the nearby Richmond Shops grocery store can help. I recommend everyone visits in the summer or early fall so they can swing by a local 'papi' shop, or corner store, for they frequently hold mini-cookouts and welcome customers to buy some beef-sticks, grilled sausage and sweet potatoes hot off the grill.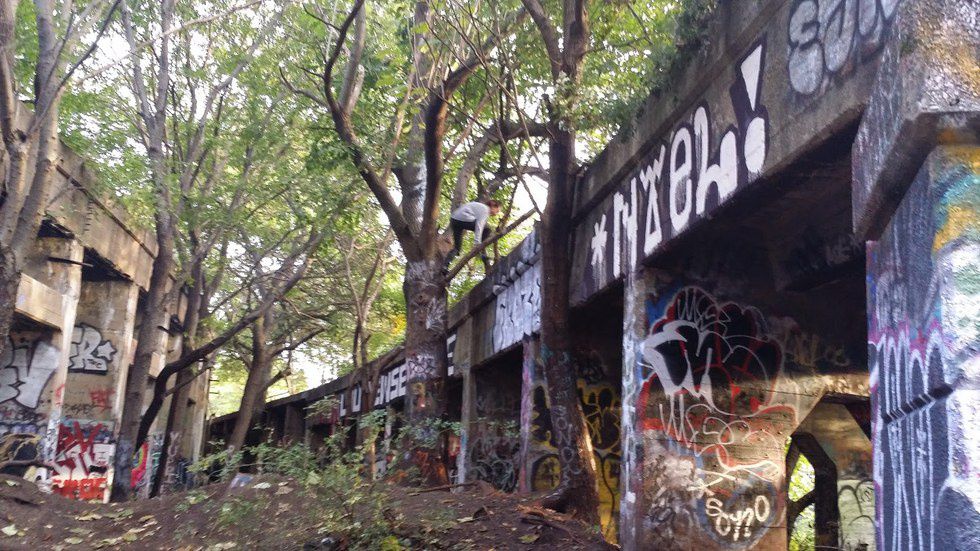 Nature has since re-claimed the industrial space, trees erupting alongside the decrepit pier providing a perfect ladder to the top of the pier.

As an urban landmark, Graffiti Pier means a lot to locals and is a popular pastime which holds much sentiment amongst residents. Take care to respect the space, clean-up after yourself, even if others do not follow suit, and visit a few shops in the area. The locals are all very friendly and appreciate the business.
Location: Pier 124, E Cumberland St. Philadelphia, PA 19125