If you have already read Part One of two articles on Unpacked, Unpacked: Our Gallery In A Truck (It's even crazier than it sounds), you are familiar with the artist collective and mobile exhibition space as well as the events of our Chicago opening on May 20th. Here is a more in-depth coverage of the exhibition itself and the curation involved in the themed group show.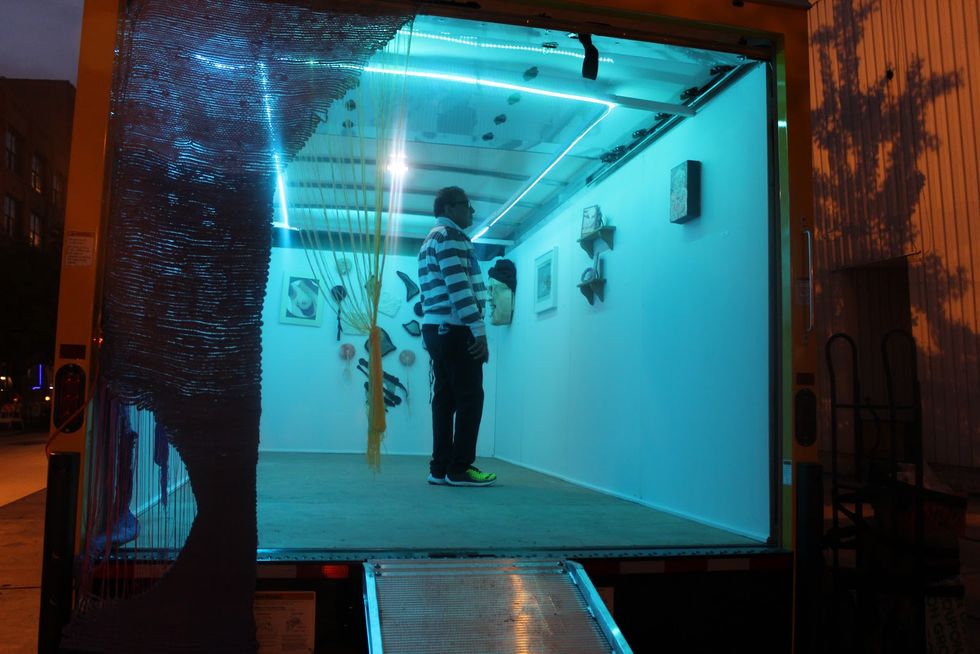 Unpacked: Mobile Gallery is a co-op initiative and alternative artist-run exhibition space founded in April of 2017. The DIY artist space is a "mobile gallery" or "pop-up truck show" that allows for guerrilla art shows around the city of Chicago. Exhibiting work in a moving truck is a creative and cost-effective way to conduct pop-up shows in the city. The initiative was founded as a communal project for artists to curate, showcase and have total control over how and where their work is exhibited in a unique and interactive space.
un·pack
/ˌənˈpak/
verb: past tense: unpacked; past participle: unpacked
- open and remove the contents of (a suitcase, bag, or package).
- analyze (something) into its component elements. : explicate unpack a concept
Noah Kashiani
Declined Liability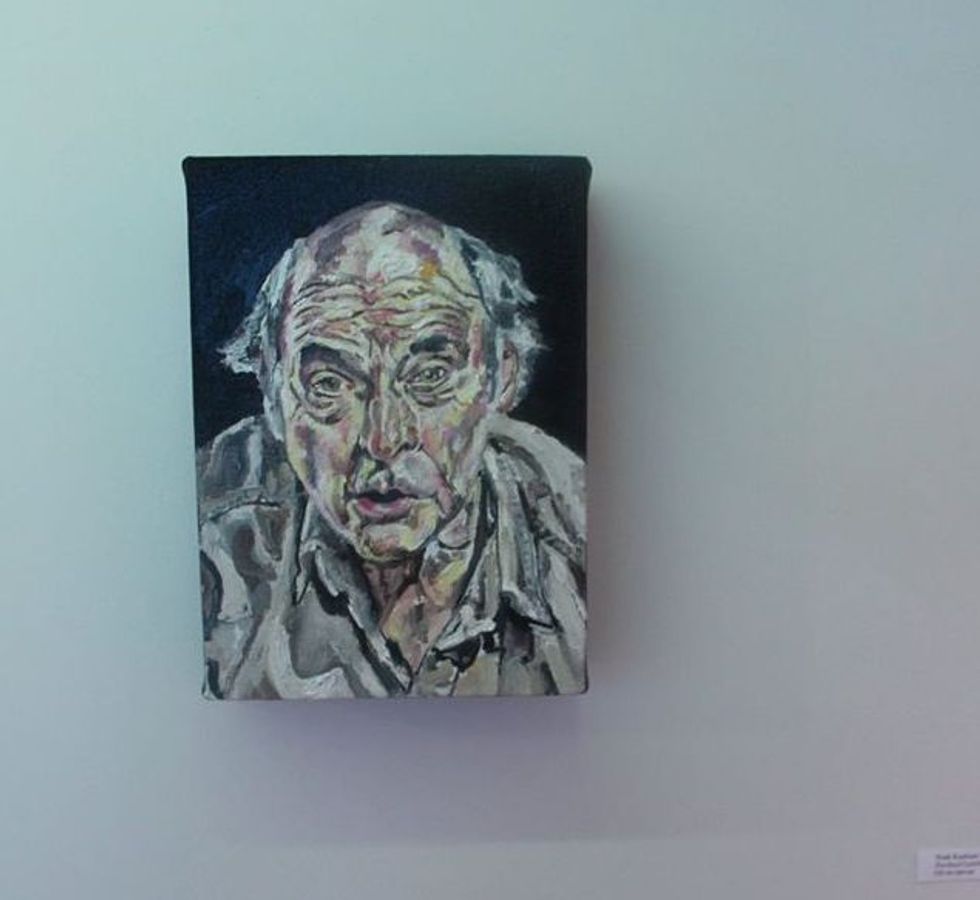 The unconventional space of a mobile gallery inspired the theme Unpacked. The space is transient, lasting only for a short time, just as the artists of Unpacked are by large working and staying in a place for a short period as graduate students over fifty miles West of Chicago. As DeKalb-based artists many of Unpacked's members are commuters. To commute from the near-desolate area of DeKalb to the enriched art scene of Chicago for pop-up exhibitions is to build community. Unpacked Collaborative is mobile as a means to strengthen local and global networks. The mobile space supports the informal and formal goals of experimental cultural centers while adding to a tradition of growing independent, cooperative and artist-run spaces in Chicago. Unpacking concepts through an exhibition of transitory objects and art pieces, both the artwork and its artists here today, gone tomorrow. Unpacked offers a closer look at concepts we often digest without full-recognition.
Faith Wittrock
Knick Knack Patty Wack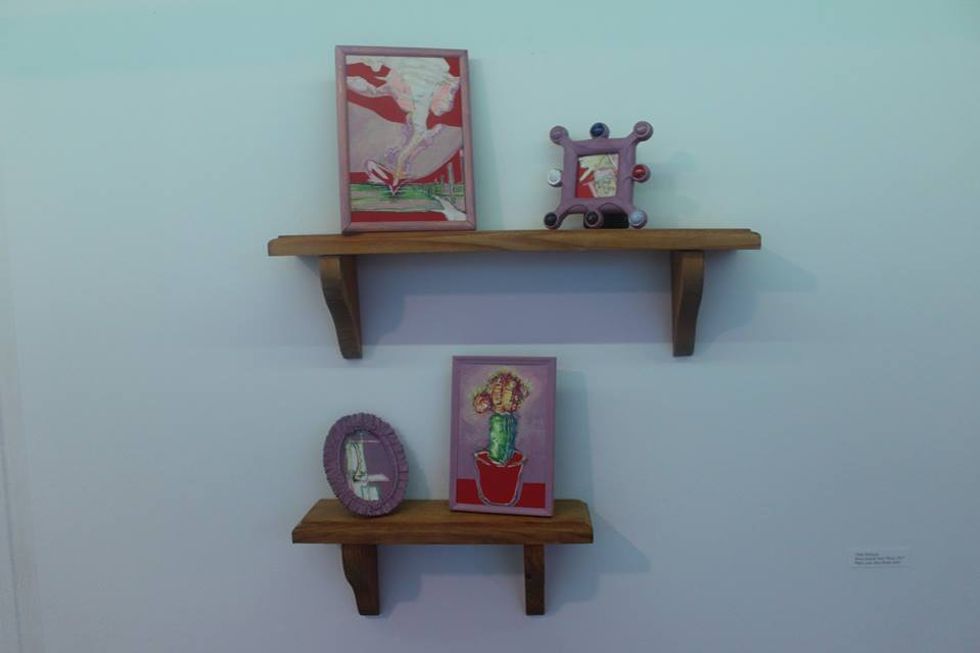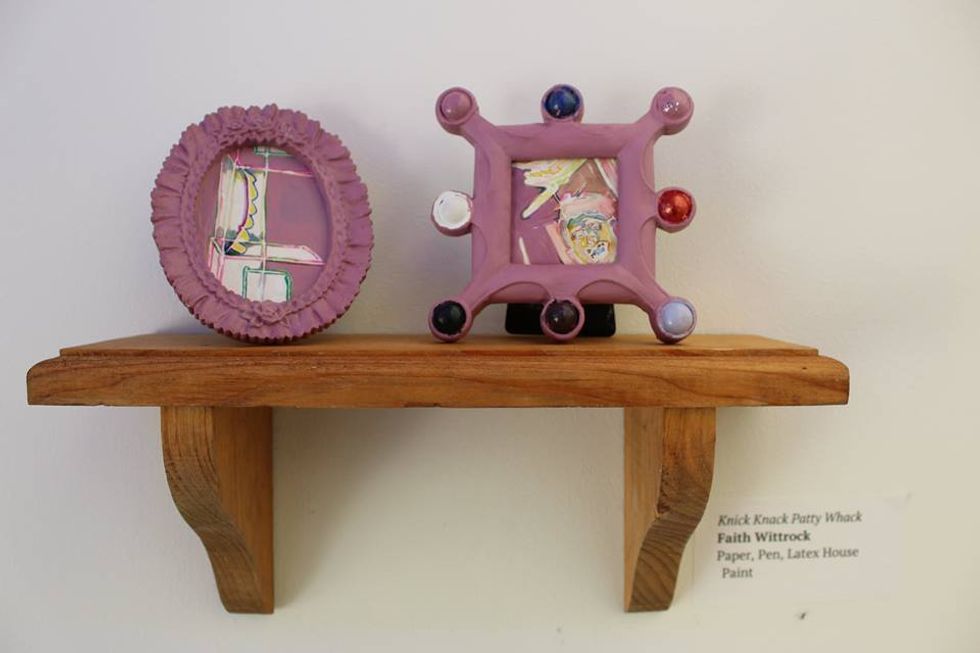 From icons and images, to literal objects we carry with us from home to home, Unpacked explores an array of ideas communicated as emotional baggage, character complexity, unrealized expectations or short-lived experiences. Faith Wittrock's Knick-Knack Patty Wack embodies the thrillful re-discovery of a cherished belonging during the tedious process of a move. The tiny picture frames are custom painted treasures enveloping girlhood nostalgia and the sentimental ties embedded within objects. Making a space designated for your cherished objects ties into the romanticization of a new home and new beginning. Carry It With You and Setting Roots tie into this idea of making a new home and claiming a space. Carry It With You is a detailed print of the artist's apartment and the many objects she surrounds herself with. Samantha Mendoza depicts objects both sentimental and functional, from artwork and books to empty bottles and garbage. The image perpetuates the nontraditional idea of a home not being dependent upon good housekeeping and hospitality, but as a place of solitude. Setting Roots a sculptural piece consisting of a cardboard rose placed on a collection of earth. The materials relate to moving boxes and the land claimed by the artist. Furthering the narrative of claiming land, Gray has urinated on the dirt, as a means of marking his territory.


Samantha Mendoza
Carry It With You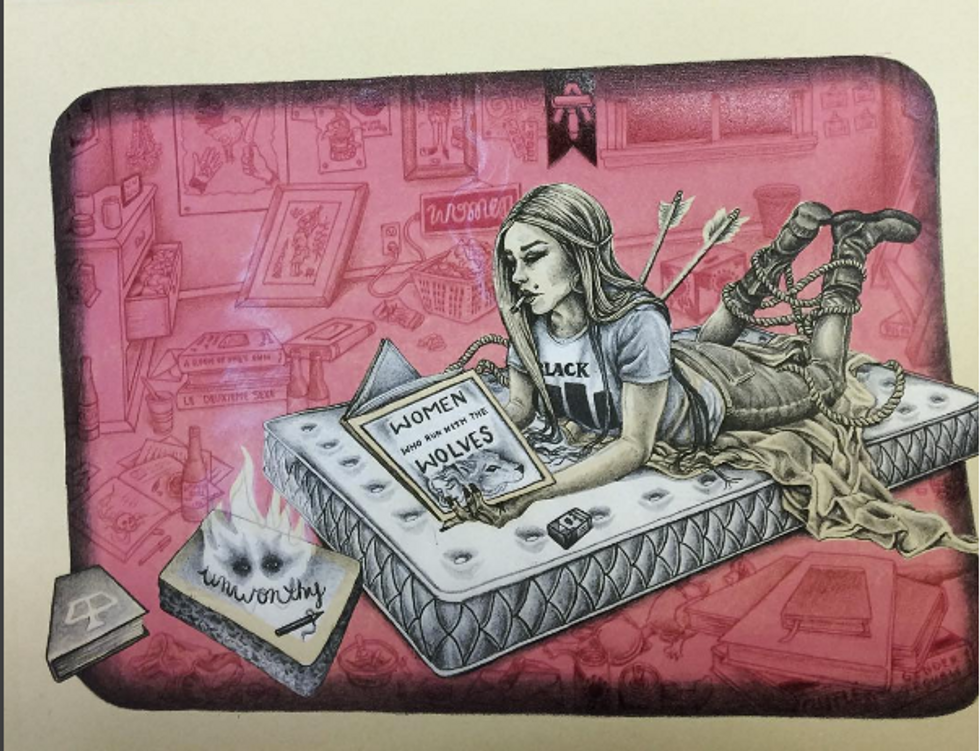 Terrance Gray
Setting Roots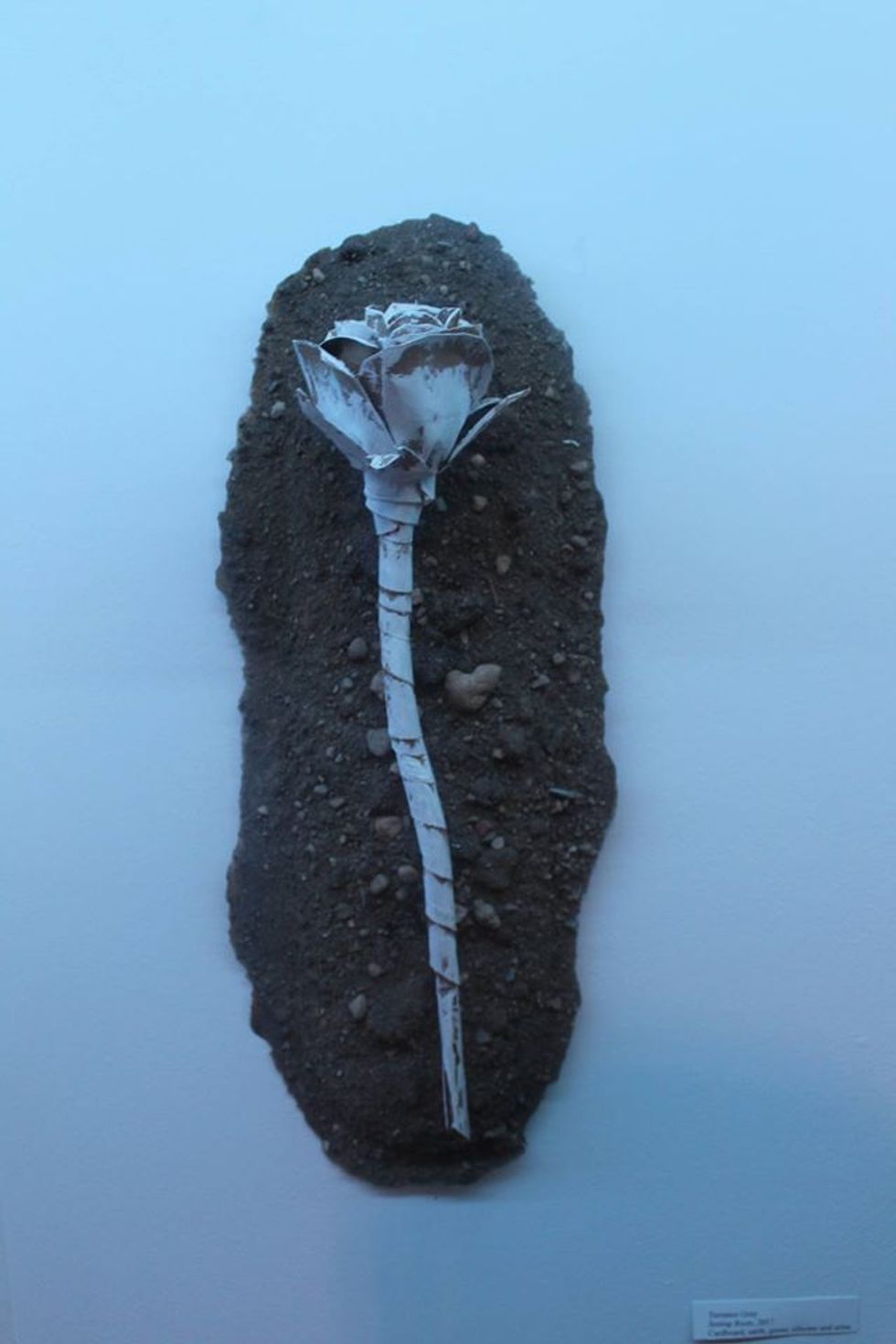 Rebecca Griffith
The Land Before Time (1988 -1998)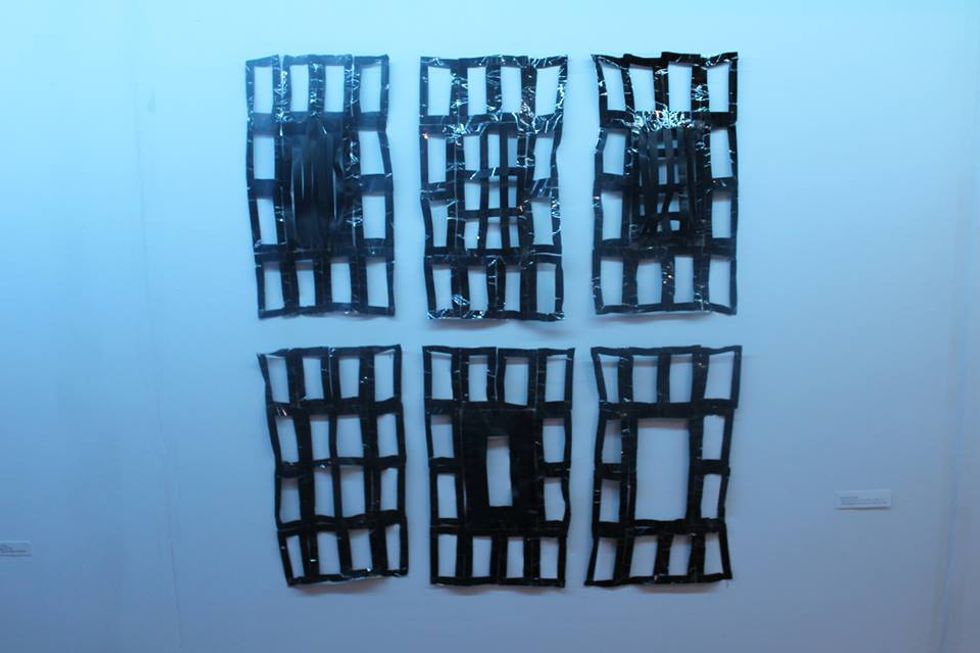 Rebecca Griffith creates work that examines the process of coping with her mother's illness from a young age to adulthood. Her work unpacks the need for protection by making blankets, quilts, and pillows from VHS tapes. The artist's only recollection of her mother not being sick comes from the early 1990s, when her mother ran a video store, creating a unique relationship to the material. The work transforms the vulnerable, magnetic tape of a VHS into an object of comfort.
Naomi Elson
Open Up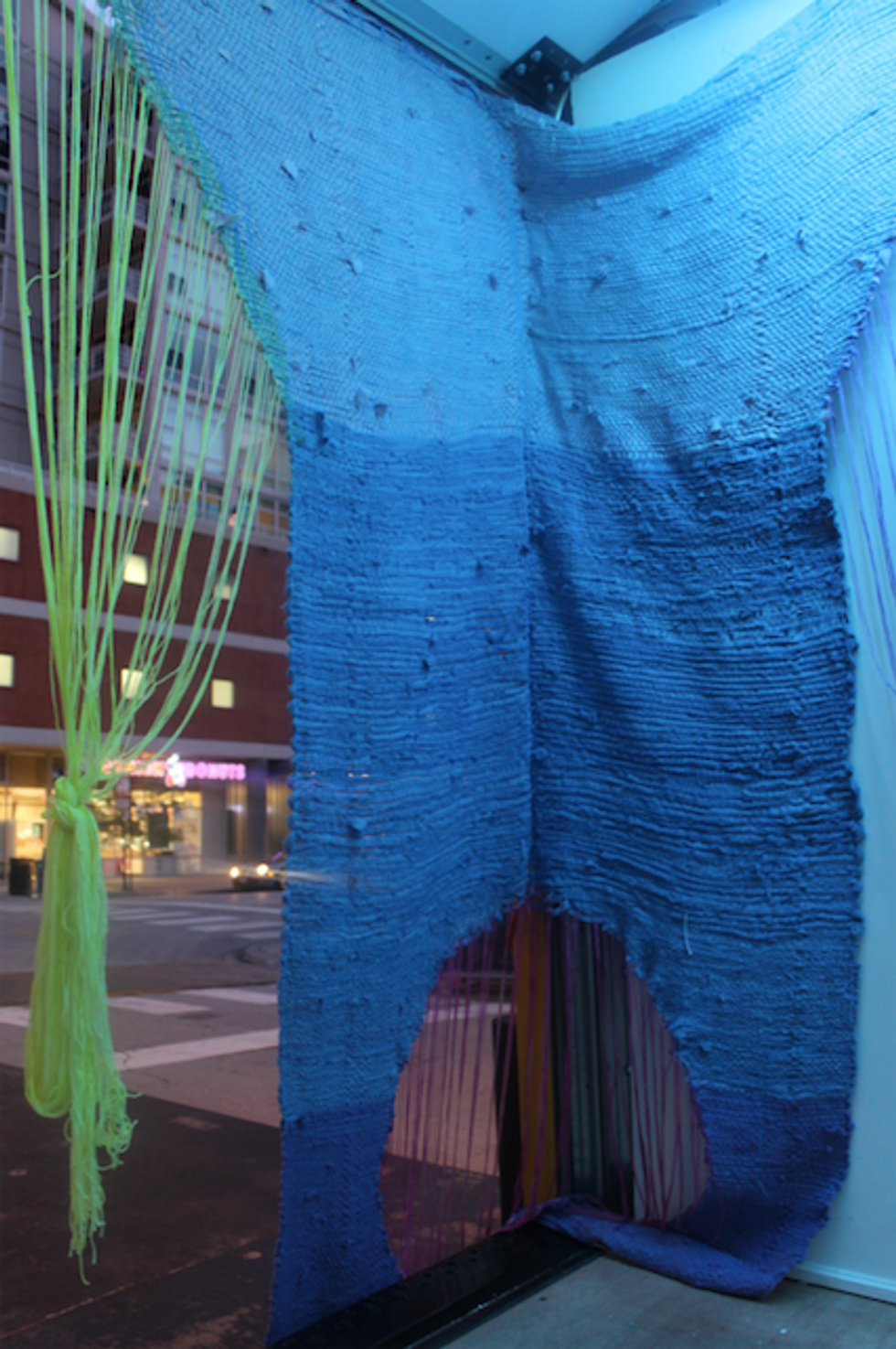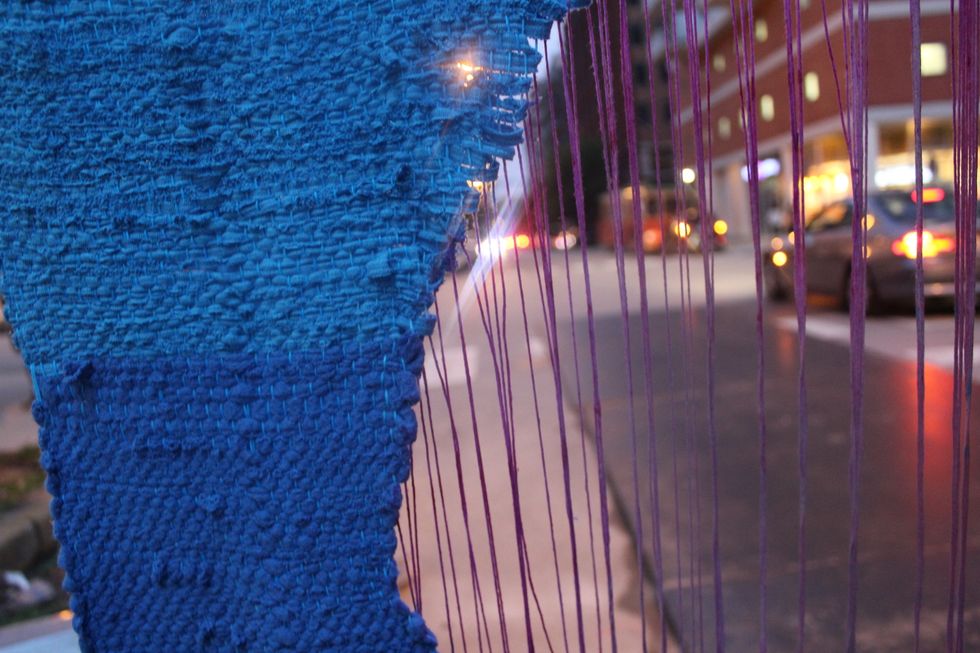 Multi-disciplinary artist, Naomi Elson, invites viewers to contemplate the tradition of weaving as it is regarded today. Textiles have a distinguishable household connection, but she pushes its boundaries further in her dynamic corner piece, Open Up, which opens the question, "does weaving have a place in the art world today?" Her work opens a dialogue with the surrounding environment and creates relationships between the site and the viewer, the horizon line of the exterior and the interior of the mobile gallery, treading the line between acceptance and rejection.


Lauren Iacoponi
Recognize Growth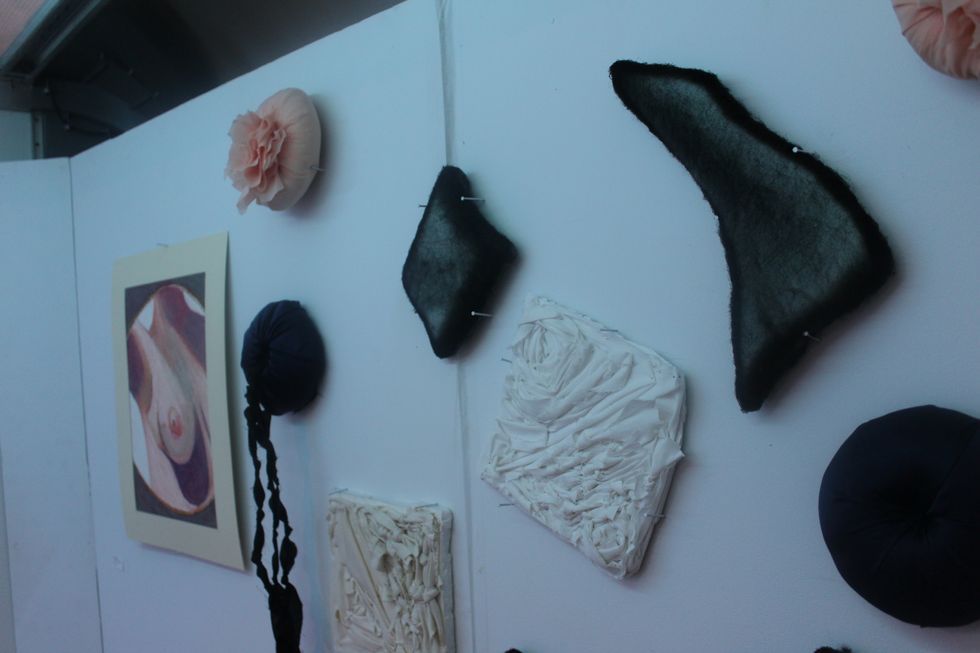 Fiber artist Lauren Iacoponi reflects vulnerability, acceptance, and progress in Recognize Growth through a balance of vibrancy and darkness in abstract upholstered forms. The installation is equated to a sense of growth paired with the ebbs and flows of life, a recurrent or rhythmical pattern of coming and going or decline and regrowth. Gaping orifices posture the intense need to express or let something out. The outpour can be viewed as a necessary cleansing. Where the dark knotted strands seem ominous, the soft peach strands unpack an entirely different narrative, communicating one's needs and having the courage to be honest with others and oneself. These forms can be seen flourishing as a result in flowery upholstered blossoms. As a whole, the installation relies on parts and counterparts. The upholstered objects can be seen as seductive, comical, weighted, erotic or absurd. The contrasting material invites contemplation where the viewer can glean a poetic, emotional narrative of tension and release, decline and regrowth.
Shane Bowers
Declined Liability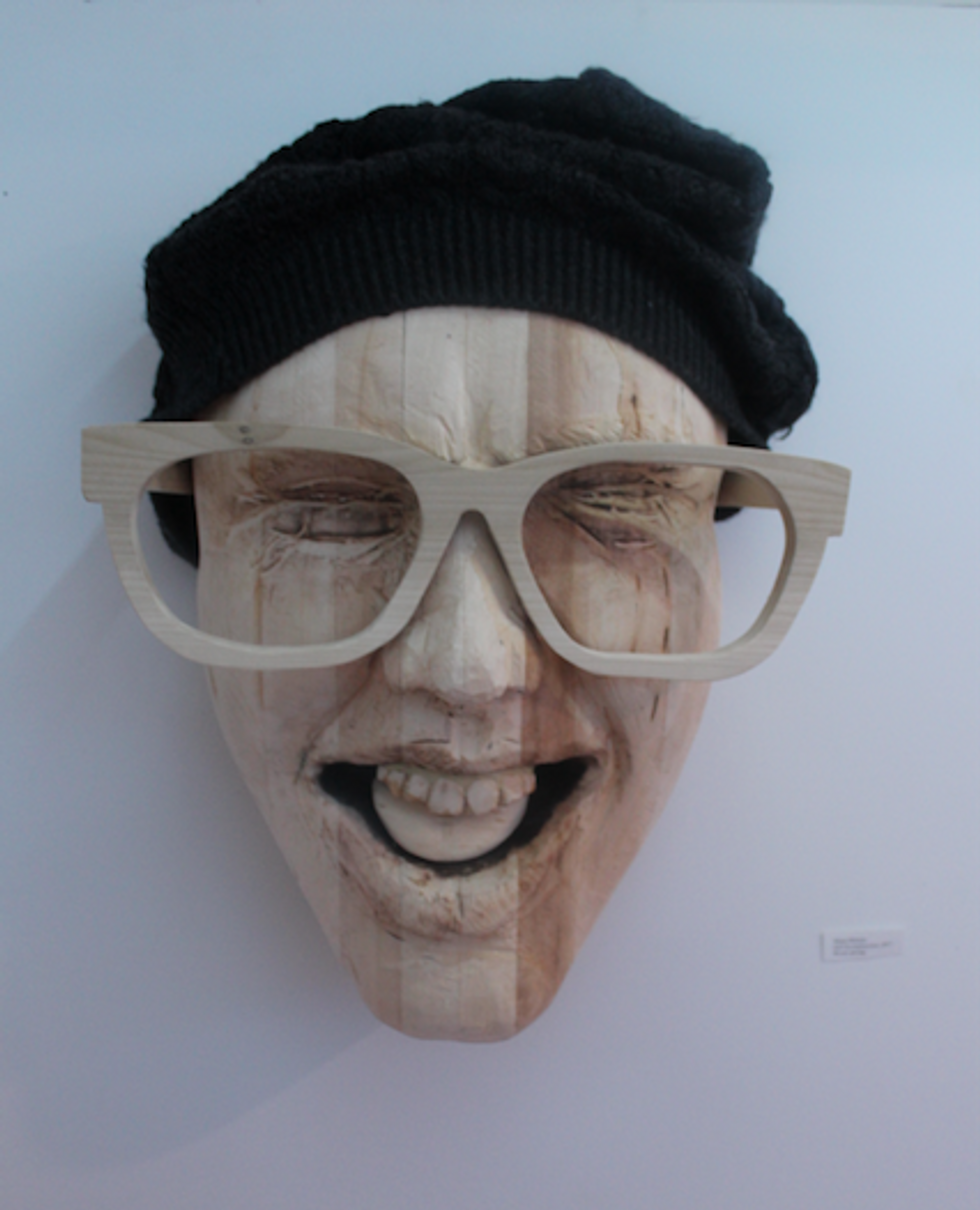 Sculptural artist Shane Bowers brings forth the idea that identity is translucent in society. The self preservation of identity is broken down and rebuilt again and again. Bower's self portrait deals with the artist's experience with transformation, and contemplation of what is behind one's own mask. Identity carries on as an important role in Rafael Rocha's work, which depicts bags of fruits. Though seemingly simple in subject, the work plays on the dichotomy of Latin and Euro Americanism, which unravels issues of cultural and self-identity. Rocha intends to break down issues of oppressive hyphenated classism through his exquisitely crafted piece. The canon of traditional sculpture is used as a repetitive vehicle to purge ideas of identity at a personal and social level. Rocha's colors celebrate spiritual wealth the way these marginalized communities utilize color to visually enrich their environment.

Rafael Rocha Jr.
Earnings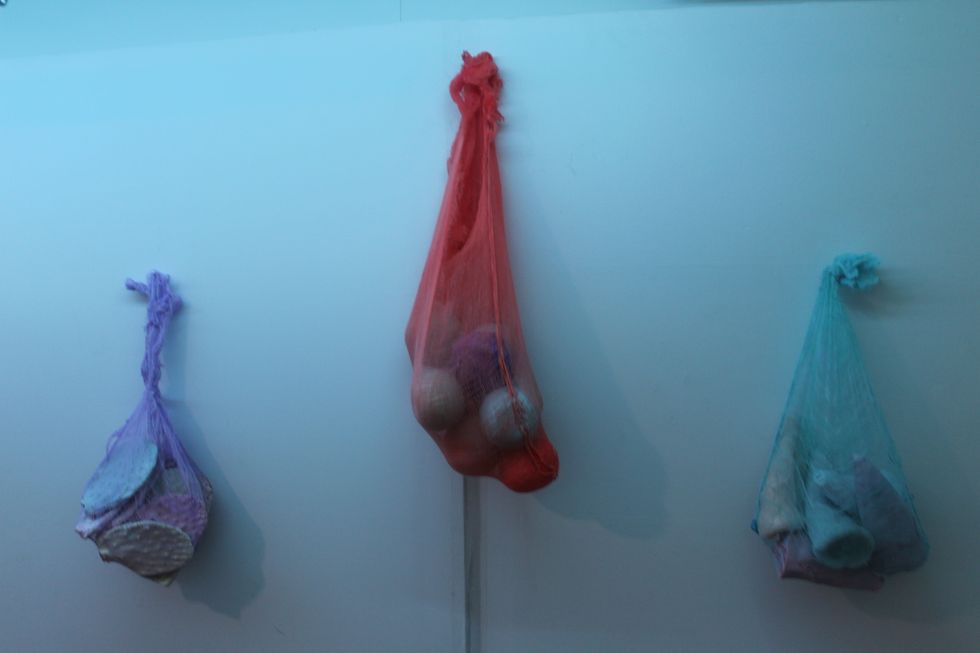 Reints offers a glimpse at emotional baggage in her moving self-portrait Just Looking. Her statement chronicles the quick unraveling of the events that take place when faced with cancer:
Tuesday, January 10th - meeting with doctor for pain in right breast
Monday, January 16th - mammogram
Tuesday, January 24th - biopsy
Thursday, January 26th - biopsy results
Monday, January 30th - meet with surgeon
Friday, February 3rd - ocular x-ray and MRI
Tuesday, February 7th - Redo MRI, blood work for genetic counseling
Tuesday, February 21st - Genetic testing results
Friday, February 24th - Meet lawyer for medical power of attorney, will, and living trust
Wednesday, March 1st - Surgery
Tuesday, March 7th - Post op appointment
Wednesday, March 29th - Treatment plan appointment
Wednesday, April 5th - 2nd opinion
Monday, April 10th - Pick up dry ice for cold cap therapy, unpack caps
Tuesday, April 11th - Begin chemotherapy
[rebelmouse-proxy-image https://media.rbl.ms/image?u=%2Ffiles%2F2017%2F05%2F25%2F636312837715462384-19340652_636312837151090058-63557575_Screenshot%25202017-05-18%252023.04.48.png&ho=https%3A%2F%2Faz616578.vo.msecnd.net&s=910&h=db9caf63189ab23d20f6f1353dc573b8ab4daf494e1f9a8c11e5913c8239cf96&size=980x&c=1598231179 crop_info="%7B%22image%22%3A%20%22https%3A//media.rbl.ms/image%3Fu%3D%252Ffiles%252F2017%252F05%252F25%252F636312837715462384-19340652_636312837151090058-63557575_Screenshot%2525202017-05-18%25252023.04.48.png%26ho%3Dhttps%253A%252F%252Faz616578.vo.msecnd.net%26s%3D910%26h%3Ddb9caf63189ab23d20f6f1353dc573b8ab4daf494e1f9a8c11e5913c8239cf96%26size%3D980x%26c%3D1598231179%22%7D" expand=1 original_size="1x1"]
This is just the beginning for us, we plan on continuing to use this pop-up artist space for many exhibitions to come. This project-space will travel and exhibit throughout the greater Chicagoland area from "First Fridays" in Pilsen, to openings in the West Loop artist district. We are making a name for ourselves and invite you to join us on that journey.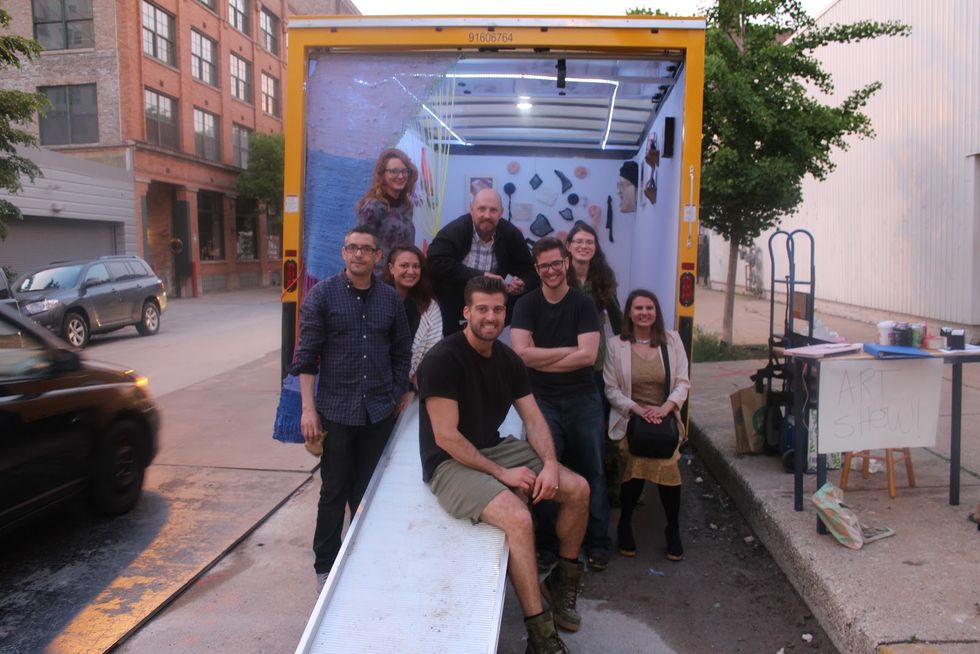 To follow our space more closely
- Visit Our Website
- "Like" Our Facebook Page
- "Follow" Us on Instagram