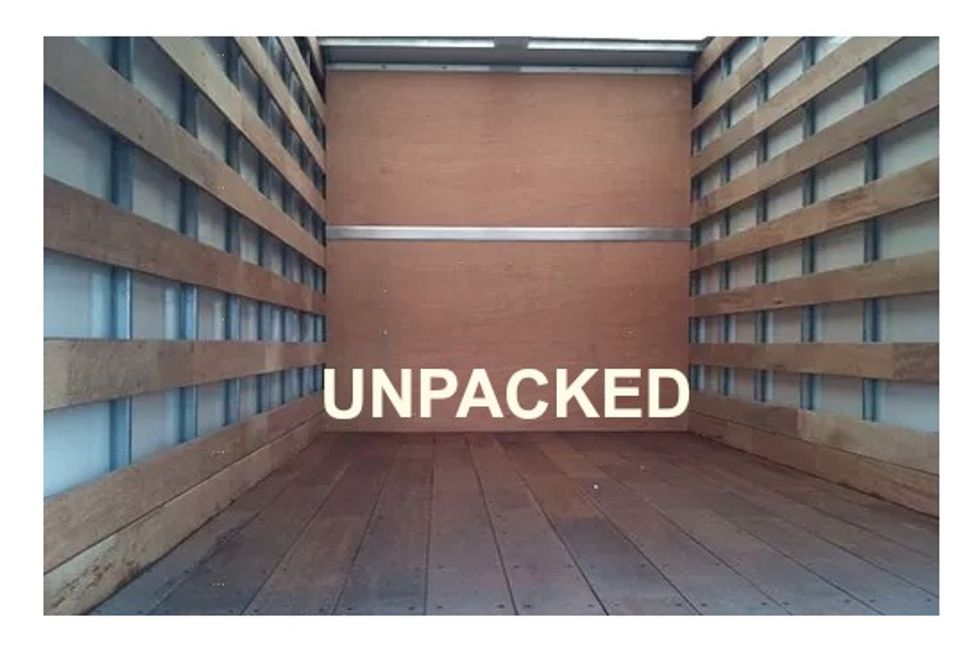 Unpacked: Mobile Gallery is an alternative artist-run exhibition space founded as an artis collective in April of 2017. The DIY artist space exhibits innovative artists across disciplines through a "mobile gallery" or "pop-up truck show." Our truck turned showroom allows for guerrilla art shows around the city of Chicago. Because finding and affording gallery space is typically a difficult and expensive venture, it occurred to this team of DeKalb-based artists that a more cost-effective way to conduct pop-up shows in the city was to rent a truck and find parking. This thrilling communal project allows artists to create their own opportunities to curate, showcase, and have total control over how and where their work is exhibited in a unique and interactive space. Original contributing members include Shane Bowers, Rafael Rocha Jr., Faith Wittrock, Naomi Elson, Samantha Mendoza, Terrance Gray, Noah Kashiani, Jilian Reints, Steven Lockwood, Rebecca Griffith and myself.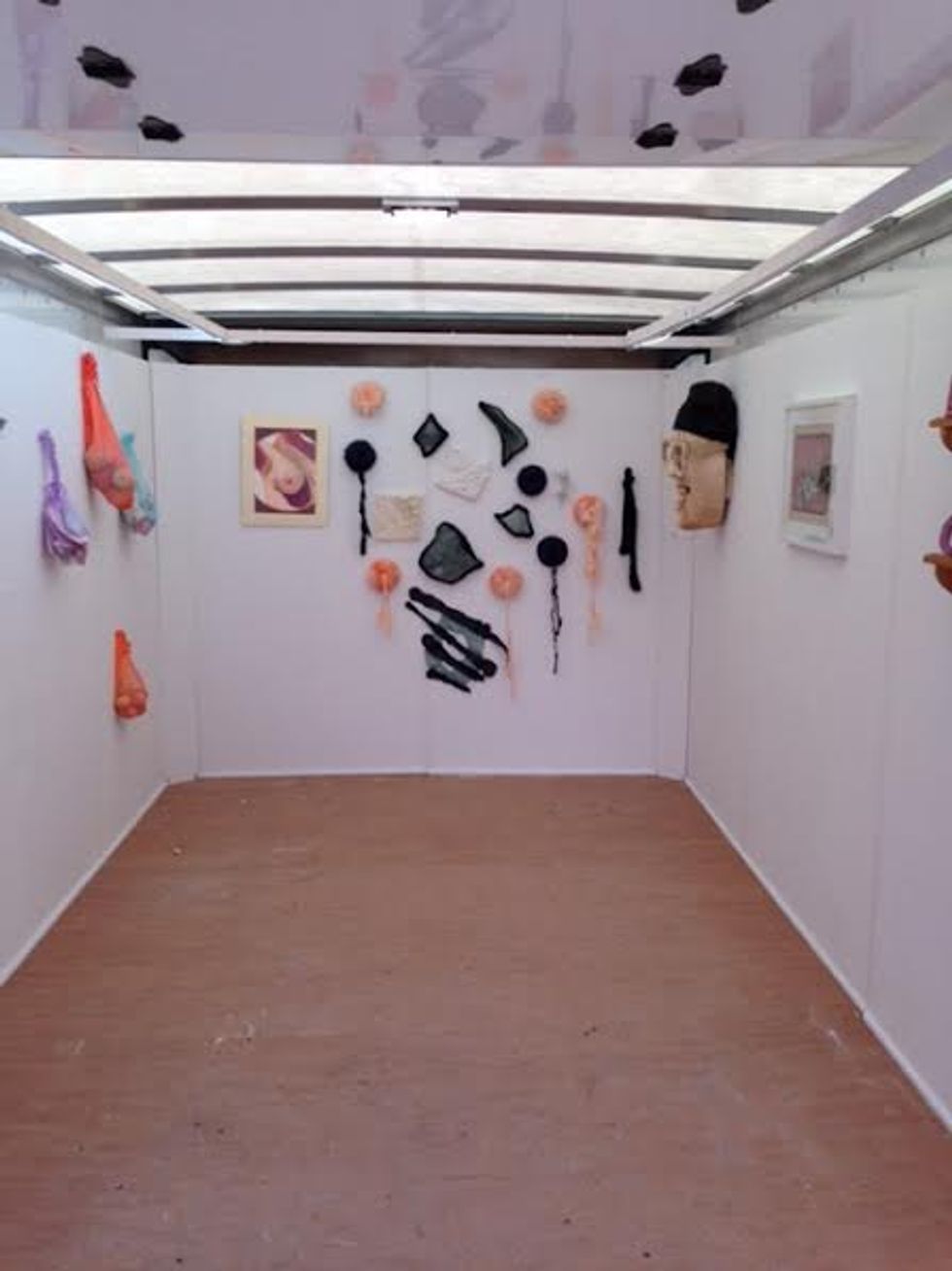 We expected a few bumps in our plan but did not anticipate a bumpy ride from DeKalb to Chicago. We ran across our first complication when we rented our moving truck in Chicago the morning of our opening. All previous installations of our gallery walls took place in DeKalb, using a local Penske truck. However, at 70 cents a mile, we decided to drive the walls to the city using Unpacked artist Naomi Elson's van. We were initially pleased with the truck we rented in Chicago, which was in pristine condition because it was brand new. However, it turns out the new model for the 16-foot truck was not built to the exact dimensions of the original truck, which the walls were custom built to fit.
A collective relies on the talents of many, luckily, there was no shortage of smart, creative, problem-solving artists on the scene. Through the efforts of at least three of our members, the walls were installed three hours later than expected, utilizing saws, screws, nails, foam and tape. As the Digital Media Manager for Unpacked, I had put out an official newsletter and Facebook invites promoting our show to start at 4:30 p.m. I can say with certainty, the walls were not successfully in place until closer to 6 p.m.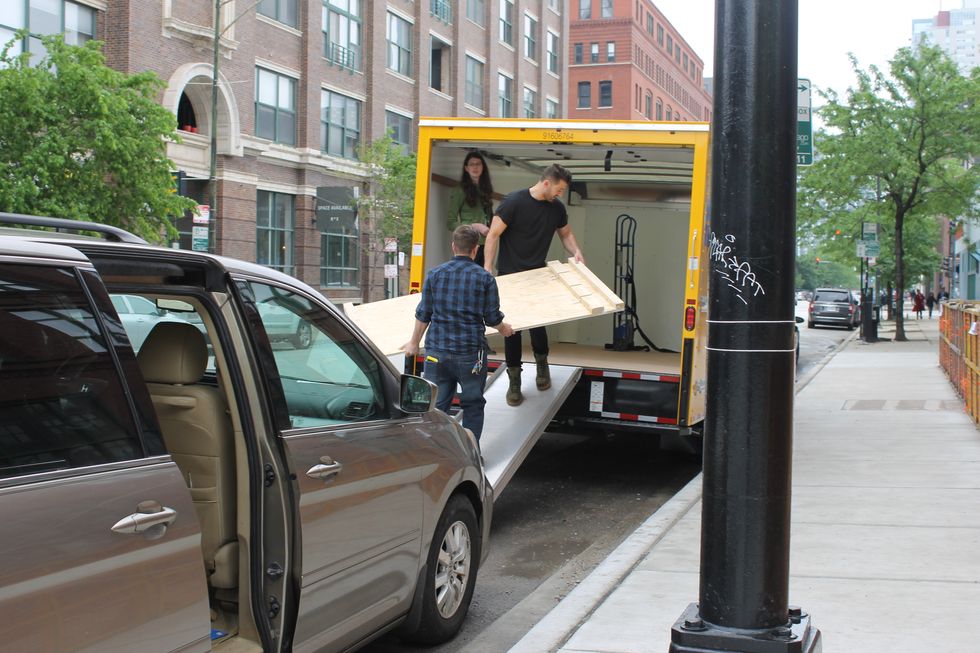 [rebelmouse-proxy-image https://media.rbl.ms/image?u=%2Ffiles%2F2017%2F05%2F25%2F6363127857637477282132666268_636312627279757397-558450306_Screenshot%25202017-05-24%252017.43.15.png&ho=https%3A%2F%2Faz616578.vo.msecnd.net&s=189&h=8f73d24f00dc0538b936d25ef58a831dc5f125565965289dcd01162ed0f01b4b&size=980x&c=3855274850 crop_info="%7B%22image%22%3A%20%22https%3A//media.rbl.ms/image%3Fu%3D%252Ffiles%252F2017%252F05%252F25%252F6363127857637477282132666268_636312627279757397-558450306_Screenshot%2525202017-05-24%25252017.43.15.png%26ho%3Dhttps%253A%252F%252Faz616578.vo.msecnd.net%26s%3D189%26h%3D8f73d24f00dc0538b936d25ef58a831dc5f125565965289dcd01162ed0f01b4b%26size%3D980x%26c%3D3855274850%22%7D" expand=1 original_size="1x1"]
And the bumps just continued from there! After finally having our gallery walls perfectly lining the bed of the truck, we began our touch ups with white paint. As it turned out, the quart of paint we brought from DeKalb was half a shade off, mudded and ill-fitting to the crisp white we had painted the walls. We could not evenly coat the walls with this less flattering color even if we wanted to because a quart of paint does not go a long way. So an emergency trip to Home Depot was made.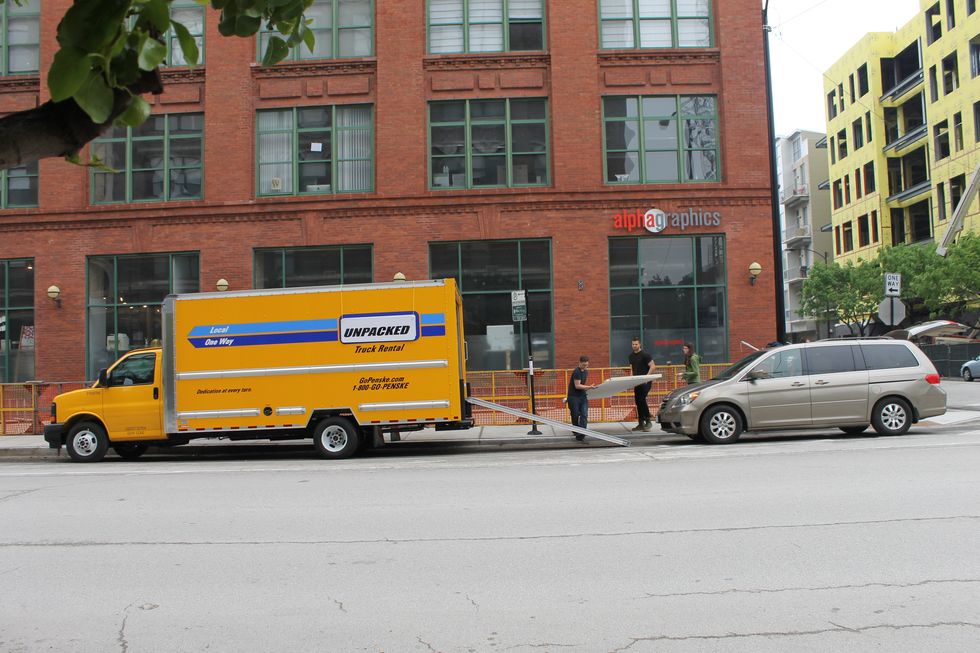 In the meantime, we began to install the wooden beams that held our LED lights suspended from the top of the truck. On our first try we installed the lights backward, so the extension cord would be required to plug in at the very back wall of the gallery, dragging clumsily across the gallery floor. In our attempt to remedy this, one of the wooden beams fell in transit and snapped in half, leaving us panicked and unsure if it would light! It was a near debilitating amount of chaos at this point.
Quickly we screwed the beam back in place (with an additional piece of trim for support) and grabbed the extension cord to see if our lights were too damaged to work. This is when we realized we had unknowingly brought along a broken cord. We called our team member who had just walked out the doors of Home Depot, sending him back in to collect this item.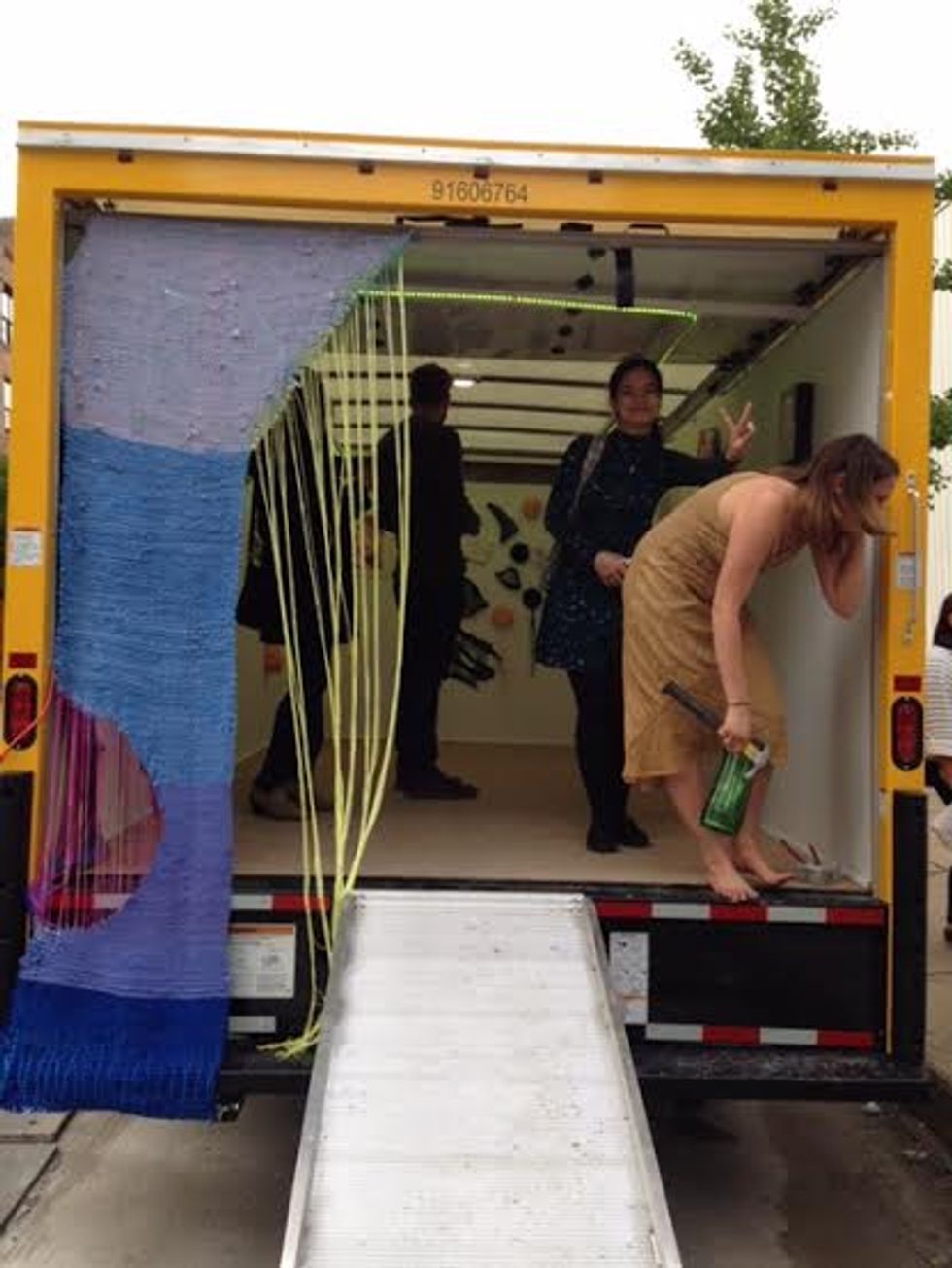 While he rushed back with paint and a means for electricity, a number of the guests I had invited arrived to see our show. This list included former students, grad school professors, and my boss. To paint you a picture, at this point I was barefoot (heels are never a smart choice) with paint on my hands and an uninstalled show. Mortified but in fight or flight mode, I apologized for our delayed opening and requested that they check out some of the openings in the gallery district, eat, and come back.
Shane Bowers
Deconstructing Identity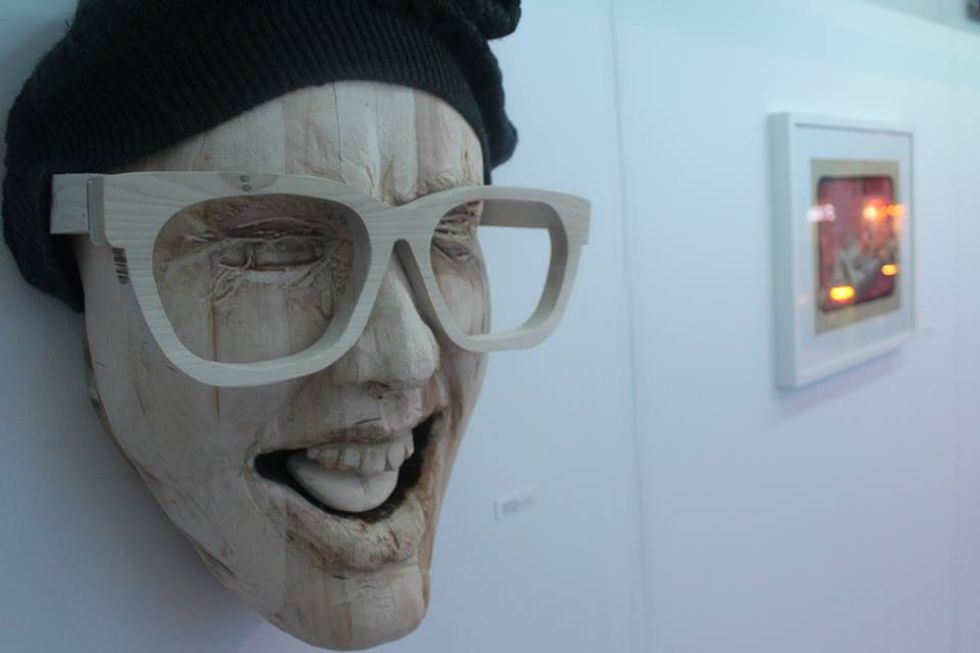 The expression on Shane's piece Deconstructing Identity perfectly captures the emotions of our evening.
[rebelmouse-proxy-image https://media.rbl.ms/image?u=%2Ffiles%2F2017%2F05%2F25%2F636312785765409002-875625945_636312437113224736-243878493_Screenshot%25202017-05-24%252000.24.05.png&ho=https%3A%2F%2Faz616578.vo.msecnd.net&s=437&h=6a4108d21165b2a55f73f1185c32f71e0dd4a78e020559724283f860ffb326e0&size=980x&c=2981972717 crop_info="%7B%22image%22%3A%20%22https%3A//media.rbl.ms/image%3Fu%3D%252Ffiles%252F2017%252F05%252F25%252F636312785765409002-875625945_636312437113224736-243878493_Screenshot%2525202017-05-24%25252000.24.05.png%26ho%3Dhttps%253A%252F%252Faz616578.vo.msecnd.net%26s%3D437%26h%3D6a4108d21165b2a55f73f1185c32f71e0dd4a78e020559724283f860ffb326e0%26size%3D980x%26c%3D2981972717%22%7D" expand=1 original_size="1x1"]
With each setback, the team was ready with a solution, prepared to fix it. This is all while moving location. We were constantly on the hunt for a better parking spot, closer to the gallery district on Washington and Peoria. This meant splitting tasks from installing the show to finding and saving parking spots in more populated areas of the West Loop. Those who sought better parking worked in pairs. It required two vehicles to save a spot large enough for the moving truck to occupy. Some of our moves took place while the walls were still being worked on. We played street parking musical chairs in within eyesight of the truck so not to be ticketed in the process of moving.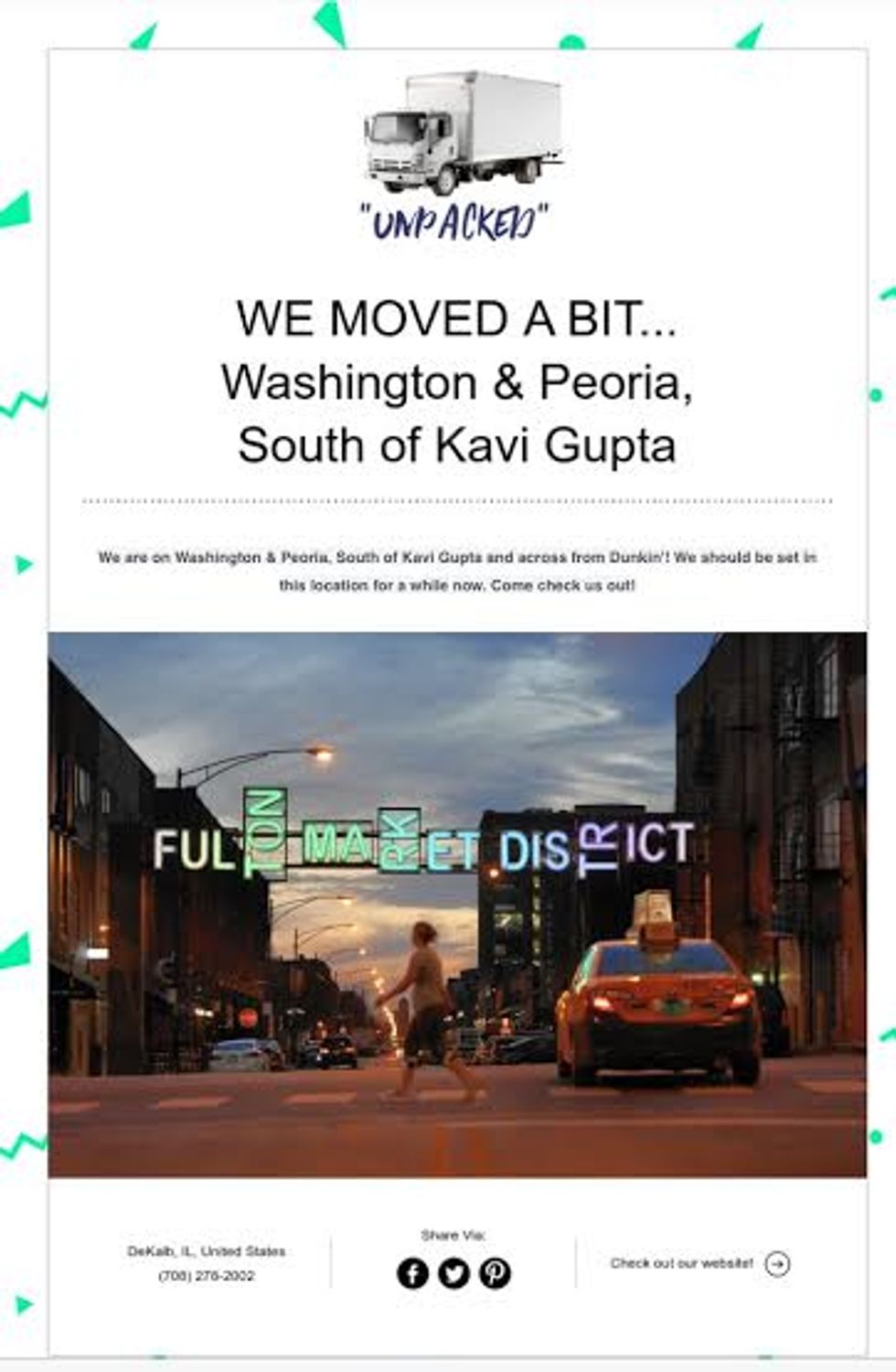 Each time we moved location, I had to update our position over email blasts, Facebook and LinkedIn so our followers could find us. Once fully installed and plugged in, we were delighted to find that each of our LED lights were operating. As a result of quick thinking, problem-solving, teamwork and camaraderie we pulled everything together, though much later than intended.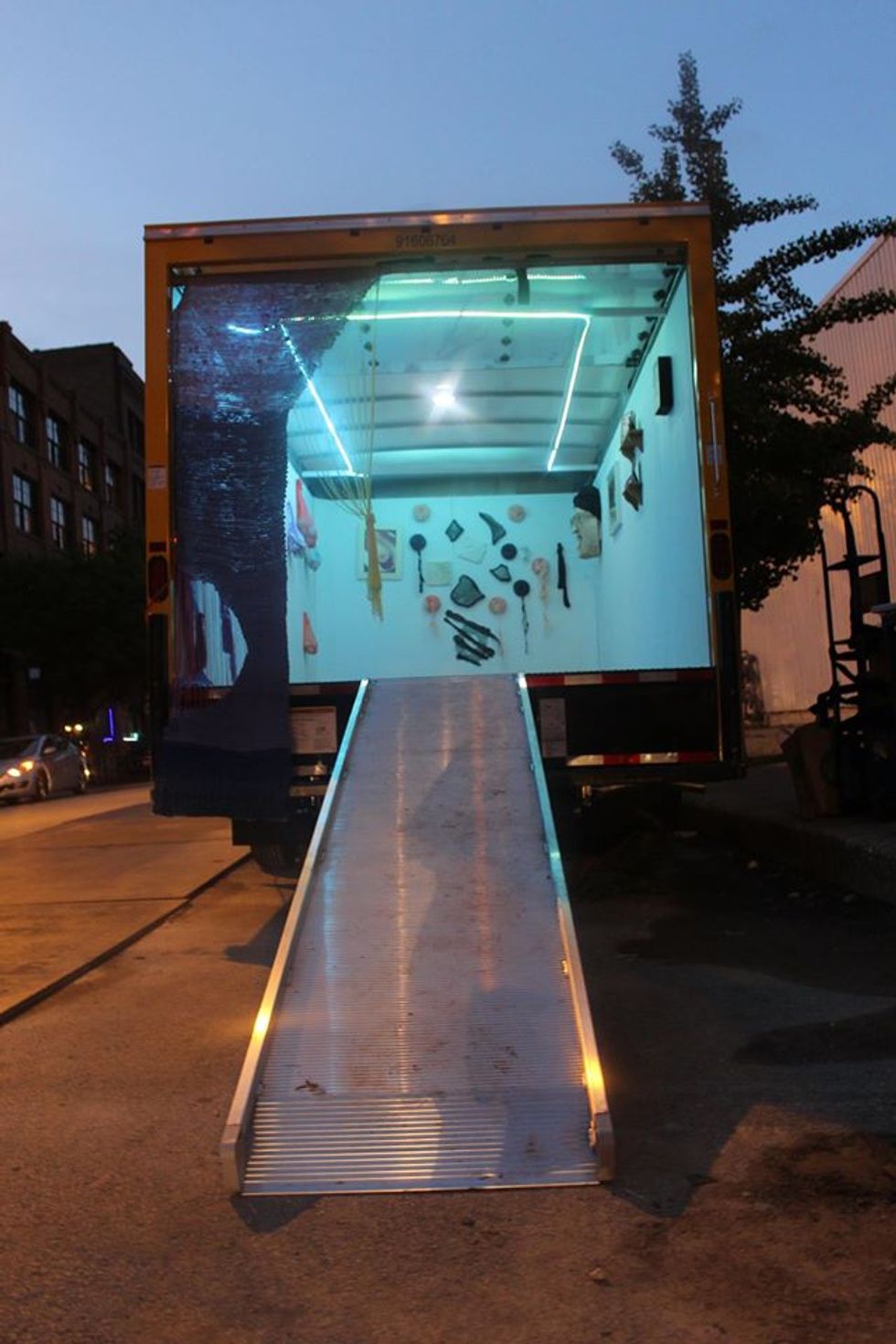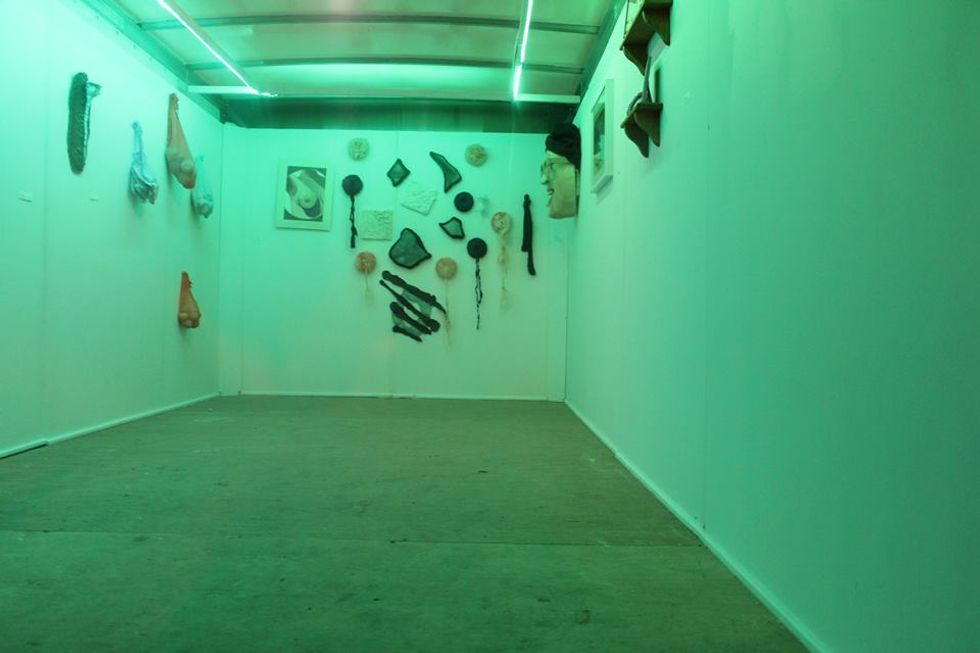 Was It A Success?
I categorize this experience in two parts. Part One: A Mess, Part Two: Success. Even with our final location (Washington and Peoria, just two blocks South of Carrie Secrist Gallery and Kavi Gupta), we did not gather an astonishing crowd, and those who were marveled by our gallery were not members of our target audience.
Given that our main objective was to broaden our exposure as artists and participate in the art community, we succeeded in our goal. And quite honestly, the tipsy bar-goers may not have been the art enthusiasts, collectors, or artists we intended to meet, but we most certainly did make an impression on them. We were visited by a few prominent members of the Chicago arts community including Associate Director of Carrie Secrist Gallery, Britton Bertran and contemporary artist, Darryll Schiff. Bertran mentioned he recognized the logo on our business cards (points to me, digital media manager and business card designer!) And at the end of the evening we had well over fifty guests (so suggests my dwindling pile of business cards). Ultimately our gallery brought together people from different walks of life to share in a memorable experience and I am proud of what we achieved.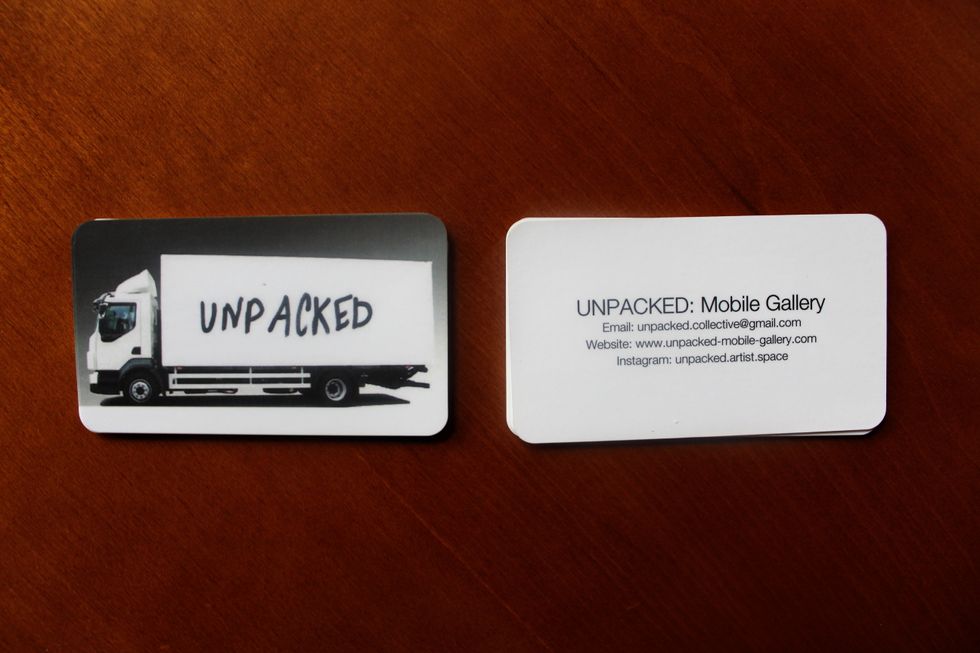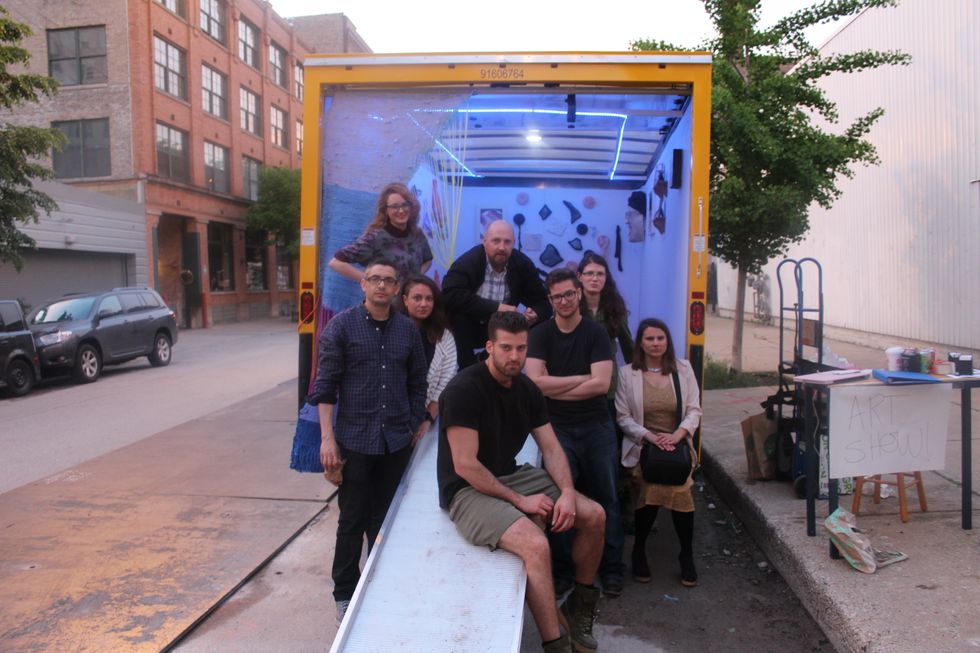 I like to think of May 20th as a soft opening for Unpacked. We have ambitious plans for the future, and with any luck, our trail run will have us well-equipped to smooth out any bumps along the way. In my experience, some of the most difficult things to do are also the most rewarding. So while 75% of the day felt like a downward tailspin, the last 25% felt like we were soaring high.
Please stay tuned for Part Two of this story which goes more in depth on the artwork curated in the show.
To follow our space more closely
- Visit Our Website

- "Like" Our Facebook Page

- "Follow" Us on Instagram